Happy DECEMBURRRRRR!
And quite chilly this morning too.
Well, November ended with a BANG! And December started with a BANG!
Let me explain…
Yesterday, I was on Craigslist looking for a Christmas gift for Eric. And guess what I came across? A beautiful couch- for a crazy good price. I immediately emailed the seller and asked if we could take a look at it. I figured that it would be gone already because good deals sell so fast on Craigslist, especially in Toronto!
It was a dark brown sectional couch with a chaise (always wanted one!) and it was only a few months old and in mint condition. The owner was selling it because they were moving and it didn't fit in their new condo (it is a BIG couch!).
Eric stopped by on his way home from work and…
We bought our very first couch!!!!!!!!!!!!!!
Every couch we have had up to this point has been a hand me down which is absolutely awesome, but we have secretly been longing for a couch that fit our new family room. After looking at prices earlier this year, we knew we couldn't afford one.
He was shocked that it wasn't gone already. He had to drive all the way to his brother's to pick up a van, then drive back and put 1 part of the couch in the van, then drop it off, and then drive all the way back to Toronto to pick up the rest!!! He didn't get home until about 11:30 last night. Poor guy!!!! I was at home waiting anxiously for it to arrive. Luckily, S & B kept me company. ;)
We are absolutely in love with it: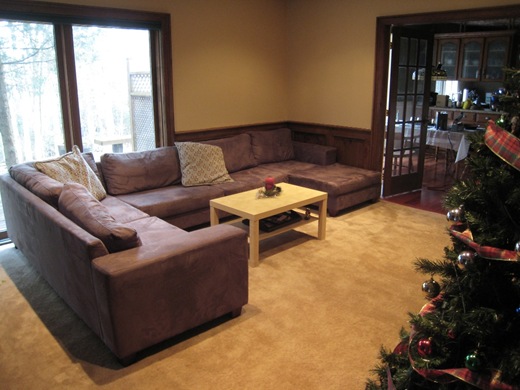 It's incredibly soft and comfy…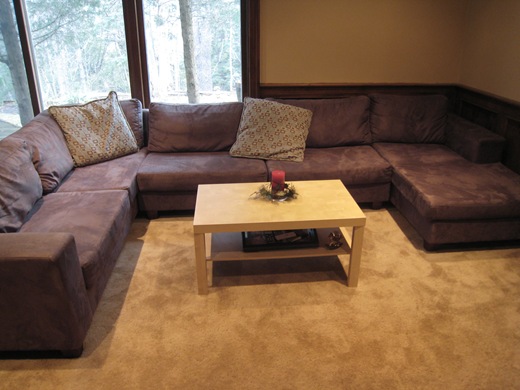 and will be great for entertaining!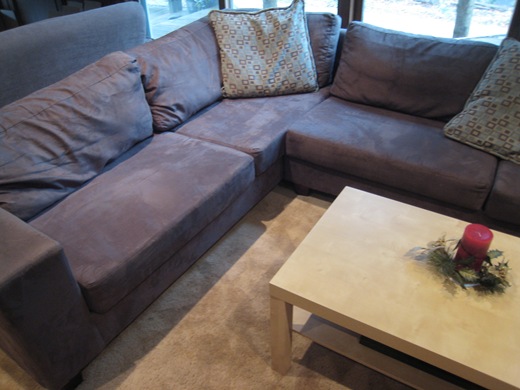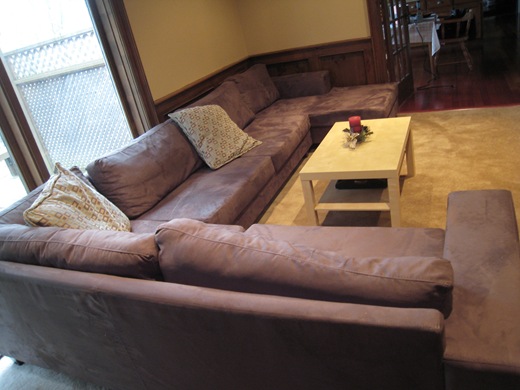 …it is like brand new to us and our wallets are very happy. We figured that THREE lucky friends can crash on this couch at once! hahaha. ;) We are still university students at heart…
We will probably end up buying most of our furniture on Craigslist. You really can't go wrong, 1) You save huge, and 2) You are recycling!! They have lots of cool antique pieces on Craigslist. Yes, there is a lot of crap to sift through, but it is so worth it. I also check out the FREE page a lot too! You'd be surprised how many people give away amazing things because they are in a rush.
The only thing we are not sure of is where to put our other brown couch. Right now it is here: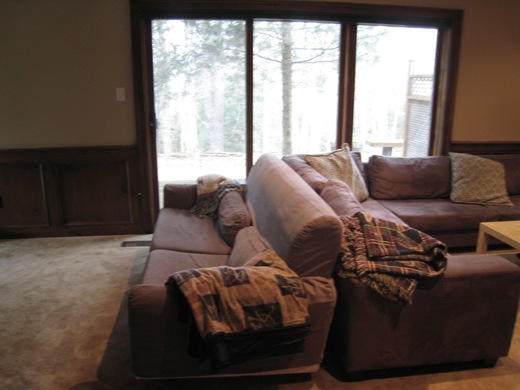 and it looks kind of odd…but we were thinking of keeping it around for our Christmas party.
We also tried here: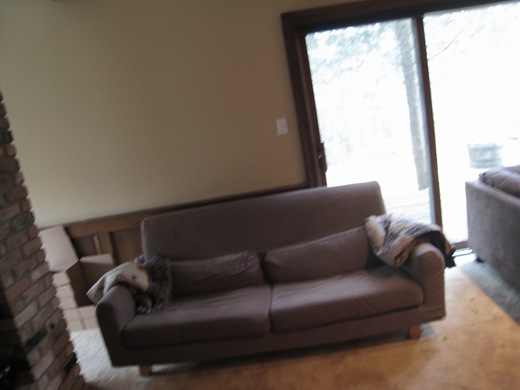 and it looked even more odd…
So we aren't really sure what to do with it! Ideas????
I also want to find a coffee table off Craigslist as I don't really like the one that is there now.
And why did Decemburrr start with a bang?
We have roofers here this morning and it sounds like an EARTHQUAKE in this house today! I swear they are going to fall through the roof on me. I woke up at 6am to BANG, BANG, BANG!!! I hit my alarm but it didn't stop!
~~~~
To my US readers: I know that Canadian only Oral-B contest was tough to swallow yesterday! I really wish I could have opened it up to US residents too, but I was not able to. Well, today we have a US resident only contest because all is fair in love and war on OSG.
The wonderful people from Aurorae are willing to giveaway one new yoga mat to a lucky US reader!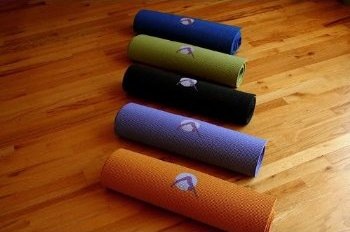 I can't review the mat myself as they do not ship to Canada, but I'd be curious to hear what you think of it should you win one.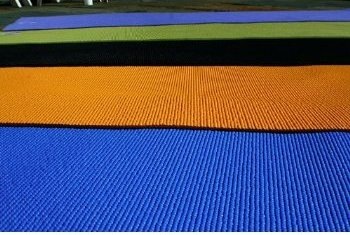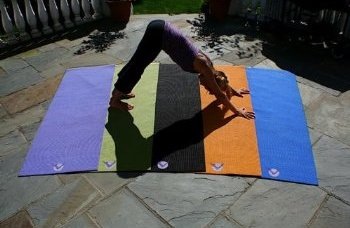 You get to choose the COLOUR of your mat should you win!!!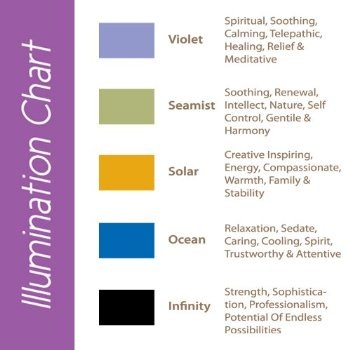 How to enter:
Leave a comment on this post telling me what you would do with our extra brown couch  (hahah) AND what colour of mat you would choose.
Rules: Open to US residents only please. Contest closes Thursday Dec. 3rd at noon EST.
Goodluck!
Canucks: Don't forget to enter the Oral-B Giveaway!
~~~~
Ok, now that this home reno stuff is out of my system, I promise to get back to my health posts and hot topics!!!!