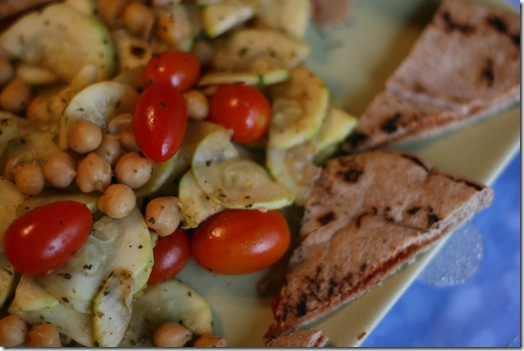 I am loving warm lunches more and more as the weather gets colder!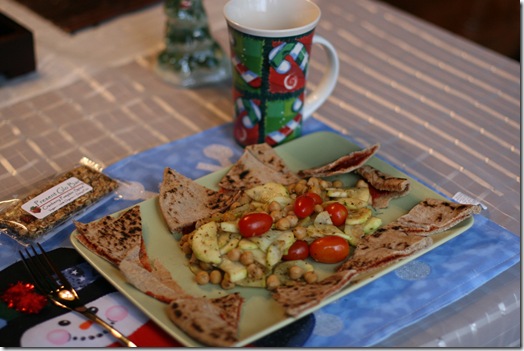 I whipped up a '5 minute' stir-fry for lunch:
1 zucchini
1/2 cup cherry tomatoes
3/4 cup chickpeas
PC Sun-dried tomato seasoning (LBD!)
red wine vinegar + EVOO
On the side I had a high protein pita by Pita Gourmet smeared with tomato paste (hello, lycopene!!!).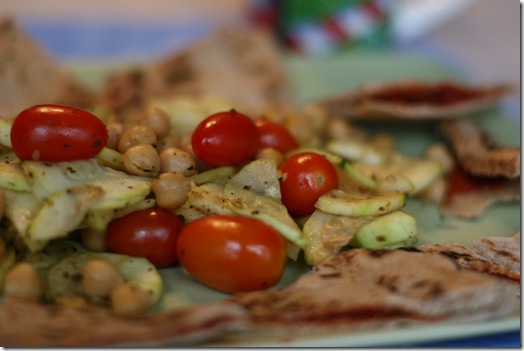 With a Naval orange. The sticker was promptly placed somewhere for Eric to find. ;)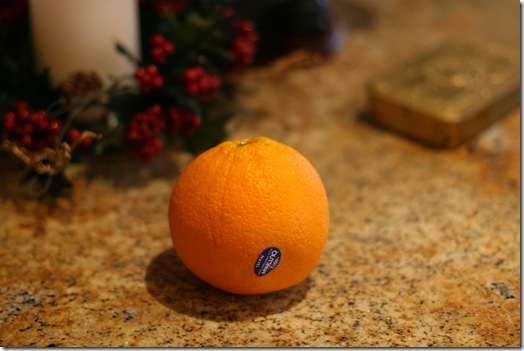 Snack was a Present Glo Bar. Officially my fav. kind. You can quote me on that.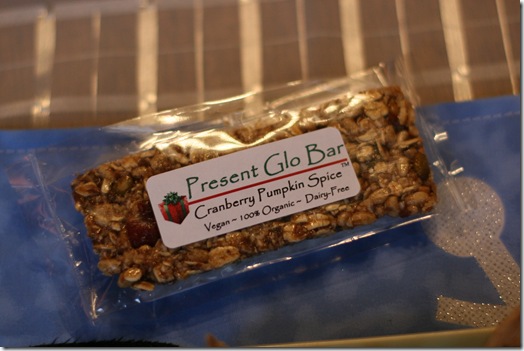 I also rocked the festive Candy Cane Lane Green Tea by Celestial Seasonings. I just couldn't wait until Dec 1st!!!
So fresh and minty!

I had an awesome workout today:
40 min. treadmill hill workout (speed 4.0, incline 10%)
I am always asked if I do the full time at that speed and incline and the answer is yes, unless I note otherwise. It's tough! I usually do 15% incline, but I have been switching it up a bit lately to work other muscles.
I also rocked out Whittle My Middle.
My abs are feeling SO tight. I honestly am loving this challenge, even though I curse like a trucker when I do it…hahaha. You think I'm joking but I'm not. ;)
~~~~
I was delighted when Oral-B contacted me to review the Oral-B Triumph on Oh She Glows. I have always wanted to try out an electric toothbrush, but I never wanted to commit to one without knowing if it would work. I didn't want to review it without also being able to give one away, so I was delighted when Oral-B agreed to do a contest giveaway on OSG!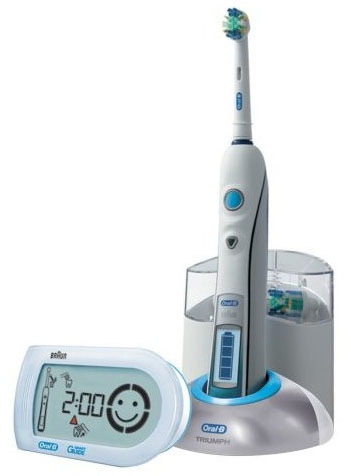 Now you know me, I typically don't gush over products unless I really love them, but I am absolutely smitten with this electric toothbrush!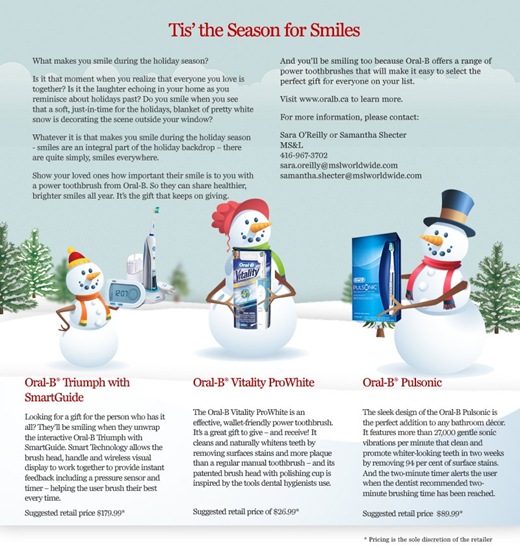 The Triumph works so well that I feel like I am walking out of the dentist's office every time I use it. It removed my plaque after just 2 uses and made my teeth so smooth. It is a great tool for me since I have had to decrease my dental visits when my insurance cut out. I feel like this toothbrush will make the difference between visits.
The timer is brilliant. Absolutely brilliant. I admit, I was guilty for 'speed brushing' my teeth. I am often so tired I won't put the time in, however since using the Triumph, I have brushed my teeth for a full 2 minutes, twice daily. I consider this a miracle because I am lazy. ;)
The timer guides you through each section (30 seconds in each quadrant) and then you are rewarded with a smiley face after 2 minutes. Maybe I am secretly a 7 year old hiding in an adult's body, but this just makes my day!!
For a chance to win an Oral-B Triumph (suggested retail price $179.99):
Leave a comment telling me something about your teeth. Do you like the dentist? Do you go at regular intervals? Do you floss? Do you need a tool like this to give you a kick in the butt like me? :)
Rules: Contest open to Canadian residents only. Contest closes Thursday Dec. 3rd at noon EST. Please leave a valid email address.
Goodluck!
Don't worry US residents, there is an exclusive US contest coming up on OSG this week! Think YOGA!
Tomorrow is the last day to enter the Glo bar giveaways! Click here for the US giveaway (free account sign up required) and click here for the CAD giveaway.