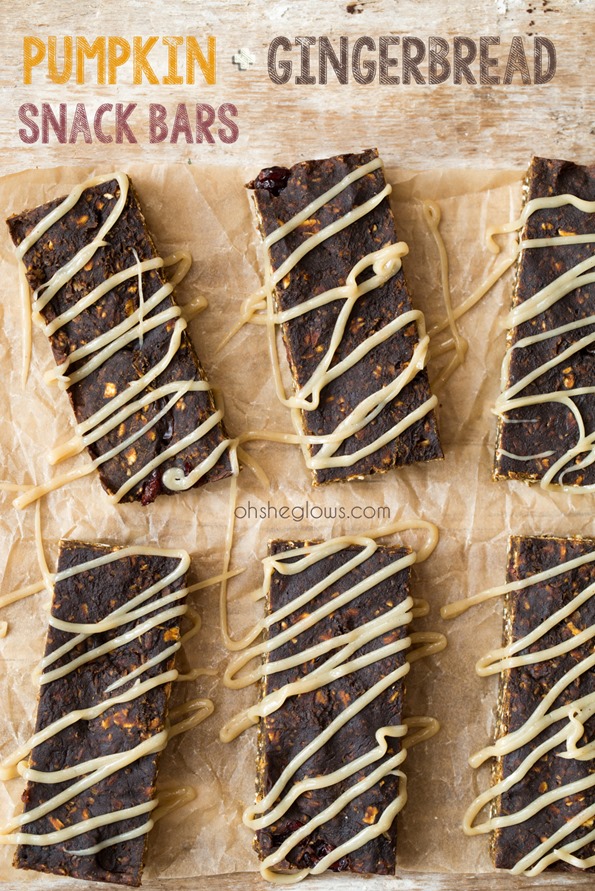 Normally, we have our Christmas tree up by December 1st, but this year we totally dropped the bulb.
It really doesn't surprise me because I've been about 2 months behind throughout the course of 2013. The holidays only serve to enhance this feeling. I've still been so busy with book work, despite prematurely thinking that it was finished (hint: it never ends). So, here we are mid-December and there is no tree up yet.
Side note: I still can't believe I made an advent calendar from scratch last year. Where is that girl? I have no idea where that thing is either….Eric probably got rid of it. If you read the advent calendar post you'll notice I said these words: "[it's] a fun advent calendar that can be reused for many years to come…Maybe some day a child of our own will be using this each year."
hil-arious.
Anyway, back to the tree. The main reason we don't have a tree is because our tree stand is stored at my brother-in-laws (along with other boxes of junk until we move into a house…bless you, Dave), and we haven't picked it up. Or should I say, someone went to pick it up (along with our decorations), but the tree stand wasn't in the box when that someone got home. Oops. The good news is we do have 15 nutcrackers to stare us down while watching TV. Not creepy at all. 
Now we're at that awkward point in December when we I ask if we even bother to put up a tree this year.
Our convo went a little something like this:
Me – Is it too late to get a tree? Should we even bother this year? [said while feeling lazy and pms-y]
Eric – Ange. We're GETTING a tree. Don't be a scrooge! [said while blasting Christmas music at his desk]
Me – Oh no you didn't! I AM NOT A SCROOGE!
So, it's settled. We're getting a tree.
squee!
I'm going to pick the biggest one I can find, just to prove a point. Who needs photography space anyway? I'd rather be a Griswold.
I guess we better make this tree thing happen before the snow arrives tomorrow. I'll try to take a couple pictures of the tree (that is, before Sketchie knocks down all the bulbs and covers the branches with tiny wisps of tinsel-like fur).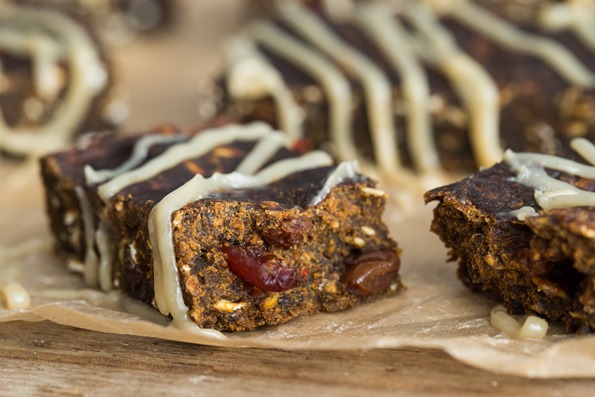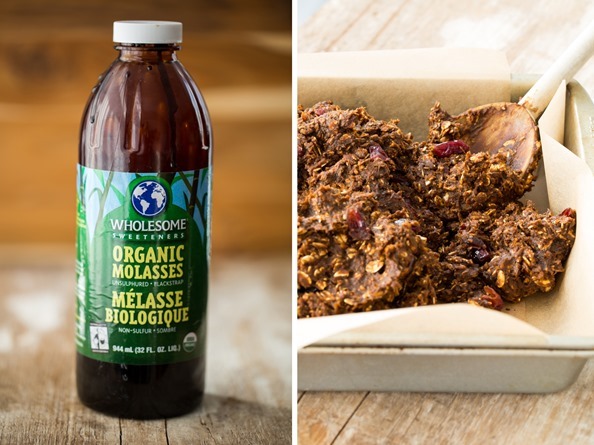 Speaking of running 2 months behind, I have a pumpkin recipe for you today! Is it too late?
Probably, but I never really had a solid run with pumpkin this year. Even if many of you are sick of pumpkin by now, you might be happy to know that the pumpkin flavour is barely detectable in these bars, despite having a whole cup of pumpkin puree in the recipe. Yes, that's a whole cup of vegetables in a holiday snack bar recipe. Who can argue with vegetables over the holidays?
In addition to the hefty amount of pumpkin these bars pack in, there's also a good amount of iron and other minerals. Over 5 tablespoons of iron-packed blackstrap molasses make these bars ultra-dense and gingerbread-like while providing a healthy dose of iron, calcium, magnesium, potassium, and more. The bars aren't super sweet, which is why I decided they were better described as a "snack bar" rather than a dessert bar. They are also nice with a cup of tea at night while snuggling on the couch in total hibernation mode.
I added a creamy cashew butter maple cinnamon glaze on top in lieu of an icing sugar glaze. You can also try spreading them with pumpkin butter to enhance the flavours, or they are great plain too. I also recommend throwing a couple bars in your purse (skip the sticky glaze though) as an emergency-holiday-shopping-snack. I don't know about you, but I think going to the mall in December without a snack in my purse is dangerous. Holiday shopping is cardio and cardio needs fuel! Thanks to the bars being so sturdy, they hold together wonderfully so you don't have to worry about them breaking apart or getting crushed in your purse. Dainty little flowers, they are not.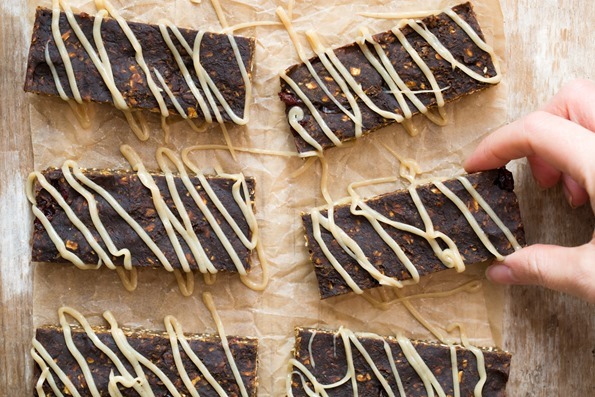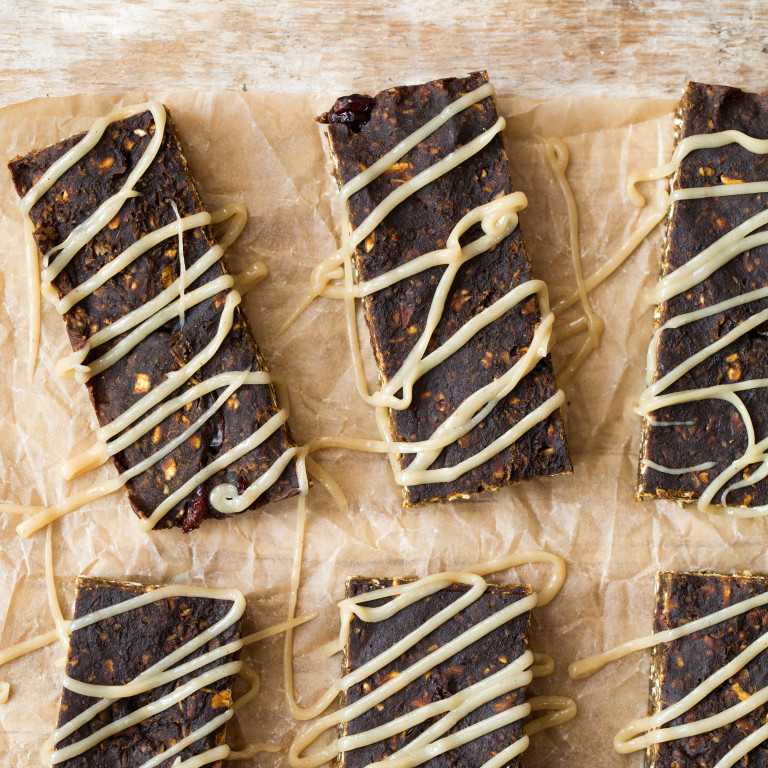 Pumpkin Gingerbread Snack Bars
Vegan, gluten-free, soy-free

Yield

10-12 bars
Prep time

Cook time

Total time

These lightly sweet pumpkin gingerbread snack bars are dense, chewy, and filling! Try them topped with my creamy cashew butter maple cinnamon glaze, or enjoy them plain or spread with pumpkin butter. This recipe is adapted from Have Cake Will Travel.
Ingredients
Wet ingredients:
1 cup pumpkin purée
1/3 cup blackstrap molasses
1/3 cup coconut sugar (or granulated sugar of choice)
2 tablespoons coconut oil
2 teaspoons pure vanilla extract
Dry ingredients:
1 + 1/2 cups gluten-free rolled oats
3/4 cup gluten-free all-purpose flour (I used Pamela's brand, see note)
1 teaspoon cinnamon
1/4 teaspoon ground ginger
1/4 tsp fine sea salt
heaping 1/3 cup dried cranberries.
Cashew Butter Maple Glaze (optional):
2 tablespoons raw cashew butter
1 tablespoon agave nectar
1/2 tablespoon coconut oil, melted
pinch of cinnamon, to taste
Directions
Preheat oven to 350F. Line an 8-inch square pan with 2 pieces of parchment paper, one going each way.
In a medium pot over medium heat, stir together the pumpkin, molasses, sugar, and oil. Heat until melted and combined. Remove from heat and stir in the vanilla.
In a blender or food processor, add the rolled oats. Blend on the

lowest

speed (or pulse, if using a processor) until roughly chopped. You don't want to pulverize it into a flour - the goal here is to keep a coarse texture, with some large pieces of oats and some smaller ones.
In a large bowl, stir together the dry ingredients (oats, flour, cinnamon, ginger, salt, and cranberries).
Scoop the wet ingredients over the dry and stir well until combined. The mixture will be very sticky and heavy. Totally normal...swear.
Scoop the dough into the prepared square pan. Since the dough is so sticky and dense, it's challenging to spread out smoothly. I placed a piece of parchment paper on top of the dough and pressed down on it with my hands, trying to spread it out evenly as I went. It takes a bit of time, so don't worry! After pressing it as smoothly as I could, I placed a pastry roller on top of the parchment and rolled it smooth while pressing in the edges with my fingers.
Bake in the oven, uncovered, for 22-25 minutes (I baked 23) until firm to the touch. Cool in the pan for 5 minutes before lifting out the square and cooling it on a cooling rack for another 30 minutes. Slice into 10-12 bars.
For the glaze (optional): In a small bowl stir together all the glaze ingredients until combined. Add the glaze into a plastic bag and snip off the corner so you can "pipe" it on the bars. Or simply spread the bars with the cashew mixture using a knife. Your call.
Tip:
Note: If you aren't using gluten-free all-purpose flour, I suggest using all-purpose flour or light spelt flour. Whole wheat pastry flour might work too. If you try anything, please let us know in the comments how it went! 2) Feel free to swap the cashew butter glaze for a simple icing sugar glaze. 3) For a nut-free option, skip the cashew butter glaze.
Nutrition Information
(click to expand)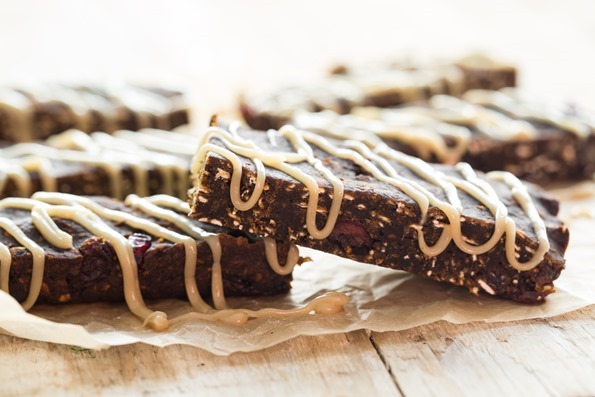 Congrats to Jenna K. for winning the Vitamix!! Thank you to everyone for participating. Many more giveaways to come this month!