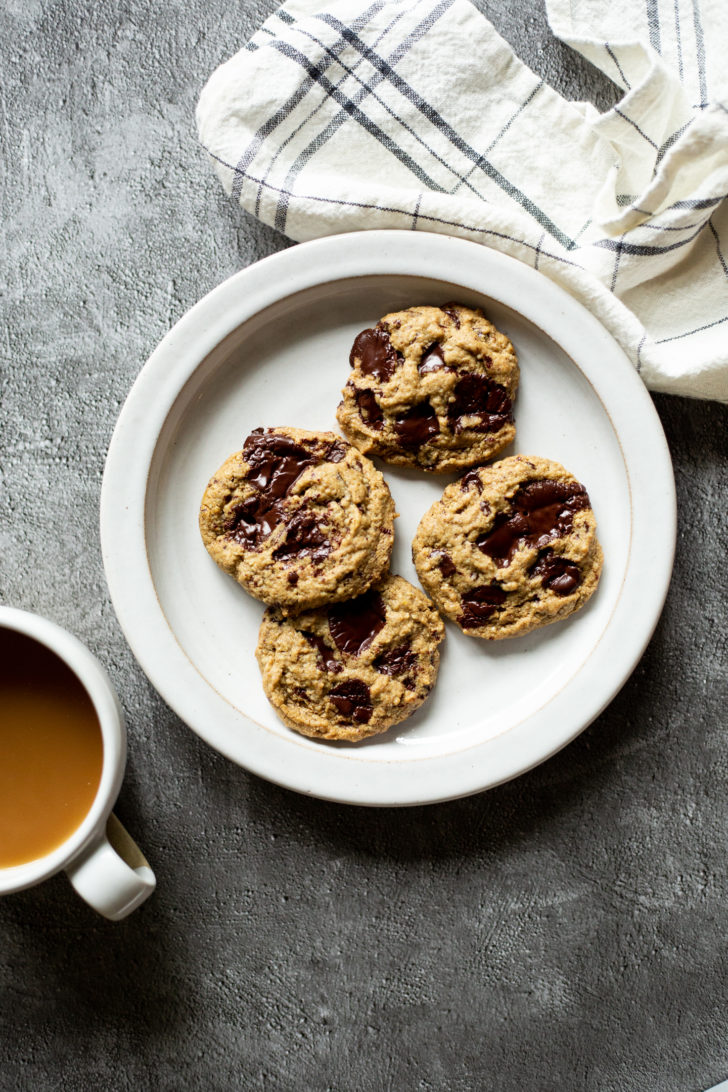 Well, I finally did it—feast your eyes on these grain-free, nut-free vegan chocolate chunk beauties!! Whew. Nicole and I, along with a couple bonus mama testers (shout-out to Cynthia and Jen!), teamed up to test about 25 batches of cookies these past few weeks! High fives all around. I couldn't do it without these amazing ladies.
Over the years I've been asked so many times to develop grain-free vegan cookies…and nut-free vegan cookies…and grain- AND nut-free vegan cookies! Haha. So you know what I did? I created grain-free and nut-free vegan cookies. It wasn't easy, but the journey was rather delicious. These cookies have actually been in the making for a couple years as I went back to an old grain-free cookie recipe that I started developing and then forgot about. Score!
This recipe uses cassava flour, which is a grain- and gluten-free flour made from yuca with good binding properties and a neutral flavour. I wanted so badly to share a swap for the cassava flour (as I know it's not a common ingredient), but I'm just not quite there yet—although I have been experimenting with arrowroot starch as an option! Stay tuned. So today, instead of a flour swap, I thought I'd share some other allergy-friendly OSG cookie recipes that might suit your needs in the list below. I've also included suggestions for where to find cassava flour within the recipe itself.
If you don't have cassava flour on hand and still want to make some cookies (of course you do!), here are some of my nut- or grain-free vegan choco chip cookie options:
Nut-free vegan cookies:
Flourless Peanut Butter Cookies from

Oh She Glows Every Day

, p. 213. You can swap the peanut butter for natural smooth sunflower seed butter.

Crispy Almond Butter Chocolate Chip Cookies from

The Oh She Glows Cookbook

, p. 265. See the nut-free option on page 266.
Grain-free vegan cookies:
Crispy Almond Butter Chocolate Chip Cookies from

The Oh She Glows Cookbook

, p. 265. See the grain-free option on page 266.
Gluten-free vegan cookies:
Any faves out there? I'd like to think there's something for everyone. :)
Let baking season begin in 3…2…1…GO!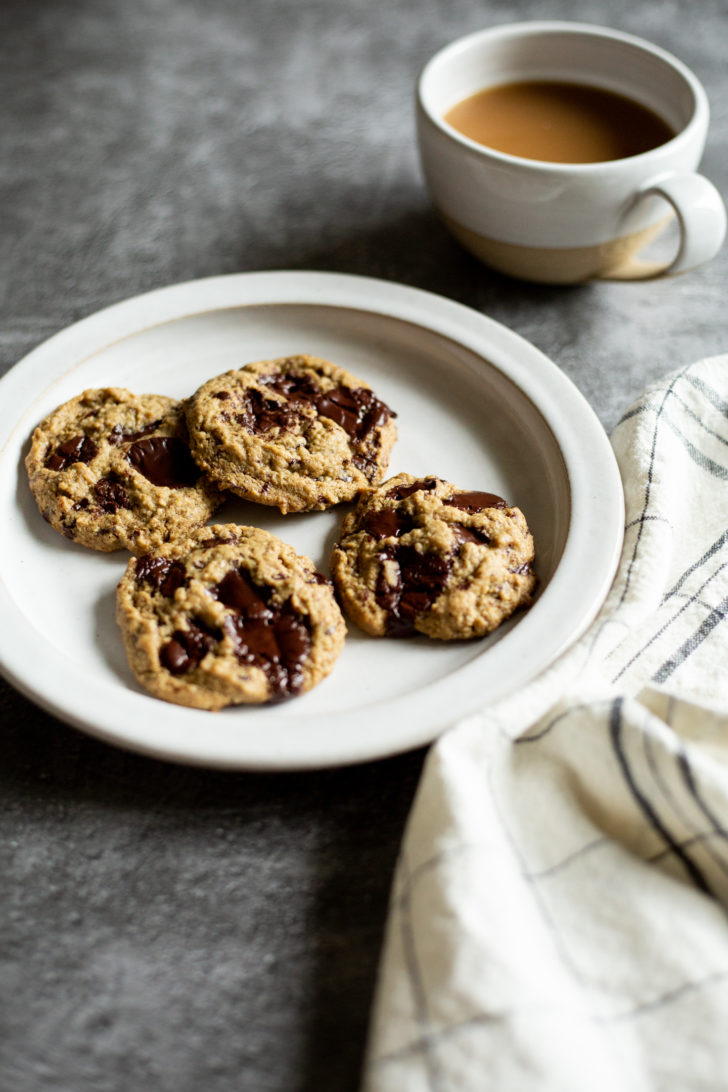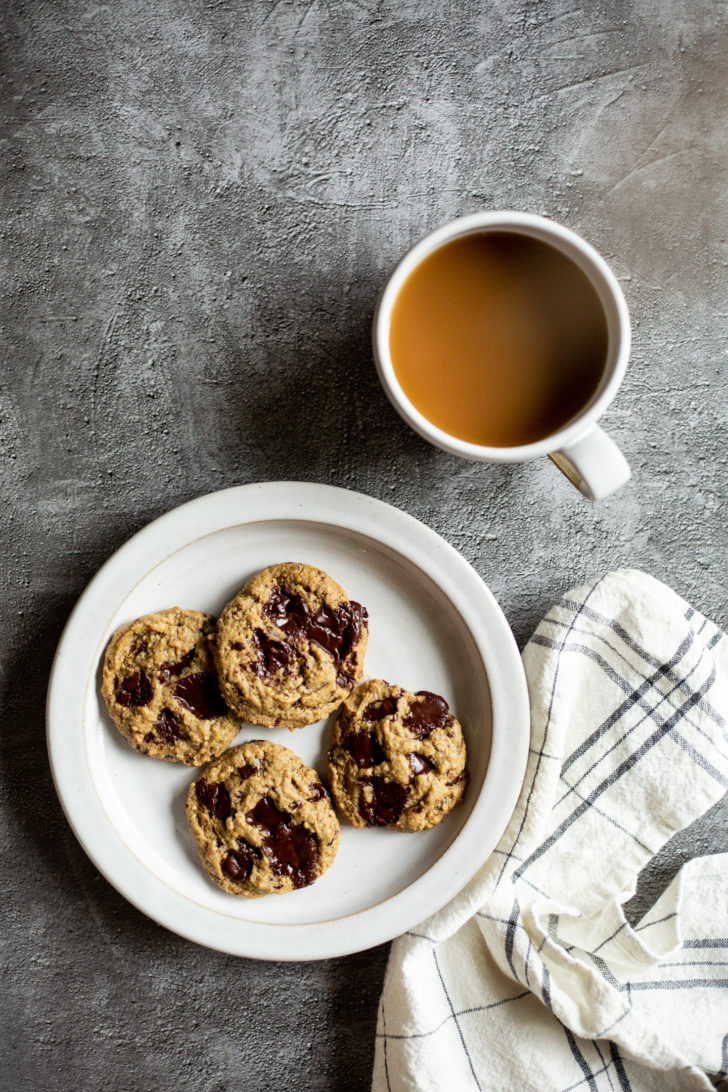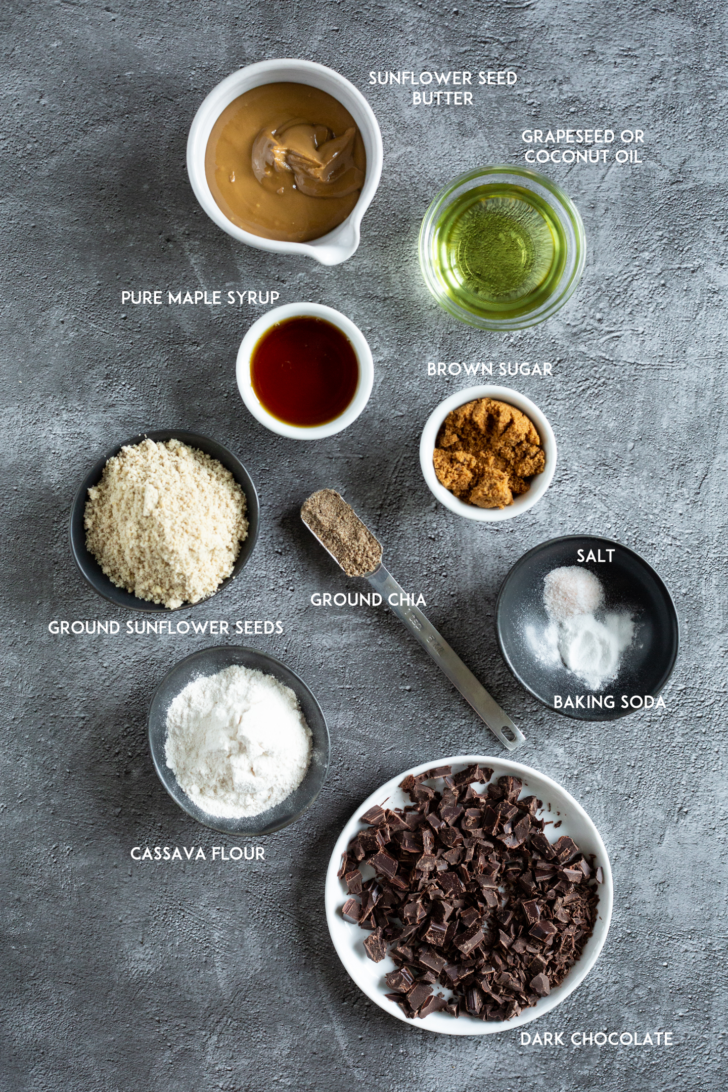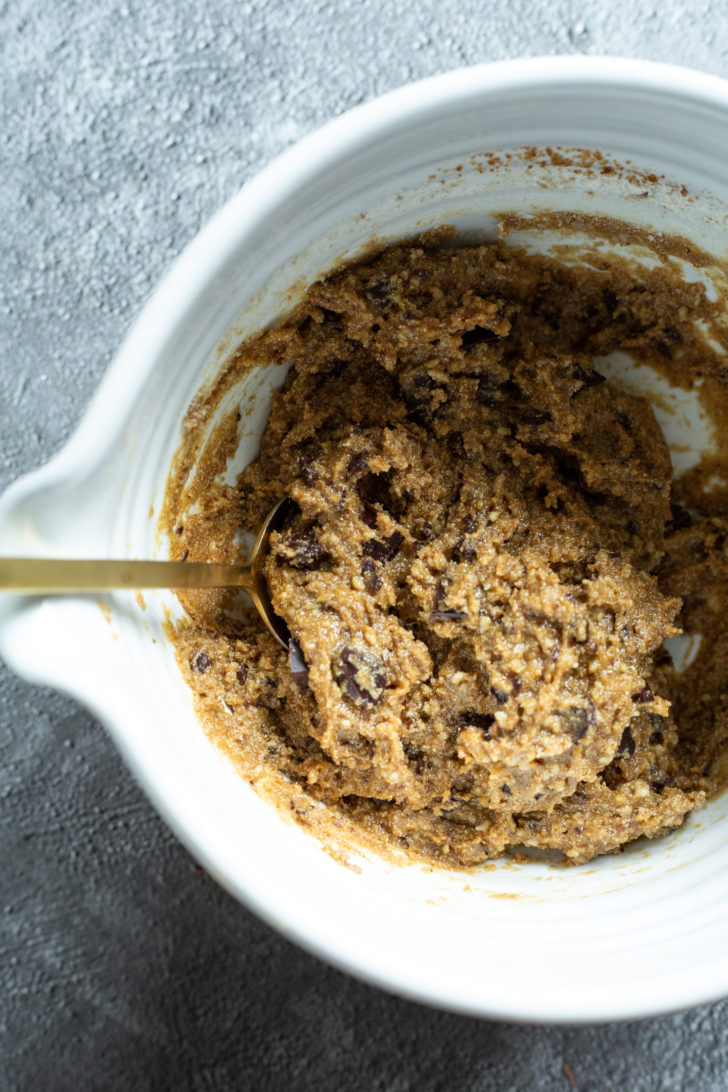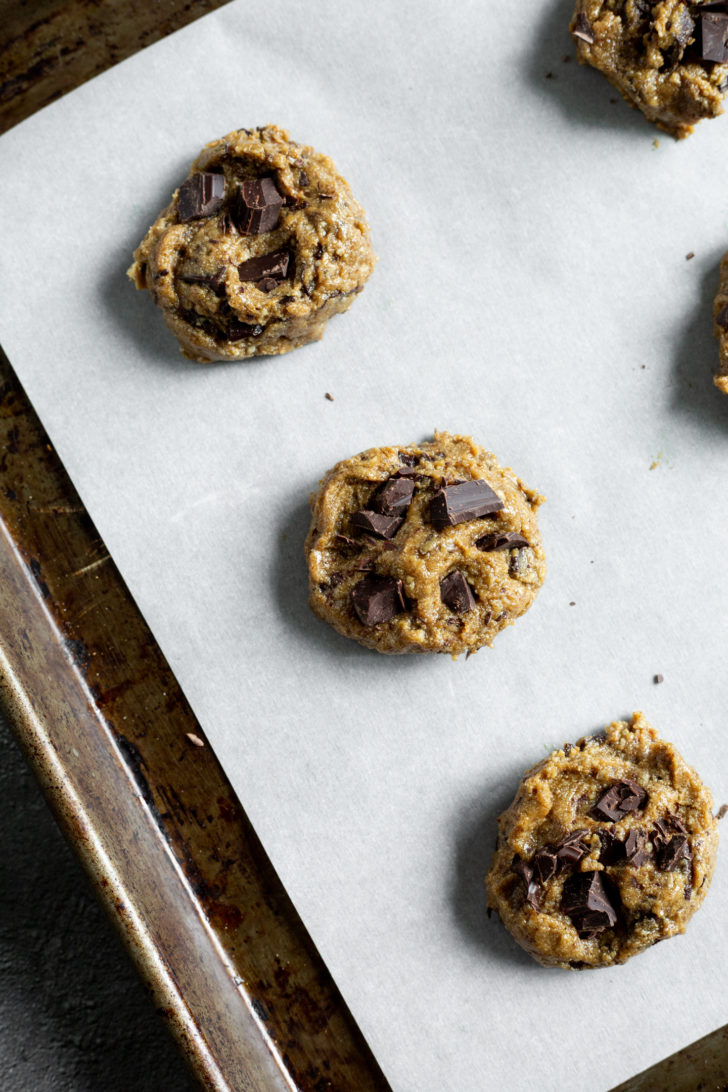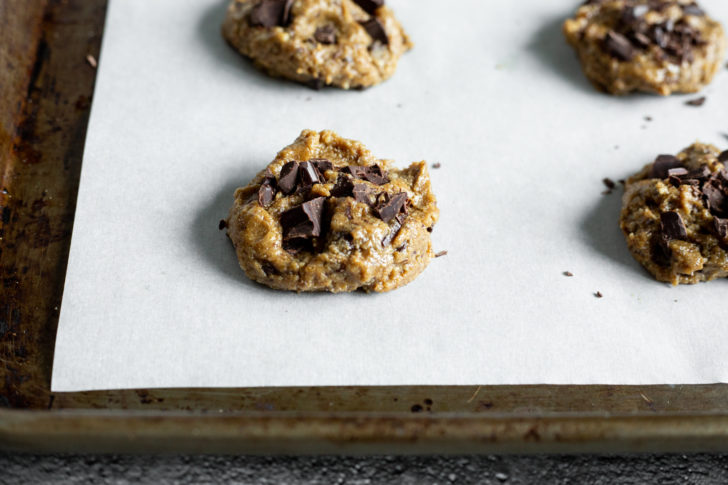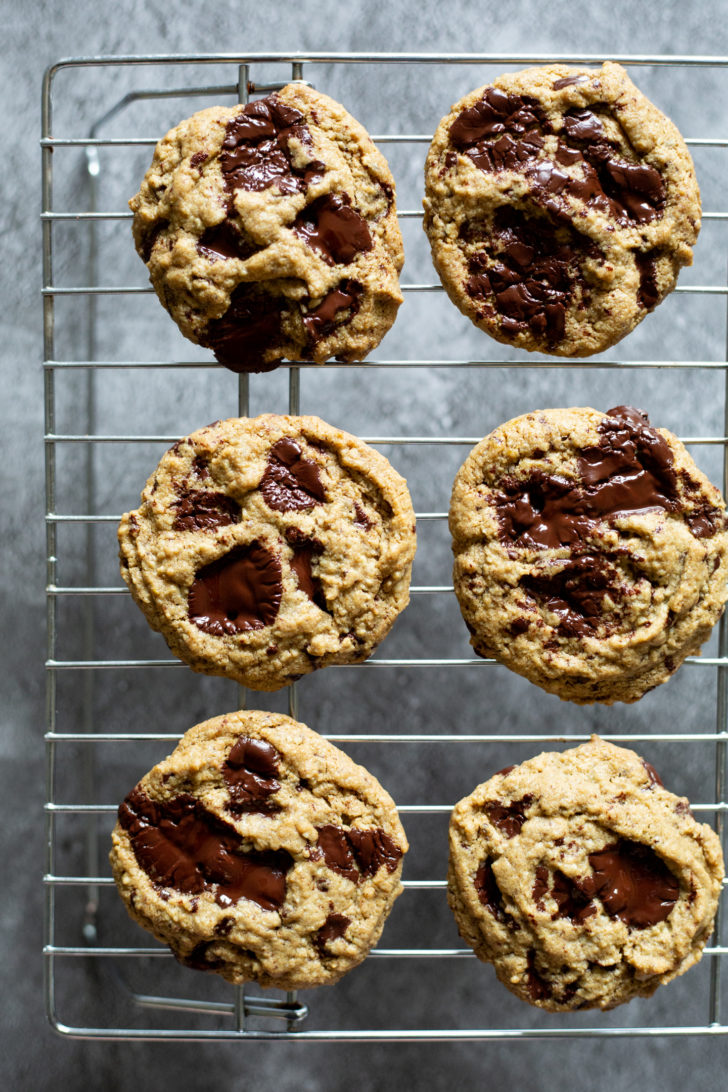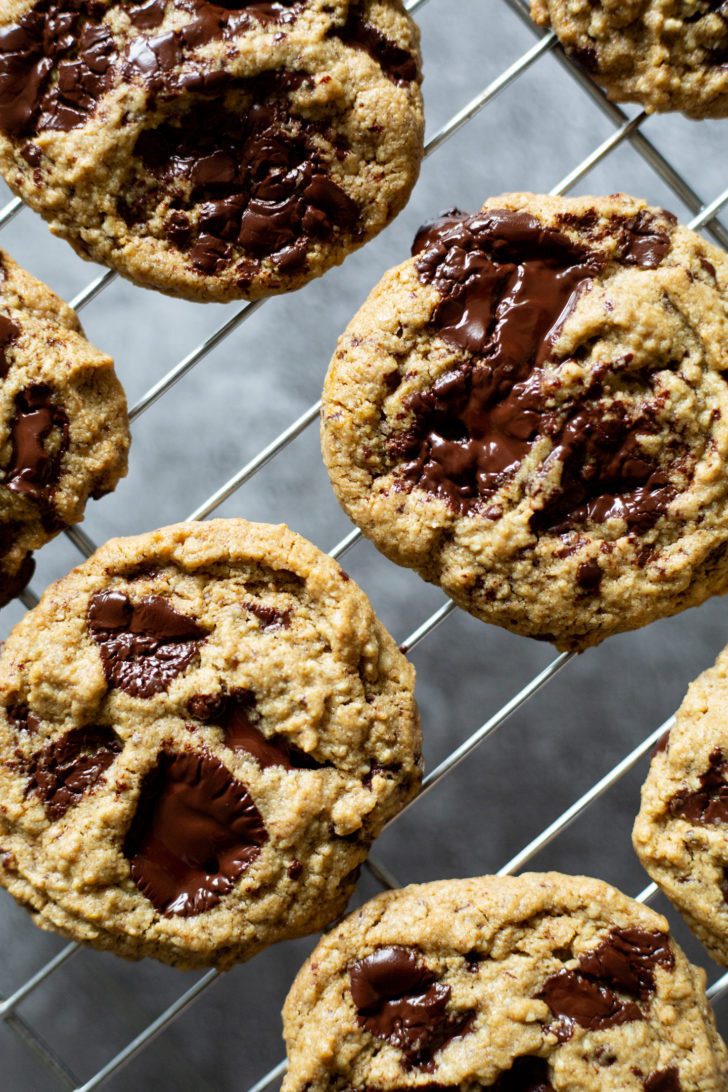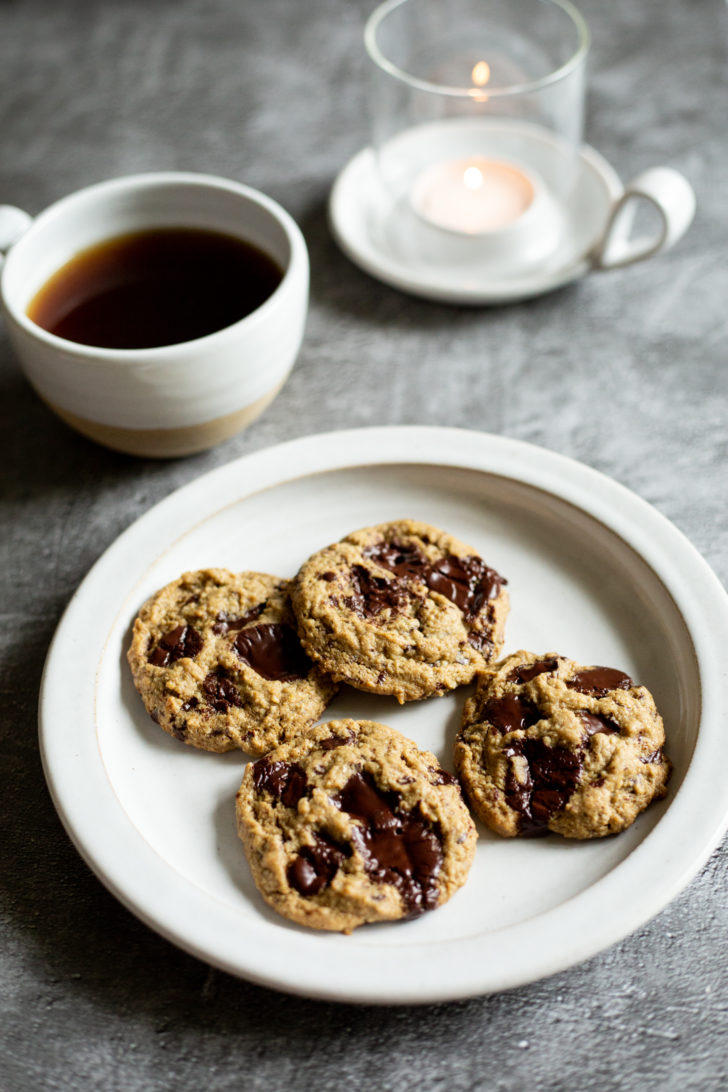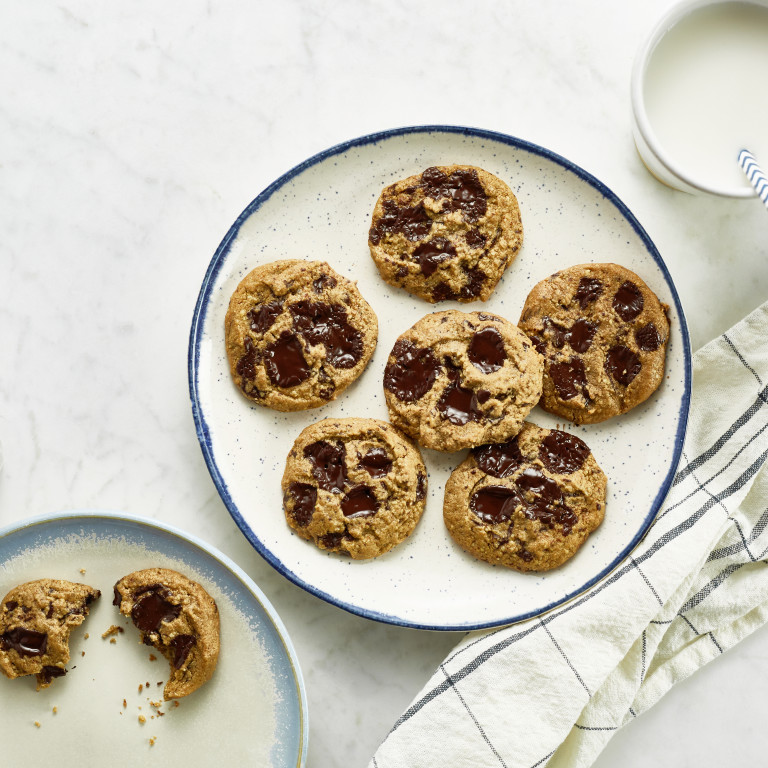 Grain-free, Nut-free Chocolate Chunk Cookies
Vegan, gluten-free, grain-free, nut-free

Yield

9 medium/large cookies
Prep time

Cook time

Total time

I've had so many requests for a grain- and nut-free version of my popular vegan chocolate chip cookies and I'm so happy to have one to share at long last. These delicate cookies are light as air and use sunflower seeds (both in butter and ground form) to create a rich and "nutty" cookie. Sometimes sunflower seeds can lend a bitter flavour, but these cookies have a mellow and pleasant taste! I also use cassava flour, which is a grain- and gluten-free flour made from dried yuca. I've found it has good binding properties and a neutral flavour for baking. You can purchase it on Amazon or find it in some health food stores. It's very important to follow the instructions exactly as written as these cookies are sensitive to even small changes. This recipe is adapted from my Jumbo Chocolate Chunk Cookies.
Ingredients
For the wet ingredients:
1/4 cup (63 g) natural smooth sunflower seed butter

*

2 tablespoons (25 g) packed brown sugar
2 tablespoons (30 mL) pure maple syrup
2 1/2 tablespoons (37.5 mL) coconut oil (room temp) or grapeseed oil

*

*
For the dry ingredients:
6 tablespoons (54 g) raw sunflower seeds
3 tablespoons (30 g) cassava flour

*

*

*

1 teaspoon (2 g) ground chia seed

*

*

*

*

1/4 teaspoon baking soda
1/4 teaspoon fine sea salt
1/3 cup (50 g) dark chocolate squares
Directions
Preheat the oven to 350°F (180°C) and line a large baking sheet with parchment paper.

To a large bowl, add the wet ingredients (sunflower seed butter, brown sugar, maple syrup, and oil) and stir until completely smooth.

Place the sunflower seeds into a food processor and process for about 40 to 60 seconds until a fine meal forms. You want to process the seeds to as fine a meal as possible without them turning into butter!

Add the dry ingredients (ground sunflower seeds, cassava flour, ground chia seeds, baking soda, and salt) to the wet mixture bowl and stir until thoroughly combined. The dough will be very sticky, but this is normal. Chop the chocolate, reserving one heaping tablespoon for later. Stir the remaining chopped chocolate into the dough until combined.

Using a 2-tablespoon (30-mL) cookie scoop (or simply a spoon), scoop small mounds of dough onto the prepared baking sheet a few inches apart. There's no need to flatten the mounds as they'll spread out during baking. Now, using the chocolate you set aside, press a few chunks into each mound (this just helps the cookies look a bit more chocolaty when baked!).

Bake for 10 to 11 minutes (I bake for 10 minutes) for a soft and tender cookie.

Remove cookies from the oven and cool directly on the baking sheet for 10 minutes. Using a spatula, gently transfer each cookie (they'll be very fragile) to a cooling rack for another 10 to 15 minutes. The cookies will be crumbly until they are fully cooled, so it's very important that you give them some time to firm on the rack (I know, it's the hardest thing you'll ever do!).

Serve and enjoy! Cooled cookies will keep in an airtight container in the fridge for 1 to 2 days, or in the freezer for up to 4 weeks. I love the delightful "snappy" texture these cookies get as the chocolate firms up from chilling!
Tip:
* The sunflower seed butter should be 100% sunflower seeds without any added sugars or oils. I use Organic SunButter. Be sure to stir the sunflower seed butter before measuring and avoid using the dry/hard butter at the bottom of the jar. If using thicker seed butter, the cookies won't spread as much when baking.
** If your coconut oil is hard as rock, you can melt it over very low heat and then cool before using. Avoid using warm coconut oil as it'll melt the chocolate chips.
*** Cassava flour can be a bit tricky to locate. Your best bet is to buy from an online retailer (such as this one on Amazon) or a natural food store.
**** To make ground chia seed, add seeds to a high-speed blender or coffee grinder and blend/grind on high until a flour forms. An equal amount of ground flaxseed also works in place of chia, but it will yield a thicker cookie. I prefer using ground chia. Leftover ground seeds can be stored in the freezer in an airtight freezer bag for future use.
Nutrition Information
(click to expand)