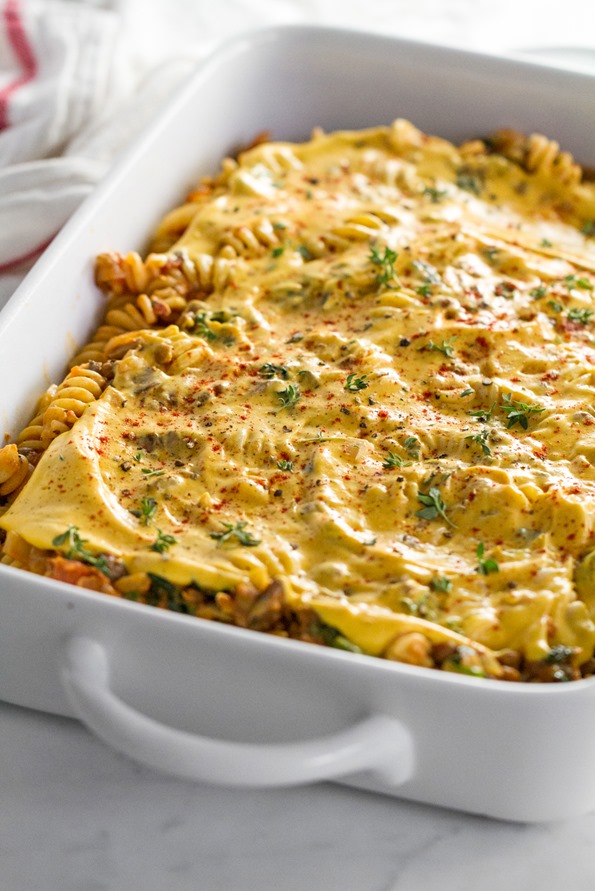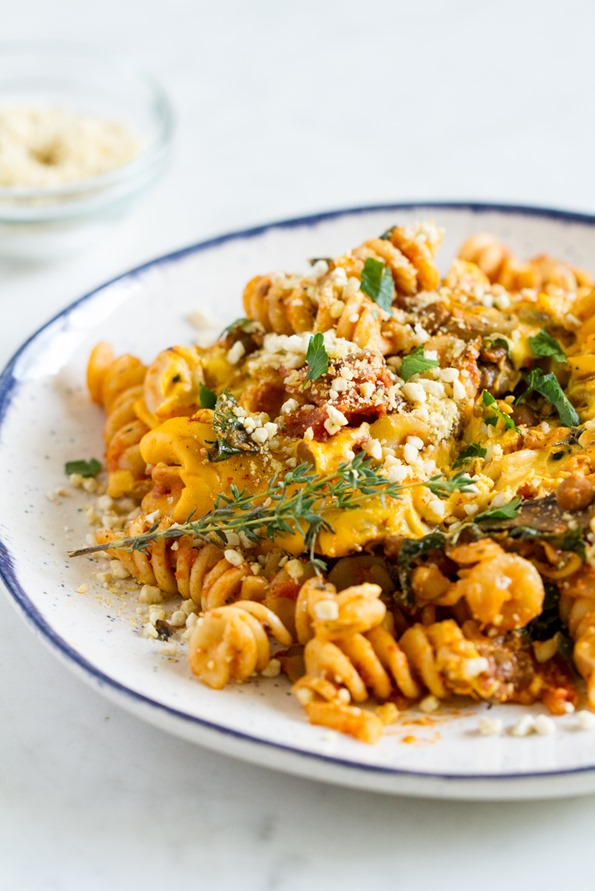 Oh She Glows just celebrated her 9th birthday! Can you believe it? I know, I know, where is the cake? I didn't plan this very well, did I? I promise you today's recipe is a keeper even if it's not covered in frosting. Do you think cheese-covered will do the trick?!
Many moons ago, in October 2008, Eric looked at me and said, "Ange, you need a hobby!" I was hunched in front of my computer poring over research. We'd just returned from our honeymoon, and I was already stressing out over all the catch-up work that was waiting for me at home.
At the time, I was a master's student wrapping up my thesis while working full-time as a researcher. To say I was feeling burned out is an understatement. I definitely hadn't been making time for fun. When Eric asked me what hobbies I had, I honestly couldn't think of anything outside my daily gym sessions. "I'm not sure if working out counts…." he'd say. My only downtime was a weekly night out at a local bar—hardly restorative, though it did feel that way briefly! So I took Eric's advice (a rare occurrence, he says), and that same week hit publish on my very first Oh She Glows blog post!
This blog became a place for me to have fun, explore, write my heart out, try new things, and just get out of "research mode" for a bit. Still, I expected that I would blog for a couple weeks and grow tired of it, but I tapped into something that had been hiding deep below the surface for many, many years…my creativity! OH, HELLO. I couldn't recall the last time I had really allowed my creative self to flourish. Once I'd awoken the creative beast inside, there was no stopping me. (Eric, did you have any idea what you'd be getting yourself into?!)
Soon it became clear that my unsuspecting hobby had grown into a full-fledged passion. I found the courage to write about my journey with disordered eating and how I was working on a positive relationship with food. By practicing every day, I taught myself how to cook and photograph my food (so I could inspire you to make it too!), and eventually became confident enough to experiment with my own recipes. Nine years later, one of my favourite things to do is cook and try new things in the kitchen. I always joke that I rarely follow my own recipes because I have too much fun playing around with them, and so they'll often turn out differently each time. To me, that's when it gets really fun! That said, there are some recipes I like to follow to a T…like my favourite cookies. I take my treats very seriously. Bahaha.
So, thanks Eric, for seeing all those years ago that I needed to give myself some time for creativity. I can't imagine my life without this space, and all of you. The connections and friendships I've made through Oh She Glows have been the happiest surprise of all.
Last week, I had the pleasure of attending Taste Canada's annual Awards Gala, where I was honoured to receive two gold awards for food writing (one for Health and Special Diets Cookbook of the year for my latest cookbook, Oh She Glows Every Day, and a second recognizing Oh She Glows as best Health and Special Diets Food Blog 2017). Thinking back over the past 9 years, it all feels surreal. I had so many inspiring conversations and left that evening even more grateful for this community and what I do.
Thank you for coming on this journey with me. Here's to discovering new hobbies, chasing dreams, and, hopefully, another 9 years!!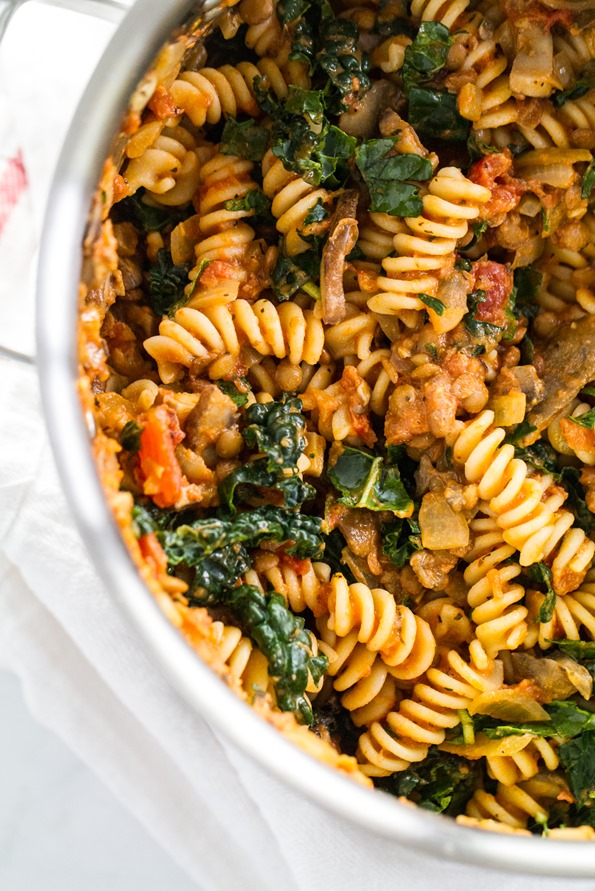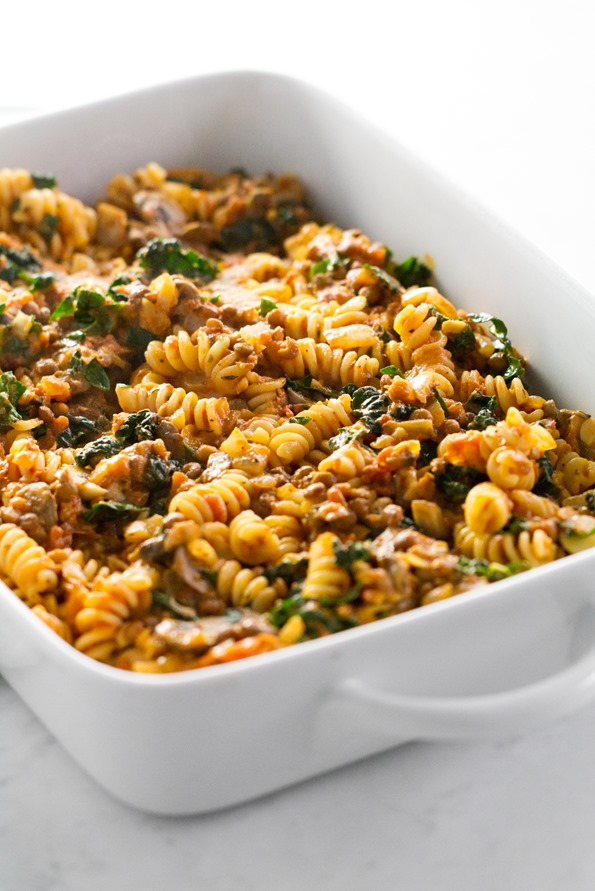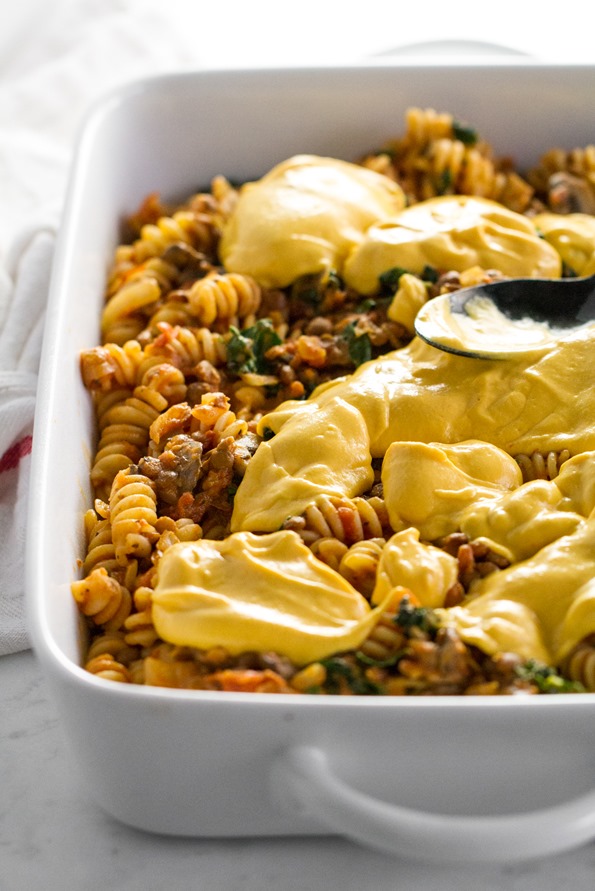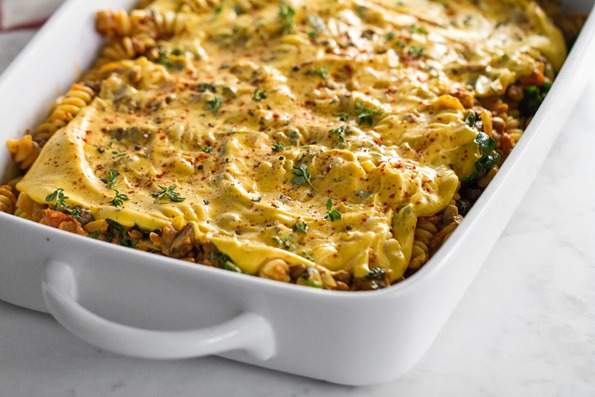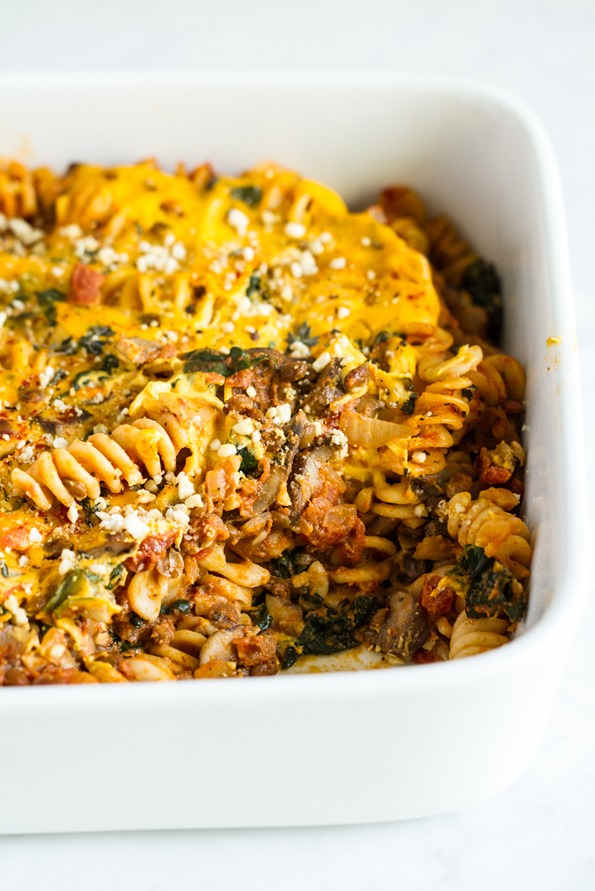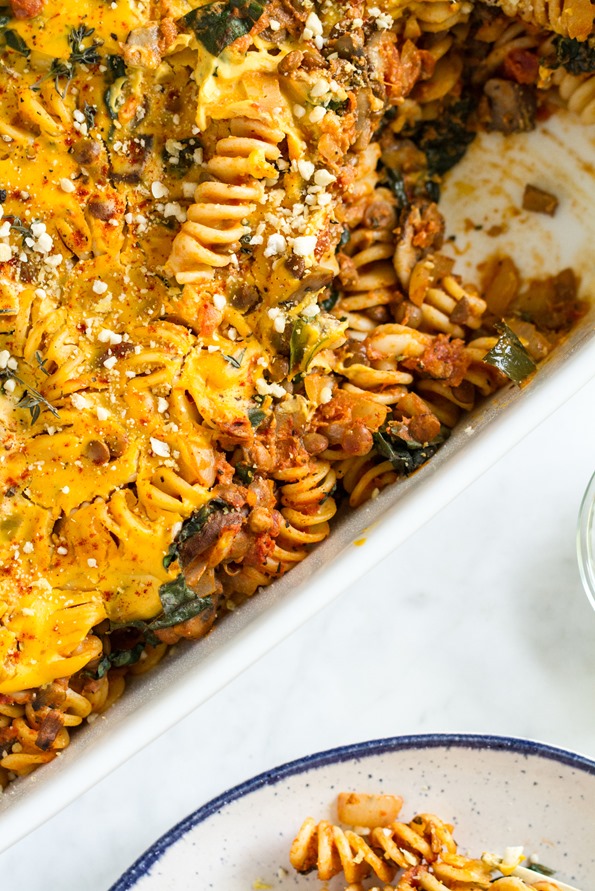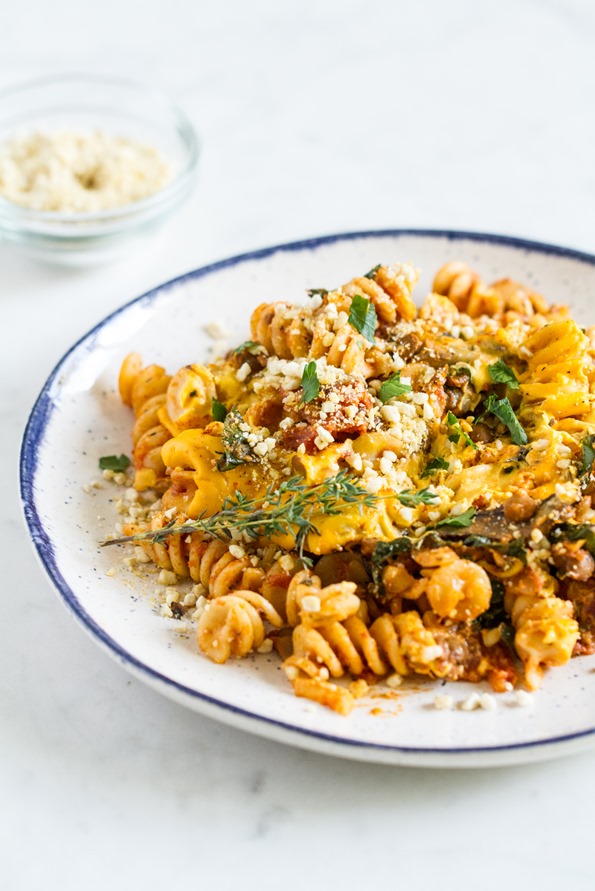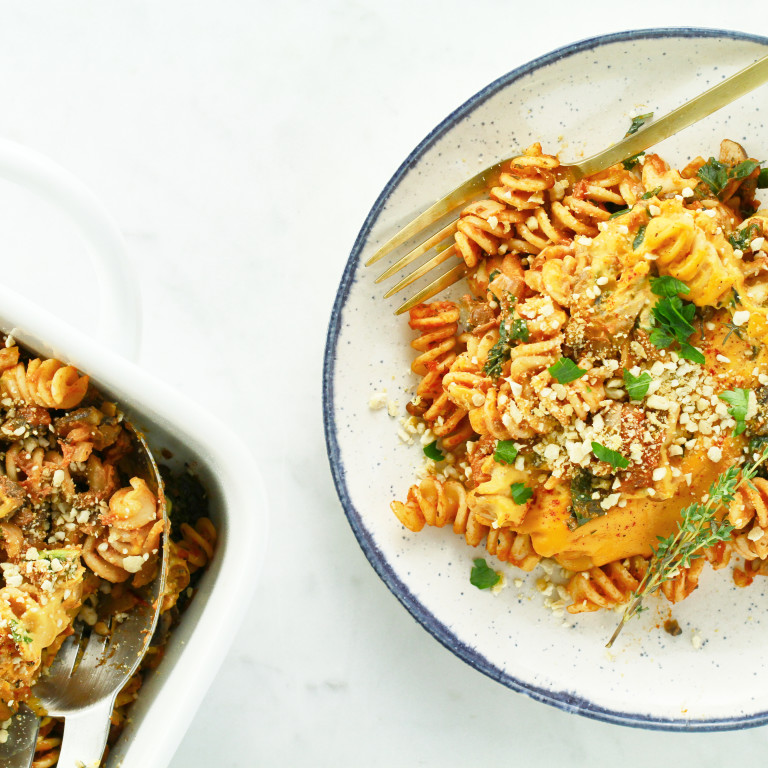 Cheesy Lentil Bolognese Casserole

Yield

8 servings
Prep time

Cook time

Total time

Our family is in love with this cheesy, creamy, and hearty casserole! Traditional bolognese is made with a meat-based sauce, but my version uses lentils and mushrooms for a high fibre, immune-boosting twist. It's great served with a simple salad of marinated greens (for a quick homemade dressing, try my Shake-and-Go Balsamic Vinaigrette from Oh She Glows Every Day), sautéed kale, or my Crowd-Pleasing Vegan Caesar Salad and some crusty fresh bread. Divine! Here are some time-saving tips: if you're looking for a head-start on meal prep, the cheese sauce can be made a couple days in advance and refrigerated in an airtight container. You can also prepare the entire casserole in advance: simply follow the recipe through step #9 (stop before baking!), wrap it up, refrigerate, and then cook as-is one to two days later as directed in step #10. Imagine coming home to this casserole ready to bake at the end of a long day! Nothing is better. This recipe is adapted from my Fusilli Lentil-Mushroom Bolognese in Oh She Glows Every Day.
Ingredients
1 batch All-Purpose Cheese Sauce
14 ounces (400 g) fusilli or rotini pasta (about 4 1/2 cups dry pasta)
2 tablespoons (30 mL) extra-virgin olive oil
1 medium sweet onion, diced (about 2 cups/280 g)
3 large garlic cloves, minced
1 (8-ounce/255 g) package sliced cremini mushrooms

*

1 teaspoon dried oregano

*

*

1 teaspoon dried basil

*

*

1 teaspoon dried thyme

*

*

3 cups (750 mL) chunky marinara sauce

*

*

*

1 (14-ounce/398 mL) can lentils, drained and rinsed (about 1 1/2 cups)
2 tablespoons (30 mL) runny tahini
1/4 to 3/4 teaspoon fine sea salt, to taste
1/2 teaspoon freshly ground black pepper
1/2 teaspoon red pepper flakes (optional)
1 to 2 cups (40 to 80 g) stemmed and finely chopped kale (optional)
Paprika, for garnish
Cashew-Garlic Parmesan, for garnish
Directions
Oil a very large casserole dish (approx. 10" x 14") and set aside. Preheat the oven to 400

°

F (200

°

C).

Prepare the cheese sauce. While the potatoes and carrots simmer for the cheese sauce, start on steps 3 and 4.

Bring a large pot of water to a boil and cook the pasta according to package instructions. Be sure not to overcook it. Drain and set aside.

Meanwhile, in a large dutch oven or pot (about 5 quarts), add the oil, onion, and garlic. Stir and add a pinch of salt. Sauté over medium heat for about 3 to 5 minutes, until the onion is softened and translucent.

Stir in the mushrooms, oregano, basil, and thyme, and cook for another 7 to 9 minutes over medium-high heat until the water cooks off.

Add the marinara sauce, drained lentils, and tahini. Stir until combined. Now add the cooked pasta and continue stirring until it's coated in the lentil-veggie mixture.

Taste and season with salt, pepper, and red pepper flakes (if using). Stir in the kale, if desired. Turn off the heat.

Spoon all of the pasta mixture into the prepared casserole dish and spread it out evenly.

Pour the cheese sauce over top and spread it out with the back of a spoon until it covers the entire surface. Garnish with paprika (it adds a beautiful pop of red), more herbs, and black pepper, if desired.

Bake the casserole uncovered for 15 to 20 minutes, until heated through. (If you're baking the casserole straight from the fridge, bake it for 25 to 30 minutes as it'll take longer to heat up). Serve immediately with a generous sprinkle of Cashew-Garlic Parmesan on top of each portion. Leftovers can be refrigerated in an airtight container for up to 5 days. The leftovers are just as delicious chilled!
Tip:
* If your sliced mushrooms are on the thicker side, dice them up before adding to the pot—they'll cook faster. The same is true if you're using whole mushrooms: the smaller you slice them the quicker they'll cook. If you are a big mushroom fan like I am, you may want to consider doubling the amount listed above.
** If using fresh herbs, measure 2 teaspoons (10 g) of each.
*** If the casserole is going to sit in the fridge for a couple days before you cook it, feel free to stir in an extra 1/2 (125 mL) to 3/4 cup (180 mL) of marinara sauce. This isn't absolutely necessary, but helps counteract any moisture loss while sitting in the fridge.
Make it gluten-free: use gluten-free pasta and cook as directed.
Make it kid-friendly: process the mushrooms in a food processor until minced. The mushrooms will be virtually undetectable, but your meal will still retain their immune boosting benefits!
Nutrition Information
(click to expand)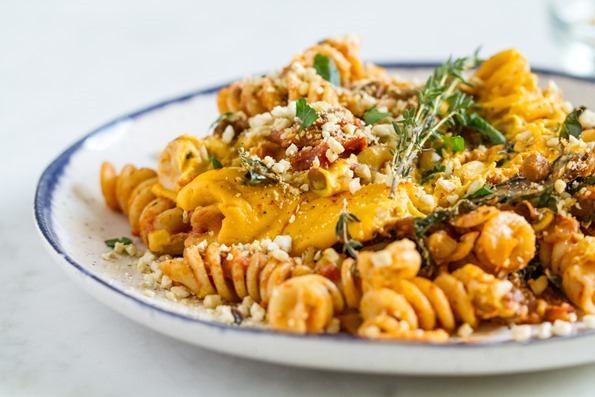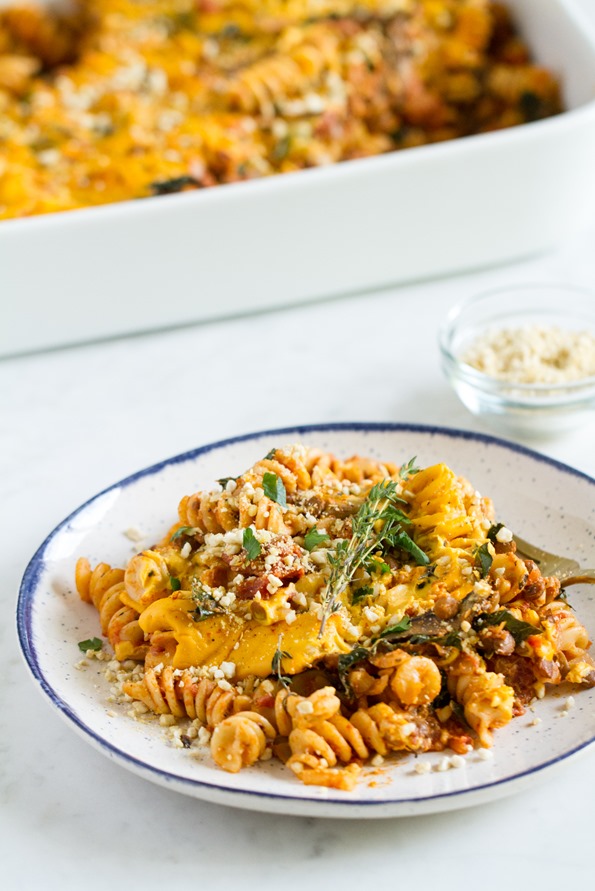 You can also find this casserole recipe (including the cheese sauce and vegan parmesan) in The Oh She Glows Recipe App (iOS and Android). Happy cooking!