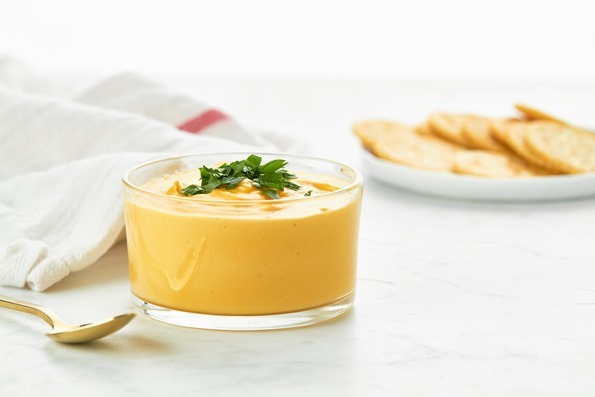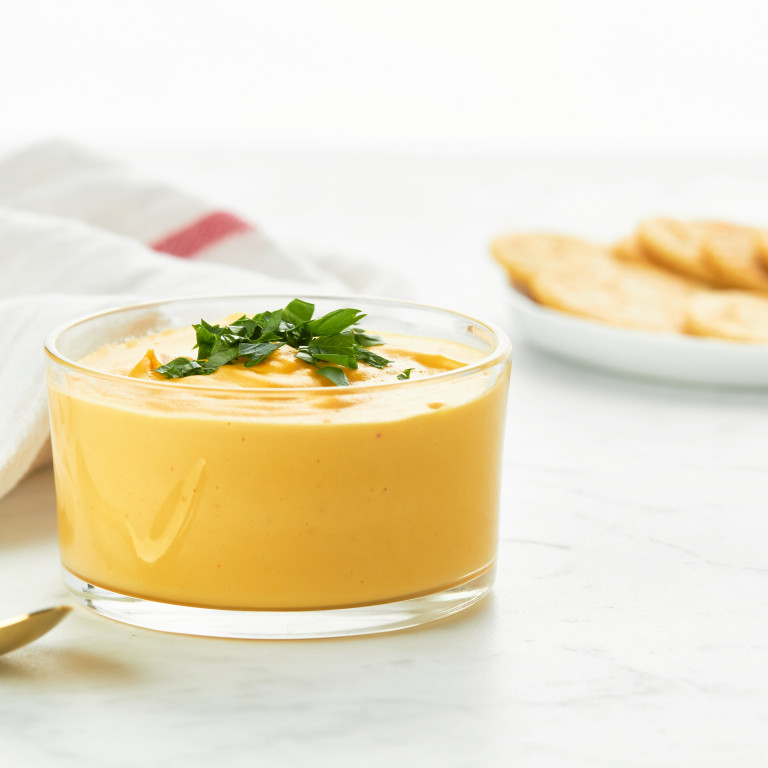 All-Purpose Vegan Cheese Sauce
Vegan, gluten-free, grain-free, refined sugar-free, soy-free

Yield

1 cup (250 mL)
Soak time

overnight or 30 minutes
Prep time

Cook time

Total time

Here it is: my favorite vegan "cheese" sauce that not only tastes amazing, but can also be used in a wide variety of dishes! Who knew that just a few simple ingredients could create such a silky, decadent, and pourable sauce? No, the recipe isn't quite a dead ringer for traditional cheese sauce, but we think it's delicious in its own right. This pairs perfectly with my Chili Cheese Nachos or Mac and Peas recipes from Oh She Glows Every Day, but is just as good heated up and used as a nacho dip for salsa, guacamole, or refried beans. It's also fantastic drizzled over roasted or steamed broccoli or cauliflower. A big thanks to Ruth Tal's Super Fresh cookbook for inspiring this versatile and wallet-friendly recipe.
Ingredients
1/4 cup (35 g) raw cashews, soaked

*

1 1/4 cups (190 g) peeled and diced yellow or red potatoes

*

*

1/2 cup (60 g) peeled and diced carrots

*

*

2 to 3 tablespoons (8 to 11 g) nutritional yeast, to taste
2 tablespoons (30 mL) grapeseed oil or refined coconut oil

*

*

*

2 1/2 tablespoons (37.5 mL) water
1 1/2 teaspoons (7.5 mL) fresh lemon juice
1/2 teaspoon fine sea salt, or to taste
1 medium (4 g) garlic clove, peeled
1/2 to 3/4 teaspoon white wine vinegar, to taste
Sriracha or other hot sauce, to taste (optional)
Directions
Soak the cashews in a bowl of water overnight. Drain and rinse. (For a quick-soak method, bring a small pot of water to a boil and turn off the heat. Add the cashews to the hot water and soak for 30 to 60 minutes. Drain and rinse.)
Add potatoes and carrots to a small pot and cover with water. Bring to a boil, reduce heat to medium, and simmer uncovered for 10 to 15 minutes until fork tender. Drain. Alternatively, you can steam the veggies until cooked through.
Add all ingredients except hot sauce to a high-speed blender and blend until smooth. (See my tip for a food processor option.) If the mixture is too thick, a splash of water or oil can help it along. Sample the sauce and adjust seasonings as desired. Add Sriracha (or other hot sauce) as preferred, if you'd like to give the cheese a spicy kick! The sauce will keep for up to one week refrigerated in an airtight container.
Tip:
* If your blender has a hard time blending cashews smooth, you may omit them (or try using a tablespoon of raw cashew butter instead!).
** To cut down on cooking time, be sure the potatoes and carrots are diced finely.
*** If you don't have either of these oils on hand, a light-tasting olive oil should do the trick. Be sure not to use virgin coconut oil as it can impart a coconut flavour in the sauce (unless you're down with that of course!). Refined coconut oil has no flavour.
If you don't have a high-speed blender, a heavy-duty food processor will work in a pinch. Note that you may have to process the mixture for several minutes, and keep in mind that if you use cashews they won't fully break down like they do in a Vitamix, resulting in a slightly more textured sauce.
Make it nut-free: simply omit the cashews. The sauce won't be quite as rich, but still tastes great. You can also add an extra tablespoon of nutritional yeast if omitting the cashews.
Nutrition Information
(click to expand)