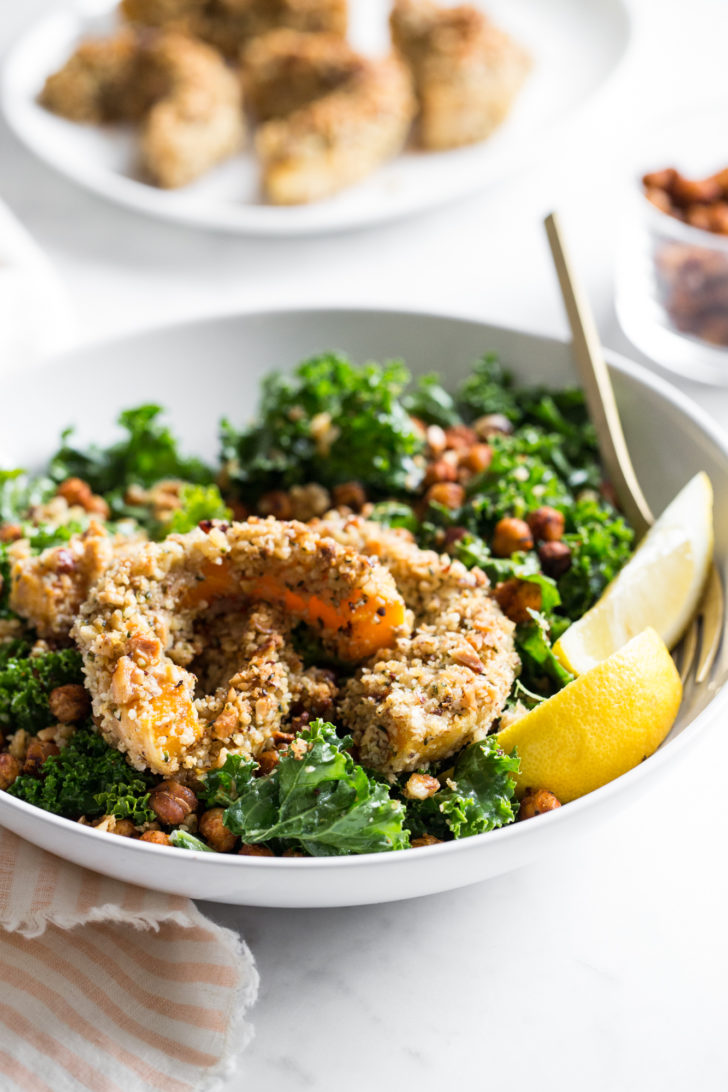 I was recently asked by Terra (OSG's editor extraordinaire) how I came up with this recipe, and after explaining my process to her we both agreed I should share my fun little kitchen story with you on the blog! I often think this stuff is going to be boring so I don't tend to get into the behind-the-scenes details too often, but I'd love to hear what you think!
This recipe actually began as something totally different. I'd been working on a simplified butternut risotto and, despite a few attempts, it just wasn't impressing me (okay, I totally have Shania Twain in my head right now). I had planned on trying that recipe one more time before moving on, but just couldn't shake the feeling of DOOM I had about it. Whenever I'm clouded by this "feeling of doom" and try to force a recipe (ignoring the voices in my head screaming "noooo don't do it!"), I find it usually winds up being a waste of time anyway. I have to say that the results are almost always still edible and often quite tasty…just not quite good enough to share!
So, putting the risotto aside, I brainstormed something in a totally new direction! I couldn't get crusted butternut squash out of my head (#weirdo), and thought it would be absolutely amazing to create a nut-and-seed coating for one of my favourite sweet, hearty winter veggies. I thought about my popular eggplant parmesan recipe from Oh She Glows Every Day (page 173) and used that as a jumping off point to get the wheels turning.
But I didn't want to share the crusted squash recipe on its own as I had a hunch many of you would ask me how to turn these crunchy beauties into a complete meal. I checked my fridge and saw that I had some kale on hand, so I decided to marinate the greens in a creamy dressing for a hearty base. Now what about adding more protein in addition to what the nuts and seeds provide? I've been wanting to make spicy roasted chickpeas using my 10-Spice Mix for a while, and thought the pop of heat they bring would be a nice contrast to the the sweet, nutty squash. Bingo!!
Let's recap: crunchy crusted squash, marinated kale, and 10-Spice roasted chickpeas. Yes, this could be AMAZING!!! Soon enough, a meal was born! This is when I start to get really excited, if you can't already tell. But then I realize that I have to write up that dang recipe…
After I come up with the complete recipe idea, I type the recipe out in its entirety, visualizing each step as I go along. (This is something I've gotten better at as the years have gone by, but I still think it's probably the most difficult part of the process!) Then I use this detailed recipe draft as as a guide for my first test and any trials thereafter. Each time my recipe tester Nicole and I test the recipe, I make live edits into the working draft on my laptop. (Live editing sounds way more exciting than it is…hah.) Once we both approve of the recipe (Nicole owns her own daycare, so other testers often include children and parents too…score!), I make final recipe edits before Terra and I begin the back and forth of our editing process. I've been creating recipes for almost 10 years now, and I find this system helps me deliver consistent and high-quality recipes.
Okay, if you skip right over this and go straight to the recipe, I won't blame you. It's all about the food, after all! This recipe is a big one, so reading it over before you begin is especially important. Also, you'll see it contains a few "mini" recipes within—nutty topping, 10-Spice Roasted Chickpeas, marinated kale, etc.—feel free to make individual components (like the roasted chickpeas or marinated kale) on their own when you're not up for preparing the full dish. A little mix-and-match, if you will! I don't want to gush too much, but I really hope you make the whole thing…everyone who tried this recipe RAVED about it (one tester even said it's possibly her favourite OSG recipe ever!). I could eat it every day, personally. :)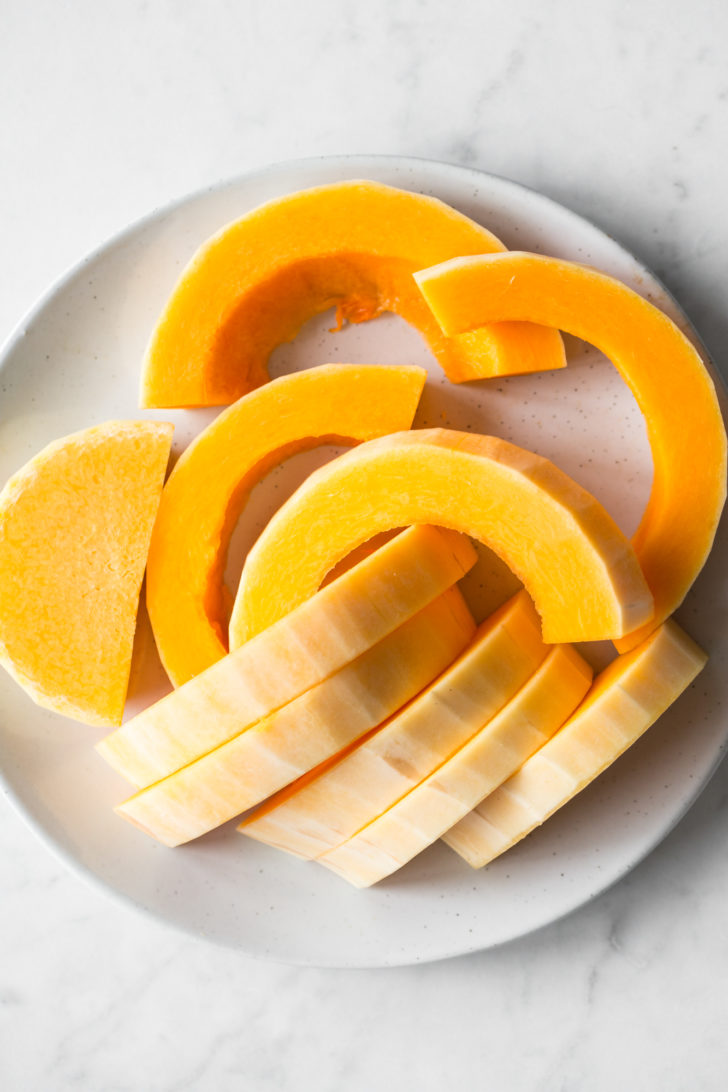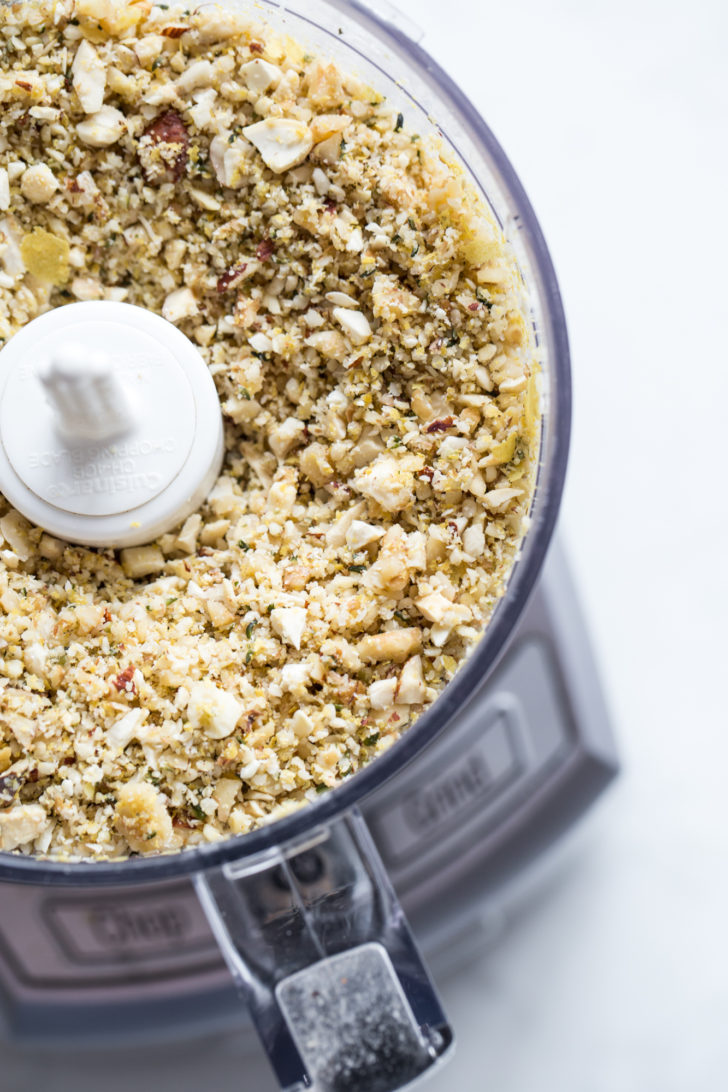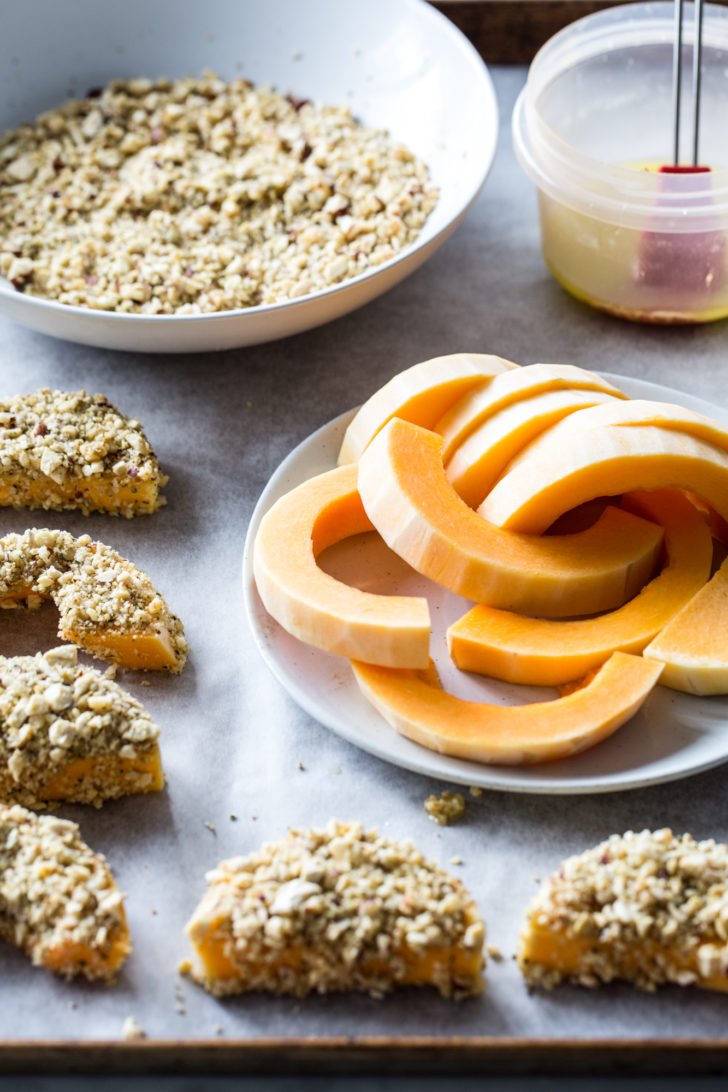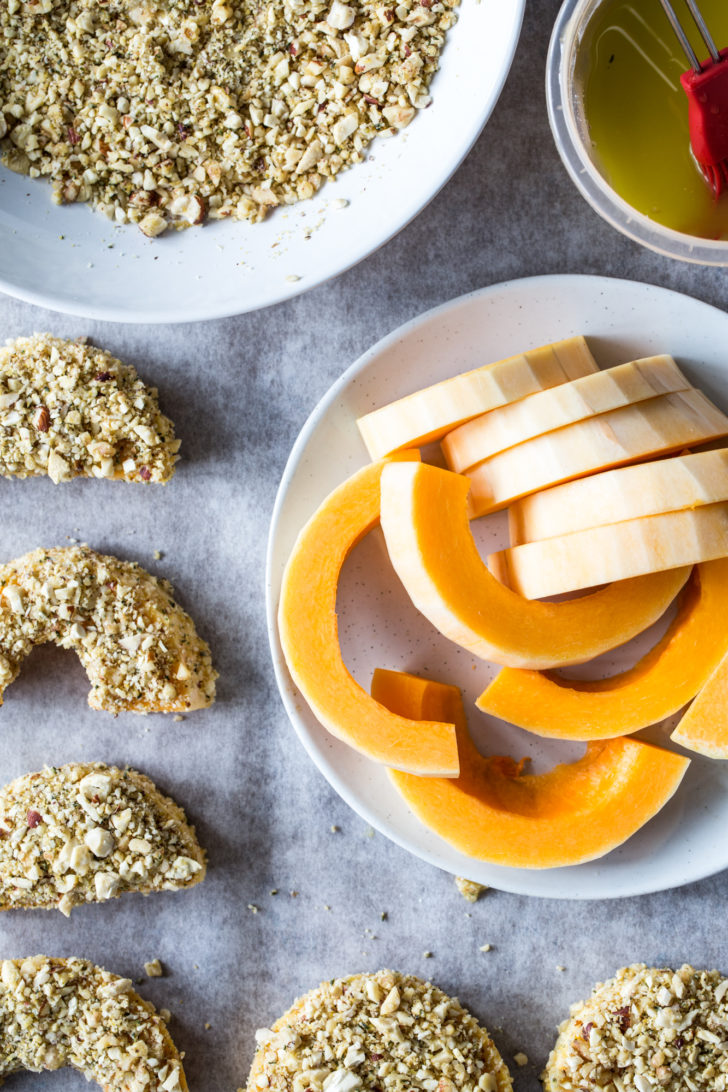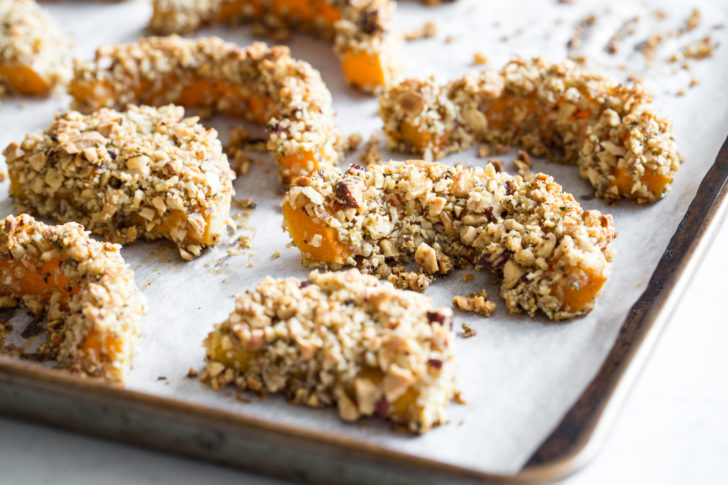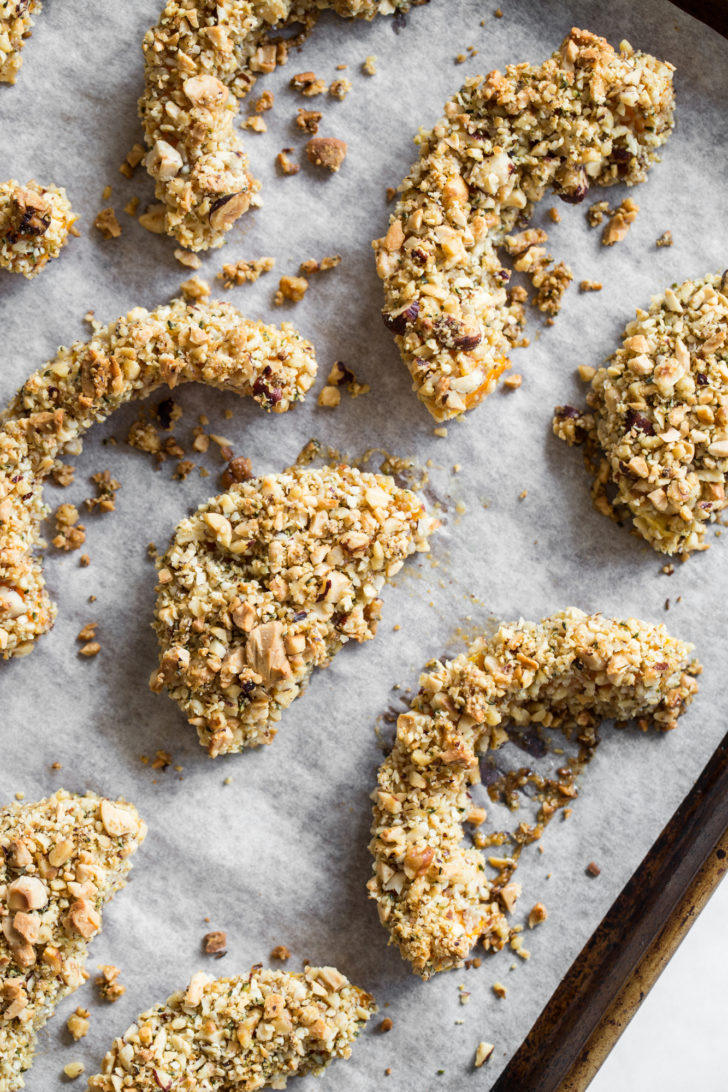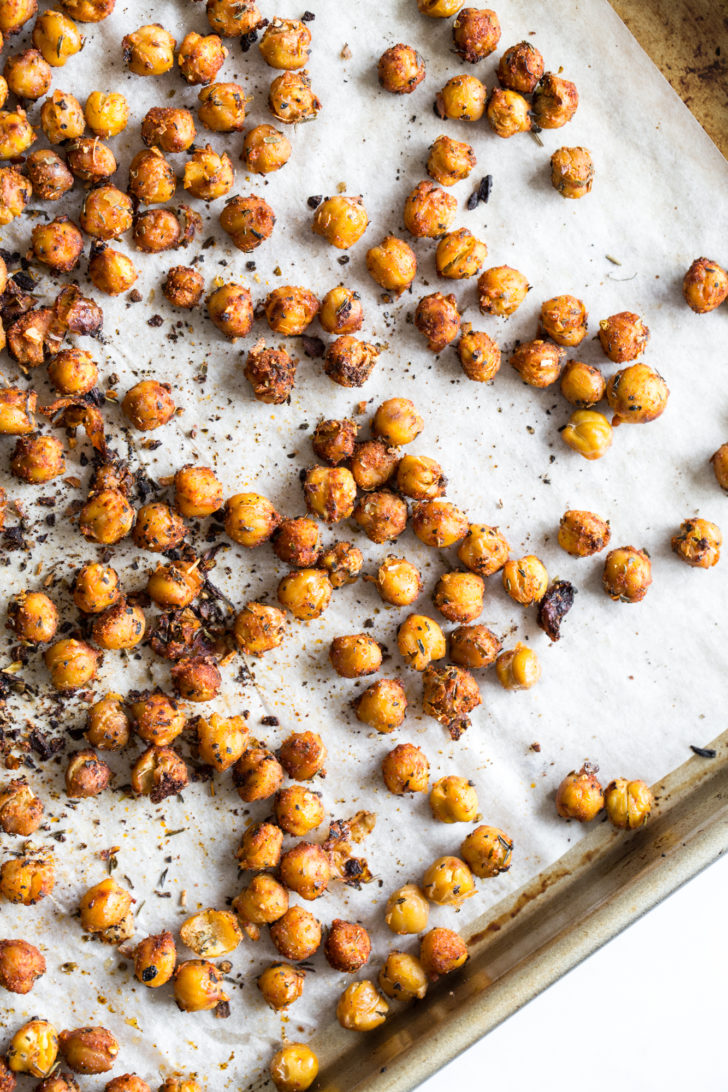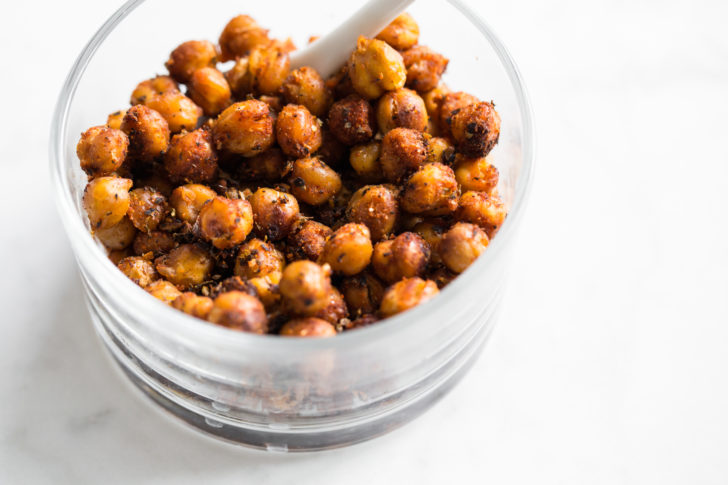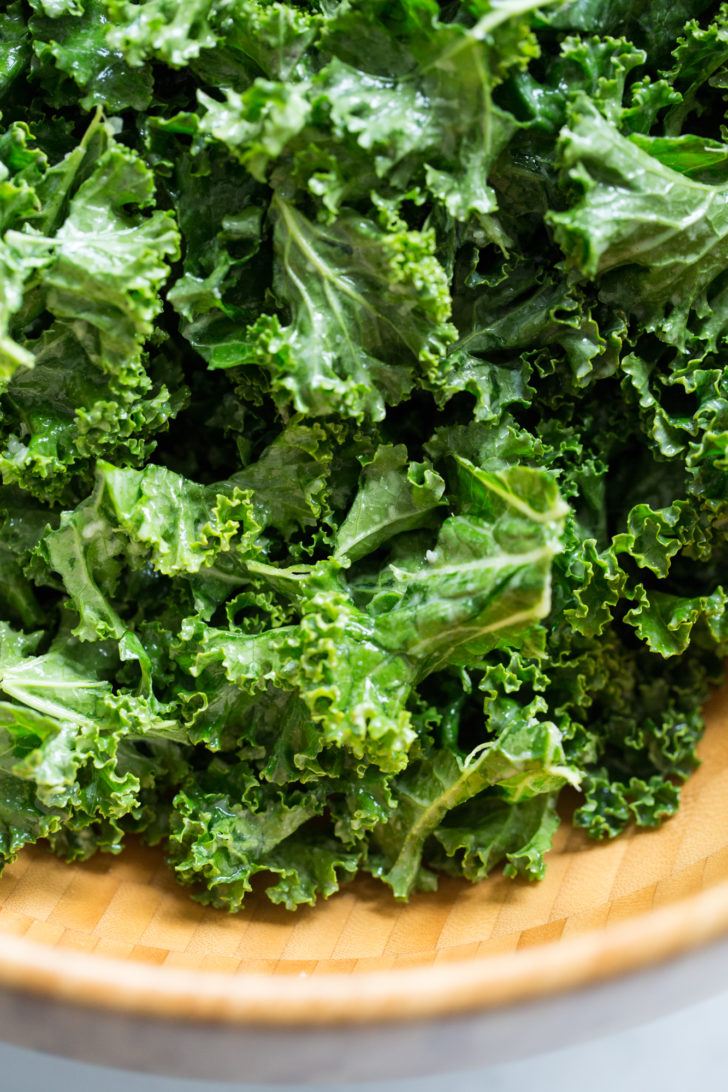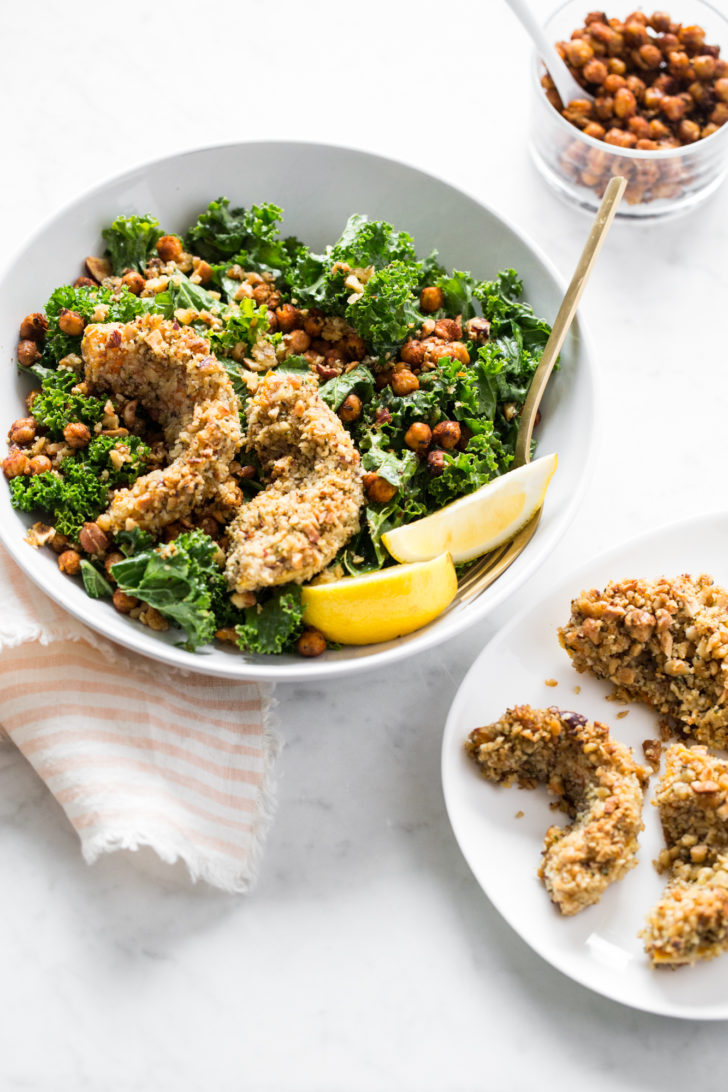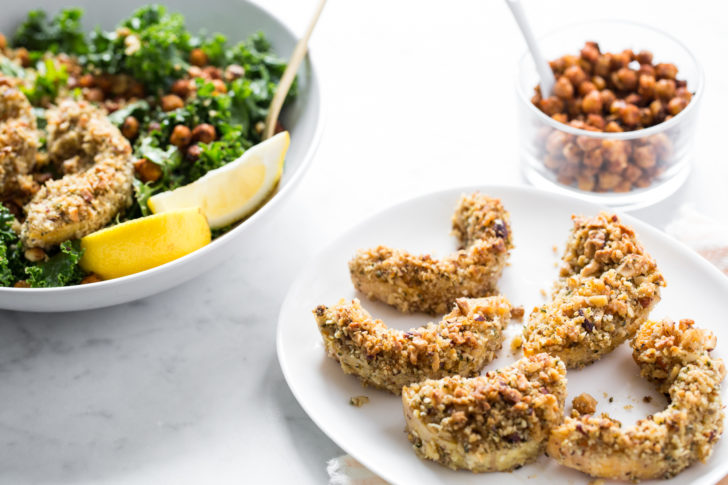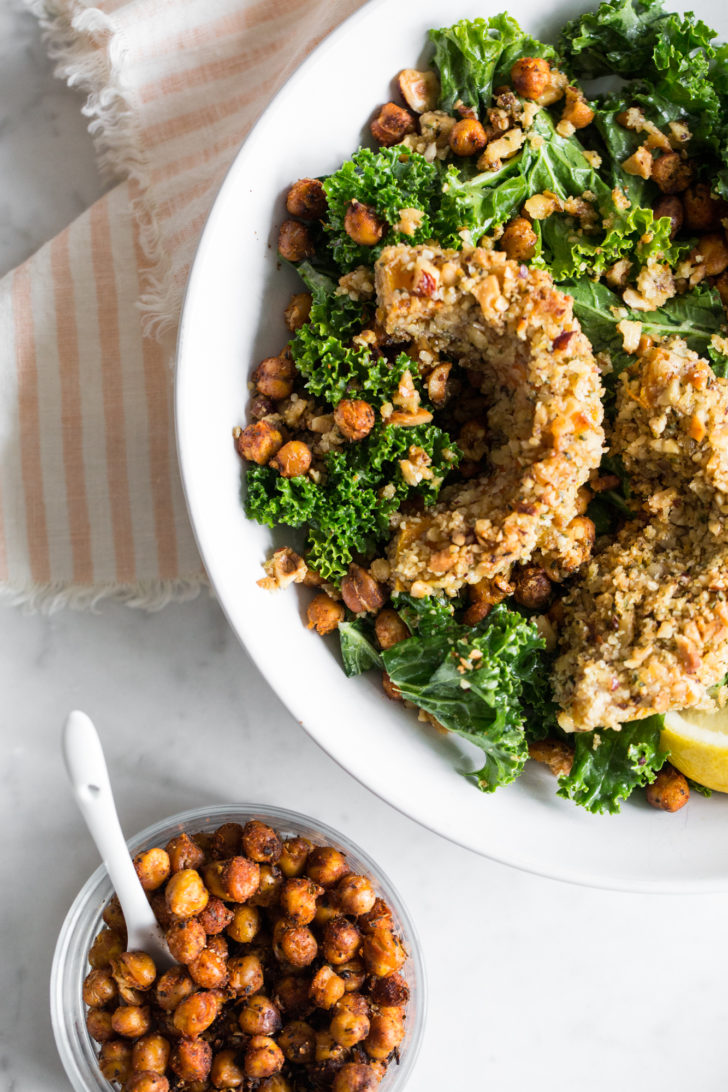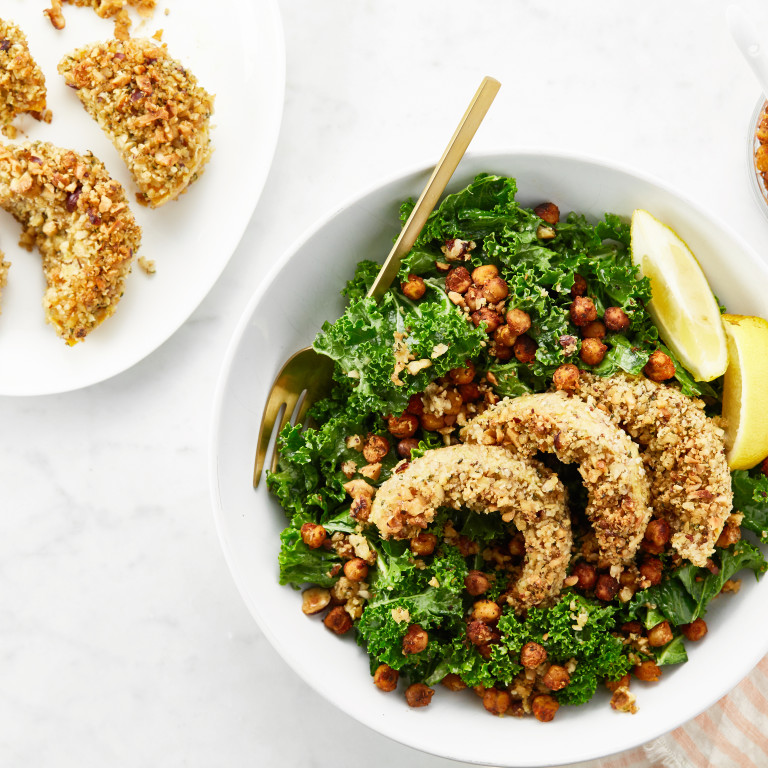 Nutty Crusted Butternut Squash Bowl
Vegan, gluten-free, grain-free, refined sugar-free, soy-free

Yield

6 generous servings
Prep time

Cook time

Total time

This hearty dish is filled with so many amazing crunchy, chewy textures—the crispy roasted chickpeas and nutty butternut coating are a delightful contrast to the soft squash and chewy kale. The flavours are out of this world: there's sweetness from the squash and pure maple syrup, pops of tangy lemon and savoury garlic, and smokiness from the spiced chickpeas. Because there are a few components, this recipe is perfect for the weekend when you have a bit of extra time on your hands. If you're like me, you'll find yourself dreaming about these nutty crusted butternut squash wedges and wanting to put them on just about everything!
Ingredients
For the nutty crust topping:
1 large garlic clove
6 tablespoons (53 g) hemp hearts
6 tablespoons (50 g) raw hazelnuts
3/4 cup (113 g) raw cashews
3/4 cup (75 g) raw walnuts
3 tablespoons (15 g) nutritional yeast
1 1/4 teaspoons fine sea salt
For the butternut squash:
1 small/medium (2 to 2 1/2 pound) butternut squash

*

1 1/2 tablespoons arrowroot powder

*

*

6 tablespoons (90 mL) extra-virgin olive oil
For the 10-Spice Roasted Chickpeas:
1 (14-ounce/398 mL) can chickpeas, drained and rinsed
1/2 tablespoon extra-virgin olive oil
1 tablespoon 10-Spice Mix

*

*

*
For the marinated kale:
1 medium (300 to 350 g) bunch curly kale
1 small garlic clove, finely grated on a microplane
1 tablespoon (15 mL) extra-virgin olive oil
1 teaspoon (5 mL) pure maple syrup, or to taste
1/4 teaspoon fine sea salt
3 tablespoons (45 mL) fresh lemon juice, plus lemon wedges for serving
1 tablespoon (15 mL) tahini, plus more for serving
Directions
Position two oven racks near the middle of the oven and preheat oven to 375°F (190°C). Line two large baking sheets with parchment paper and set aside.
Prepare the nutty crust topping: Add the garlic clove to a food processor and process until minced. Now add the hemp hearts, hazelnuts (no need to remove skins!), cashews, walnuts, nutritional yeast, and salt to the processor and pulse the mixture until coarsely ground with some larger chunks of nuts (the mixture should be the texture of large-flake sea salt). Be careful not to overprocess the nuts as you want the topping to be crunchy. Spoon all of the mixture into a large shallow bowl.
Peel the squash and halve it lengthwise. Use a spoon to remove and discard the seeds inside. Slice each half into thin 3/4-inch wedges.
Now we're going to coat the wedges in the nutty crust topping, and I'll warn you in advance that this is a messy, imperfect process...but the result is delicious, so don't sweat it! To start, in a shallow bowl, whisk the arrowroot powder and oil together until smooth. Use a pastry brush to generously brush the oil mixture onto a single squash wedge until it's completely coated in oil (or simply dip the wedge into the oil and toss to coat). Immediately transfer the oil-coated wedge to the bowl of nutty crust topping. Using your fingers, heap the mixture onto the top and sides of the wedge until it's covered completely. Be generous! Press the topping into the wedge so that there's a thick coating. (And it's totally normal for some topping to fall off in spots.) If you find your fingers covered in the topping, rinse and dry them as needed.
Repeat this process for all of the wedges, placing each one gently on the baking sheet as you go and leaving about 2 inches of space between. If you run out of topping, you can reserve leftover wedges for another use or coat them in oil and roast them alongside the topping-coated wedges as directed.
Prepare the 10-Spice Roasted Chickpeas: Place the drained and rinsed chickpeas onto a tea towel and roll the chickpeas around until they're dry. Spread the chickpeas onto the second baking sheet and toss with the oil. Sprinkle on the 10-Spice Mix and toss the chickpeas again until coated evenly.
Place both baking sheets into the oven. Roast the chickpeas for about 30 to 35 minutes until lightly golden and then remove them from the oven. Roast the squash for a total of 40 to 55 minutes (I bake for about 50 minutes), until fork tender and lightly golden. I suggest testing the squash around the 40-minute mark and keeping a close eye on it thereafter.
While the chickpeas and squash are roasting, prepare the marinated kale. Rinse the kale leaves and use absorbent tea towels to pat dry. Separate the stems from the kale and discard. Tear the kale into bite-sized pieces and transfer to a very large mixing bowl. In a small bowl, whisk the garlic, olive oil, maple syrup, salt, lemon, and tahini until smooth. Pour the dressing over the kale and "massage" until fully coated. Feel free to enjoy the marinated kale raw or use a skillet to heat it up. (I like to sauté mine if I have time!) Set aside.
For serving: Divide the marinated kale into 4 large shallow bowls and top each with a few squash wedges along with a large spoonful of roasted chickpeas. Drizzle a tablespoon of tahini onto each bowl and top with a few generous squeezes of lemon juice too. You can serve the bowls with lemon wedges on the side if preferred. Oh, and if there is nutty topping remaining on the baking sheet, feel free to sprinkle it over the bowls so nothing goes to waste.
Tip:
* I recommend using a butternut squash on the smaller side here because a large squash (2 1/2 pounds or more) won't leave enough nutty crust topping to go around.
** Cornstarch should work as an alternative to arrowroot powder.
*** For the 10-Spice Mix, use this recipe from the blog or on page 284 of The Oh She Glows Cookbook. Feel free to omit the white pepper for a slightly less spicy version.
If you're not including the roasted chickpeas, please note that the squash will bake more quickly in the oven alone.
Have leftover roasted squash? It's great thrown into a wrap the next day!
Nutrition Information
(click to expand)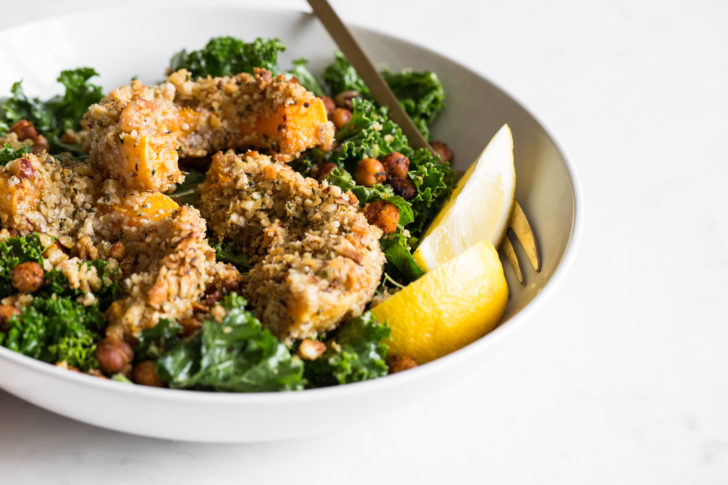 As always, you can find this recipe in The Oh She Glows Recipe App as well! The app is available on iOS and Android.