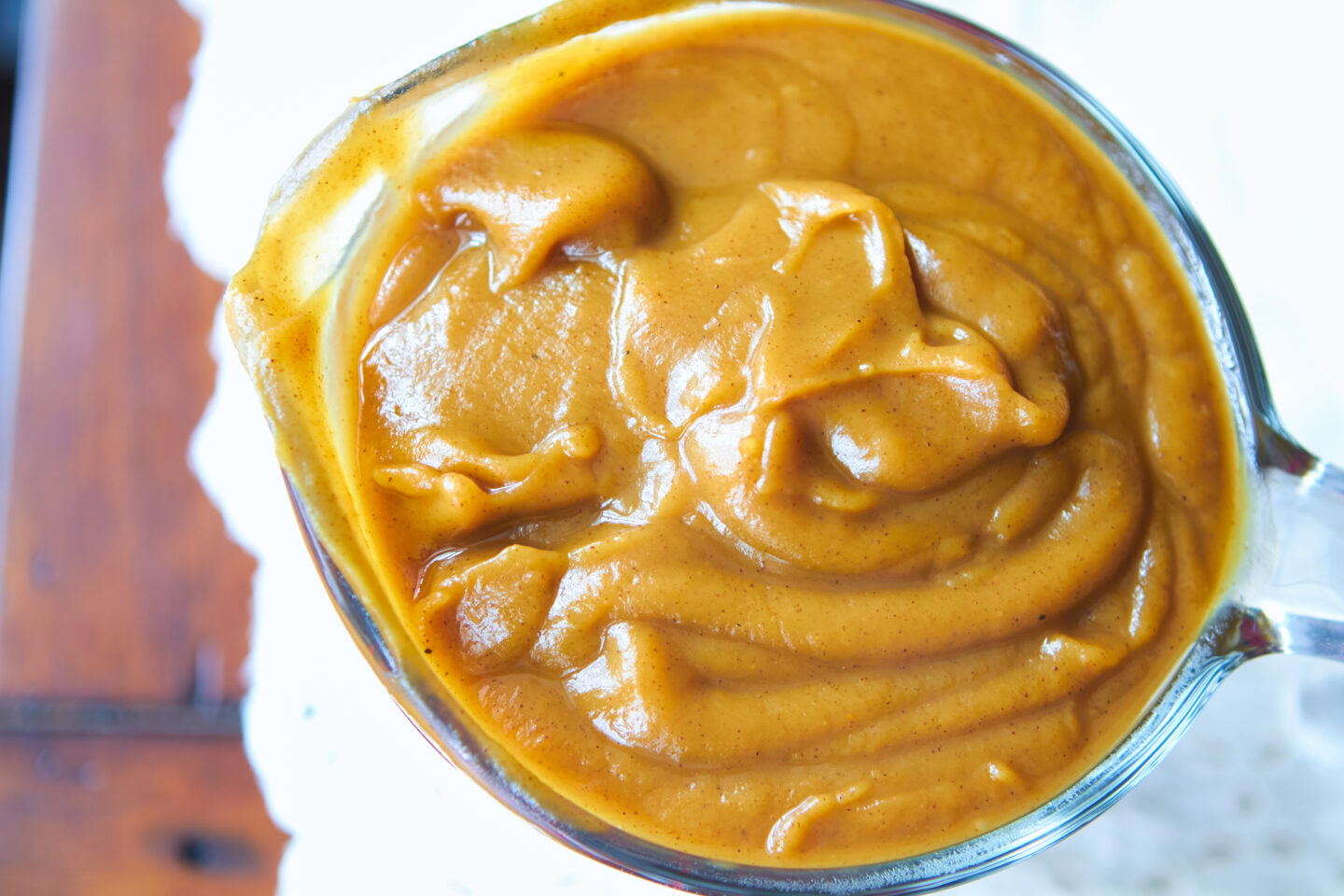 If you've been reading this blog for a year or longer, you may know that I'm head over heels for Homemade Pumpkin Butter. Not only is it one of the most popular recipes on the blog, but it's also a personal favourite. I eagerly make several batches every fall and winter (umm, and apparently during the summer now…). No two batches are ever the same; I love changing it up with different sweeteners and spices depending on my mood. You all seem to love pumpkin butter too – I get so many comments and emails about the recipe!
The original recipe uses canned pumpkin which is great for convenience, but I've always wanted to try out the recipe using freshly roasted pumpkin. I just knew it was going to rock my world.
Oh, did it ever.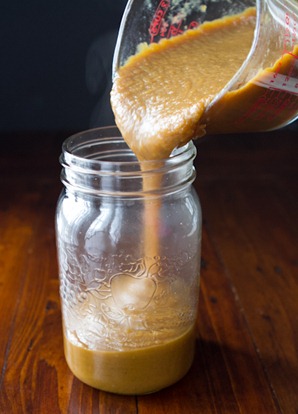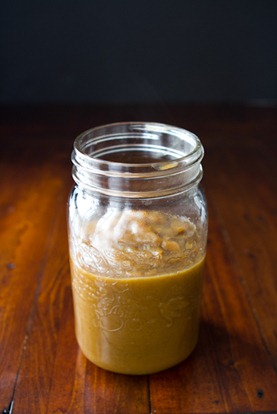 If you saw my pumpkin roasting tutorial Monday, you may recall this photo of the roasted pumpkin after blending in my Vitamix: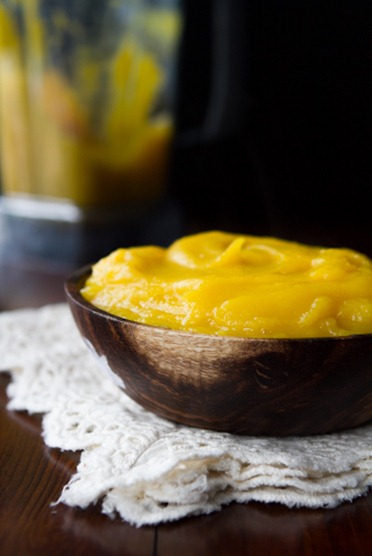 Well, after that photo I had a lightbulb moment. Why not just throw all of the pumpkin butter ingredients straight into the blender and blend it all up?
It turned out to be a great idea to use the blender – no need to whisk in any ingredients. Plus, the blender got it super smooth and silky. I also reduced the amount of juice so it only took 10 minutes to cook down on the stove top as compared to 35-45 minutes in the original recipe. I certainly wasn't complaining!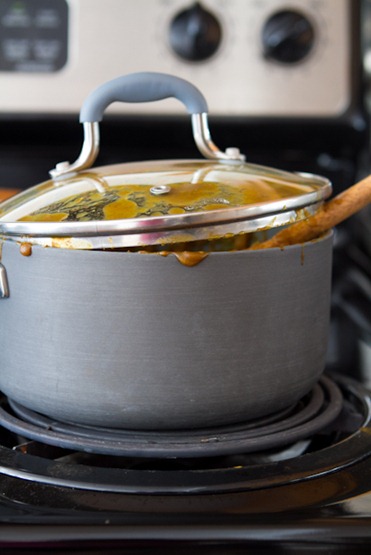 My Tip:
The best tip I can give you when making pumpkin butter on the stove-top is to cover the pot with a lid and prop it open with a wooden spoon. The mixture splatters everywhere while simmering and you definitely need a lid to cover it while still allowing steam to escape. You can also make it in a slow cooker if that floats your boat.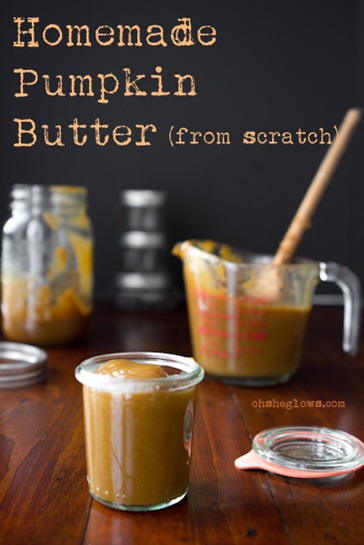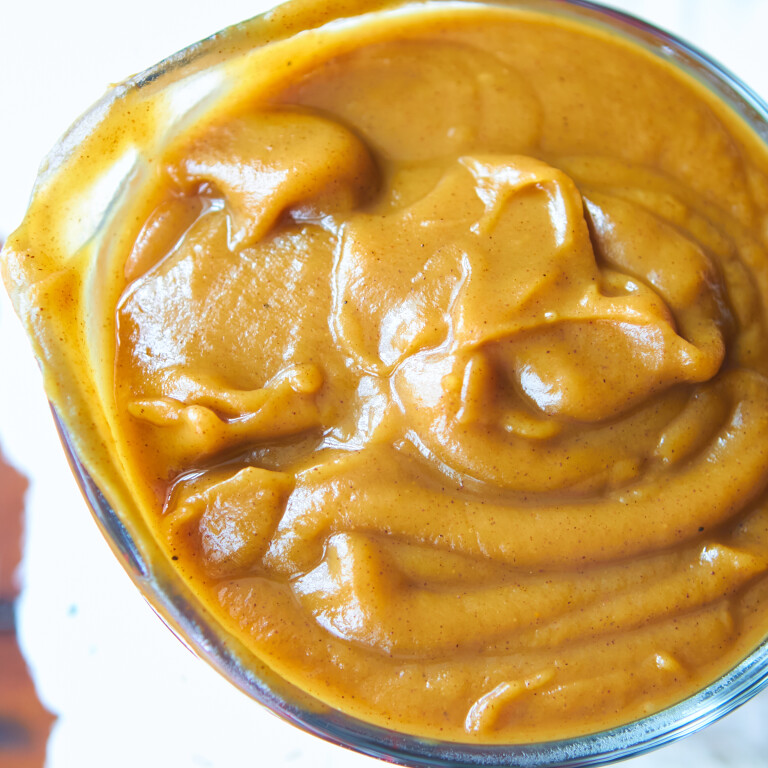 All Natural Pumpkin Butter From Scratch
Vegan, gluten-free, nut-free, oil-free, soy-free

Yield

3 to 3.5 cups
Prep time

Cook time

Total time

Ingredients
4 – 4.5 cups fresh pumpkin puree (made from ~3.8 pounds sugar pumpkin)
1/4 cup sweet apple cider or apple juice, more if needed
1 cup Sucanat (or brown sugar, unpacked)
3-4 tbsp pure maple syrup, to taste
1 tbsp ground cinnamon
1/2 tsp ground nutmeg
1 tsp fresh lemon juice (enhances flavour and helps preserve)
1 tsp pure vanilla extract
pinch of fine grain sea salt
Directions
Roast your sugar pumpkins (see this tutorial). Cool for 10 minutes on pan before handling.
Add pumpkin flesh (without the skin) in a blender. Add juice and blend until smooth, stopping to push down the pumpkin when necessary. It may take a bit to get it going.
Add the Sucanat (or brown sugar), maple syrup, cinnamon and nutmeg. Process again until super smooth and no clumps remain.
Spoon mixture into a medium-sized pot. Cover with lid and prop lid ajar with a wooden spoon. Over medium-high heat, bring mixture to a low boil. Reduce heat to low-medium and cook for about 10 minutes, or until it's as thick as you want it. Keep the lid ajar throughout the cooking process – you will find it splatters everywhere so be careful! I like to keep the lid propped up on an angle while I stir the mixture so I don't get splattered. Remove from heat and stir in vanilla.
Cool completely, stir in lemon juice and a pinch of salt, and then store in a sealed jar in the fridge. Should keep for 2-4 weeks.
Nutrition Information
(click to expand)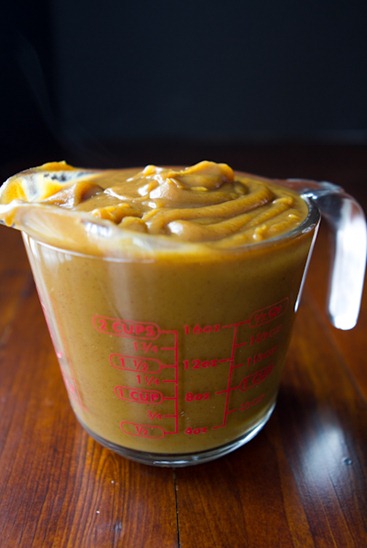 No matter which version you make, one thing is for sure; your house will smell absolutely wonderful throughout the process.
Looking for ways to enjoy pumpkin butter? There are many…
Swirled into vegan overnight oats or hot oatmeal
Smoothies (try it in my Pumpkin Pie Smoothie for two!)
Spread it on toast for breakfast
Swirl it into yogurt or make parfaits
muffins & quick loaves
try this Pumpkin Pie Chia Pudding Parfait
Pumpkin butter latte, anyone?
Use it as a dip for fresh sliced up apples
With a spoon!
Wouldn't it be great in a pie filling? I'll have to try this…
Add it to banana soft serve (or vegan ice cream) for a seasonal twist
Have I convinced you yet?