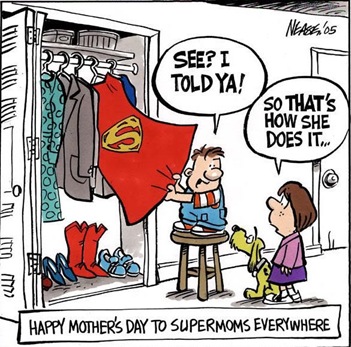 I know it is not Mother's Day but I loved this cartoon too much. [Source]
In the words of Stephanie Tanner, WHOA BABY!
You guys set a new record for the most commented Hot Topic post ever on OSG. I think that was the most fun I have ever had reading comments. Between you and I, I caught ERIC reading through the comments last night!! :mrgreen:
I was also thrilled to see a few men comment, including my Brother in Law ('glowingBIL').
As many of you noticed I did not offer my own opinion on the question in yesterday's post! That was on purpose, of course!
Sometimes I find that it is difficult to deal with sensitive issues on the blog without coming across the wrong way. As many of you noted, the question is a very personal and sensitive topic and I did not want to diminish anyone's situation in any way. I respect where all of you are right now and I respect all of your opinions on the matter. Whether you have them at 22, 38, adopt, or decide that you won't have them…only YOU can know what is best for you!
Women have a huge amount of pressure in this area and many women feel pressured to either have kids or feel badly about themselves when they decide that kids are not for them. It can be a very judgmental topic, so you can imagine my absolute delight when I read through the comments and realized that everyone was so polite, understanding, and supportive of one another.
You all are a classy bunch. But I knew that already.
MY STORY:
I used to say that I didn't want children when I was a teenager. I was always met with the 'oh you will someday' responses and I started to feel like maybe something was wrong with me because I didn't want kids. To be completely honest with you, I have always been a bit scared of children! I always felt like I was going to say the wrong thing or do the wrong thing when they were around. I know that my fear about children swayed my opinion of whether I wanted children myself.
When I entered my twenties my opinion slowly started to change. I started to toy around with the idea. Eric and I have been together since I was 17 (him 18) and I started to think about it, even though I knew I was years from being ready.
Everything changed for me when I saw my sisters have children.
I could relate so much to what Lindsay said in the comments, 'At first I didn't want kids. Then my sister had a baby and something inside happened! 2 months later I conceived my son.'
When I met my nephews and nieces, I knew right away that I wanted to experience that same kind of love one day. The love I feel for them is so strong and seeing my sisters raise beautiful children who love them and adore them so much, is quite a sight to witness.
I think about Sketchie and how much I love him and then I try and fathom what the love for my own child would feel like…and I just can't comprehend it. I think that it would be a feeling like no other.
Eric and I do not have a particular age in mind when we want to have our first child, but we do want kids. I knew when I didn't want them- while in university and during my Master's career. However had it happened, we would have gotten by regardless. We are really happy right now and we take each day as it comes. We also have plans to do some traveling before we batten down the hatches. ;) I'm 26 and most days I still feel so young.
Given the diversity of your comments, there is obviously no right answer or wrong answer. I think it is important that we are supportive of other women, regardless what their choice may be. I can only imagine how annoying it is for women who chose not to have children and are faced with negative comments their whole lives. No one should have to be judged like that.
I think it is a given that women face a lot of pressure and this topic is an area where women face lots of it.  So in that respect…
Do you feel pressured to have kids or did you…and by whom? Do you feel pressure to have them by a certain age, or a certain number of kids? Are you judged because you don't want kids?
For the moms out there, do you feel pressure to be that 'Super Mom'?
PS- I have already changed my Spring Training Plan around! I am super busy in the bakery this week and also sore from yesterday's Booty Camp so I will be skipping my run today. No biggie though! I will re-work this week a bit and update the schedule as needed.
PSS- See you tomorrow for the lunch that changed my life!!