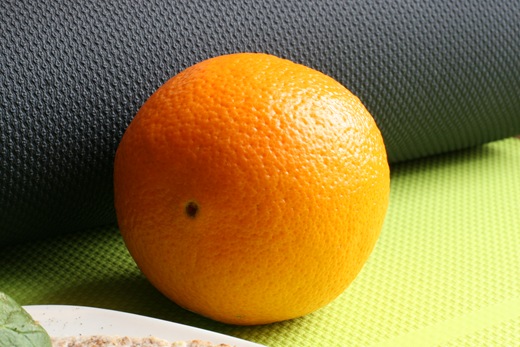 I discovered my Lululemon yoga mat makes a great GREEN backdrop for a photo!
Today I want to do a product review. I purchased these Ezekiel Whole Grain Tortillas last week as a reward for my early rising challenge. The challenge is still going well- I have been getting up between 6-6:20am, with a few slip-ups here and there when I need more sleep. I'm not sure if I will be able to break into the 5's like I hoped, but I am happy with around 6 anyways.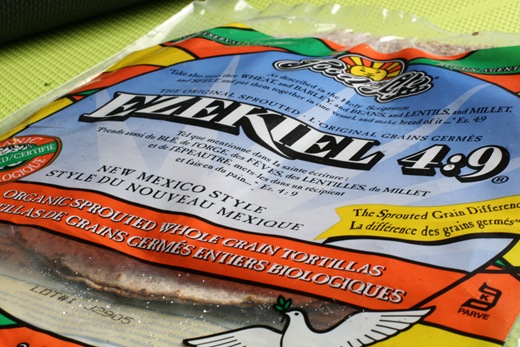 I was really excited to try these as I have been wondering about them for over a year now.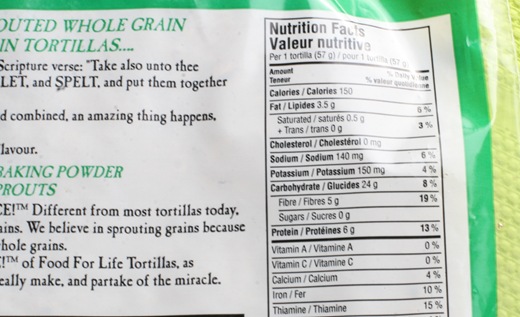 I had the wrap with a delicious quinoa mixture- 1 cup quinoa, 2 heaping tablespoons hummus, ground pepper, and 1 tablespoon tomato paste. Very delicious! On a bed of baby spinach.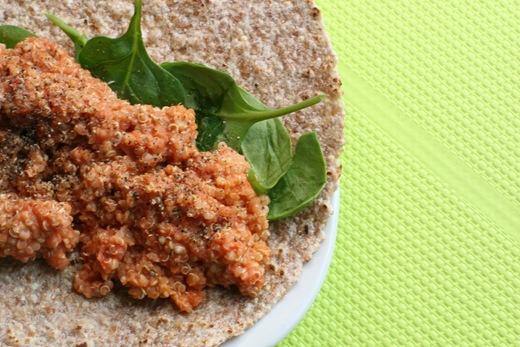 I was a bit disappointed with these wraps because they are quite tough. I was expecting a soft tortilla but these were not soft. They don't taste bad, but I would prefer to spend my dough on other dough…
I definitely prefer the Ezekiel bread to these. The bread seems more filling to me, even though it is about the same number of calories. Maybe it is because I toast the bread.
Someone mentioned that the Ezekiel English muffins are really good so I think I will try those next!
Celery is like air to me. Very fun to crunch though. That is one thing I love about veggies…so. much. chewing.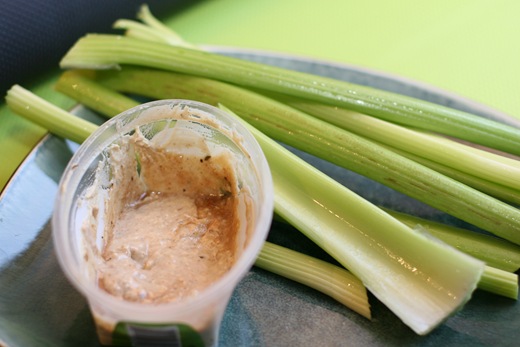 I also made a fun discovery with my tea.
I rarely drink black tea lately, but I used to drink it all the time. Eric drinks it a lot so he has got me drinking some decaf at night time again. I wanted a creamy tea so I tried adding coconut milk. I put about 3 tablespoons of coconut milk into my tea. At first I wasn't sure about the taste, but as I drank it I really enjoyed it. The tea was so creamy and rich tasting! A definite keeper.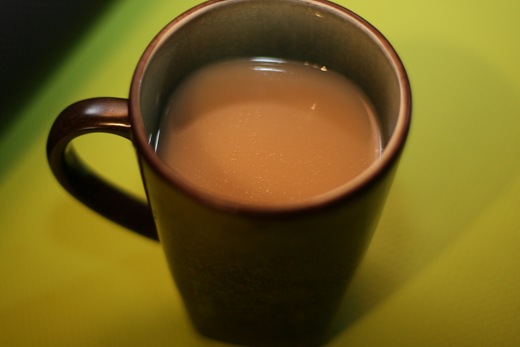 Nothing like a hot cuppa tea on a cold winter's night…
~~~~
This was a question I posed on Twitter tonight and I got some interesting responses:
"For all the ladies out there who want children- do you have a certain age that you want to have your first by?"
I would also like to ask: For those of you who already have children please share your thoughts on your own experience! Did you have them early enough, too late, just right?
Or have you decided that you don't want to have children?
Any MEN out there who want to chime in?  (I'd pretty much die happy if one did…)