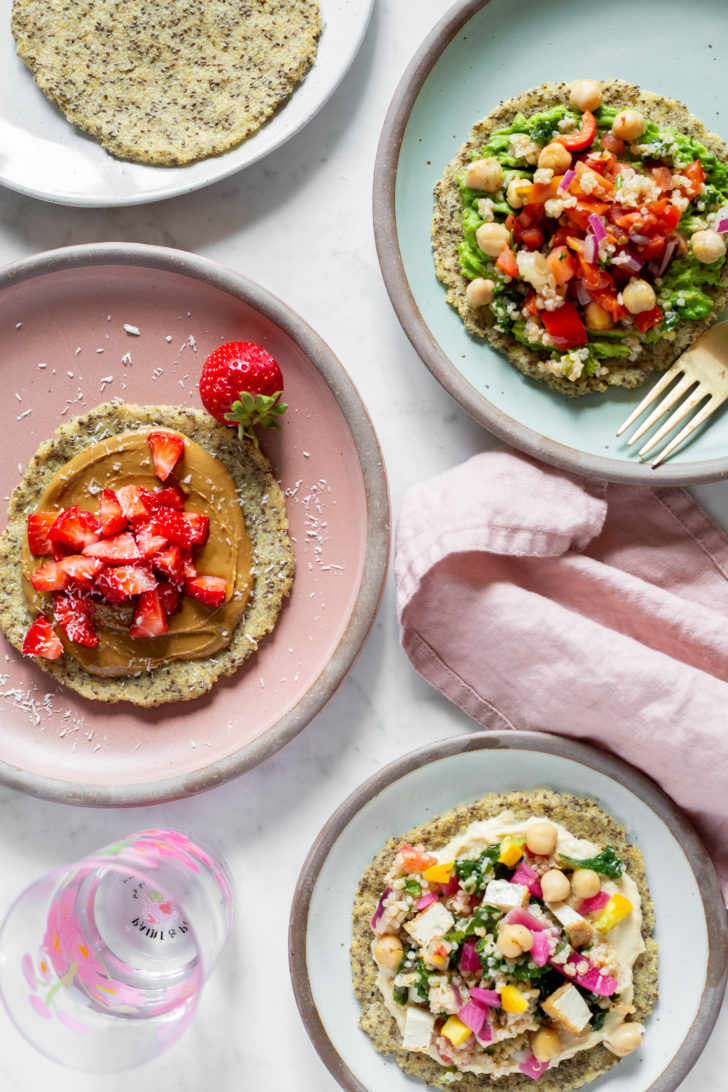 Oh boy, allergy elimination diets are a breeze! Said no one ever. It's been challenging to think of recipes when many of the foods and ingredients I love are also ones I should avoid for a bit before gradually reintroducing. So when I came up with these flatbreads, I was seriously overjoyed! There's always a silver lining.
It's hard finding bread-like foods with short ingredient lists at the grocery store, so I took matters into my own hands in the kitchen. It's been a while since I made a flatbread (way back to my first cookbook). Six trials later, I finally nailed the recipe! (Of course, wouldn't you know it, I went back to my second trial and only tweaked it slightly.) I tested soaked/sprouted raw quinoa, I tested cooked quinoa, I tested with a blender (and then a food processor), I tested with and without oil. I tested with varying amounts of chia seeds and water. And I ate every batch! Hah. Really these are hard to mess up, but some were definitely better than others. The soaked raw quinoa version was a hot mess and had the consistency of leather. #stillateit
What I love about these flatbreads is that they require just three main ingredients—quinoa, chia seeds, and oil (plus water and salt)—and they freeze wonderfully, so you can tuck some away and then simply pop them in your toaster whenever the craving strikes. I even found that the uncooked dough freezes and thaws beautifully, so that's another handy option for you to try if you want to store some in the freezer. I'm all about anything to simplify life…especially as the school season approaches!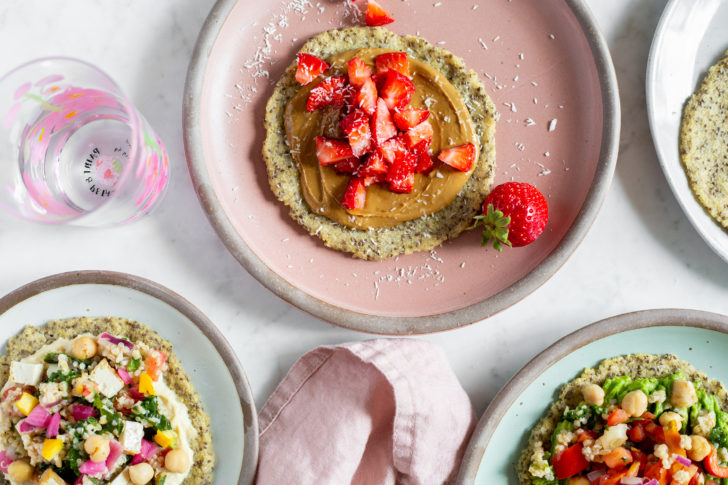 My favourite part is getting creative with the toppings. There are so many OSG recipes that are great on these flatbreads:
Sweet topping ideas
Maple-Cinnamon Superseed Almond Butter
Luxurious Sunflower Seed Butter
Sliced banana or strawberries
Glowing Strawberry-Mango Guacamole (The Oh She Glows Cookbook, p. 81)
Savory topping ideas
9-Spice Avocado Hummus Toast (Oh She Glows Every Day, p. 39)
DIY Burrito Bowl (the spicy black bean topping would be amazing on these!)
Nutrient-packed Guacamole (The Oh She Glows Recipe App: iOS/Android)
Perfect Roasted Chickpeas (The Oh She Glows Cookbook, p. 220)
I can't wait to hear what you think!!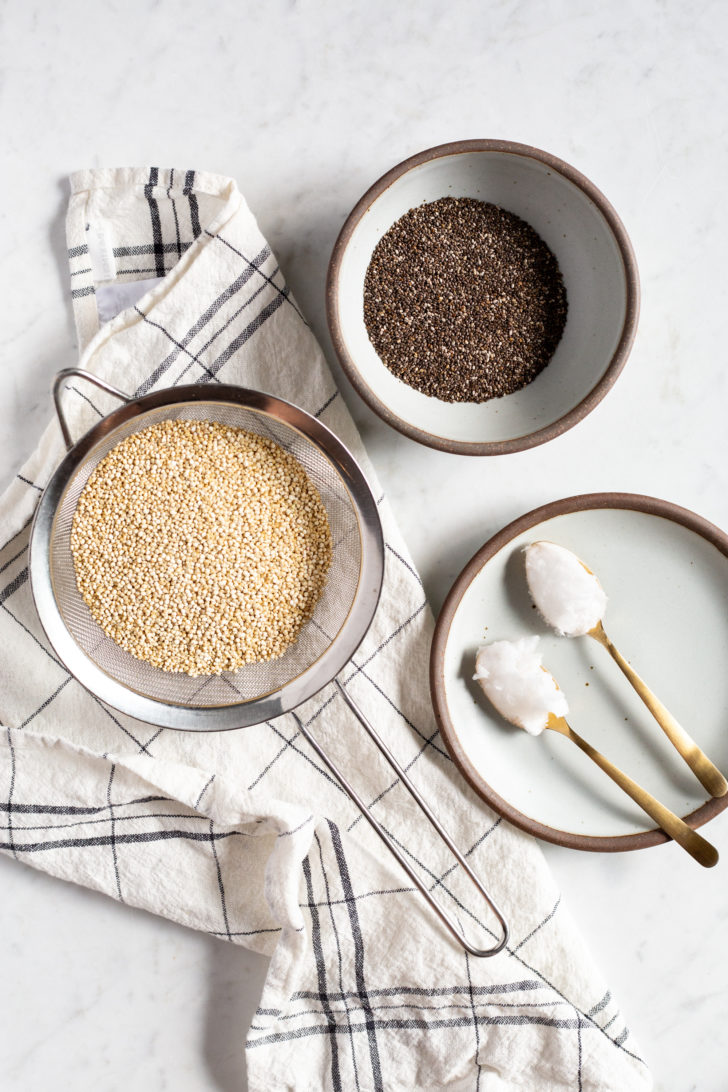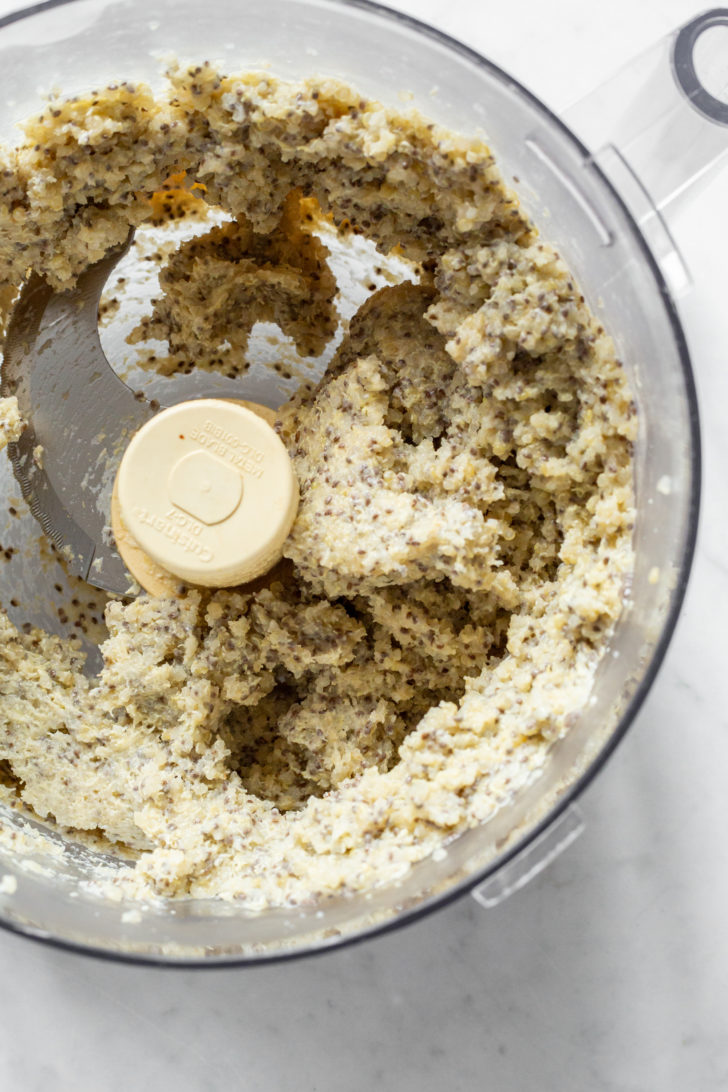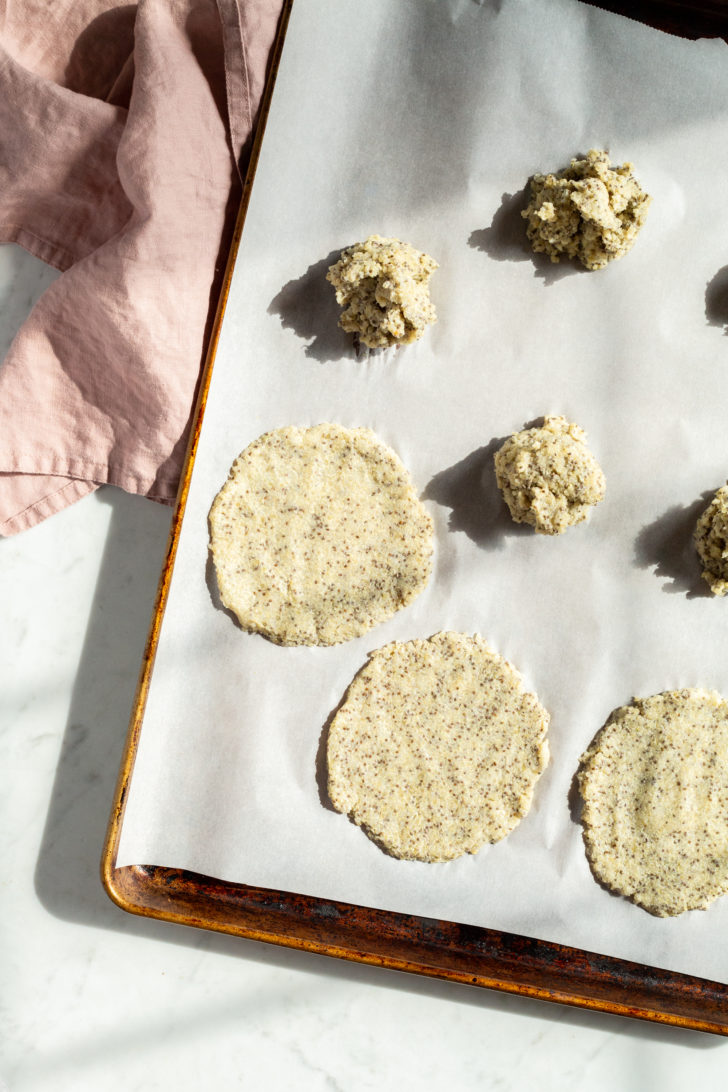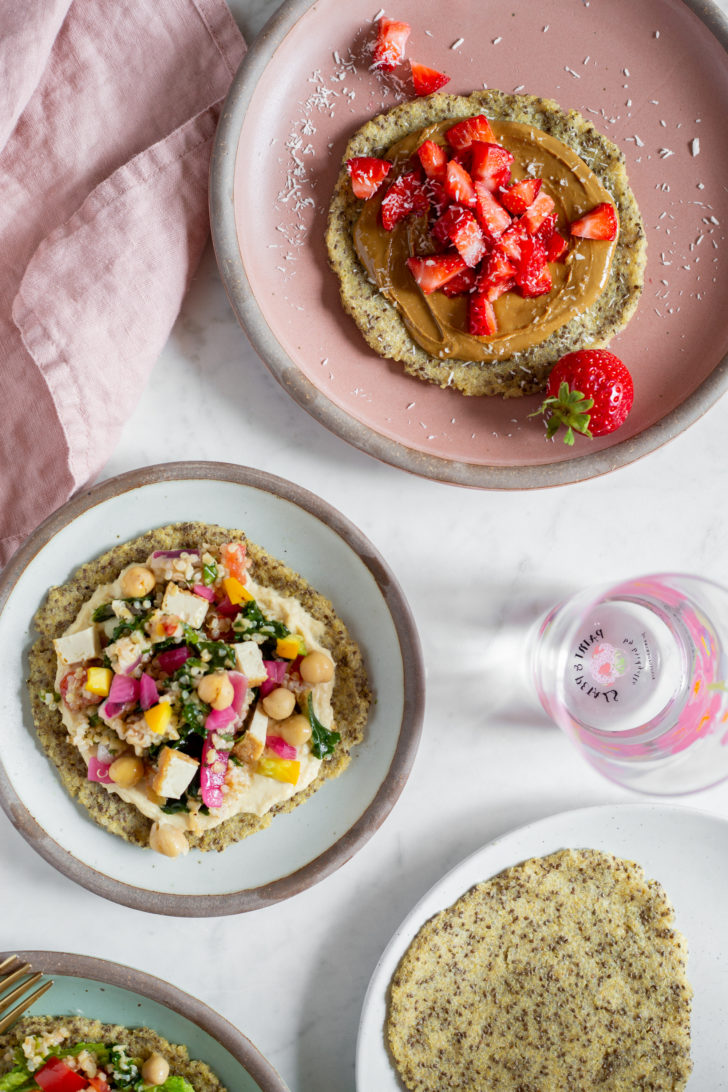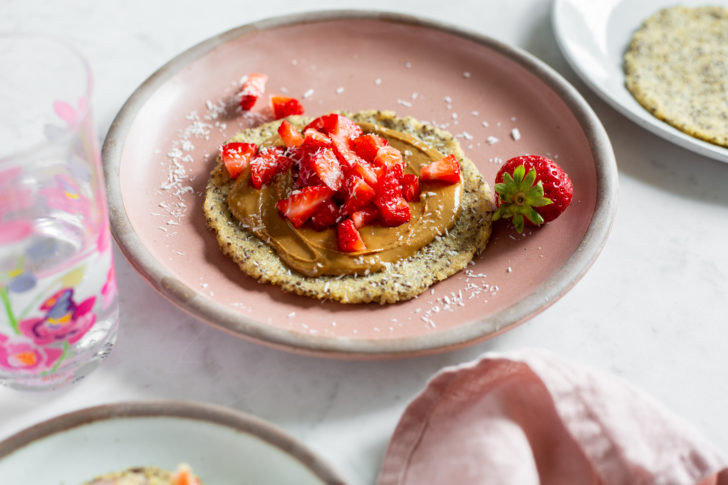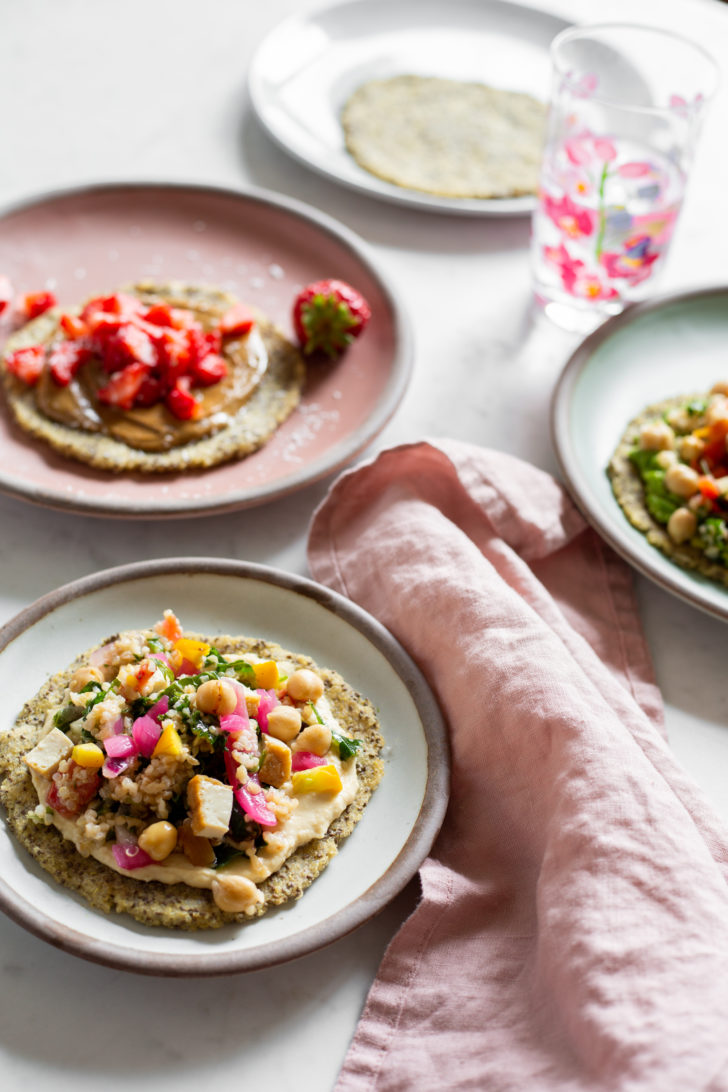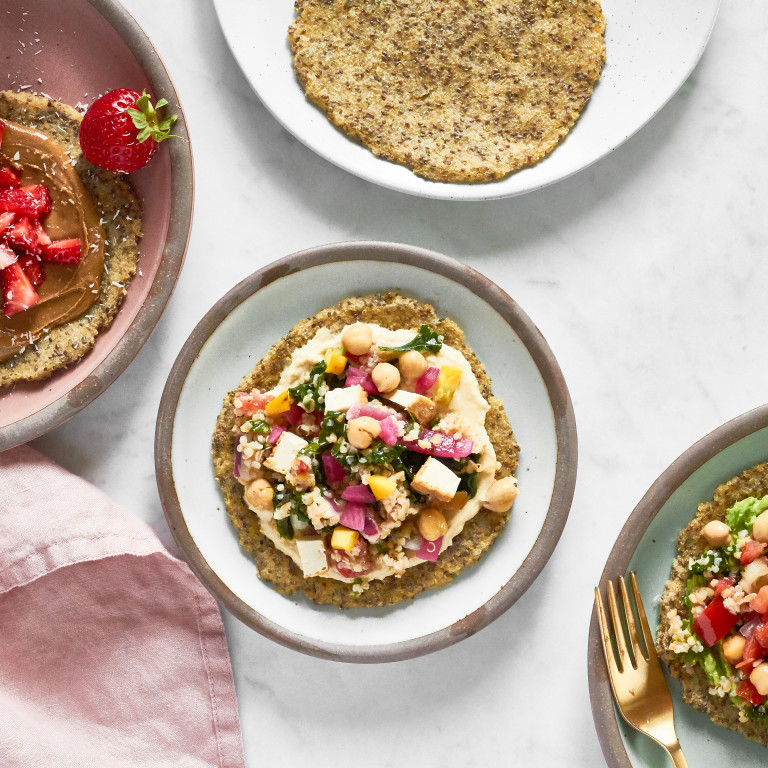 3-Ingredient Chia and Quinoa Flatbread
Vegan, gluten-free, nut-free, refined sugar-free, soy-free

Yield

9 (5-inch) flatbreads
Prep time

Cook time

Total time

Packed with protein, these easy chia and quinoa flatbreads make the perfect healthy base for all your favourite toppings! This is a great basic flatbread that you can jazz up with delicious toppings. These crack a bit when rolled up wrap-style, so I prefer to simply eat them like fun open-faced sandwiches instead. Try serving the flatbread with mashed avocado, chopped tomatoes or salsa, hummus, green onion, roasted veggies, my 10-Spice Mix, flaky sea salt, roasted chickpeas, Hemp Seed Tabbouleh, and more. For a sweet version, top them with nut or seed butter, sliced banana, berries, and chia seed jam. They are also fantastic toasted in the toaster or toaster oven using low heat. The texture is soft and chewy with little pops of quinoa in each bite...yum! This recipe is inspired by the Crunchy Seed & Oat Flatbread from The Oh She Glows Cookbook.
Ingredients
1 cup (160 g) uncooked quinoa
2 cups (500 mL) plus 3/4 cup (180 mL) water, divided
3 tablespoons (30 g) chia seeds
2 tablespoons (30 mL) virgin coconut oil or olive oil
3/4 teaspoon fine sea salt
Directions
Rinse and drain the quinoa in a fine mesh sieve and transfer to a medium pot. Add 2 cups of water, stir, and bring it to a low boil. Reduce heat to medium, cover with a tight-fitting lid, and cook for 13 to 16 minutes until the water is absorbed and the quinoa is fluffy. After cooking, remove the lid to let the steam escape and remove the pot from the element.
While the quinoa is cooking, preheat the oven to 350°F (180°C) and line a very large baking sheet (or 2 medium baking sheets) with parchment paper. If using 2 baking sheets, position 2 oven racks near the centre of the oven.
Stir the chia seeds, coconut oil (or olive oil, if using), and salt into the cooked quinoa until combined. Now add the remaining 3/4 cup water and stir again. It should look like a "soupy" quinoa mixture. Cool for 2 to 3 minutes.
Spoon this mixture into a large food processor and process for about 30 seconds (allowing steam to escape) until the quinoa is 50% broken down. There should still be some texture to the dough, and it'll look like a thick, sticky paste with bits of quinoa throughout.
Scoop 1/4-cup mounds of dough onto the prepared baking sheet(s) several inches apart. You should have 9 mounds. Lightly oil your hands (to prevent sticking) and press down on each mound with the palm of your hand until the dough forms a small round shape, approximately 5 inches in diameter and no more than 1/8-inch thick. Shape the edges with your fingers so the circles are even. Grease your hands as needed to prevent sticking.
Transfer the baking sheet(s) to the preheated oven and bake for 20 to 23 minutes until the edges are lightly firm to the touch. Using a spatula, carefully transfer each to a cooling rack where they'll firm as they cool. Add your desired toppings (see headnote for ideas) and enjoy!
Storing: You can refrigerate leftover flatbread in a sealed bag for 3 to 4 days or store in the freezer for up to 1 month. The uncooked dough also freezes and thaws beautifully.
Tip:
The 3-ingredient count does not include water or salt because I'm sneaky like that.
MAKE IT AHEAD: The uncooked dough can be refrigerated in a sealed container for a couple of days (maybe longer?) prior to baking. The chilled dough shapes easily (you won't need to grease your hands), but you may need a couple extra minutes bake time if working with chilled dough.
Nutrition Information
(click to expand)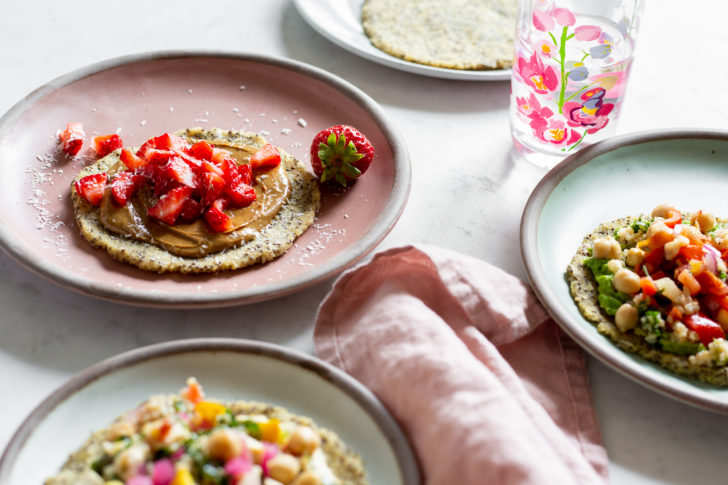 Such a great discussion on my last post!! I truly appreciate each and every one of you for your support and for sharing your own experiences. <3