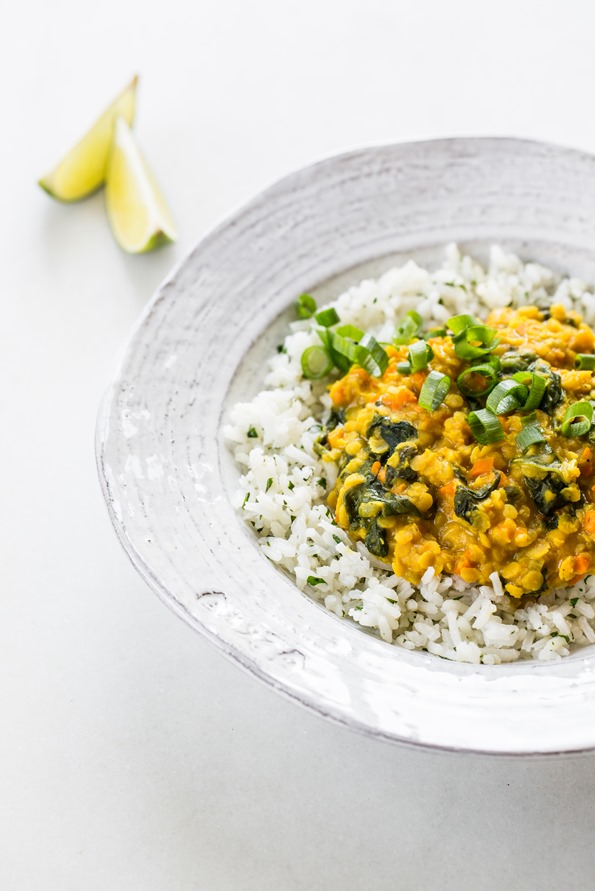 Asking for help isn't something that comes to me naturally as I've always been a fiercely independent worker. My previous supervisors always commented on this trait almost immediately whether it was in an academic or business setting, and I often took a lot of pride in the fact that I could do things on my own. I never considered that this trait could potentially hold me back from growth. I guess I feared that asking for help would be a sign that I was incompetent, so I avoided it as much as possible. And I often thought that if I could just figure out how to manage my time better, I could do it all on my own. Case in point: In the 7 years that I've grown this blog, I've yet to hire a team member to help my husband and me.
However, this past year has helped me realize otherwise, at least in some areas of my life (I still have a long way to go). Working with Ashley on the photography for the next book has allowed me to focus more on my biggest passions – the writing and recipe creation – not to mention finish on time! Our working relationship has really opened my eyes to what I could achieve if I just asked for a bit more help. It has been a total light bulb moment. You know what else I realized? Collaboration is so darn fun. So much more fun than trying to do it on my own!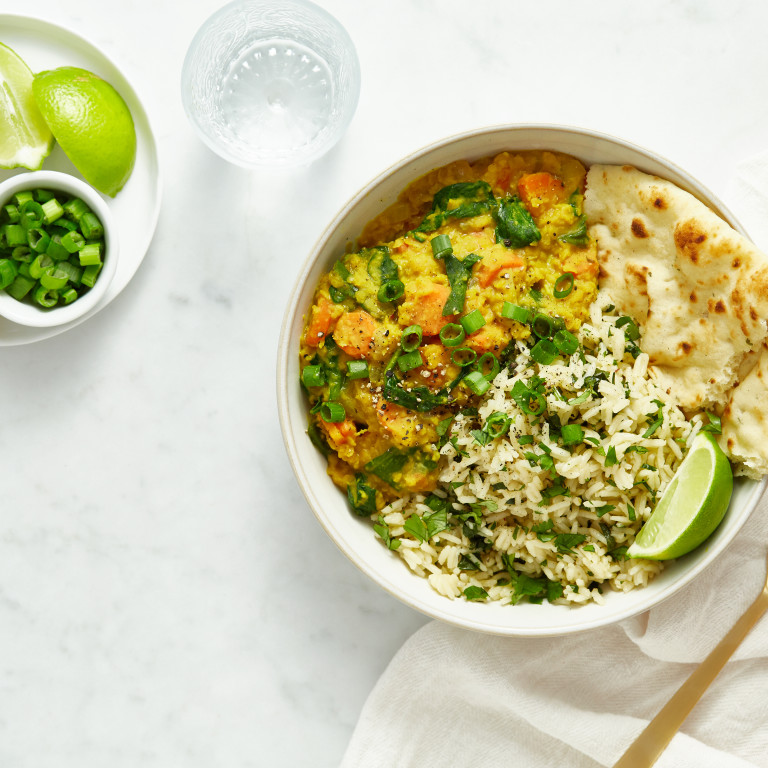 Golden Red Lentil Dal with Cilantro-Speckled Basmati
Vegan, gluten-free, nut-free, refined sugar-free, soy-free

Yield

5 bowls
Prep time

Cook time

Total time

This easy, flavourful curry is a great one to whip up during the workweek, and leftovers only get better the next day. Light coconut milk makes this curry so luxuriously rich and decadent tasting, while still feeling quite light and energizing. It definitely won't weigh you down, but I can promise it'll warm and comfort you on a chilly day. While it's lovely all on its own (enjoyed like a rich, thick stew), I love it even more spooned over top my cilantro-speckled basmati rice with toasted pepita seeds, sliced green onion, cilantro, and a squeeze of lime juice. The amount of broth called for yields a very thick consistency; if you'd like it thinner and more "soup-like" feel free to thin it out with a bit more broth (if so, you might need to also increase the spices and seasonings as the extra broth will dilute the flavours). This comforting curry recipe is adapted from Super Fresh: Super Natural, Super Vibrant Vegan Recipes by Jennifer Houston and Ruth Tal which is a cookbook featuring the recipes from Fresh, one of my favourite vegan restaurants here in Toronto.
Ingredients
For the curry:
2 tablespoons (30 mL) virgin coconut oil or grapeseed oil
1 1/2 cups diced onion (about 1 medium onion)
3 large or 4 medium garlic cloves, minced
2 tablespoons freshly grated ginger
1 1/2 cups peeled and finely diced carrots (about 2-3 large)

*

2 teaspoons curry powder, or to taste

*

*

1 teaspoon ground cumin
1/2 teaspoon ground turmeric
1 1/2 cups dried red lentils
1 (14-ounce/398 mL) can light coconut milk
2 cups (500 mL) low-sodium vegetable broth, plus more if desired to thin the broth
1/2 to 1 teaspoon fine sea salt, to taste
Freshly ground black pepper, to taste
Cayenne pepper, to taste (optional)
1 teaspoon cane sugar (optional)
1 (5-ounce) package baby spinach
For the rice:
1 cup dry basmati rice
1 tablespoon (15 mL) virgin coconut oil or vegan butter
1 3/4 cups (430 mL) low-sodium vegetable broth, or as needed
1 cup loosely packed fresh cilantro, large stems removed and finely chopped

*

*

*

Fine sea salt and black pepper, to taste
Squeeze of fresh lime juice, to taste
Suggested toppings:
Green onions, thinly sliced
Fresh cilantro leaves, chopped
Toasted pepita seeds (shelled pumpkin seeds)
Squeeze of lime juice (optional)
Directions
For the curry: Add the oil in a large pot and increase heat to medium. Add the onion, garlic, and a pinch of salt. Stir to combine. Sautée over medium heat for 4 to 5 minutes, stirring occasionally, until softened.

Stir in the ginger and carrots, and continue sautéing for another few minutes over medium heat.

Add the curry powder, cumin, and turmeric. Stir well. Cook for a minute, until fragrant.

Pick over and rinse the lentils in a fine mesh sieve. Stir in the entire can of coconut milk, red lentils, broth, and salt. Bring to a simmer and reduce heat to medium-low. Cook, covered with the lid ajar, for about 15 to 20 minutes, or until the lentils and carrots are tender. Stir occasionally to prevent the lentils from sticking to the bottom. Stir in a touch more broth if you'd like a slightly thinner consistency. After cooking, stir in all of the spinach until wilted. Stir in the black pepper, cayenne (if using), and sugar (if using). Taste and adjust salt, if desired.

Meanwhile, prepare the rice. Add the rice into a medium pot along with the oil and broth. Increase heat to medium-high and bring to a simmer. Reduce heat to medium, cover with a lid, and cook for 12 to 16 minutes, until the rice is soft and tender. Fluff with a fork and stir in the cilantro. Season to taste with salt and lime juice. Keep the lid on until ready to serve.

Add a generous scoop of rice on a plate or bowl and top with a couple ladlefuls of curry. Add your desired toppings and serve immediately. Leftovers will keep in an air-tight container in the fridge for up to 4 to 6 days. The curry can also be frozen for up to 4 weeks, possibly longer. For easy freezer storage, add the cooled curry into a freezer-safe bag, press out the air, and freeze on a flat surface. Thaw overnight in the fridge, or simply leave on the counter until mostly thawed.
Tip:
*

The smaller you dice the carrots, the faster they cook! I opt for thinly sliced carrots here to hasten cook time.

*

*

Be sure to use a good-quality curry powder (one you enjoy the taste of) as a poor-tasting one can throw the flavours off. I am quite fond of Simply Organic curry powder.

*

*

*

Not a cilantro fan? Simply leave it out and prepare the rice without it. No biggie!
Nutrition Information
(click to expand)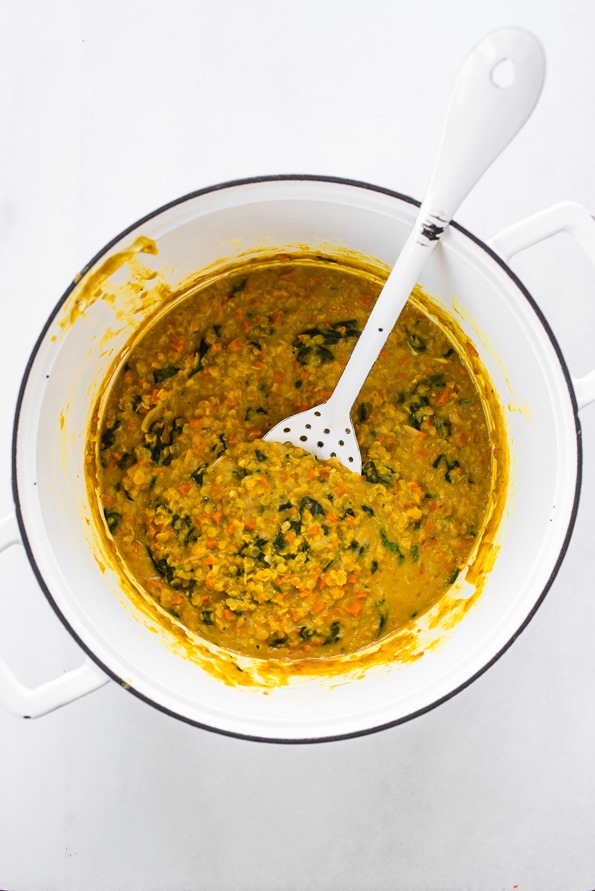 Photography credit: Ashley McLaughlin Photography
Last but not least, I want to wish all my fellow Canadians a very Happy Thanksgiving! We've been blessed with gorgeous, warm weather this weekend, and I hope you are too. Thank YOU for coming back to this blog time and time again, and for making this career so personally rewarding.