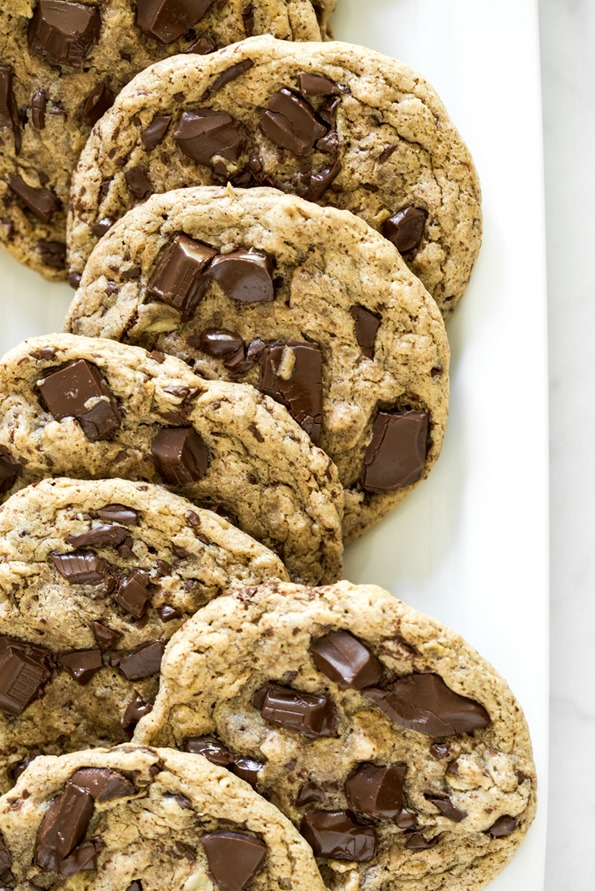 Welcome to your holiday cookie headquarters!
Can you believe it's the last month of 2016? I'm having a hard time wrapping my mind around the entire year. This month is extra special because my sister, nephews, brother-in-law, mom, and stepdad are spoiling us with a visit over the holidays. We're also hosting all the Liddons for a fun get-together. Our house is going to be a-boppin' (Home Alone mannequin-dancing styles), I tell ya. I'm trying not to freak out about the hosting/cooking responsibilities while taking care of a newborn and toddler. Eek. (The good news is we won't be traveling in a car/plane with screaming kids this year and the wine rack is stocked. I'll take it.) Anyway, I can't wait to celebrate Arlo's first Christmas and Adriana's third with the fam. I'm probably going to take about 645 pictures and another 87 videos.
Since it's the official Month of Cookie Eating (or so I seem to celebrate each day), I thought it would be fun to put together a roundup (no pun intended) of my all-time favourite vegan cookie recipes. My cookie recipes tend to be some of my most popular, but I've never done a roundup of the best. I can't believe how many great ones I've shared over the years. (Excuse the cookie brag, but damn.) I've always believed that vegan/gf cookies shouldn't be one bit less tasty than their egg-, butter-, and white flour-containing counterparts. Actually, I think they should taste even better. Who's with me?
Below are my 15 favourite vegan cookie recipes to date. (But maybe I've forgotten a few gems; you can let us know if any of your favourites are missing!) I've also noted where you can find the recipes (blog, cookbooks, and/or app). At the bottom you'll find a list of my top 5 non-cookie treats, too (think brownies, macaroons, squares, etc.). These lists are a great starting point if you're planning a vegan cookie swap this year! Can you imagine how fun that would be?
Don't forget to share your OSG cookie photos on social media this month using the tag #ohsheglows so we can all see what you're baking. I love getting tiny glimpses into your kitchens. :) For some of my own behind-the-scenes fun, be sure to follow my Snapchat and Instagram. I'm loving Insta Stories lately because it's so quick (let's be real, picture-perfect photos aren't happening in my life these days). Also, check out my #osgtakeover series on Instagram, where fellow food bloggers pop in to share a day's worth of their plant-based meals.
On an unrelated note (while I have you held captive in anticipation of cookies!), I want to say a huge thank you for the awesome response to our big app announcement, sale, and cookie bundle last week! It means the world to us. In case you missed the news, you can read all about it here and watch a fun video. The app is on sale the entire month of December, and our Android version, once released (we're expecting this will be in December or early January), will be on sale too. Be sure to subscribe to In The Glow to be the first to find out when the new app drops!
Okay, if you actually read all that and didn't just skip to the cookies…well, bless your soul.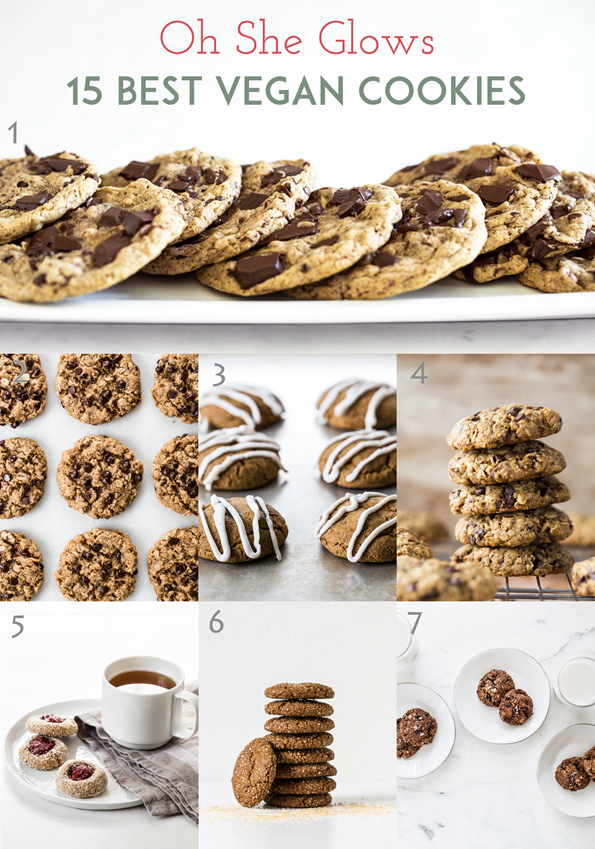 Flourless Peanut Butter Cookies (a family fave!) – Oh She Glows Every Day, p. 213

Pillowy Pumpkin Snacking Cookies – OSG Every Day, p. 217

Turtle Oatmeal Cookies – on the blog

Raspberry Almond Thumbprint Cookies – on the blog and OSG Every Day, p. 205

Chewy Molasses Spelt Cookies – on the blog and OSG Every Day, p. 219

Chocolate-Almond Espresso Cookies – OSG Every Day, p. 207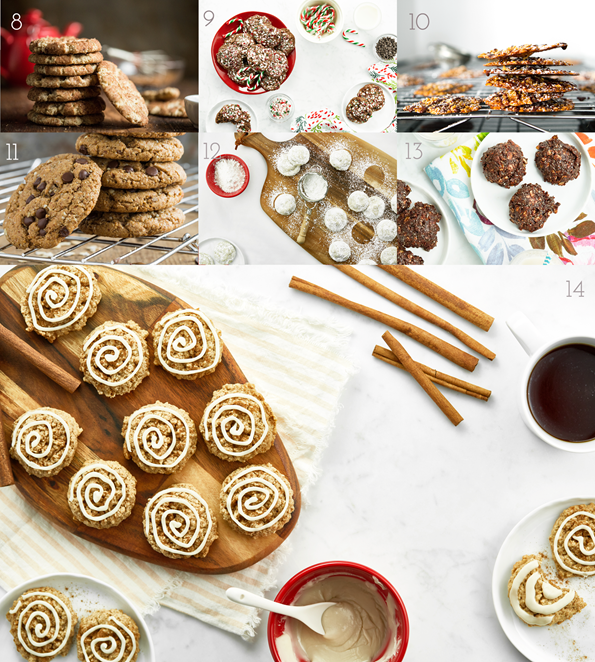 8. Gluten-Free Snickerdoodles – on the blog

9. Peppermint Crunch Cookies – only in the app

10. Gluten-Free Almond Lace Cookies – on the blog

11. Crispy Almond Butter Chocolate Chip Cookies – The Oh She Glows Cookbook, p. 265, app, and PB version on blog

12. Almond Blizzard Biscuits – only in the app

13. No-Bake Chocolate Fudge Cookies – on the blog and app

14. Cinnamon Roll Oatmeal Cookies – only in the app

15. Gingerbread People – only in the app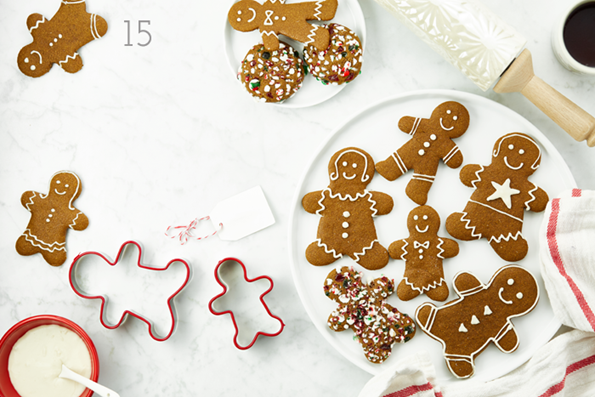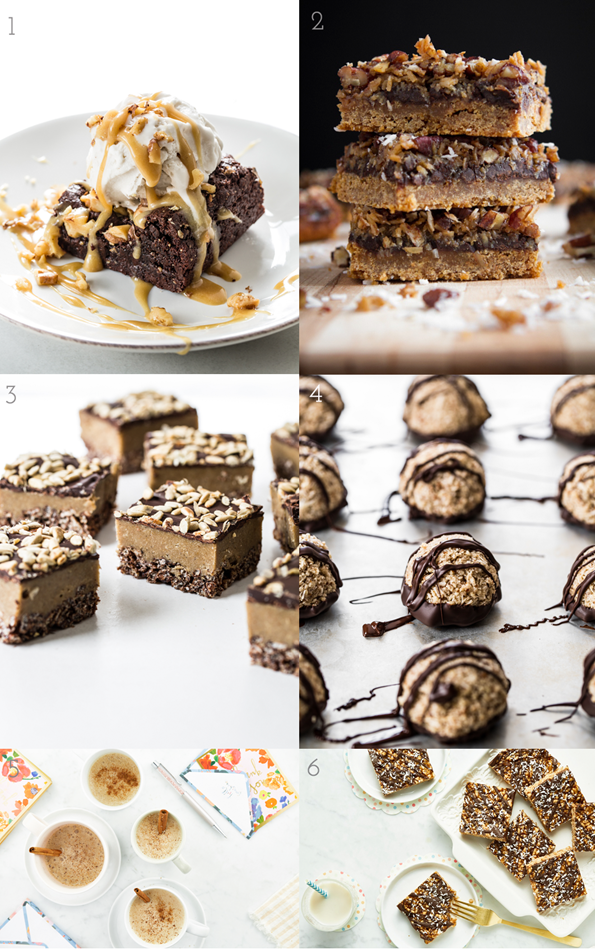 And some other enticing holiday treats…
The Ultimate Flourless Brownies – OSG Every Day, p. 199

Lightened Up Magical Coconut Bars – on the blog

Nut-Free Dream Bars – OSG Every Day, p. 211

Chocolate-Dipped Vanilla Bean Macaroons – OSG Every Day, p. 201 (or find the recipe on Bakerita, Eat Your Books, Heart of a Baker, Love & Lemons, and Orgali!)

Ginger Cinna Maple Steamer – only in the app

Almond Butter Rice Crisp Treats – on the blog and app

Note: Five of the app cookies are found in the Cookie Lover's Bundle on the app bundle page. You need to unlock/download the bundle for the recipes to appear.
Oh She Glows Every Day blog tour wrap-up
Last but not least, I'd like to say a huge thank you to the following bloggers for their fantastic #osgeveryday blog tour posts—which, by the way, include some great reviews and recipe sneak peeks, if you're still debating whether to pop Oh She Glows Every Day onto your holiday wish list (or are simply looking for some new OSG dishes to try out this holiday season!).
Photography credits: Images 2, 3, 5, 6, 7, [bottom collage 1, 3, 4] credit to Ashley McLaughlin. All other images credit to Angela Liddon.