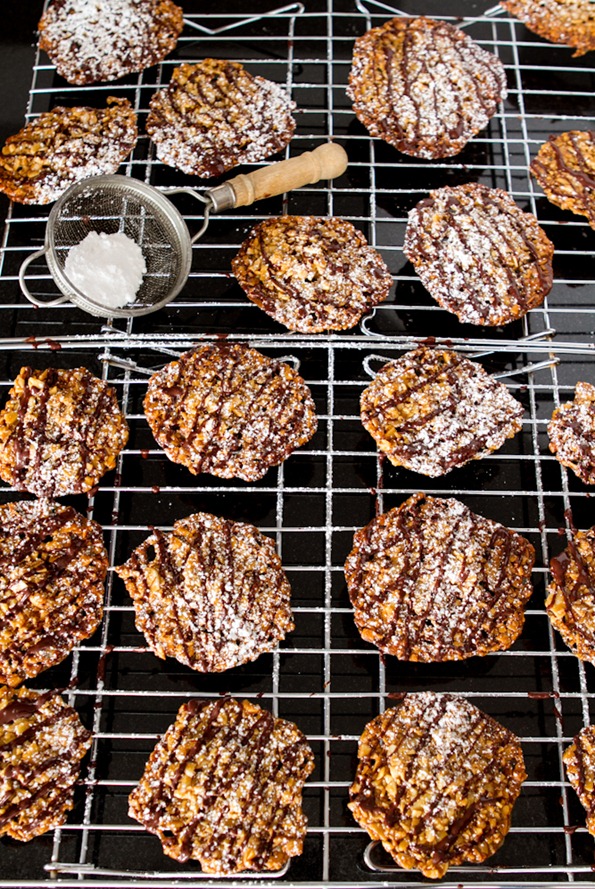 I've been sitting on this recipe for almost a full year. How does that even happen? The truth is, I made these cookies on January 1st 2012 (I know, what killer timing to make cookies), but I figured posting a cookie recipe on the first day of the year was akin to posting a salad on Halloween Day.
Well, maybe I was wrong because we certainly enjoyed these, January 1st or not! Now that these cookies are back "in season", I decided to dig up the recipe and photography. Only I couldn't find the recipe and was less than thrilled with my photography, so I almost started the whole thing from scratch. Luckily, I found the recipe buried deep in a stack of chicken scratch recipe trials in some random drawer of my desk. Yesssss.
Eric, this is proof that your crazy wife is much more organized than you think. So there.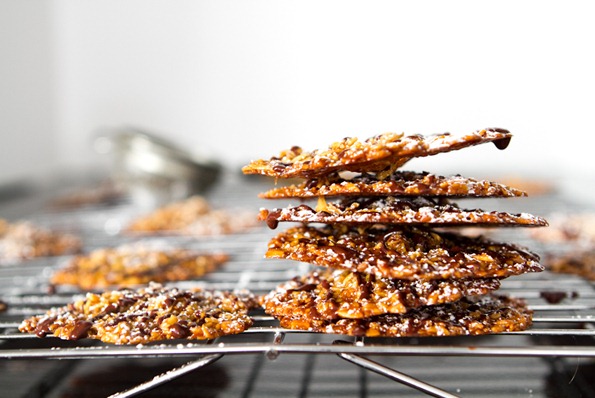 Never one to resist playing around with a recipe, I ended up tweaking the ingredients slightly, swapping the cane sugar for coconut sugar and reducing the amount of sugar and vegan butter overall. The oven temp was also scaled back from 325F to 275F because I had problems with the edges browning too quickly in my January batch. A low heat and slightly longer bake time solved this problem.
Even with all these changes, they still turned out just as good as I remembered – crispy, refreshing, and nutty with a hint of orange and chocolate which is just so nice this time of the year.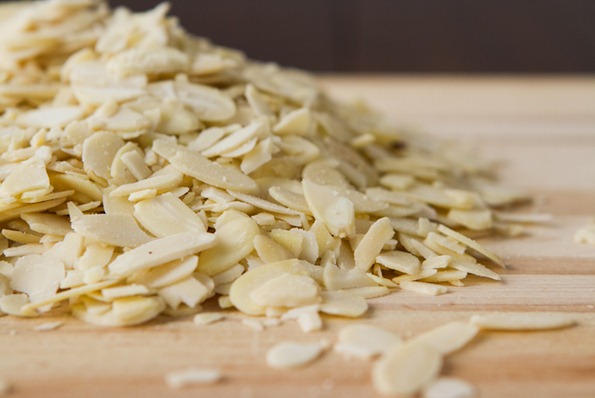 How to make:
I used sliced blanched almonds from the bulk food section.
Finely chop the almonds, but it's ok if some big pieces remain. Mix the chopped almonds with the rest of the dry ingredients.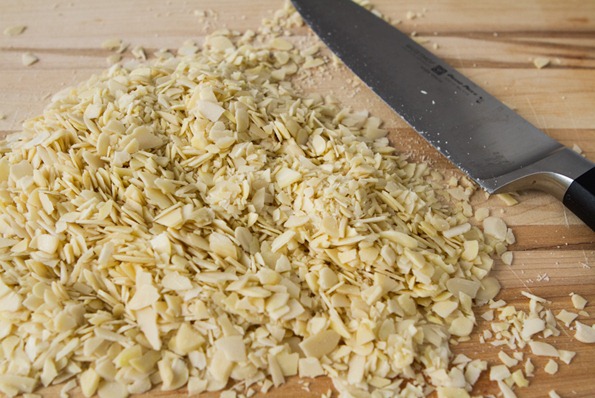 Now heat the wet ingredients in a pot and bring it to a low boil. Remove it from the heat and stir in the dry ingredients until well combined.
Now we're going to let this mixture sit for 10-15 minutes to cool off.
Once it's cool to touch, shape the dough into tiny 1/2 tablespoon balls, spacing them at least 3 inches apart on the baking sheet because they spread a lot. I fit 10 cookies on my baking sheet. Bake for 10 minutes at 275F, rotate the pan, and bake for another 7-9 minutes until golden. For my first batch, I didn't shape the balls very well, so the cookies came out quite uneven. If you want more uniform cookies, be sure to really roll the balls into a nice even shape. It helps to wet your fingers too!
After cooling the cookies on the pan for 5 minutes, transfer them to a cooking rack. Now you can decorate the cookies with melted chocolate and icing sugar if you wish. They really are a beautiful holiday cookie, aren't they?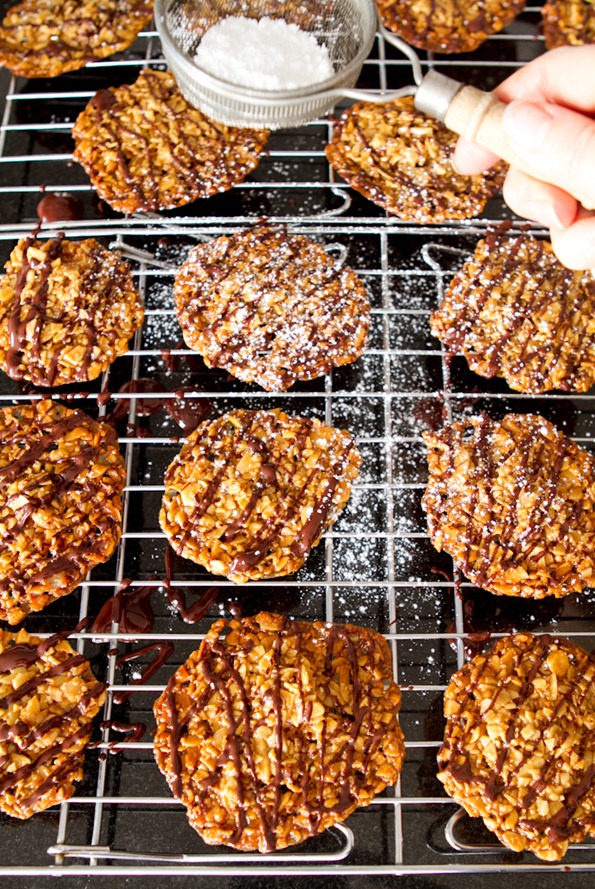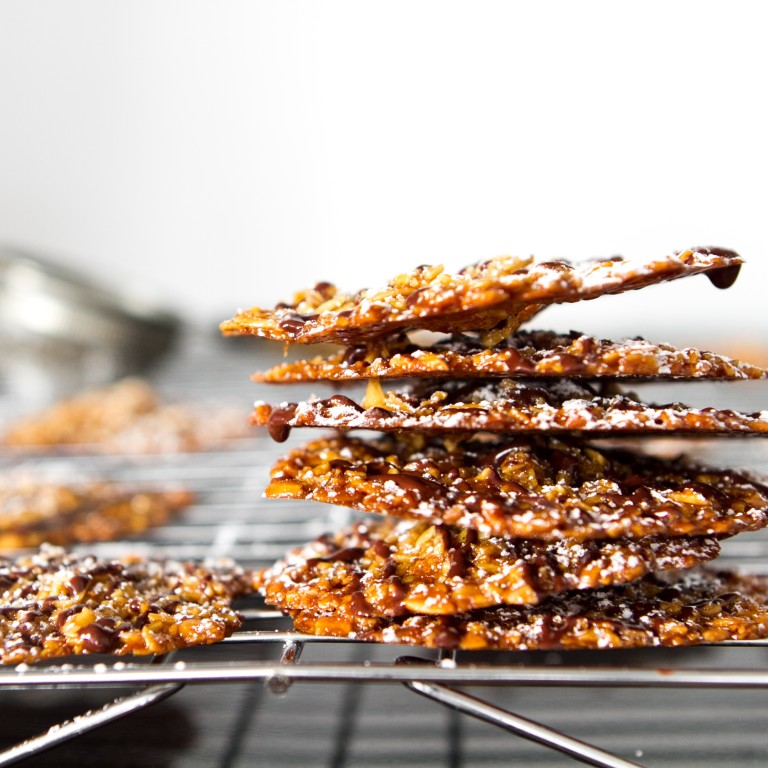 Vegan Florentines (Almond Lace Cookies)

Yield

27 Cookies
Prep time

Cook time

Total time

Ingredients
1 & 3/4 cup (190g) sliced blanched almonds
3 tbsp (25g) gluten-free all-purpose flour (or other flour)
1 tbsp orange zest
1/4 tsp fine grain sea salt
1/2 cup (85g) coconut sugar (or cane sugar or Sucanat)
1/4 cup (40g) non-dairy buttery spread (I used soy-free Earth balance)
2 tbsp brown rice syrup
2 tbsp full-fat canned coconut milk (use the cream from the top of the can)
1 tsp pure vanilla extract
1/4-1/3 cup dark chocolate, melted
1/2 tsp coconut oil
Confectioner's sugar/icing sugar, to garnish
Directions
Preheat oven to 275°F and line a large baking sheet with parchment paper.
Finely chop sliced almonds and place in a large mixing bowl. Stir in the rest of the dry ingredients (flour, orange zest, salt, sugar).
In a medium-sized pot, add the wet ingredients (non-dairy butter, brown rice syrup, coconut cream) and stir until combined. Increase heat to medium-high and bring to a low boil. Immediately remove from heat and stir in the vanilla extract.
Add the dry ingredients into the wet ingredients and stir until combined. Set aside to cool for about 10-15 minutes.
Wet fingers and shape dough into tiny 1/2 tablespoon balls. Roll with hands into a uniform ball and place on baking sheet, at least 3 inches apart. Repeat until you can't fit anymore on the baking sheet.
Bake for 10 minutes at 275°F, rotate the pan, and bake for another 7-9 minutes. Allow to cool for 5 minutes on the pan and then carefully transfer to cooling rack. Repeat baking process for the rest of the dough. When cookies are cool, place on paper towel and press lightly to absorb any butter on the bottom of the cookie.
Melt chocolate and coconut oil over low heat. Drizzle cookies with melted chocolate (a fork works fine for this) and sift with icing sugar. Chill in the freezer until hardened, Cookies also freeze well.
Tip:
You can substitute the coconut sugar for cane sugar or even Sucanat sugar.
I have not tried subbing the coconut cream, but you might be able to replace it with non-dairy creamer or even a splash of almond milk. I wouldn't add much because you don't want the batter to be too wet.
I have not subbed the brown rice syrup, but if you eat honey you can sub it with that. I don't know how maple syrup or agave would turn out. If you try it please leave a comment and let us know.
I used an orange flavoured chocolate for this cookie and it paired nicely with the orange zest. If you aren't an orange fan, feel free to leave out the zest or try subbing it with a touch of lemon or lime zest or even with a bit of almond extract instead of zest.
I used gluten-free all-purpose flour in this recipe, but you can also use whole wheat pastry flour, all-purpose, spelt, etc.
Since I could only bake 10 cookies at one time, this process took some time. You might be able to bake two cookie sheets at once, just be sure to rotate the pans accordingly and adjust the baking time if necessary.
Nutrition Information
(click to expand)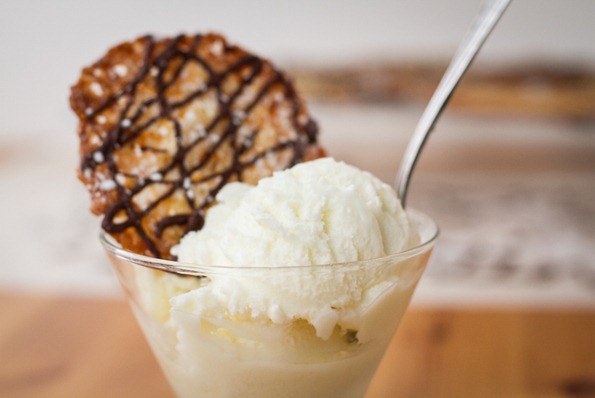 If you're looking to pair it with something for dessert, they go quite nicely with coconut ice cream! Traditionally, they can be served with tea/coffee, crumbled over pudding, or served as sandwich cookies filled with ice cream, whipped cream, or jam. If you are looking for a way to use up coconut cream, this may be a good option. Our favourite way to enjoy them seems to be with a hot cup of tea for a snack. You can never go wrong with that. They also freeze well and are fantastic straight out of the freezer (actually we might have preferred them that way).
Happy baking!