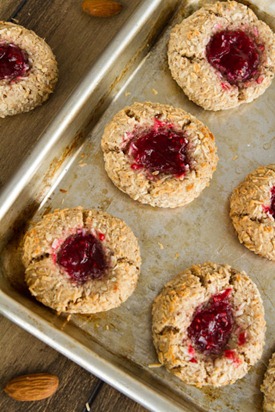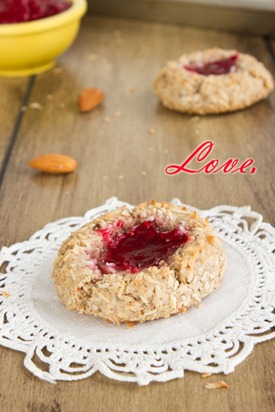 I've loved thumbprints ever since I was a kid. Any recipe that tells me to jam my thumb into cookie dough and fill it with actual jam is a winner in my books. Did you ever eat those packaged cookies with the cream and gooey strawberry filling? Not technically a thumbprint cookie I guess, but they sure did taste amazing. I don't even want to know how many sleeves of those cookies I ate growing up. I'm sure you'd still see a few clinging to my artery walls!
Today, I have a vegan and gluten-free version to add to my growing thumbprint recipe collection. This time, I set my heart on making a thumbprint with a lovely raspberry almond flavour using almonds, almond butter, almond extract, and raspberry jam as the feature ingredients. They turned out fantastic – lightly sweet, with a buttery almond flavour and pop of sweet raspberry goodness. If you are a fan of peanut butter and jam, you will love this "grown-up" version.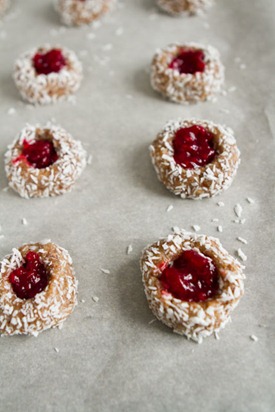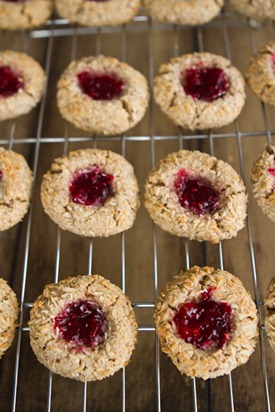 Served with a side of Gossip Girl on Monday night, it was the perfect balance of wholesome…and not so wholesome. Eric claims he isn't a fan of both thumbprints and Gossip Girl, but I found him devouring both. Never trust a person who says they don't like thumbprint cookies!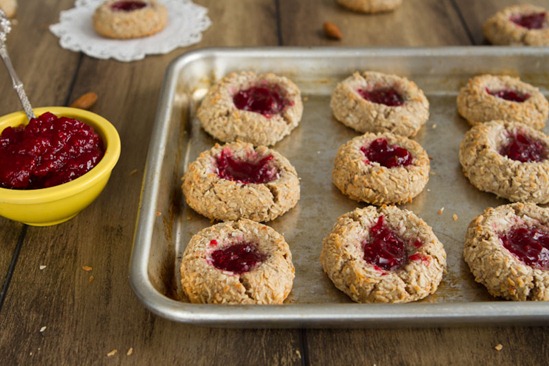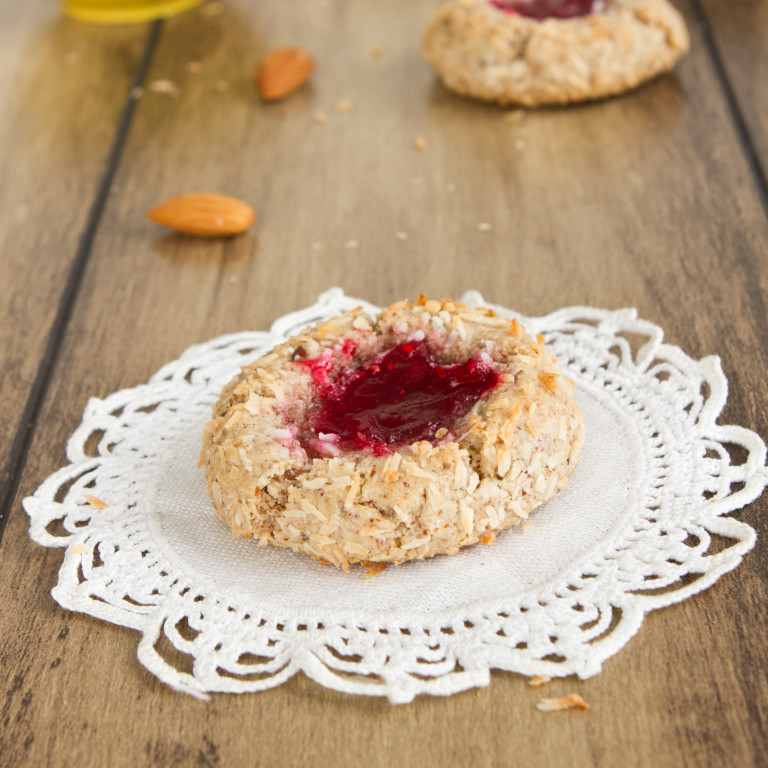 Raspberry Almond Thumbprint Cookies (Gluten-Free and Vegan)

Yield

18 cookies
Prep time

Cook time

Total time

Ingredients
1 1/3 cups raw almonds, processed into almond meal (about 1.5 cups almond meal)
1/4 cup brown rice flour
2 tbsp ground flax
1/4 tsp + 1/8th tsp fine grain sea salt
1 tsp aluminum-free baking powder
1/2 cup raw almond butter (see note)
1/4 cup + 3 tbsp pure maple syrup
1/2 tsp almond extract
5-6 tbsp raspberry jam
approx 1/3 cup shredded coconut, for rolling
Directions
Preheat oven to 350F and spray a large baking sheet with oil, use a silpat mat, or line with parchment paper.
If making almond meal, place raw almonds into a high-speed blender. Process on high speed until a fine crumb, making sure not to process too long or the oils will release. Alternatively, you can use store bought almond meal.
In a large bowl, whisk the dry ingredients (almond meal, rice flour, ground flax, salt, and baking powder). Use your fingers to break up any clumps of the almond meal. In a smaller bowl, mix together the almond butter, maple syrup, and almond extract. Add wet mixture to dry mixture and stir until combined.
Shape dough into balls (about 1.5 tbsp or so). If dough is too sticky, place in the fridge for 15-20 minutes to firm up.
Roll balls in coconut. Place balls of dough about 1.5-2 inches apart on the baking sheet. With your thumb, press into the middle of the ball and shape a small well with your fingers. Add 1 tsp of jam into each well.
Bake at 350F for 10-12 minutes, watching closely after 9 minutes. I baked mine for 11.5 minutes. Cool on sheet for 5 minutes and then transfer to a cooling rack. Channel your inner grandma and enjoy with hot tea!
Tip:
If making these completely gluten-free be sure to check all your ingredients to ensure they are certified gluten-free. The almond butter I used is very "drippy" so I don't suggest using a firm nut butter here. If you do, you may have to add some oil to the mixture. You can also roll the balls in chopped nuts instead of coconut.
Nutrition Information
(click to expand)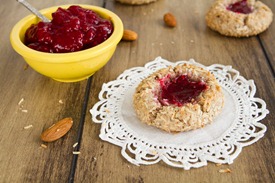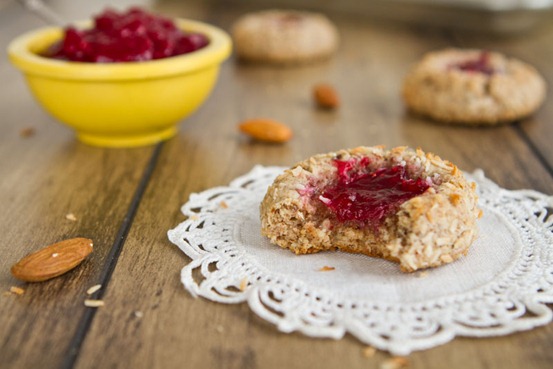 If you find yourself with some delicious in-season raspberries (or other berries!), you can try making your own raspberry puree or jam for the middle. I would probably just smash some with a fork and add a bit of sweetener to taste!