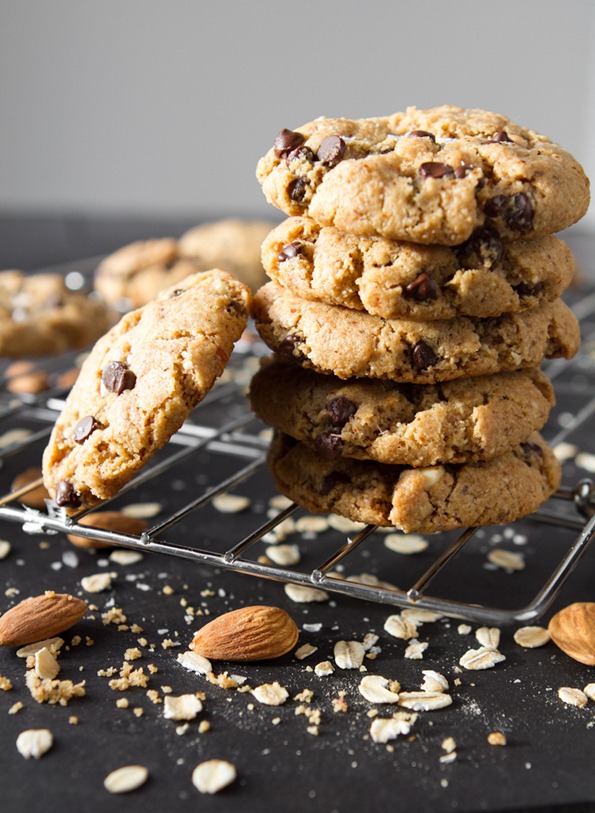 So begins the time of the year when it's totally acceptable to have a freezer bursting with cookies. There's always something on hand for unexpected guests, not to mention evening nibbles while cozied up in front of the TV, which we've been kinda glued to lately (oops). My friends and family are about to be bombarded with cookies over the next few weeks. I just hope they don't mind when I force them to fill out a recipe feedback form removing all pleasure from the cookie eating experience. There are always strings attached, you know.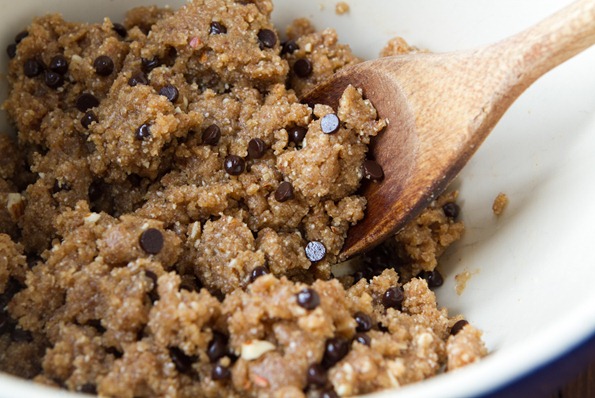 These peanut butter chocolate cookies are made gluten-free by using almonds and gluten-free oats – both ground in my Vitamix to make a flour. You can either grind it yourself in a high-speed blender or you can buy pre-made almond and oat flour. I weighed and measured the amounts to take the guess work out of it for you. As is the case with many of my vegan cookie recipes, a flax egg (which is simply ground flax mixed with water) mimics the texture of a traditional hen's egg.
Almond flour gives these cookies a crispy, chewy, and crumbly quality. If you're looking for a softer texture, you might want to try swapping the almond flour for an all-purpose gluten-free flour (and perhaps a touch of almond milk if the batter is dry). After the cookies came out of the oven, I sprinkled them with flaked sea salt to bring out the peanut butter flavour and make everything pop! Flaked sea salt, where have you been all my life?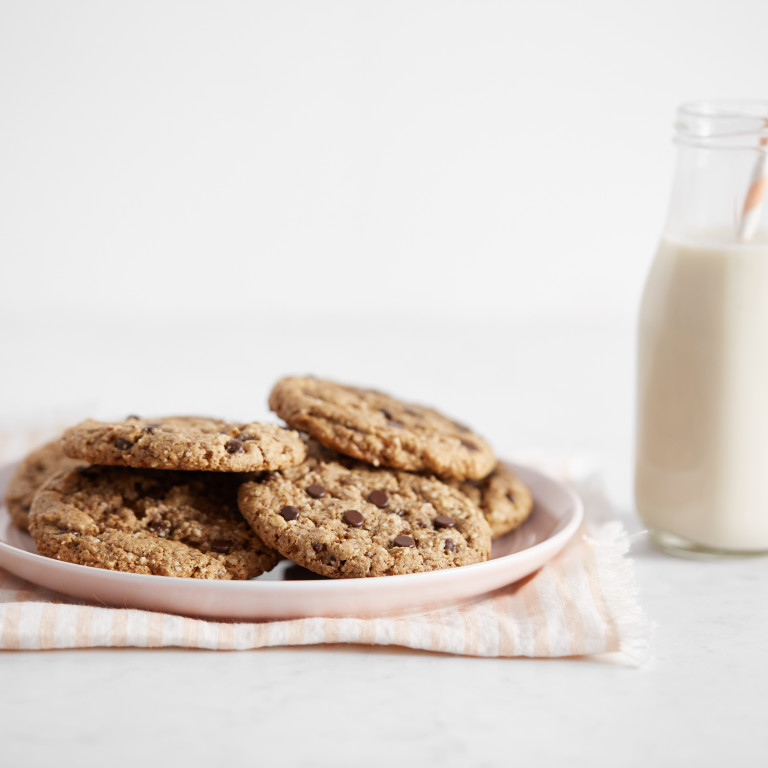 Crispy Peanut Butter Chocolate Chip Cookies

Yield

20 medium or 15 large cookies
Prep time

Cook time

Total time

These gluten-free and vegan chocolate chip cookies are crispy, chewy, and perfect for dunking into a glass of almond milk! Ready in a half hour, you'll turn to this recipe again and again due to its quick prep time and irresistible flavour.
Ingredients
1 tablespoon ground flax
3 tablespoons water
1/4 cup (45 grams) non-dairy buttery spread

*

1/4 cup (70 grams) natural smooth peanut butter or almond butter

*

*

1/2 cup (80 grams) lightly packed brown sugar
1/4 cup (55 grams) organic cane sugar
1 teaspoon pure vanilla extract
1/2 teaspoon baking soda
1/2 teaspoon baking powder
1/2 teaspoon fine sea salt
1 cup gluten-free rolled oats, blended into a flour (105 grams or 1 cup oat flour)
1 cup almonds, blended into a meal (145 grams or 1 cup plus 2 tablespoons almond meal)
1/3 cup mini non-dairy chocolate chips (or regular size chips)

*

*

*
Directions
Preheat oven to 350°F (180°C) and line a baking sheet with parchment paper.
In a small bowl, mix together the ground flax and water. Set aside for a few minutes so it can thicken.
With an electric mixer or in a stand mixer, beat the buttery spread and peanut butter until combined.
Add both sugars and beat for 1 minute more. Beat in the flax mixture and vanilla extract until combined.
Now, beat in the dry ingredients (baking soda, baking powder, salt, oat flour, and almond meal) one by one.
Stir in the chocolate chips, reserving about 1 tablespoon for pressing into the top of the dough balls.
Shape 1-inch balls of dough (smaller than golf balls) and place on the baking sheet 2 inches apart. You can also use a retractable cookie scoop. If chocolate chips aren't sticking to the dough, just press them in with your fingers. There is no need to flatten the balls as the cookies spread out while baking. Press reserved chips into the tops of the dough balls.
Bake for about 11 to 13 minutes until spread out and lightly golden. The cookies will be very soft coming out of the oven, but they will crisp up as they cool. Allow to cool for 5 to 10 minutes on the baking sheet and then transfer to a cooling rack for another 10 minutes.
Tip:
*

I use soy-free Earth Balance.

*

*

Be sure to stir the peanut butter well before using. Also, avoid using the dry nut butter that's often found at the bottom of the jar. It's simply too thick and dry for this recipe and will result in cookies that don't spread.

*

*

*

For "pretty" cookies, reserve 1 tablespoon of chocolate chips for pressing into the tops of the dough balls before baking. I use Enjoy Life mini chocolate chips.
Nutrition Information
(click to expand)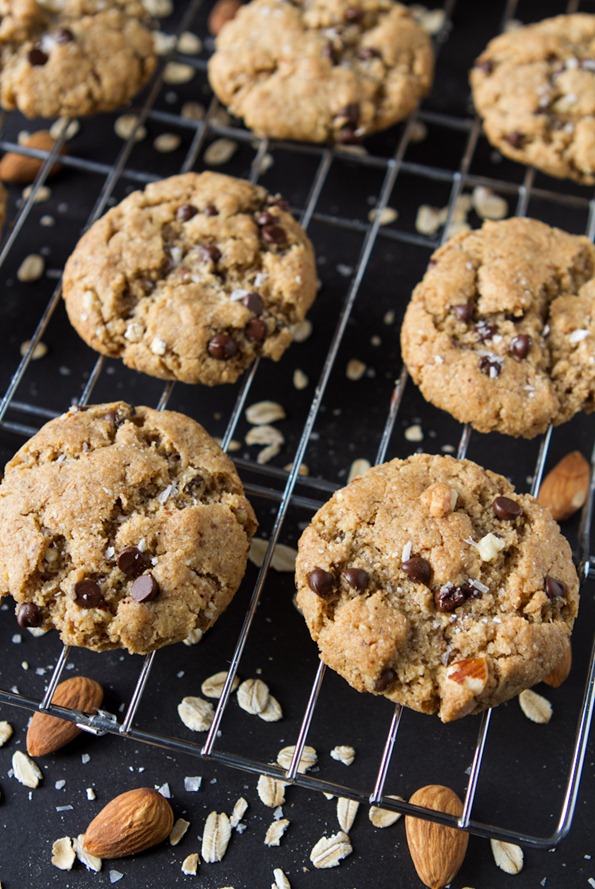 Eric's two cents – "I'm not a big peanut butter fan, but if you put a plate of 12 of these cookies in front of me, I'd probably still eat them all."
Wise words, husband, wise words.