Good morning!
After my post on inspiring workout tips on Saturday, many of you were asking me if I could elaborate on the workout piggy bank idea. I decided what better way to talk about it than to just start one up myself!
A workout piggy bank can be used as a motivational tool. While it is a financial reward, I think the strongest motivational aspect of the bank is that it is a powerful visual tool. Every single day you get to see a reminder of your hard work as you see the bills adding up.
The way it works is that you give yourself a pre-specified amount of money for each workout that you do. The great thing about this bank is that it can be applied to a wide variety of things such as kicking the smoking or pop habit. Each time you succeed at not drinking a can of pop or not lighting up a cigarette, you put that amount of money into the bank!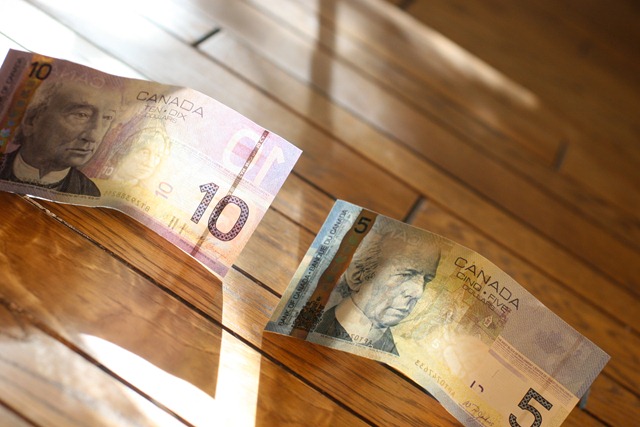 I think this workout piggy bank is probably best used as a short-term tool when you are feeling like your workout motivation may need a boost. I wouldn't use it all the time, but I think it would be fun to use now and then when you need a fun reminder.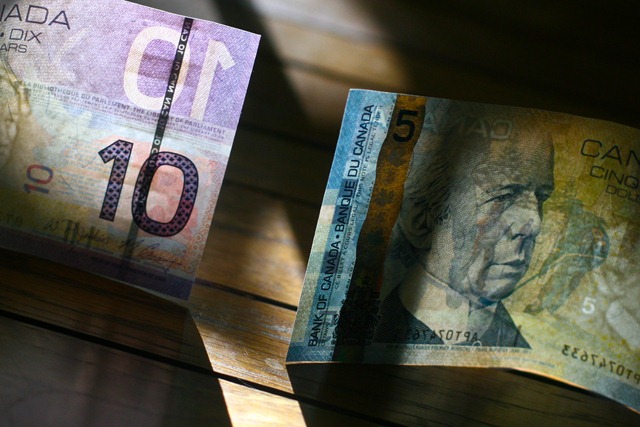 Can I just say that I LOVE that there is a hockey player on the $5 bill. :lol: (See it to the right of the face?). All kinds of awesome. The hockey player is rumoured to be 'Rocket Richard' for those of you who might know about this legendary hockey player. Apparently, I have listened to my dad gush about hockey for far too many years!
I decided to use $5 for a regular workout and $10 for a long or difficult workout. I was going to use a Toonie, but Eric told me we need all of our change for the Farmer's Market, so $5 it was!
Of course, I channeled my inner DIY Network, and named it Sweat Equity.  :biggrin:
(Not to be confused with SWEET equity, which is a whole other discussion!)  :tongue:
With the slogan, 'Get a healthy Glo and make some Dough!'
I started after yesterday's workout and $5 went into the jar.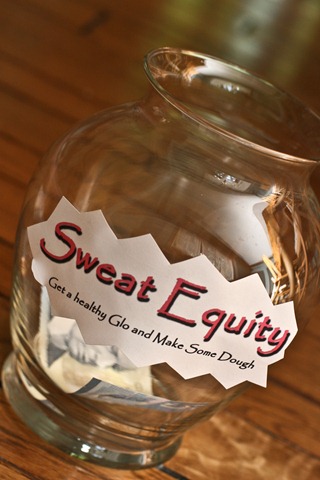 Should you wish, you can print off this image below and use it for your own workout piggy bank!

I haven't decided what I am going to use the money on, but I figure I have a month to figure out.
If you like this workout tool, you may also like the Fitness Bucket List I did a while back. I still have it on my wall in front of me!
Click this image below to be taken to the post: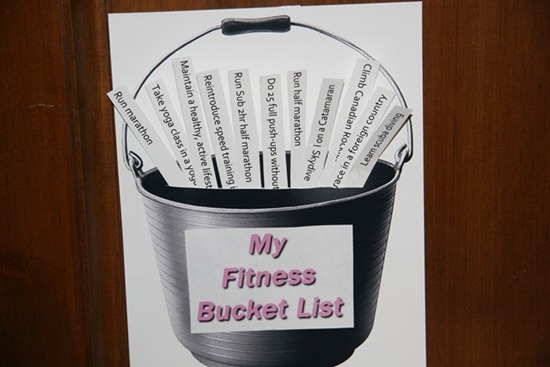 Breakfast!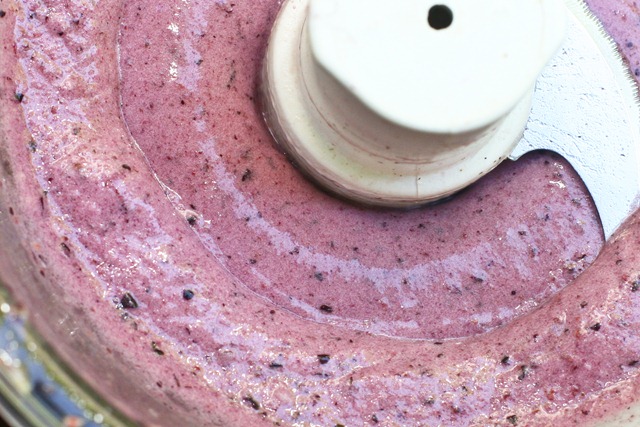 This morning I made Saskatoon Berry Banana Soft Serve using 1 frozen banana, a dash of pure vanilla extract, and 1/4 cup of Saskatoon berries (any Saskatoon readers out there!?)  :biggrin:
I made the classic VOO to layer it with.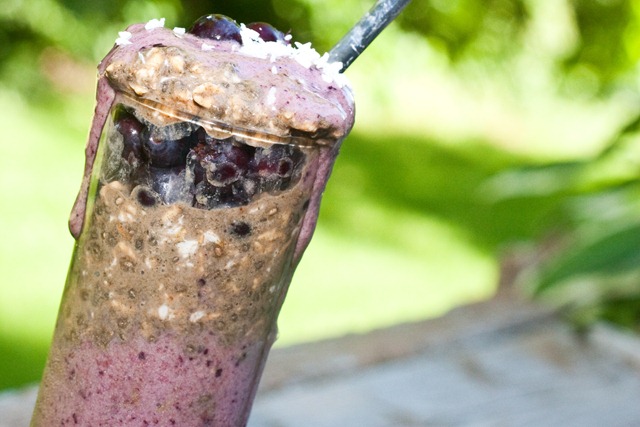 I put a big layer of berries at the top.
Saucers are great for catching overflow!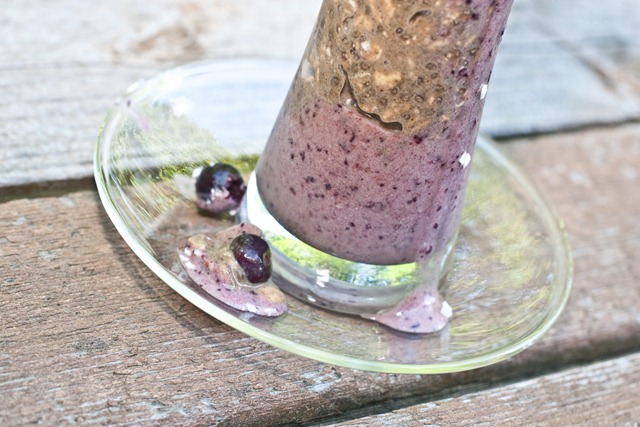 I loved the Saskatoon berry soft serve. I thought it was going to turn out too tart because the berries have a bit of bite to them, but their strong flavour actually went fabulous with the banana! I liked the Saskatoon berries better than when I tried blueberries.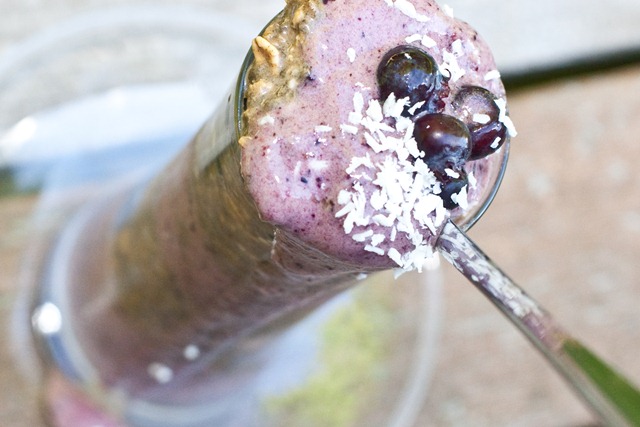 Deelish!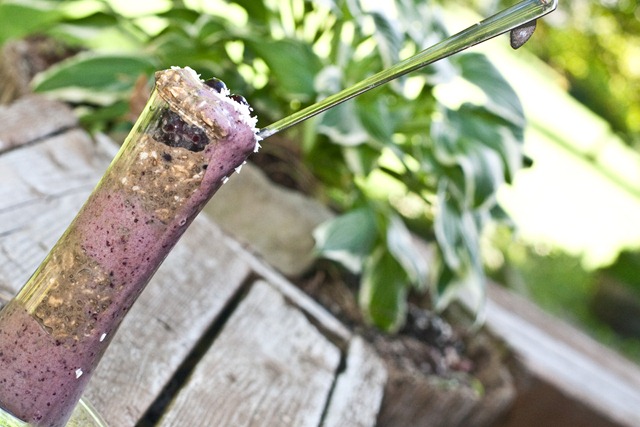 Back to work I go. Have a lovely Tuesday!