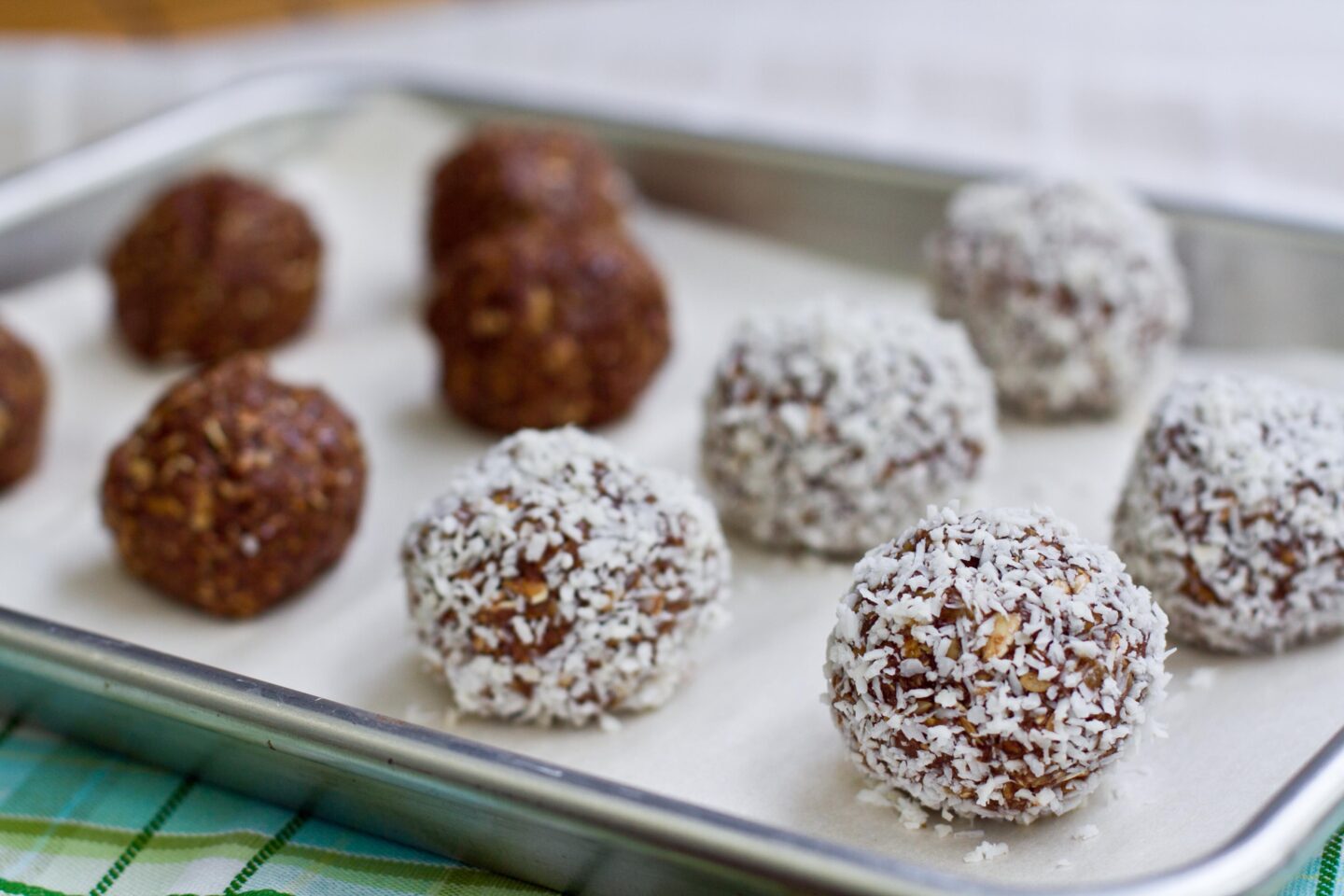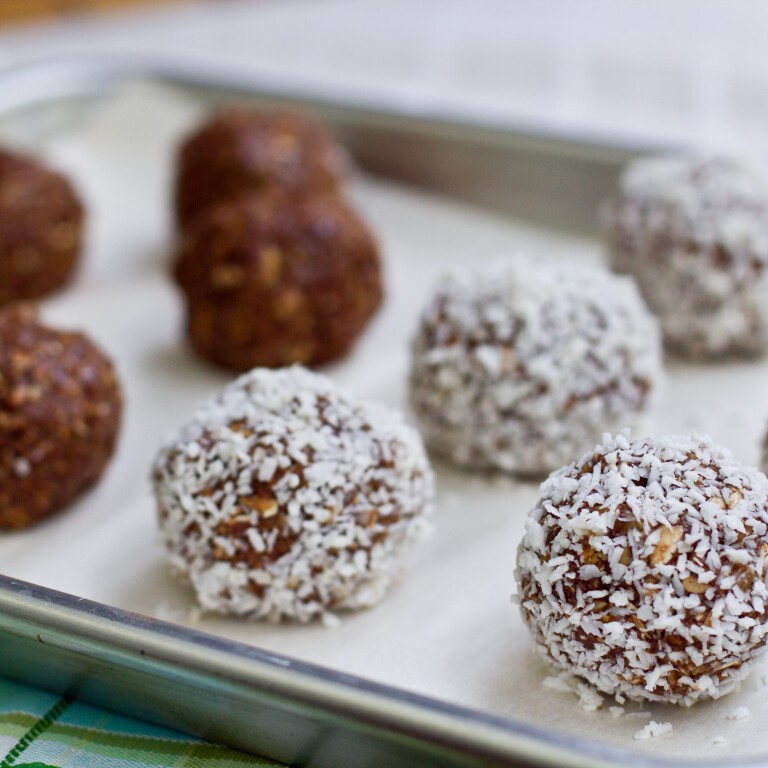 Flax Glowballs
Vegan, oil-free, soy-free

Yield

10-12 large balls
Prep time

Cook time

0 minutes
Chill time

60
Total time

Ingredients
1 cup flax seeds, ground (or just use pre-ground)
1/2 cup rolled oats, ground into flour
1/4 cup Sucanat (or other dry sweetener like white sugar), or more to taste
1 cup mashed banana (~2 lg.bananas)
2 tbsp cocoa powder
1/2 cup chopped nuts (I used almonds)
1/2 cup shredded coconut, for rolling
Directions
In a blender or spice grinder, grind the flax seeds and rolled oats into a flour like consistency. Alternatively you can use 1 cup ground flax if you do not have whole flax seeds. Add the ground flax & oat mixture along with the cocoa powder and Sucanat (or dry sweetener) to a large bowl. Adjust sweetener to taste.
In a smaller bowl, mash the bananas with a fork until smooth. Scoop the banana onto the flax/oat flour and combine well with a fork or spoon. This process will take several minutes to combine thoroughly.
With slightly wet hands, shape balls and roll in shredded coconut. Place balls on a parchment lined plate and freeze for 30-60 mins. If freezing for longer, allow to sit on the counter for 5 minutes or so to de-thaw slightly.
Tip:
I prefer to roll them in sweetened coconut because the flax balls aren't very sweet and it gives them a nice pop of sweetness on the tongue, however unsweetened coconut works too.
Nutrition Information
(click to expand)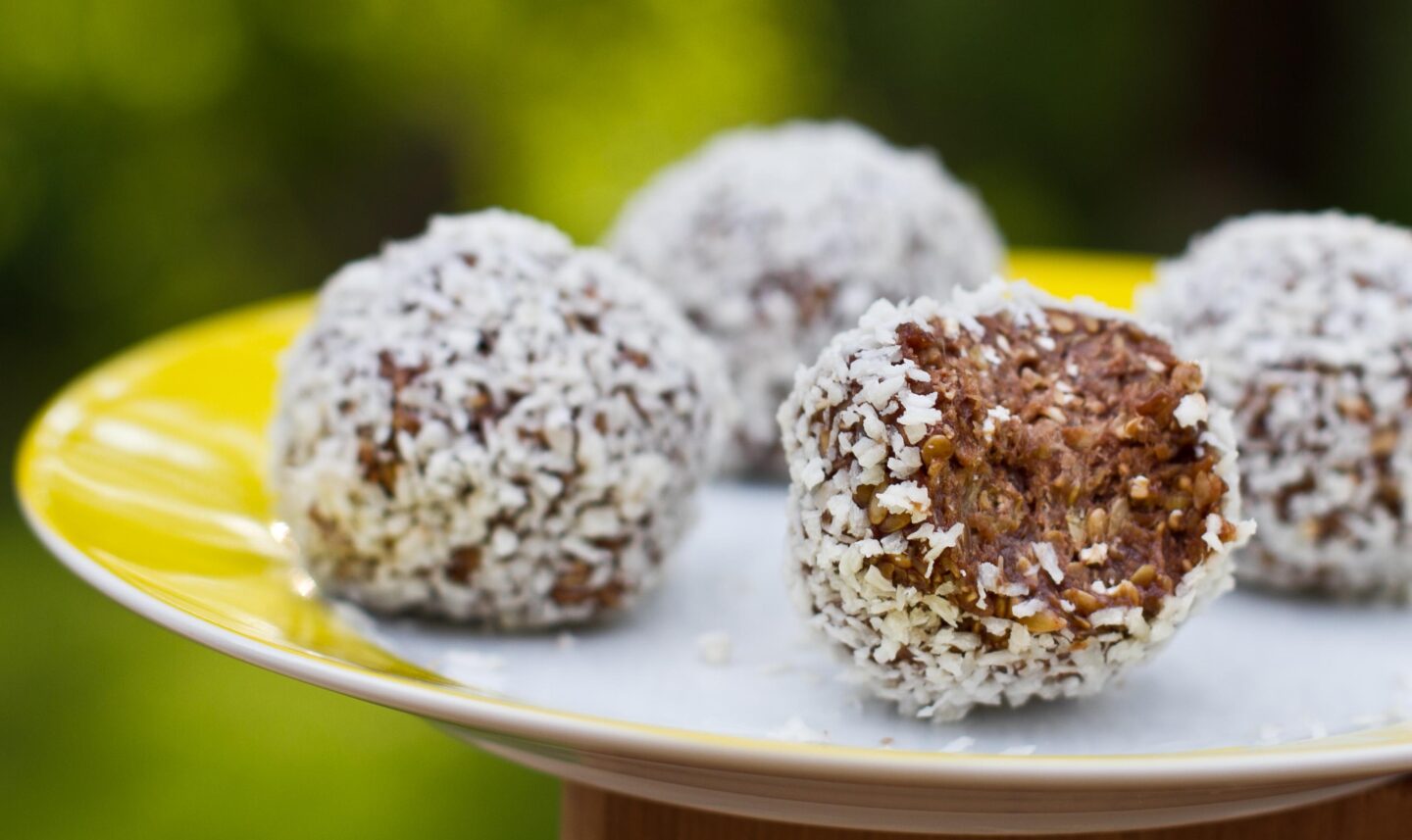 The chopped almonds give them a little crunch too and the cup of flax lends an earthy, nutty flavour with a hint of sweetness. You know what else I love about them? They pack in a ton of healthy Omega oils that aid in glowing skin, hair, and nails. Hence the name, Glowballs. :)