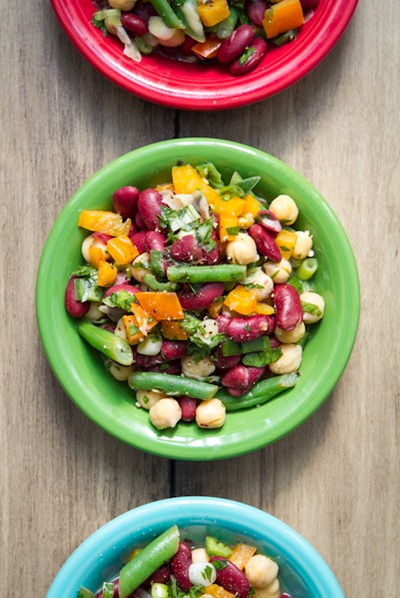 One of my favourite things to do is recreate a dish or meal that I've enjoyed at a restaurant or purchased in a store.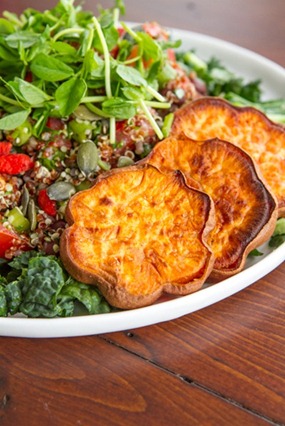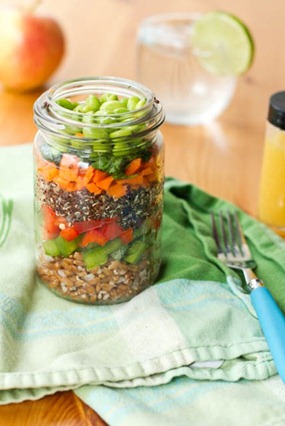 I've recreated the Detox salad and Layered Salad with Orange Ginger Dressing from Whole Foods, the Adzuki Bean & Quinoa Tabbouleh Salad and Pink Flamingo Smoothie from Fresh restaurant, Endurance Crackers from Chocolatree Café, and the Layered Raw Taco Salad from The Naked Sprout, to name just a few.
This time, I had my sights set on a Fontaine Santé Three-Bean Salad.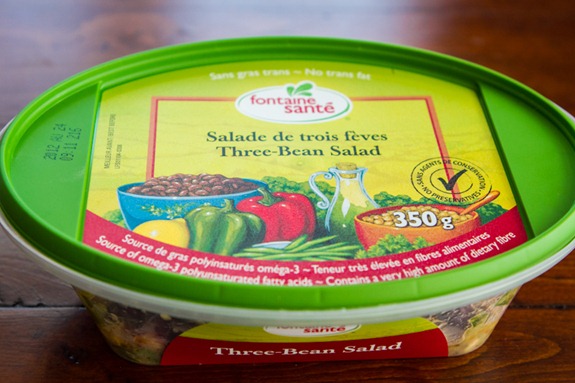 In addition to hummus that rocks my face off, Fontaine Santé also makes hearty salads – and many of them are vegan. You can find these pre-made salads at Costco and various grocery stores in the refrigerator section (however, I'm not sure if they are sold in the US?). Sometimes when I'm in a crunch for dinner, I pick one up and pair it with a simple salad.
A peek inside…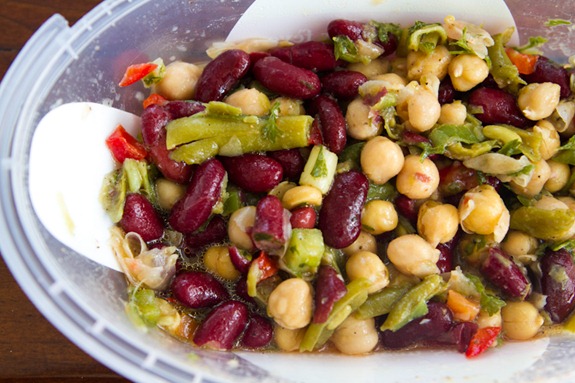 It tastes better than it looks…I swear. Am I the only one who loves mushy bean salads?
Well, have no fear this version is bursting with fresh, crisp vegetables. My version has the same ingredients (with the addition of jalapeno), but the nutrition stats turned out quite a bit better with half the fat and calories per serving. Another advantage of preparing food at home – it's often healthier without even trying. This recipe has more bite from the lemon, Dijon, and apple cider vinegar, but I countered the acidity with a bit of pure maple syrup. It's also a better bang for your buck and you can save even more money if you make the beans from scratch. This recipe makes 5 cups worth, whereas the one I pick up from the grocery store has about three 1/2 cup servings per 350g container (granted, the salads from Costco are much larger and a better deal). Plus, who only eats 1/2 cup of bean salad anyway? Certainly not this girl.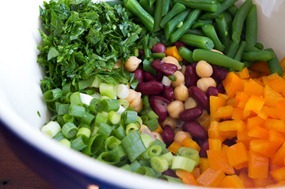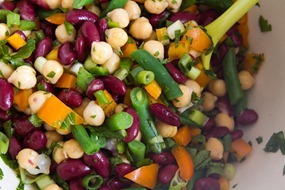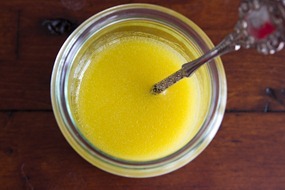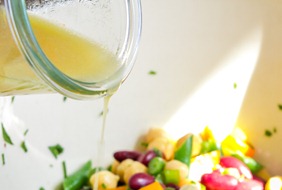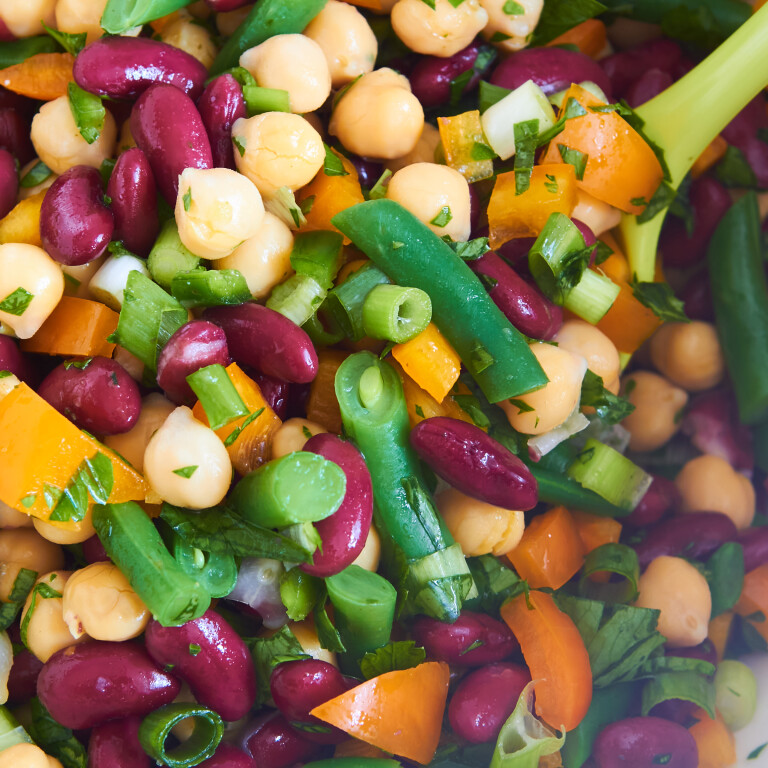 Speedy Three-Bean Salad
Vegan, gluten-free, no bake/raw, nut-free, soy-free

Yield

5 cups
Prep time

Cook time

Total time

Like many bean salads, it tastes better as it sits and is even better the next day once the dressing has mingled with the beans and veggies. If you can make it in advance I suggest doing so. It should keep for at least 3-4 days in an air-tight container or jar, perhaps longer.
Ingredients
For the salad
1 cup chopped green beans, stems removed
1 (15-oz) can chickpeas (I use Eden Organic BPA-free), or 1.5 cups cooked
1 (15-oz) can Red Kidney Beans (ditto above), or 1.5 cups cooked
1 orange bell pepper, finely chopped
1 jalapeno, seeded and finely chopped (optional)
1/3 cup packed fresh parsley, finely chopped
3 green onions, finely chopped
Salt & pepper, to taste
For the dressing
8 tbsp fresh lemon juice (about 1.5 lemons)
1.5 tbsp extra virgin olive oil, or more to taste
1 tbsp apple cider vinegar
1 tbsp pure maple syrup
1 tbsp Dijon mustard
1/4 tsp fine grain sea salt
Directions
Add several cups of water into a medium-sized pot and bring to a boil. Add chopped green beans and blanch for 2-3 minutes in boiling water. Drain and rinse with cold water. Place into a large bowl.
Drain and rinse chickpeas and kidney beans and place into a large bowl along with the green beans, bell pepper, optional jalapeno, parsley, and green onion. Mix.
In a small bowl, whisk together the dressing ingredients until combined. Adjust to taste if needed.
Pour on dressing over salad and mix well. Place in the fridge for 30 minutes to allow the flavours to develop. Season with salt and pepper and adjust dressing to taste. Salad will taste even better the next day. Store in the fridge for up to 3-4 days.
Nutrition Information
(click to expand)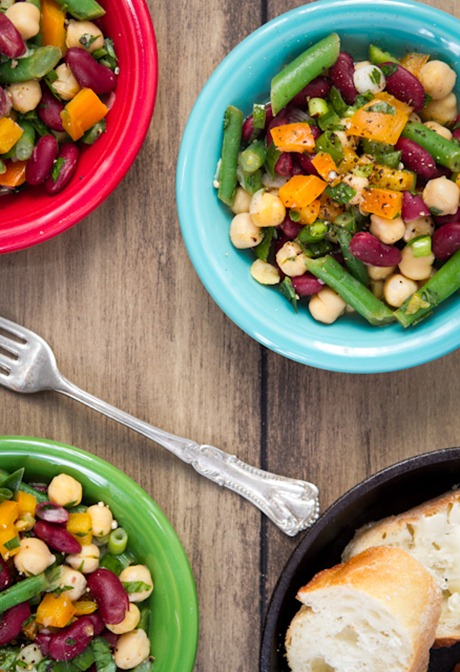 Next on my list? The 3-Lentil Cranberry Salad. Quite possibly my all-time fav.
What do you think I should add to my "recreate" recipe list?