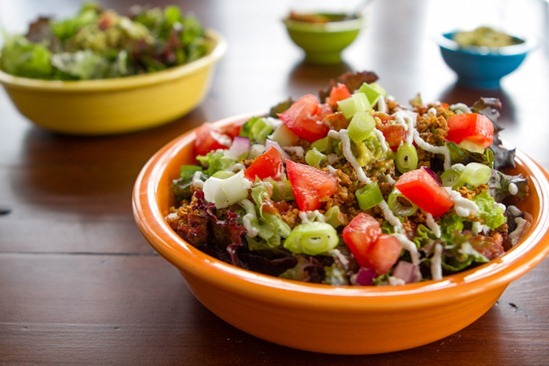 If you ever find yourself in a salad rut, this raw taco salad is a great way to break out of it. Hearty and flavourful, every bite is a fiesta in your mouth. It's a bit (ok, a lot) different from the taco salad of my youth, but certainly no less tasty!
My inspiration comes from the taco salad that I enjoyed at The Naked Sprout meet-up over the weekend. Layered with greens, guacamole, salsa, sunflower taco meat, and a cashew cream, I knew this was something I would be making at home real soon. As in, within 24 hours of consumption. I don't mess around during the salad-a-day challenge…no sir-ee.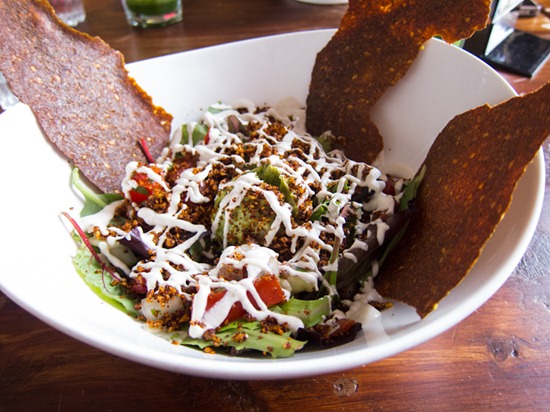 Here are a few ways that I changed up this salad:
I used walnuts instead of sunflower seeds for the taco meat. I've had success making walnut taco meat in the past, so I stuck with that recipe, only simplifying it to just a few ingredients.
I made a macadamia cream sauce instead of a cashew cream sauce. Feel free to use whichever nut you wish.
Red leaf romaine instead of flat-leaf mixed greens because I think the romaine has a better texture to serve as the base of such a hearty salad. Again, use any green you prefer.
I used my Endurance Crackers because I had some in my freezer just waiting to be used. I absolutely loved them in this salad.
I put together a step-by-step assembly of the salad in photos for us visual people. The recipes are below!
1. Add a hearty base of greens in a large bowl.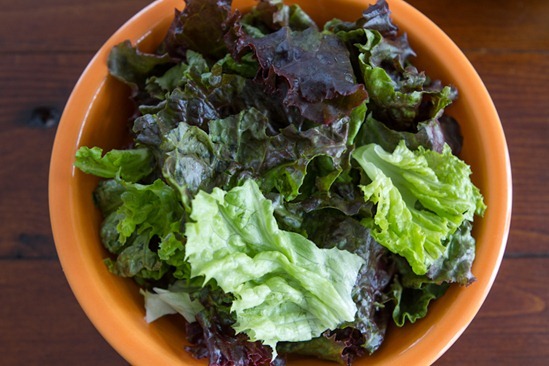 2. Add a heaping 1/4 cup scoop of 3-minute guacamole (recipe below) in the middle of the lettuce.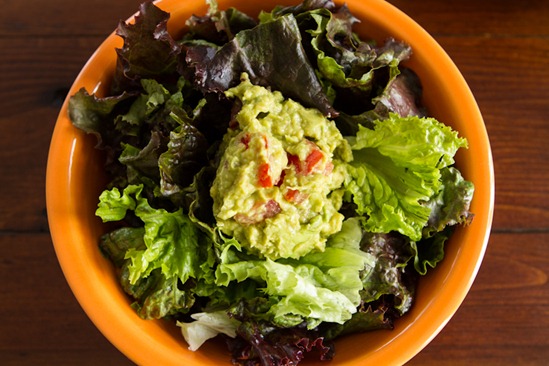 3. Spoon on a couple tablespoons of your favourite salsa.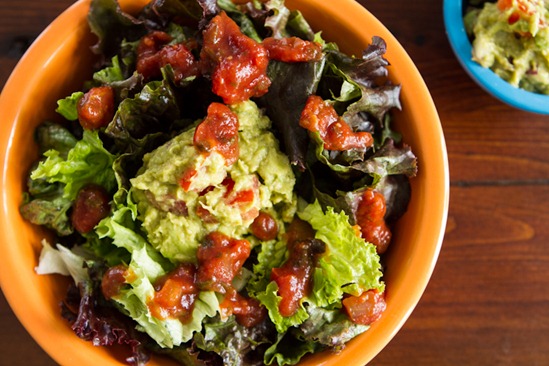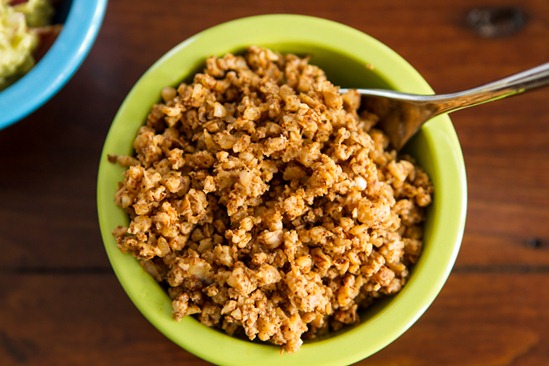 4. Add half of the walnut taco meat.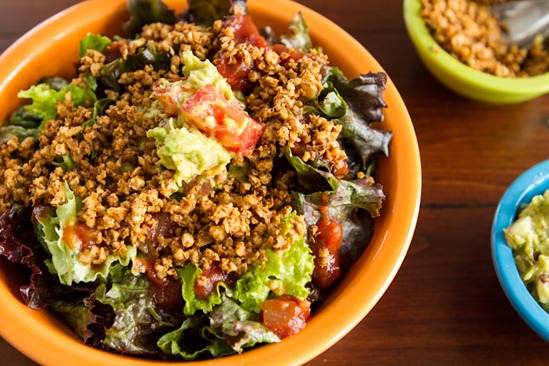 5. Spoon a couple tablespoons of cream sauce into a baggie, snip off the end, and "pipe" it onto the salads. Fancy. Or, simply spoon it onto the salad directly.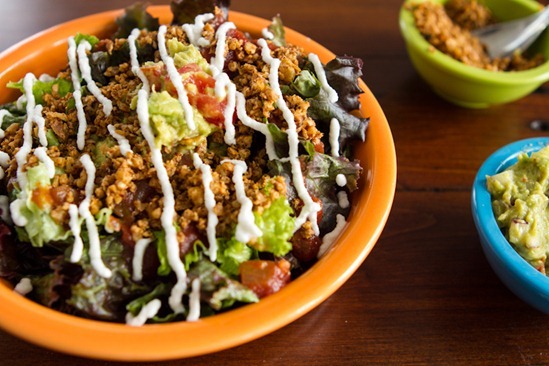 6. Add chopped tomato, red onion, and green onion on top.
7. Finally, stick your favourite crackers in! I used my Endurance Crackers. Feel free to use tortilla chips or any cracker you see worthy.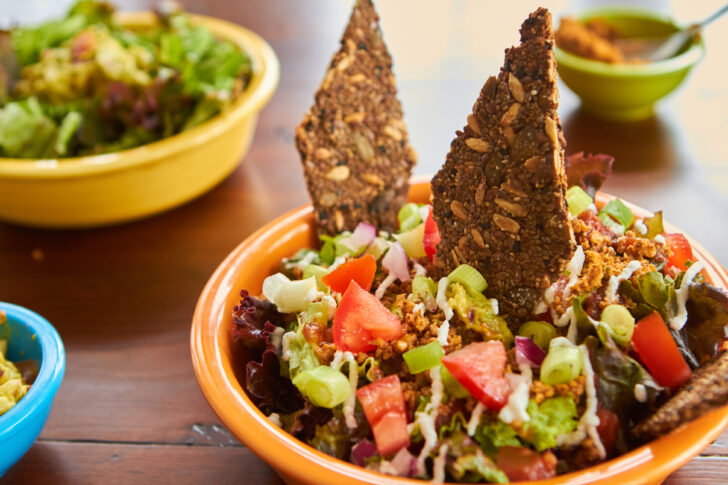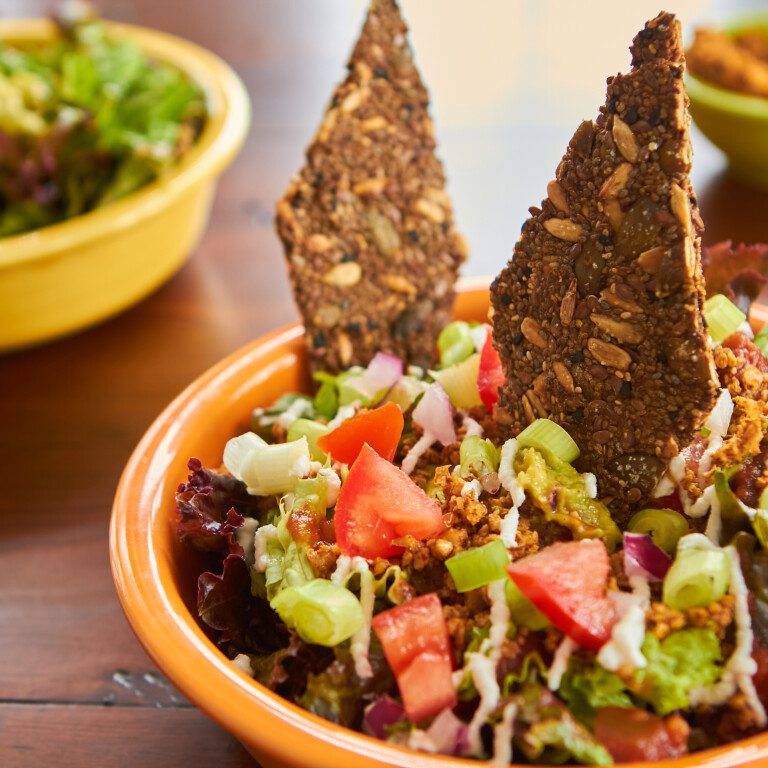 Layered Raw Taco Salad for Two
Vegan, gluten-free, no bake/raw, oil-free, soy-free

Yield

2 servings
Soak time

2-8 hours
Prep time

Cook time

0 minutes
Total time

I like to think of this salad as a vitamin in a bowl. It's not only delicious, but literally bursting with nutrients and health. It lasted all of 3 minutes in front of me…maybe less. Eric, who is not a guacamole fan, surprised me by devouring it also.
Don't let the long ingredient list put you off; the entire recipe took me about 30 minutes or so. Feel free to adapt this salad depending on what you have in your kitchen. Inspired by : The Naked Sprout's Taco Salad
Ingredients
For the walnut taco meat
1/2 cup walnuts, soaked for 2-8 hours
1 & 1/2 tsp chili powder
1/2 tsp cumin powder
fine grain sea salt, to taste
cayenne pepper, to taste (optional)
For the cashew or macadamia cream
1 cup macadamia (or cashew) nuts, soaked in water for 2-8 hours
11-12 tbsp water (use as needed to achieve desired consistency)
2-3 tbsp fresh lemon juice, to taste
fine grain sea salt, to taste (I used just over 1/4 tsp)
For the guacamole
1 large ripe avocado
1/4 cup chopped red onion
1/2 small tomato, chopped
1/2 tsp ground cumin
1 tbsp + 1 tsp fresh lime juice
scant 1/4 tsp fine grain sea salt, or to taste
For the salad
greens of choice
salsa
green onion (optional)
crackers
Directions
Taco meat: In a food processor (or by hand), pulse (or chop) the ingredients until combined. Make sure to leave the walnuts chunky. Remove and set aside.
Cream sauce: Drain and rinse the soaked nuts. Add them into a processor and process. Stream in about 1/2 cup water and a couple tbsp of lemon juice. Add more water as needed to achieve your desired consistency. The nut sauce should be super smooth and not grainy. Add salt to taste.
Guacamole: In a medium-sized bowl, mash the avocado flesh with a fork, leaving some chunks. Stir in the chopped tomato, red onion, lime juice, and seasonings to taste.
To assemble: (per bowl) Add a hefty base of greens in a large bowl followed by a heaping 1/4 cup scoop of guacamole in the middle.
Spoon on 2 tbsp of salsa over the greens followed by half of the taco meat.
Add a couple tbsp of cream into a plastic baggie, snip off end, and pipe over top the taco meat.
Garnish with a chopped green onion and leftover chopped tomato and red onion. Place a few crackers into the salad before serving. If you find yourself with leftover lemon and lime juice like I did, place juice into a glass, fill with water, add liquid sweetener to taste, and serve over ice.
Tip:
Walnut Taco Meat yields scant 1/2 cup
Cashew or Macadamia cream yields 1 heaping cup
3 Minute Guacamole yields 3/4 cup
Nutrition Information
(click to expand)

Strawberry Nut Cream
The nut cream recipe makes a cup's worth, so you might be wondering what to do with it the leftovers like I was. You can actually use nut cream as a sub for thick dairy cream in so many recipes. Think pasta sauces, cream-based soups, mashed potatoes, a spread on sandwiches or wraps, etc. Feel free to add herbs, spices, and seasonings to jazz up the flavour. I've also read that it can be frozen for a couple months.
I decided to use some of the nut cream as a base for a sweet strawberry dessert and breakfast cream. Yummy.
Enjoy this strawberry cream over top of oatmeal, vegan overnight oats, pancakes, desserts, or even in smoothies!
1. Add 6-7 large strawberries into a processor along with 1/4 cup nut cream and 1 tbsp pure maple syrup. Remove strawberry cream and store in the fridge in a sealed container for up to a few days.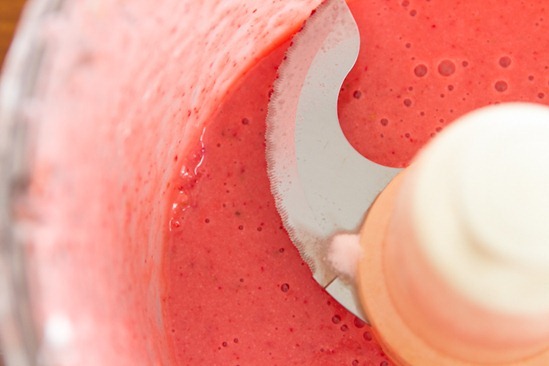 2. I made Banana Soft Serve with the strawberry cream. I added 2 tbsp of the strawberry cream into the processor with a frozen and chopped banana and 1/2 tbsp almond butter.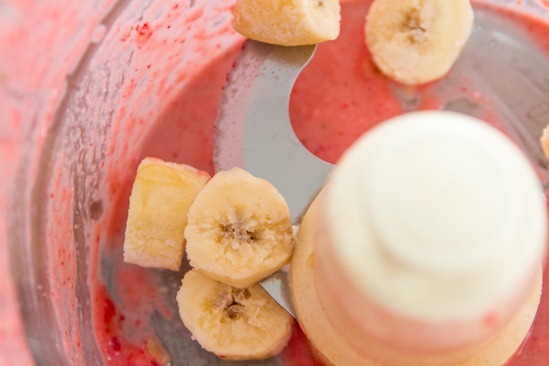 3. Instant "Strawberries 'n Cream" banana soft serve!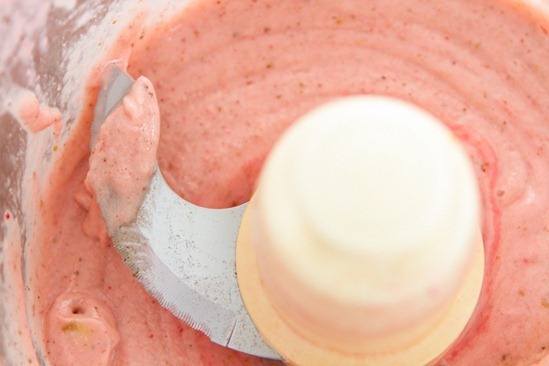 4. Serve with chopped strawberries in a mini parfait glass for a cold & creamy summer dessert.
Strawberries 'n cream vegan overnight oats will also be happening. :)