Good afternoon!!
That's right….she's baaaaack!! :D
I had my first workout today in exactly 7 weeks!!! I swear the endorphins are pumping through my veins. lol. My body doesn't quite know what to do with itself!
I signed up for 2 weeks at a local gym about 10 mins. away with the intent on using the elliptical machine until I am fully healed and ready for impact exercises.
I rocked my I Eat Real Food tee while working out: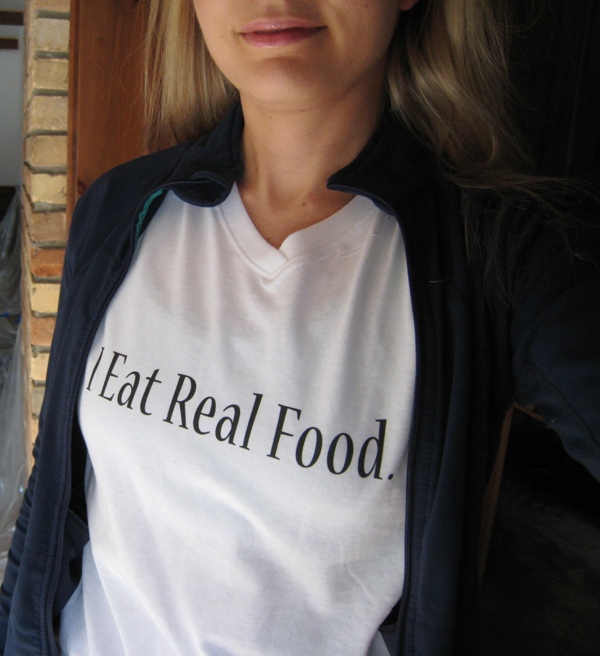 Of course my visit to the gym was not without drama. I came in with a big smile on my face and said, "I'd like to sign up for a 2 week membership please" To which the girl at the counter said "We don't sell those I don't think…" And I showed her on the website where they sell 2 week trials. She said "Oh you have to do this online" And me being the practical person that I am, I said, "Oh do you think we could fill it out together?" All the form wanted was name, address, and Credit card info- NOT much. Seeing as I was already there, I didn't see a problem!
So, she has to go and get her manager. This was the same lady that Eric and I met when we were looking at this gym a while ago (before the running beast purchase) and Eric said she rubbed him the wrong way. She comes out and immediately says, "Why do you only want a 2 week membership?" (like it was her business!). I told her it was because of an injury. She said, "Well we can't sell you the 2 week membership here, you can't use our computers…it is a CORPORATE offer, not from our specific club.
I was flabbergasted and I had to collect myself to make sure I was hearing her right. I said, "Are you saying that I can't even fill out the form while I am here, you are going to make me go home to fill it out?" And she said yes, and repeated that it was a corporate offer.
I said, "I'm sorry but that just doesn't make any sense whatsoever."
She said I could still workout while I was there, but I was planning on going home to get my gear anyways, so I just turned around and walked out. I was miffed!!! I went home, filled out the damn form, and then went back later. I really didn't want to go back to this gym, so I opted for the all women's club that is attached to it. They were much friendlier there!!
Has anyone else ever had a gym horror story?
This other club where Eric and I used to go wouldn't let us cancel our membership unless we made an appointment with someone, and then they tried to talk us out of it! I hate that with a passion!
The Workout
Cardio: Elliptical (I watched Oprah while I worked out! It was sad, sad, sad…)
Duration: 35 mins. on incline 12, resistance 10
Feel the burn: 340 kcals
Max heart rate: 176 bpm (90% of max)
Avg Heart rate: 163 (84% of max)
Let me just say this: It felt so damn good to be sweating again!!!
The elliptical was SO gentle…my injury didn't hurt one tiny bit. I am so relieved I can do something now! :D
Today's Crap Free Eats (Crap Free Week: Day 11!!):

As you know I need to fit back into my wedding dress for the photoshoot in less than 2 weeks time. I am going to talk a bit about the changes I have made to my diet and some of the thought processes behind the choices. 
When you see 'Wedding Dress Plan' in bold, I will tell you the rationale for my choice.
My plan is to burn about 250-300 calories per day with the elliptical and shave off about the same through small cutbacks to my diet. I am not counting calories with respect to what I eat. I want to show others that it is possible to make healthy adjustments to your diet without having to count calories!
This will hopefully result in a 2-3 pound weight loss and have my dress fitting perfect again!
Breakfast: Detoxifying Green Monster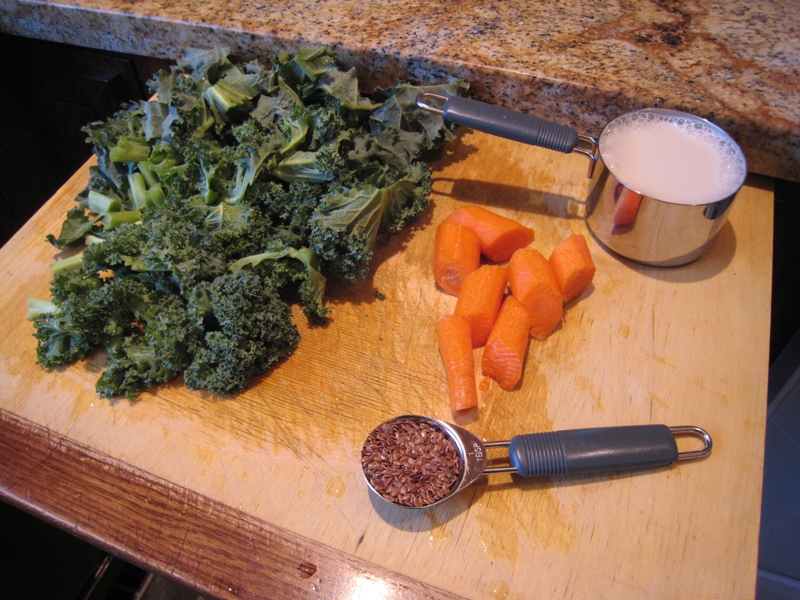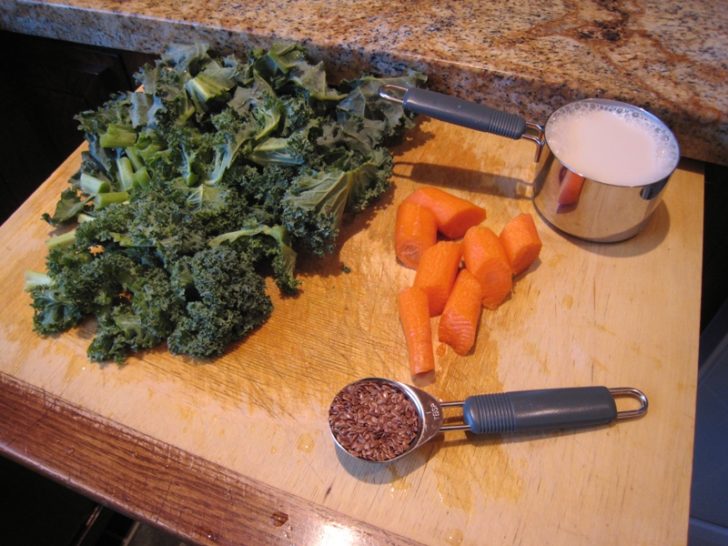 The loot:
6 cups of organic kale

1 cup Original Almond Breeze

1 Tbsp flax

1 medium organic carrot

3 ice cubes
Wedding dress plan: I skipped the fruit as I didn't need the extra sugars this morning. Breakfast was late and I knew lunch was only 1.5 hours away. I bulked it up with 6 cups of kale and a carrot. Volume eating is the way to go when you don't want to feel deprived.
The key to the all veggie smoothie is LOTS of liquids (I should have added more) and blending it for several minutes, to make it smooth. I forgot to take an after pic, but I think you get the just of it! ;)
I worked long and hard on my Glo Bakery incorporation again today. In fact, it took up most of the day. Unfortunately, I still had much more work to do because the name was rejected again! I had to research 5 company names (that were similar to Glo Bakery, like Glo Enterprises Ltd) on the internet and 411 system and find out what types of companies they are. Then, after all of that I had to resubmit! Fingers crossed it gets the go ahead!
Then I had a nice chat with my mom about it and we talked about ideas for it. :) It was fun. She gave me a wonderful idea today- I should get a booth at the local farmers market this summer to sell my goodies!!! I am so going to do this. It would be fabulous!
Lunch: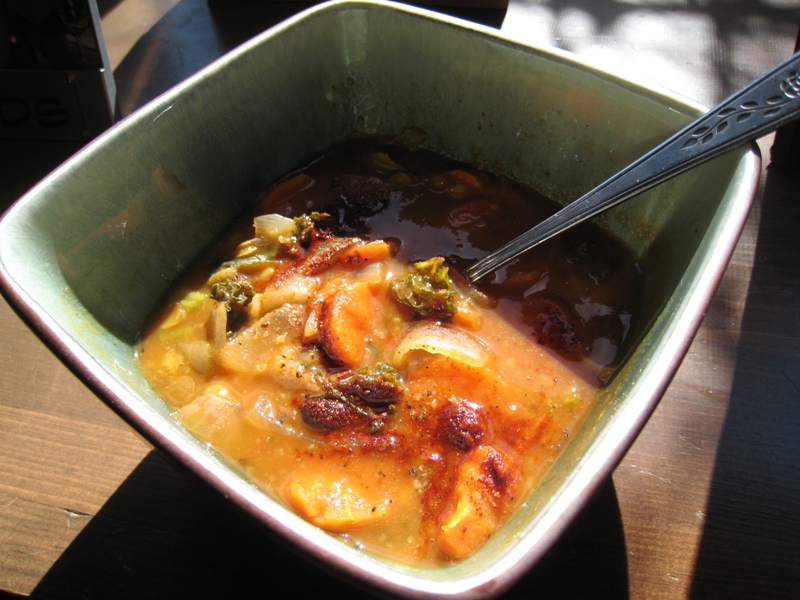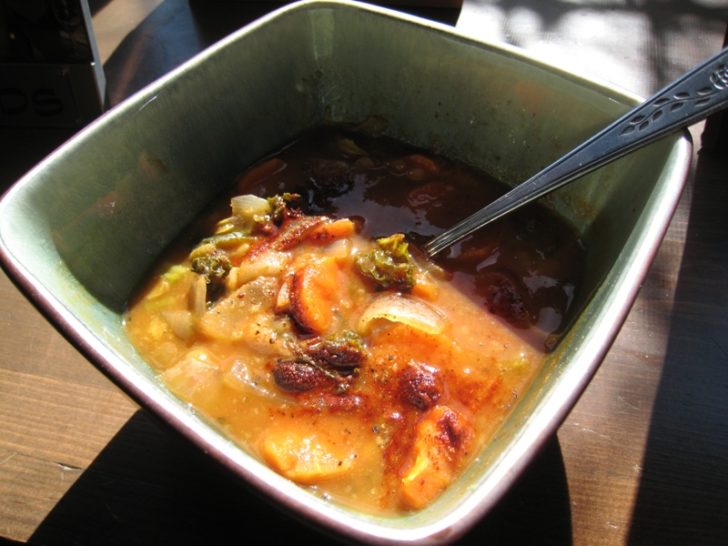 Leftover Vegetable Kale Soup (with tons of lentils). I sprinkled it with paprika…it was lovely!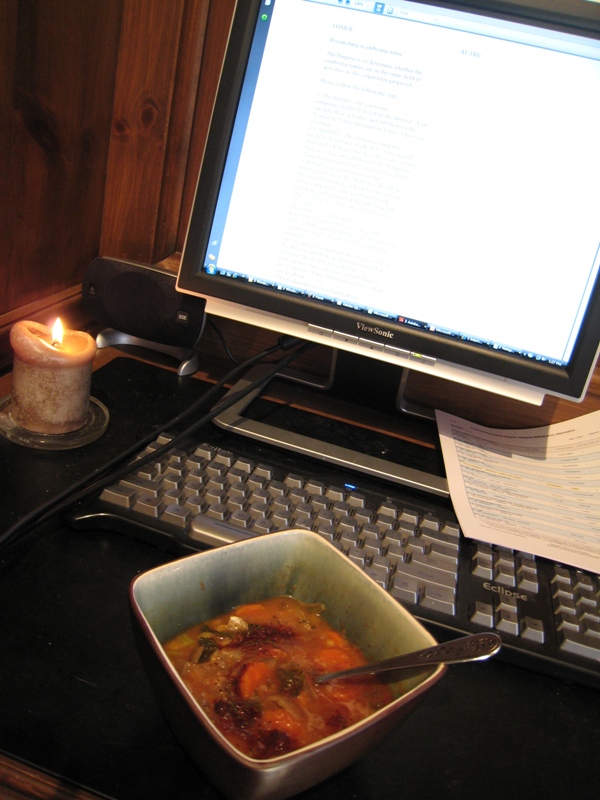 Wedding dress plan: I was going to mix in 1/4 cup of Solgourt, but I figure this was an easy cut back and wouldn't leave me feeling like I was missing much. Instead of sprinkled on some paprika.
Before the gym snack: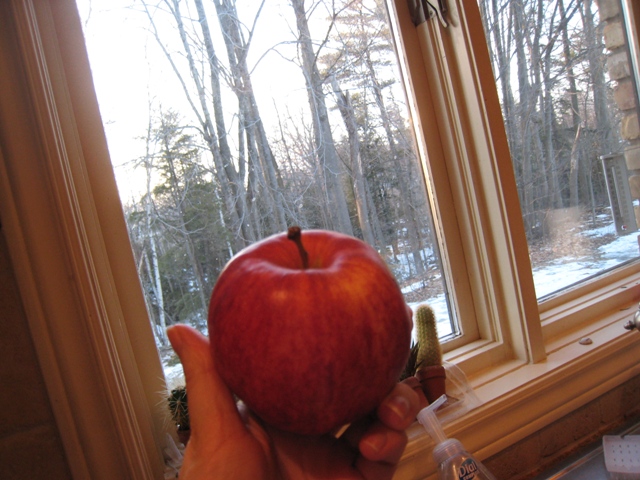 An organic gala apple
Post gym snack: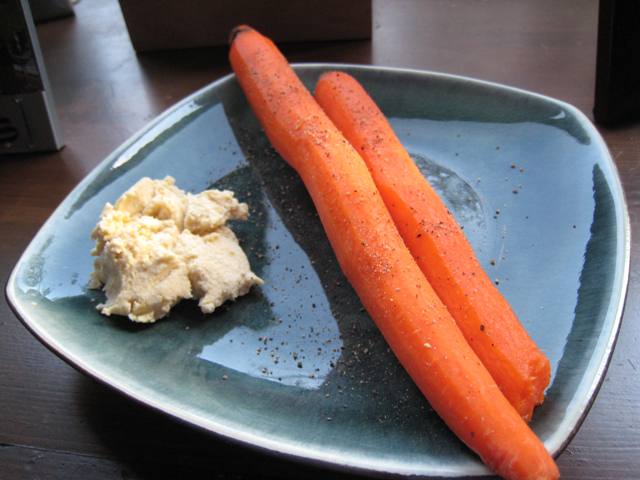 2 large organic carrots with 3-4 Tbsp homemade hummus. I also had a handful of Mary's Organic Crackers.
Wedding Dress plan: I wanted to slather these with my homemade Almond butter, but to save calories I opted for hummus.
Ok, I am off to pick up E-Dawg (nickname!) from the GO train. We have to stop at Tip Top tailors to have his measurments taken for the suit they are renting him. Adios amigos!!! I'm going to ride my endorphin high all night! haha
See you tonight for the blog announcement! :D
"At times our own light goes out and is rekindled by a spark from another person.
Each of us has cause to think with deep gratitude of those who have lighted the flame within us."
You all have rekindled my flame many times when I was feeling down about my injury- so thank you all!