Today was the first snowfall of the season!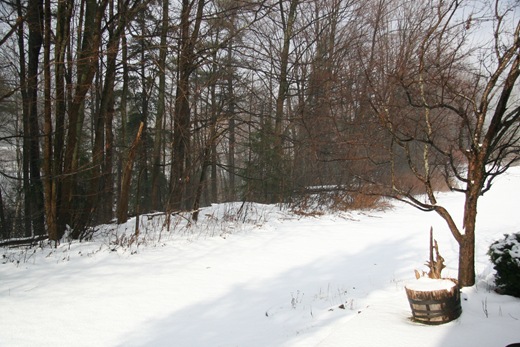 It was the perfect day to embrace my inner Project Snow Strength and get shoveling! The snow today was soooo wet and difficult to lift. My abs got in a killer workout which is perfect because Whittle My Middle ends tomorrow!
Here I am in my duds: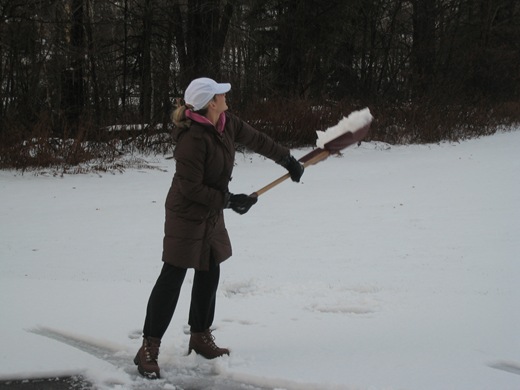 I am so cool it hurts!
A sure sign you need new boots? You go to lace up your boots and the shoe lace falls off in your hand. hahaha. I've had these since I was 15 yrs old!!! I'm pretty sure they are going to poof into thin air one day.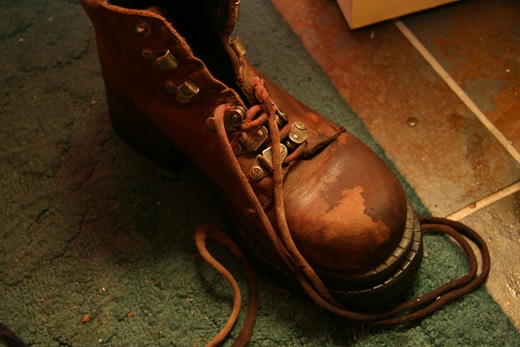 Here are some great tips for shoveling snow without hurting yourself.
The snow day was also perfect for a Glo Bar shipping day…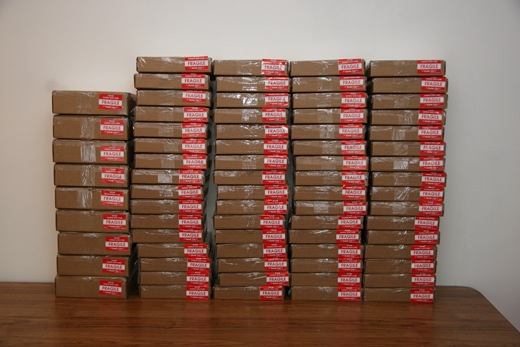 With Eric's help (he took the day off), we hit a new shipping record for one day- 80 orders went out!!!!! We went craaazy all day, but it flew by. I feel so good. My stack of orders is now much more manageable.
Don't worry if you haven't received your 'shipped' status- they will be going out all week, promise! If you are thinking about placing a holiday order, now is the time before my CTV interview airs in Ontario on the weekend (time TBD!). It could get insanely crazy after that, I'm not sure.
It was also the perfect day for…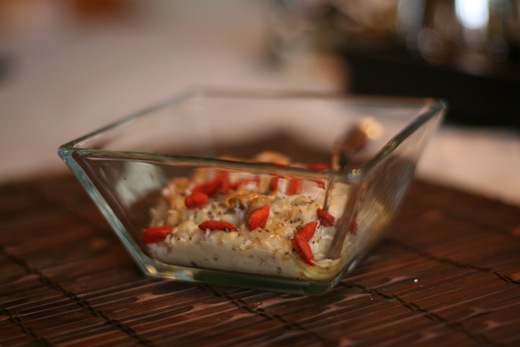 OATMEAL!!!!!!!!!!!!!!
If you can believe it, I have only made homemade oatmeal twice in my life and it made me feel sick after eating it! In university I lived off instant oatmeal. I know, I know, it's not real oatmeal, but I didn't even know where to start with a homemade bowl. I LOVE oats so I always knew I needed to give it another shot!
I used Kath's classic oatmeal recipe using Bob's Red Mill organic oats. Oh Bob, you make amazing oats. Glo Bakery is switching over to Bob's oats- I am super pumped as I am a HUGE fan of Bob's Red Mill products!!!!!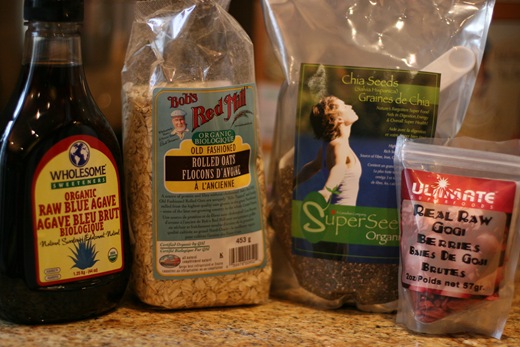 Ingredients:
1/3 cup organic oats
1/3 cup Almond Milk
1/3 cup water
1/2 very, very brown banana (ooey and gooey and ewww)
1/2 t organic vanilla
Directions: Throw in above ingredients into pot and simmer on medium, stirring very fast until desired consistency is achieved after about 10 mins. or so. (Note: Kath's directions are more detailed, but I was in a huge rush today and just dumped it all in!)
My toppings included:
1 T gogi berries
drizzle organic raw blue agave (soooo good)
Organic chia seeds
unsweetened coconut
Organic crunchy peanut butter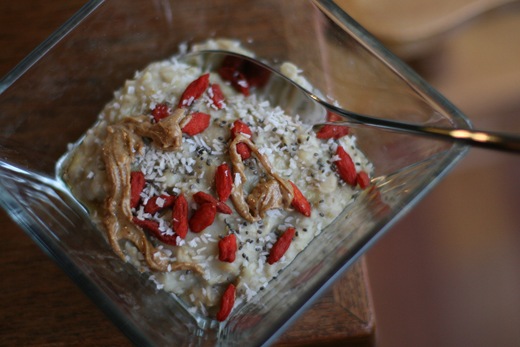 The toppings were out of this world delightful!!!! I loved the raw agave drizzled over top.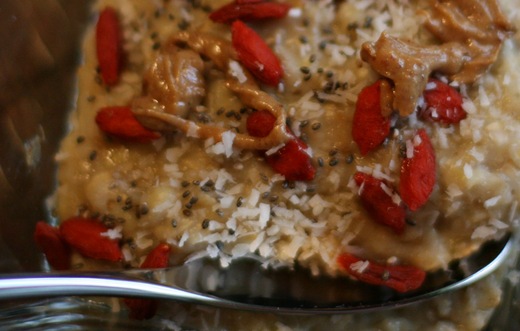 The only thing I was surprised with was how SMALL of a portion it made!!! It was tiny! Any suggestions? What amounts do you guys use when you make oatmeal? 1/2 cup oats vs. 1/3 cup? More liquid???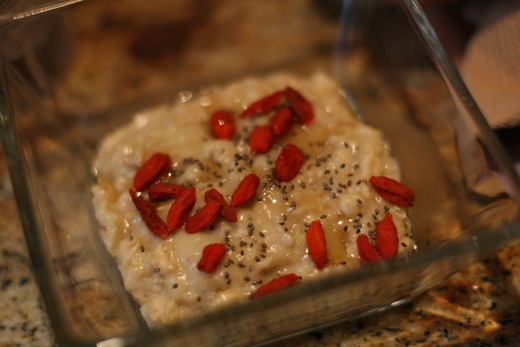 Even though it was tiny, it still kept me full for about 2 hours which was more than I expected it to.
I might try adding some hemp powder to my next batch for protein.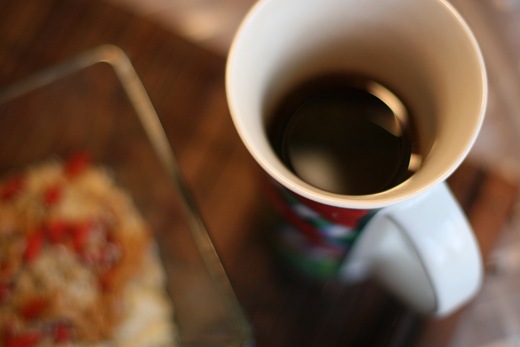 With Christmas tea.
What did I think of the oatmeal this time around?
I can't wait to make my next batch already! I now think I am crazy for waiting this long to try it again. I think the problem with my first batch was that I made it too thick and too large of a portion. Consider me a homemade oatmeal fan for life!
When will I eat it?
I see myself eating oatmeal for lunch more so than breakfast! I know I can't give up my morning Green Monster, but I can totally see myself making kick butt oats for lunch. Mmmm.
What does your PERFECT bowl of oatmeal look like?
Please share!
Does anyone have any savoury oats that would be great for lunch (and vegan)?
~~~~
OSGMOM arrives tomorrow. I am sooooo excited to see my mom! Wish the whole family was coming…
Peace out homies!