HAPPY FRIDAY!
My muscles have been feeling a bit tight this week! It is no doubt due to being back to work baking + hunching at my desk! I tell you, I didn't have one twinge of muscle pain while on vacation, even with all the running I did! I think Florida is good for the body… ;)
I decided to start my morning off with 20 minutes of Yoga Sculpt #1 over at yogadownload. I definitely worked up a sweat by the end. I capped it off with 10 minutes of Yoga for Runner's. I felt so good, if someone would have offered me a free massage I would have passed them by! hehe…not really, but I did feel really good!
This morning I had one thing on my mind after yoga…KEEN-WAAAH.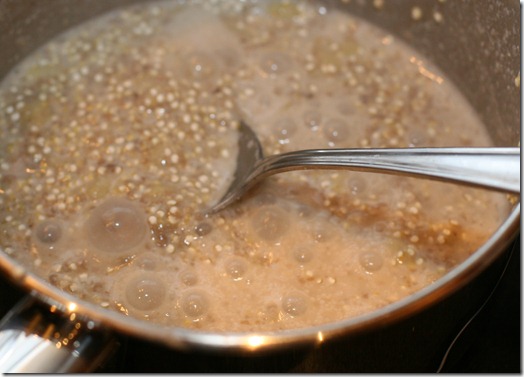 PB, J, & B Breakfast Quinoa
Ingredients:
Into the pot goes…
1/3 cup quinoa
2/3 cup + 2 tablespoons almond milk
1 mashed, ripe banana
1/2 teaspoon pure vanilla extract
pinch of cinnamon (optional)
pinch of sea salt (optional)
Directions: Stir together above ingredients and bring to a boil. Reduce to low and stir frequently for about 8-10 minutes being careful not to burn. If it dries out, add a bit more milk. Pour into a bowl and add toppings!
My toppings:
Crave Glo Bar (Peanut butter, cacao nibs, and cherry)
Strawberry jam
1 tablespoon roasted peanut butter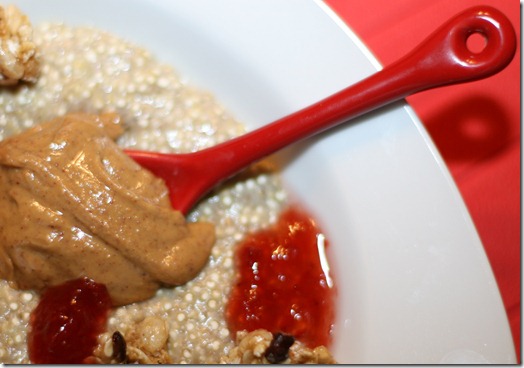 I used half a Crave Glo Bar on top.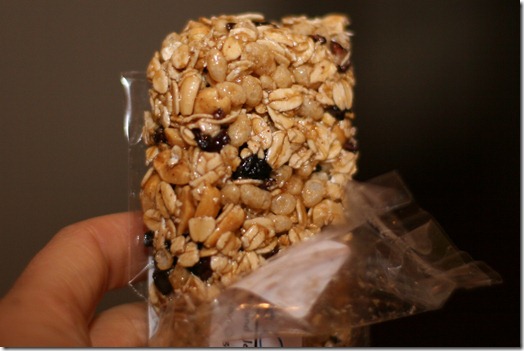 I forgot about the jam in the back of the fridge! I love jam!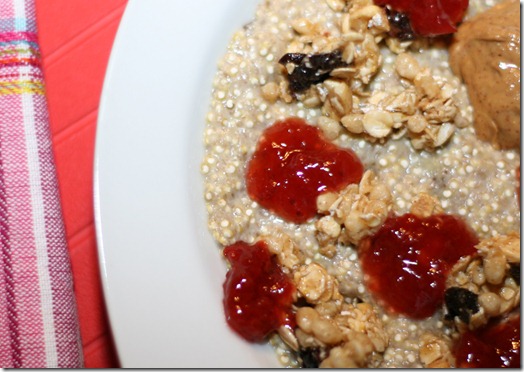 On the spoon: Organic strawberry jam, peanut butter, Crave Glo Bar + quinoa mix!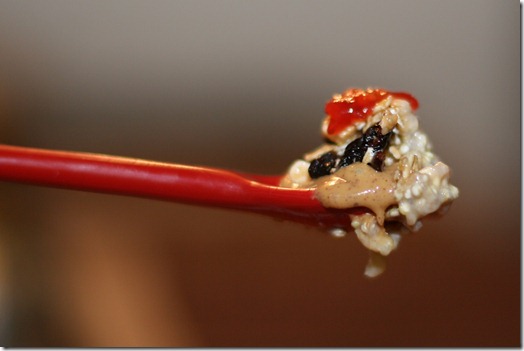 A great start to Friday!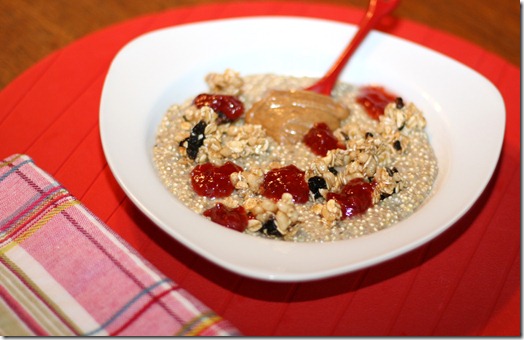 I like to spread the goodness all around!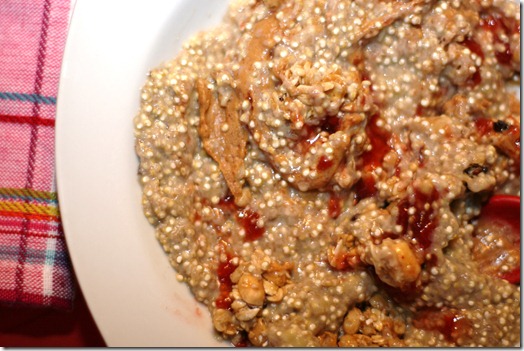 I should be good for a solid 4 hours on this.
While I enjoyed this bowl a lot, I still prefer the Vegan overnight oats– and I admit I was kind of wishing I had those instead of this! Total…BREAKFAST ENVY! :mrgreen:
My breakfast story:
My breakfasts used to be a sad sight. When I was struggling with disordered eating, I would have the same tiny breakfast day in and day out. I remember being just 12 years old (that is when my struggle with food really took hold) and only allowing myself half of a packet of instant oatmeal. Sadly, my approach to breakfast didn't improve throughout my teenage years when I would often have just 1 apple for breakfast. I was hungry all morning and never had any energy. I never thought that I deserved a balanced and hearty breakfast like other people did.
Then I started reading food blogs a few years ago. I saw other people eating delicious breakfasts each morning and something inside me started to change. I started to think that I was worthy of a filling and energizing breakfast too. I started experimenting with green monsters, oatmeal, pancakes, cereals, and I fell in love with healthy breakfasts and how they make me feel…energized and full of energy for the day's tasks. I also realized that I didn't gain weight by eating a big breakfast which was something I always feared previously.
Some of my favourite breakfast foods now include: Healthy Spelt Pancakes For One, Peanut Butter Banana Bomb Muffins, green monsters, Creamy PB + J Oatmeal Parfait, Energize Me Creamy Fruit Dip, Glowing Sunshine Juice, and Healthy Peanut Butter Coconut Swirl Pancakes.
Breakfast is FUN for me now…it took a long time to get here, but it was worth the fight!
Today's question- Do you approach breakfast differently than you used to? How so? What did you used to eat for breakfast 5-10 years ago and what do you have now? Are you inspired by blogs to change up your breakfasts?