Oh dear me.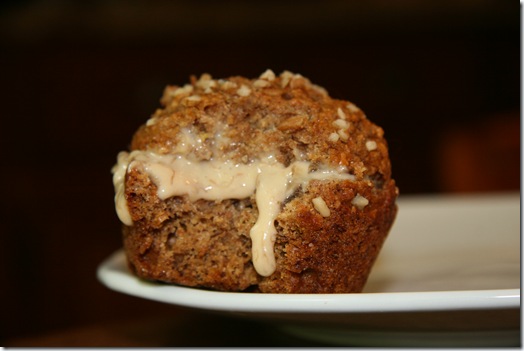 Dear, dear, me.
This morning I was in the mood to make muffins. It is dark and grey outside and I wanted comfort food. Nothing spells comfort food more than banana and peanut butter. Warm, gooey, sweet, and packed with nutrients.
[print_this]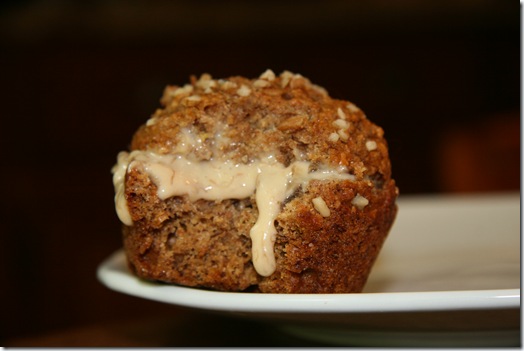 Ingredients
Wet:
2 T ground flax + 6 T water, whisked (replaces 2 eggs)
1 t vanilla extract
1/2 cup agave (or you could use maple syrup probably)
1/4 cup organic virgin coconut oil
1 cup mashed ripe bananas (2 small)
1/2 cup non-dairy milk (I used hemp)
Dry:
1 3/4 cup whole wheat flour
2 T wheat germ
1 t cinnamon
pinch of nutmeg
pinch of fine grain sea salt
1 t baking soda
Bomb Filling:
1/4 cup plain soy yogurt (or regular)
1 T agave (or maple syrup)
1 heaping T peanut butter
1 small ripe banana
Instructions
Preheat oven to 325F.
Whisk the dry ingredients in a medium sized bowl.
In a small bowl, whisk the flax + water to create the 'eggs'. Allow it to sit for a few minutes.
In a large bowl, mix the wet ingredients together.
Add flax mixture and whisk.
Fold dry ingredients into the wet ingredients being careful not to over stir.
Place batter in a pre-greased muffin pan.
Optional: Sprinkle with walnuts or carob nibs.
Bake for 18-20 minutes.
While the muffins are baking prepare the filling. Mix yogurt, peanut butter, sweetener, and banana together being sure to get the clumps out.
Place into a zip lock bag and set aside. Don't cut the hole until just before filling (it leaks out).
Once muffins are out of the oven and cooled, cut the hat of the muffin and fill. Place hat back on.
Now enjoy your banana bombs with a big cup 'o tea, a loved one, and some great reading material. :)
Nutrition information: (per muffin without filling): 152 calories, 7 grams fat, 5 grams fibre, 4 grams protein, 3 grams sugar, 22 grams carbs. Add 25 calories per muffin for the filling.
[/print_this]
Here is a good picture showing you the power of liquid in a muffin mix.
The right side muffin was created with only 1/4 cup hemp milk in the batter, while the left side was using 1/2 cup hemp milk. Look how much more it rises with more milk!!!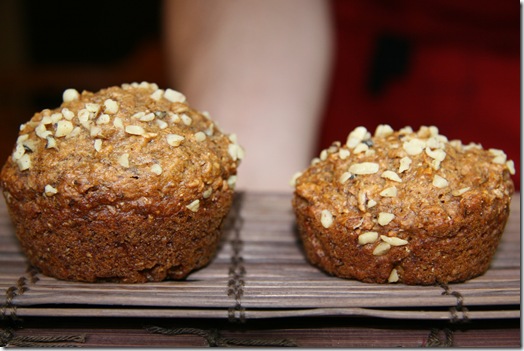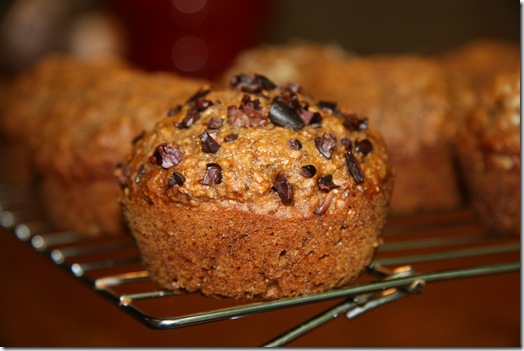 Want to know another cool fact?
1 egg costs around 25 cents while 1 'flax egg' costs around 2 cents! It can be much cheaper to bake with vegan ingredients.
Cutting off the hat: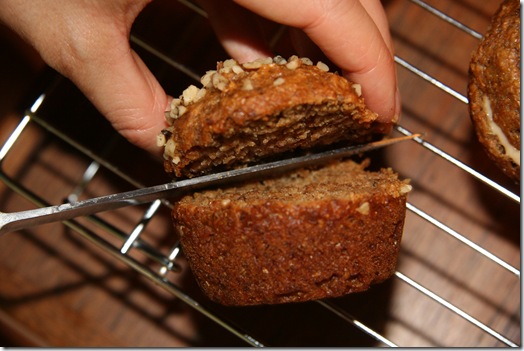 Hi, my name is Angela and I am addicted to swirling things.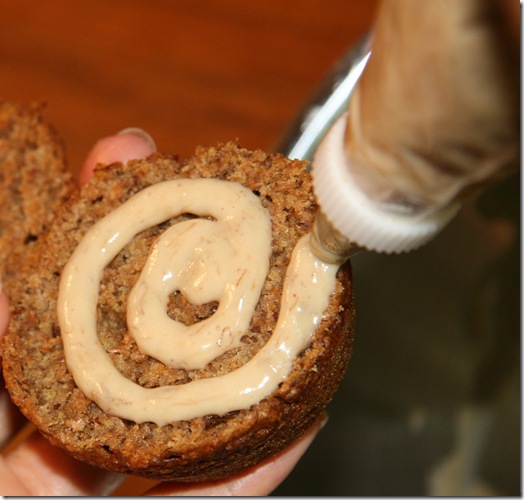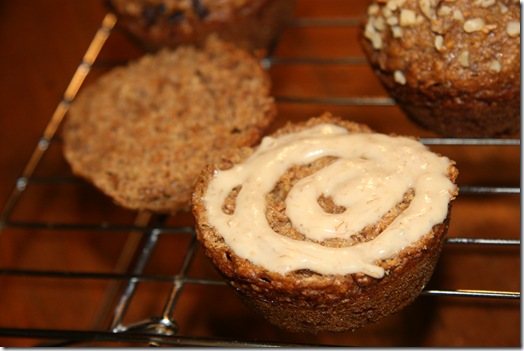 Oh no,  the bomb is exploding!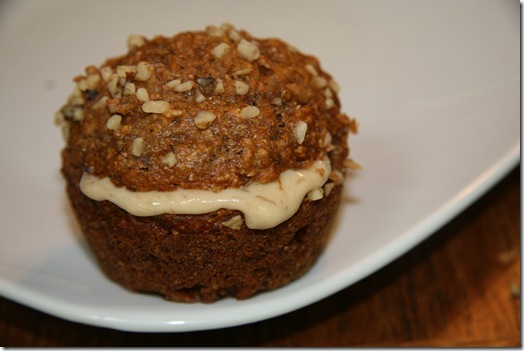 These. taste. so. amazing. I. can't. handle. it.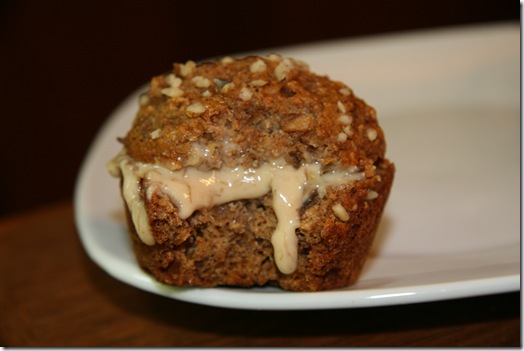 I can't imagine any better way to spend my Saturday morning.