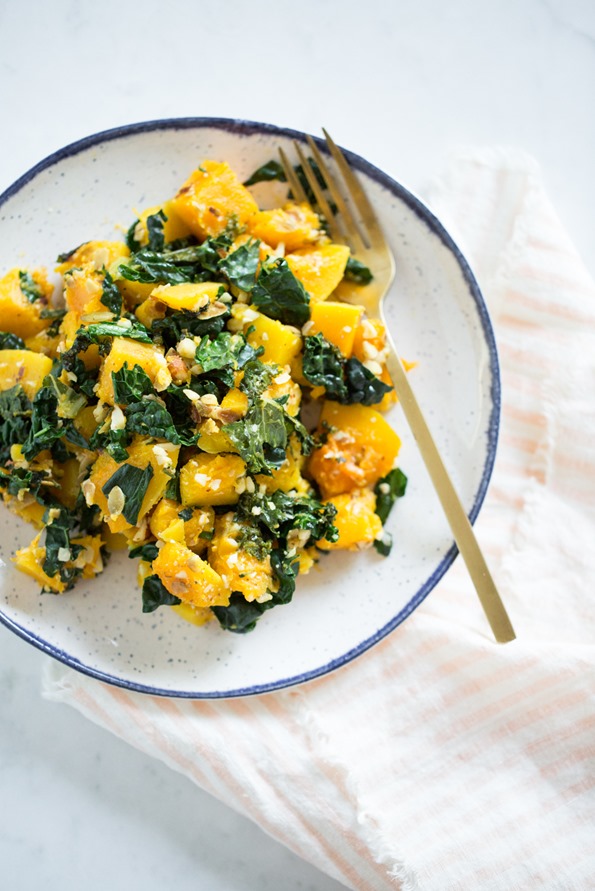 I posted this story and make-ahead technique to my Instagram account recently, only to be cut off part-way through when I exceeded the word limit. As Stephanie Tanner would say: How rude, lol. Did you even know that Instagram has a word limit? I guess it wasn't designed for Chatty Cathy's like me. That's when it hit me: I should post this on the blog so I can go a bit more in-depth! So read on, my friends….
The other weekend I decided it had been way too long since I had made my beloved roasted butternut squash dish, complete with vegan parmesan…kale…and lots of garlic. Have you made it? Oh my, it's a show-stealing side I tell ya. (This dish makes all its other dinner companions give the side-eye, heh. #BUTTERNUTPLEASE!)
Here's a little summary of comments I received when I served it to the fam:
Eric: *Burns mouth.* "Holy sh*t, that's hot!!!" (He never learns.) Then: "Butternut squash is so much better than pumpkin." (Lol…so random…I die.)
Adriana, three years old: "NO THANK YOUUUUUUU" (as she skips away with Arlo's favourite toy in her grasp). Spotted 10 minutes earlier: downing a box of "circle crackers" (sigh).
Arlo, one year old: *Screams and beats his hands in protest because he has to wait for the squash to cool* then proceeds to inhale it. He was nice enough to smash the leftover squash into his hair, and even tossed some over his shoulder for good luck.
Me: *Scream and beat my hands in protest because I have to wait for it to cool* then enjoys two big servings.
You know the saying…as far as anyone knows, we're a nice, normal family. Bahaha.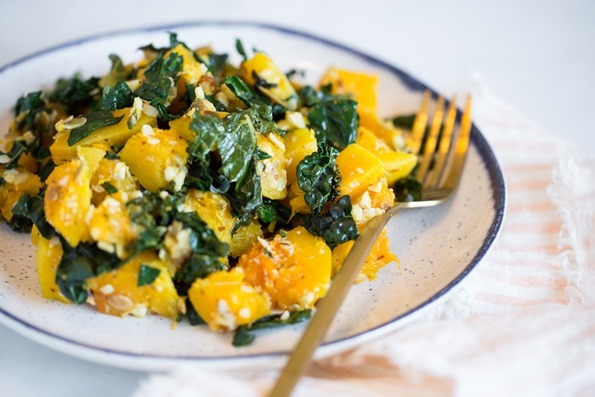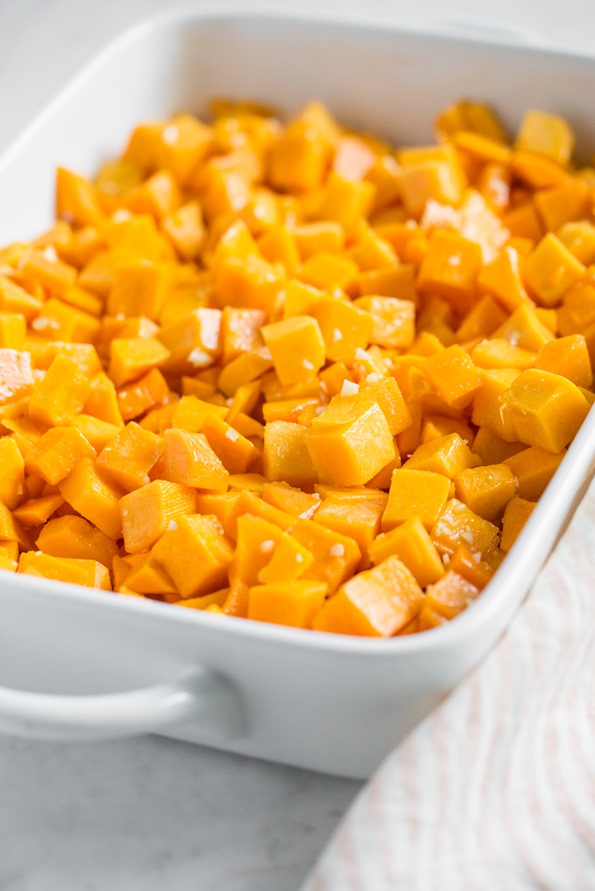 MAKE IT AHEAD!
You may have noticed lately that I've been on a crusade to create as many time-saving recipes and make-ahead tips as I can. In recent posts, I shared Adriana's Favourite 10-Minute Pasta, 8-Minute Pantry Dal, and Make-Ahead Thanksgiving Panzanella, to name a few. Last week, I came up with a make-ahead version for one of my favourite side dishes: Roasted Butternut Squash with Pecan Parmesan and Kale! I'm so excited to share how I tweaked the original recipe to minimize day-of prep time. Now that we're getting into all kinds of holiday celebration meals, my goal is to share as many time-saving tricks with you as I can. It's making life much less hectic in the Liddon household.
I discovered that this dish can be prepped and stored in the fridge two to three days in advance—and no one will be the wiser! This is a fun trick for holiday meal prep when sanity reaches an all-time low (or is that just me?).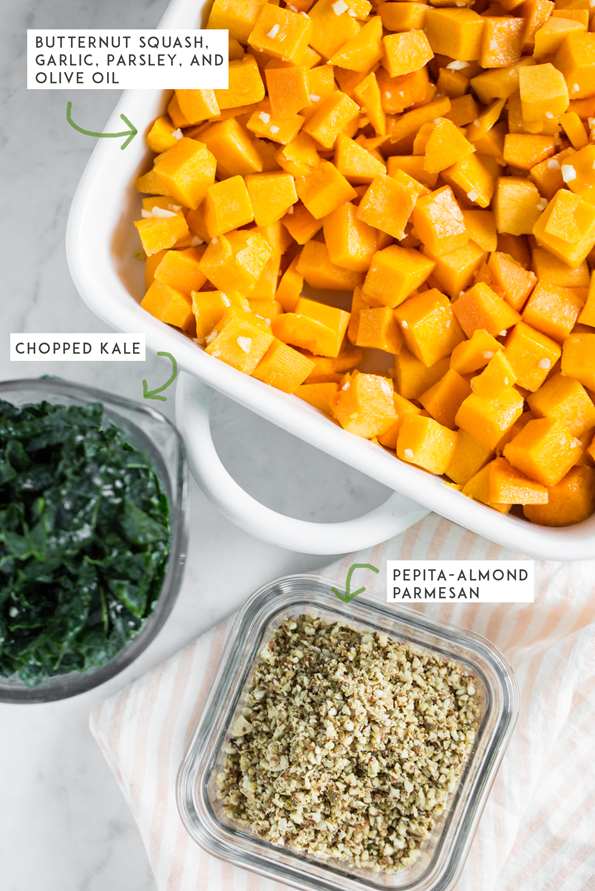 Here's what you do:
1) Combine the chopped squash, minced garlic, parsley (not shown in the photo!), oil, and salt in an extra-large casserole dish. Pro tip: if I'm really short on time, I'll occasionally buy fresh pre-chopped squash to save the hassle of peeling and dicing a large one! Sometimes you just gotta live your best life, ya know?
2) Stem and chop the kale, then place it into a zip bag or container.
3) Make the vegan parmesan, and place that into a separate fridge-friendly container.
PREP WORK DONEZO.
When you're ready to roast this beauty either later that day or as many as two to three days later, proceed with the recipe as usual…maybe while giving an evil cackle about how you outsmarted the original instructions. I won't mind.
One thing's for sure, I'll be using this trick for all of my future holiday meals, and even busy weeknights! It's so handy to have everything prepped and ready to go. I hope this tip helps streamline your own holiday meal planning as well. If you're looking for more crunch-time holiday inspiration, don't forget to check out my Make-Ahead Thanksgiving Panzanella recipe—it has had some great feedback so far. Oh, and let me know in the comments if you have any make-ahead recipe requests! I'd love to hear them.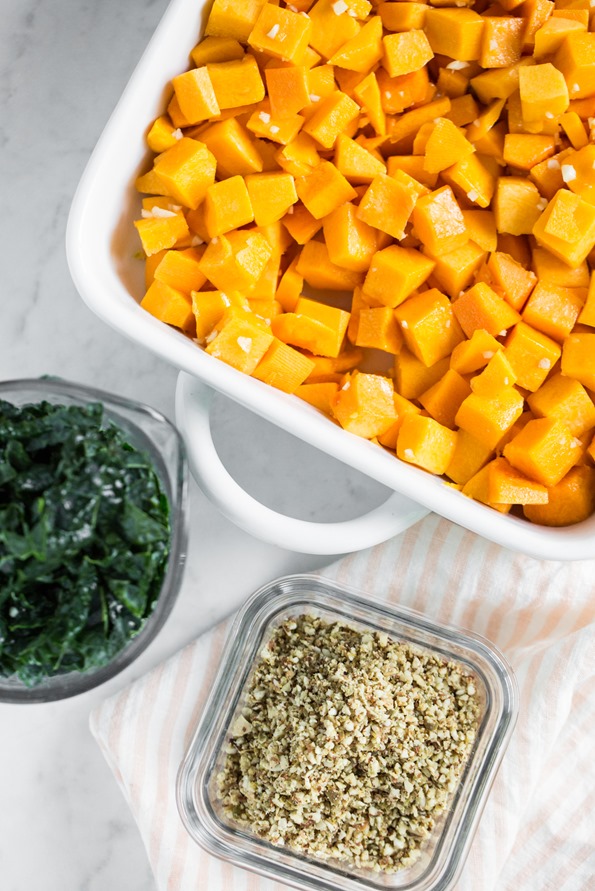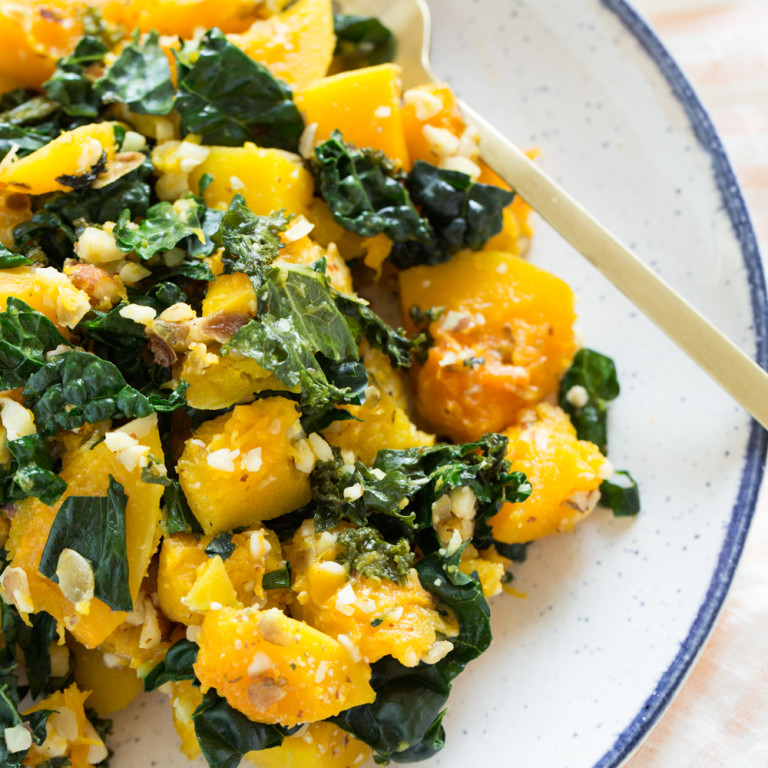 Make-Ahead Roasted Butternut Squash Casserole
Vegan, gluten-free, grain-free, soy-free

Yield
6 side servings
Prep time

Cook time

Total time

This is a handy make-ahead version of one of my all-time favourite fall and winter side dishes showcasing the best of cold weather produce. See my tips below on how you can prep the casserole ingredients a couple days beforehand, so they're ready to come together effortlessly at meal-time (just be sure to leave yourself about an hour to cook it, though). Sometimes, when I'm feeling wild, I like to double the vegan parmesan because it's just so good! This recipe is adapted from the original in 2012—back when I had a little more time in the kitchen, pre-kiddos!
Ingredients
For the roasted squash:
1 medium/large (2 to 2 1/2 pounds) butternut squash
2 large cloves garlic, minced
3 tablespoons finely chopped fresh parsley
1 tablespoon (15 mL) extra-virgin olive oil
1/2 teaspoon fine sea salt
2 cups (75 g) stemmed and finely chopped kale*
For the Almond-Pepita Parmesan:
1/4 cup (40 g) whole almonds**
1/4 cup (40 g) roasted pepita seeds**
1 tablespoon (15 mL) nutritional yeast
1/8 teaspoon fine sea salt
1 teaspoon (5 mL) extra-virgin olive oil
Directions
Grease an extra-large casserole dish with oil and set aside.
Peel the squash. Thinly slice off the bottom and top and then slice through the middle lengthwise to make two halves. Remove seeds with a spoon. Chop the two halves into 1-inch chunks and place into the oiled casserole dish. (Time-saving tip: buy a couple pounds of pre-chopped fresh butternut squash from the produce section of the grocery store. This was a major game-changer in the Liddon household, let me tell ya!.)
Add the minced garlic, parsley, oil, and salt into the casserole dish and toss with squash until combined (hands or a spoon both work well for this step!). Do not add the kale yet.
Cover the casserole dish with tinfoil and pop it into the fridge.
Place the chopped kale into a tightly sealed zip bag (being sure to squeeze any air out beforehand) or a small airtight container and refrigerate.
For the parmesan: Place all of the Almond-Pepita Parmesan ingredients into a mini food processor and pulse together until coarsely ground. Transfer the mixture into a zip bag or small container before placing it in the fridge. All three casserole components can be stored in the fridge for 2 to 3 days.
When ready to cook the casserole, remove all prepped ingredients from the fridge. Poke a few air holes into the tinfoil covering the casserole dish.
Preheat oven to 400°F (200°C).
Place the covered casserole dish in the oven and bake for about 45 to 50 minutes, until the squash is fork tender.
Carefully remove the squash from the oven and reduce heat to 350°F (180°C). Remove the tinfoil (be careful as some steam might escape from the dish as you do). Stir the chopped kale into the squash until combined. Sprinkle all of the parmesan over top of the squash. Bake for another 6 to 10 minutes, uncovered, until the nuts are lightly toasted and the kale has wilted. Watch closely so you don't burn either the nuts or kale. Serve warm, seasoning with salt and pepper to taste.
Leftovers will keep refrigerated in an airtight container for about 5 days. To reheat, simply scoop the squash into an oiled skillet and heat over medium, stirring frequently, until heated through. Season to taste, and enjoy!
Tip:
* I doubled the original amount of kale for extra green power!
** Feel free to swap in any nuts or seeds you prefer! There are endless possibilities. Pecans (which are used in the original version) are lovely, too.
MAKE IT NUT-FREE: Swap the almonds for more pepitas.
The total bake time your squash requires will depend on how fresh it is, how small you chop the squash, and how hot your oven runs, so you can start checking it after 35 to 40 minutes.
Nutrition Information
(click to expand)