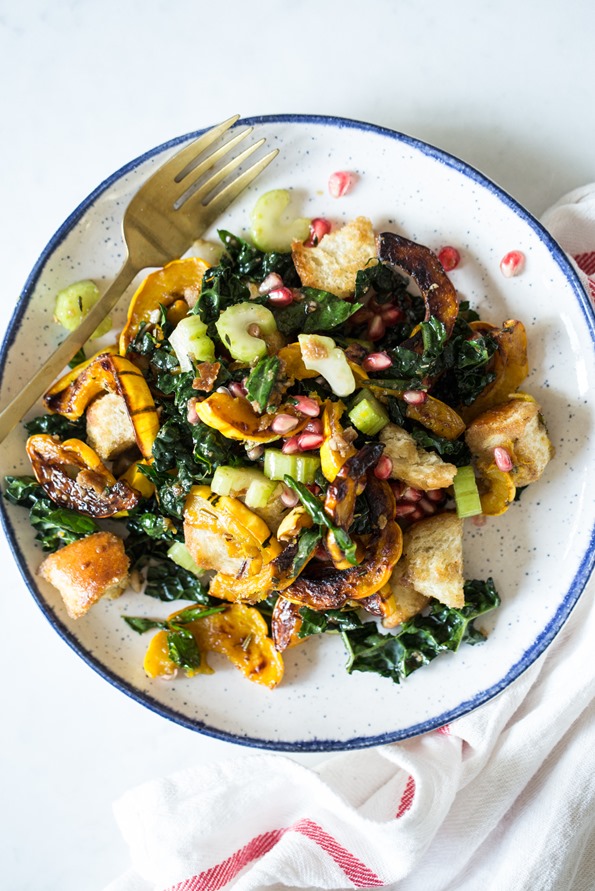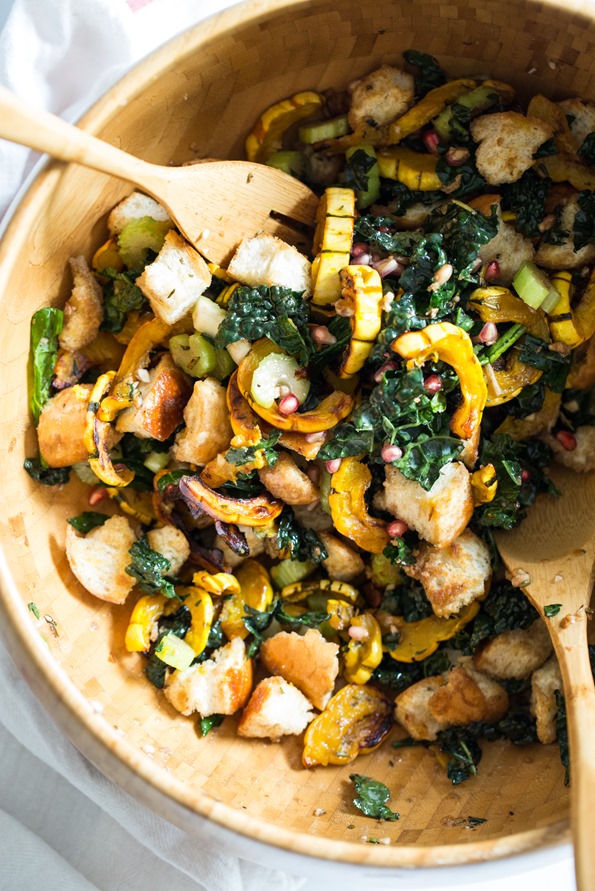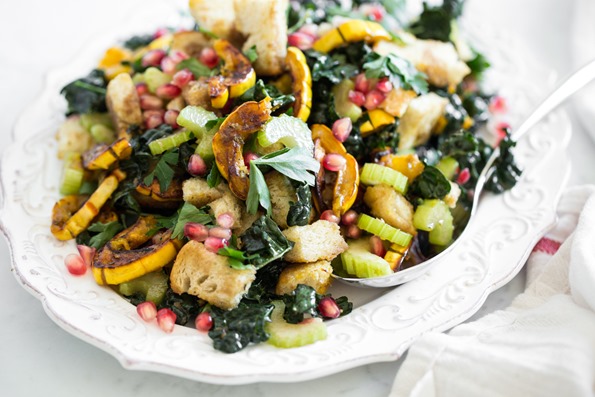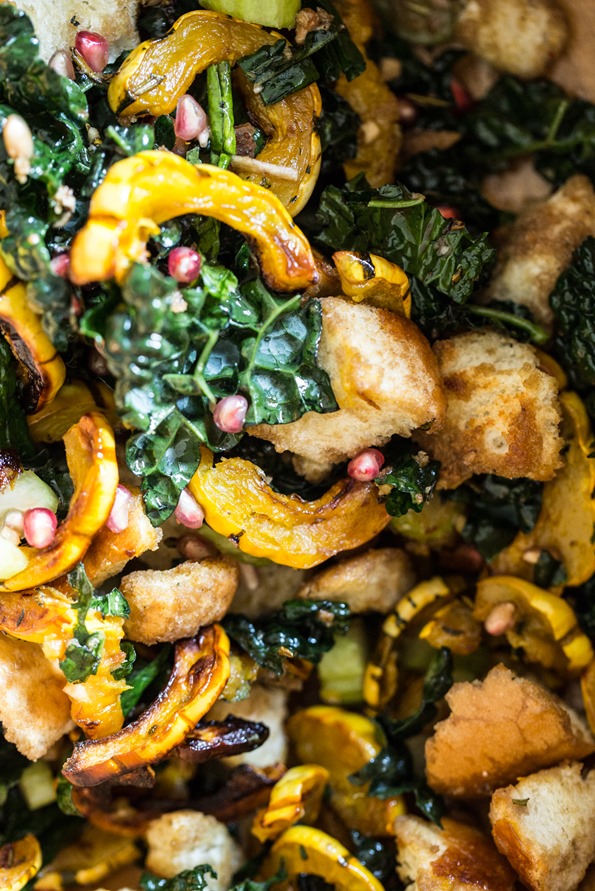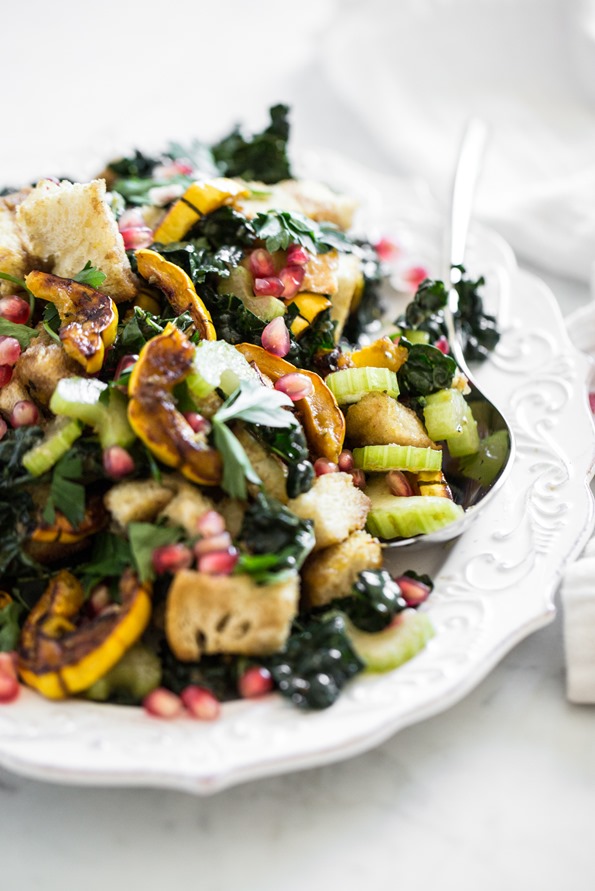 We now have a three- and a one-year-old in the house as of a week ago. Two toddlers…OMG, save me. It's loud, and crazy, and some nights cereal or smoothies for dinner feels like a major culinary accomplishment.
But, oh, do I adore my little monsters and this crazy family.
Lately, these are some of the questions I ask when I attempt to cook:
Can I cut out an ingredient (or four) while still enjoying the dish? Is this step absolutely necessary to the overall dish? Why is there so much screaming going on? If I do something the night before, will it save time the next day? Adriana, can you please stop tackling your brother like a football!? Lol.
And probably one of the questions I ask the most: Why is there no OSG delivery service yet, damnit!?
Goals ;)
I'm learning more often than not that the answer to my "can I save time" question is a resounding YES. I'm learning tricks along the way. I'm cutting corners. And you know what? Almost always, the food still tastes great. (And if it doesn't, Arlo will eat anything.)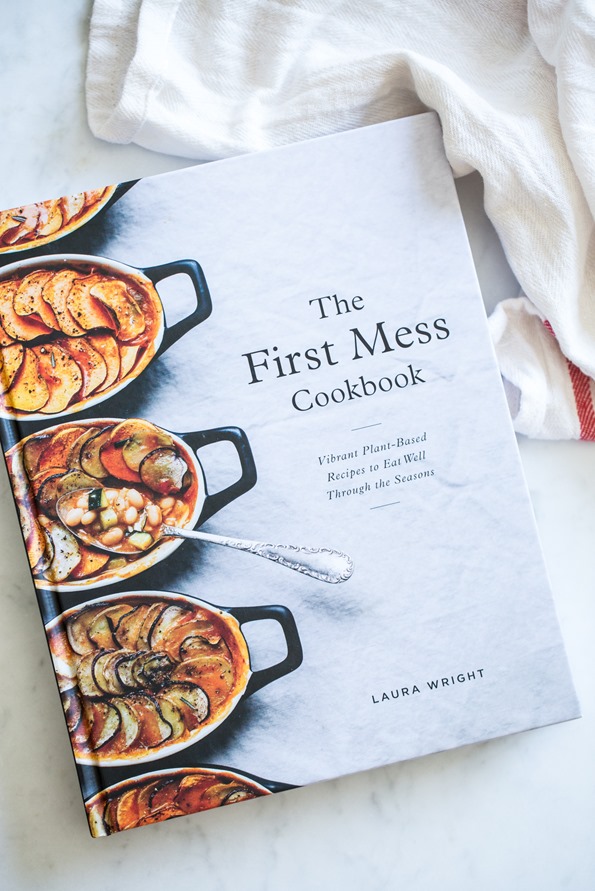 If you follow me on Insta Stories, you may have seen how excited I was to dig into Laura's beautiful plant-based cookbook, The First Mess Cookbook, this past spring. I've been following Laura for years (#TFMfangurrrrrl); she's a seriously talented writer, photographer, and cook. I'm constantly amazed by the beauty she captures in her food, and the warmth and passion with which she shares it. Laura is one of those cooks who seems to truly adore the process of cooking. I personally don't always enjoy the process (real talk: sometimes I loathe cooking), and often don't slow down enough to find it uber-relaxing, but Laura has a way of inspiring a certain intention and gratitude for the process. I love that. Her plant-based recipes and photographs are truly works of art, and I'm so glad she shares them with us all. Her cookbook would be a delicious addition to your collection if you don't have it already!
Months ago, I made a mental note to make the Thanksgiving Panzanella, and I couldn't wait to make it once the cooler temperatures had set in. Because the recipe has quite a few steps, I started it the day before, and ended up creating a fun, make-ahead version. As you can tell, I'm all about make-ahead situations these days! By doing most of the prep work in advance, it became a practical option for our Thanksgiving meal. The prep work the day before is a half hour (and it's a bit kitchen-destroying, tbh), but the next day, the effortless prep will only set you back a mere 10 minutes. Pretty sweet, huh?!
Oh, and it's a looker. And tasty…duh. As my hilarious recipe tester, Nicole, wrote, "Yield: 6 side servings or one big serving for me ha ha ha!" LOL! Love her.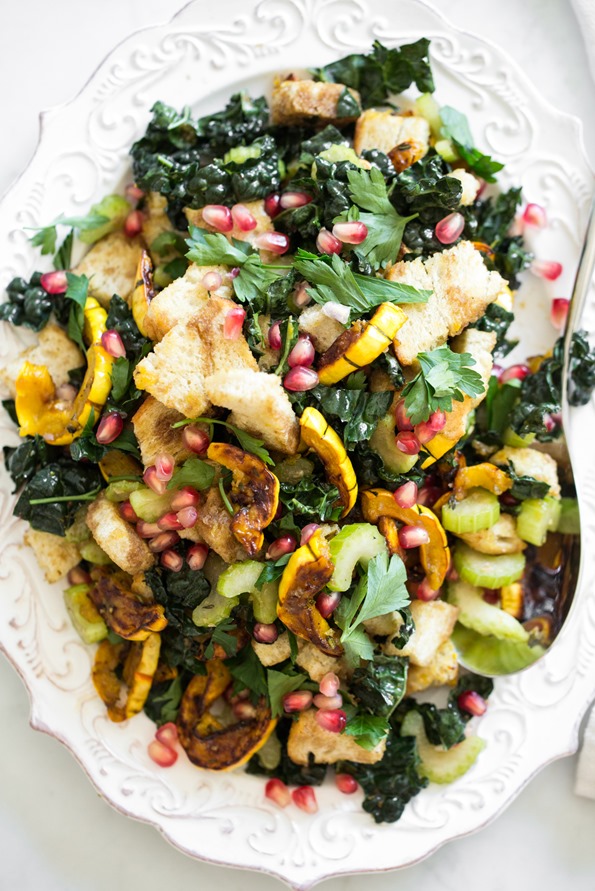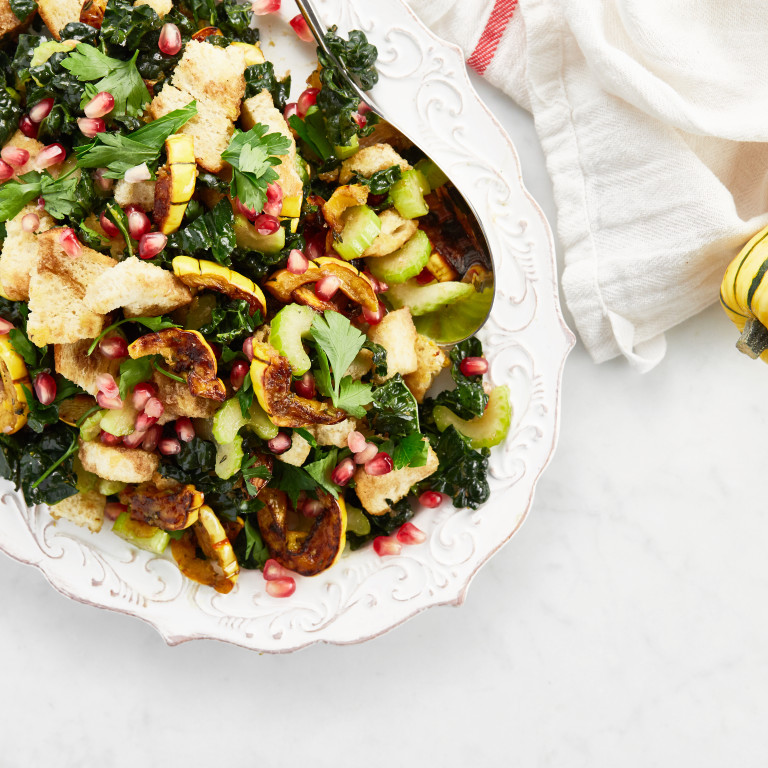 Make-Ahead Thanksgiving Panzanella
Vegan, nut-free, refined sugar-free, soy-free

Yield

6 side servings
Prep time

Cook time

Total time

Since this is quite an involved recipe, I like to prepare a few aspects of this panzanella the day before to save time and mess on the day of a special event, such as Thanksgiving. By doing a bit of advance prep (about 30 minutes the day before), all you have to do on the day is bake the squash and bread, then toss it all together just before serving. I like to serve this recipe warm, so I time the cooking so that the squash and bread come out of the oven just before our planned mealtime. This recipe is adapted from The First Mess Cookbook (2017) by Laura Wright. Reprinted by permission of Penguin Canada, a division of Penguin Random House Canada Limited.
Ingredients
For the dressing:
2 tablespoons (30 mL) balsamic vinegar
1 small garlic clove, minced
2 teaspoons (10 mL) pure maple syrup
1 teaspoon (5 mL) Dijon mustard
1/4 cup (60 mL) extra-virgin olive oil
Generous pinch of fine sea salt
Freshly ground black pepper, to taste
For the salad:
4 cups (175 grams) cubed sourdough bread (about 1/2 a loaf)
2 medium (800 g) delicata squash
1 tablespoon (15 mL) minced fresh rosemary
2 teaspoons (10 mL) minced fresh thyme leaves
2 cups (40 g) stemmed and sliced lacinato kale
2 medium/large celery stalks (210 g), thinly sliced (1 1/4 cups)
1/3 cup (80 mL) pomegranate seeds
1 tablespoon plus 2 teaspoons (25 mL) extra-virgin olive oil, divided
Handful of celery leaves or fresh parsley leaves, for garnish
Directions
The day before (steps 1-4): Make the dressing: In a small jar, place the balsamic vinegar, minced garlic, maple syrup, Dijon mustard, olive oil, salt, and pepper. Screw on the lid and shake to combine. Chill in the fridge.

Slice the sourdough bread into 1-inch cubes until you have 4 cups. Place into a large bag or container and leave it on the counter.

Slice each squash down the middle, lengthwise. With a spoon, scrape out all of the seeds and discard them. Slice the squash into 1/4-inch "half-moon" slices, and place them into a large zip bag, bowl, or container. Mince the rosemary and thyme and add it to the squash. Chill the squash and herbs in the fridge (covering, if necessary).

In a separate zip bag or container, place the sliced kale, chopped celery, and pomegranate seeds. Chill in the fridge (covering, if necessary).

The next day (steps 5-8): About 15 minutes before you begin, remove the dressing and squash from the fridge and place them on the counter so that they can come to room temperature. Position two racks near the centre of the oven. Preheat the oven to 400°

F

(200

°

C

), and line two extra-large baking sheets with parchment paper.

Spoon the squash and herbs onto one of the baking sheets. Add a tablespoon of oil and toss until the squash is thoroughly coated. Sprinkle generously with salt and pepper. Roast the squash for about 30 to 38 minutes, until nicely brown on the bottoms. (There's no need to flip halfway through baking unless you want them evenly browned.)

While the squash is roasting, spread the cubed sourdough onto the remaining baking sheet and toss it in a couple teaspoons of oil. When you have 10 to 15 minutes left of the squash's roasting time, place the sourdough in the oven with the squash and continue roasting for 10 to 15 minutes. The bread should feel lightly toasted when it's ready, but it shouldn't look brown.

While the squash and sourdough are roasting, place the kale, celery, pomegranate seeds, and dressing into a large serving bowl. When the squash and bread are finished cooking, add them into the bowl, and toss well, until combined. Season the panzanella with more salt, to taste, if desired. Serve warm with a garnish of celery or parsley leaves scattered on top. This recipe is best enjoyed immediately, or within a couple of hours of preparing.
Nutrition Information
(click to expand)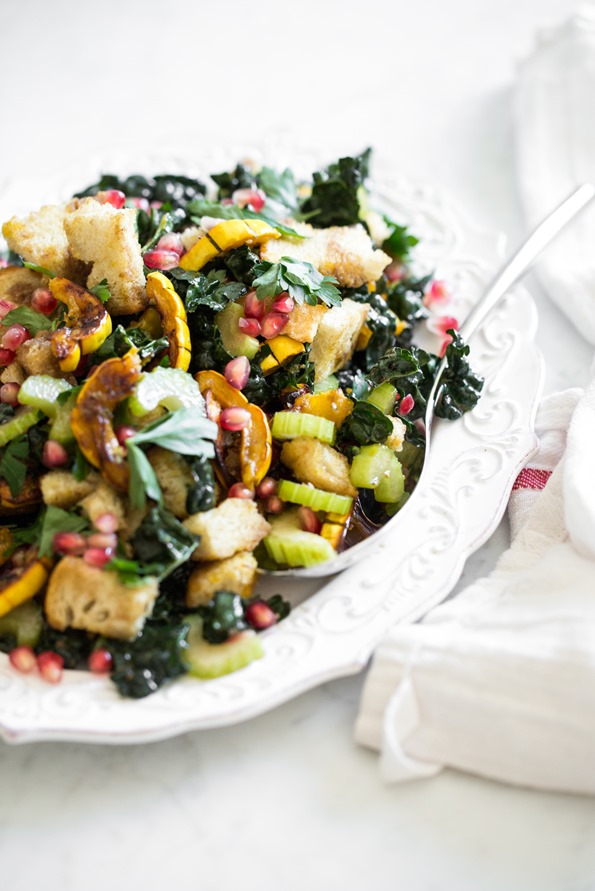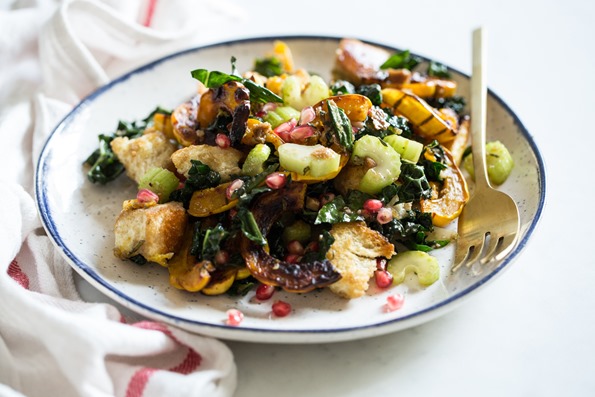 Below is a photo of what the prep looks like the day before! On day 2, all you do is roast the squash and bread, and then mix it all together. *slow clap*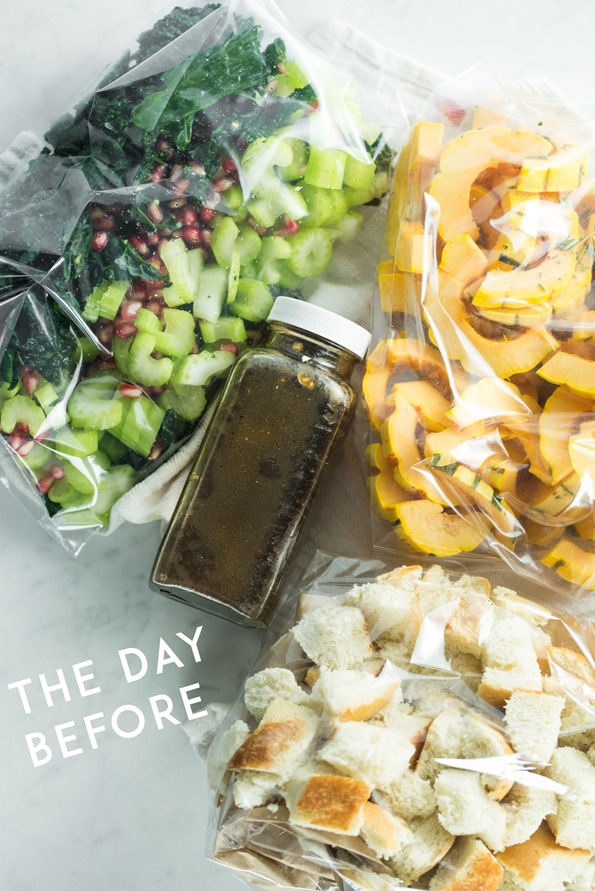 On the cusp of our Canadian Thanksgiving weekend, THANK YOU for your amazing love and support, even when this blog is a virtual ghost town. I've been chipping away at some big behind-the-scenes blog changes and can't wait to share more. Also, Eric recently started a new career venture, which has been wild. I'm thrilled for him, and grateful to be able to return the support and encouragement that he's given me all these years. But, holy hell have we been struggling to stay afloat. The juggle of parenthood and "careerhood" is no easy feat. I've been trying to make it work with a lot more on my plate. Some days I feel like I'm doing a crappy job at everything, and other days, I feel like I'm killing it. We'll get into a groove…it just takes some trial and error. Just know that I love and appreciate your support more than you know.
I hope my fellow Canadians have a relaxing and delicious Thanksgiving weekend with loved ones, and if you try out this recipe, I hope you enjoy it—and my make-ahead tricks—as much as we do. I've also added this recipe to The Oh She Glows Recipe App, so keep your eyes peeled for it on there.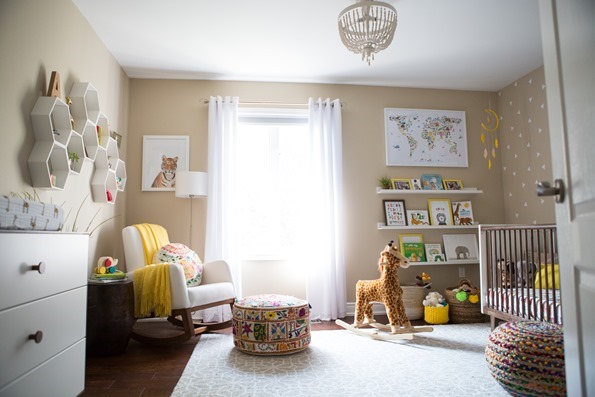 Last but not least, I'd like to pass along Arlo's nursery tour over on HGTV! It was so much fun (and such an honour) to be featured. (Just know that the nursery never looks this put together in real life….it actually looks like a tornado blew through it most days.) A special thanks to the lovely Brittany Devenyi for the feature!