Good morning!
No accidental sleeping in this morning, I had Vegan Overnight Oats to get up for!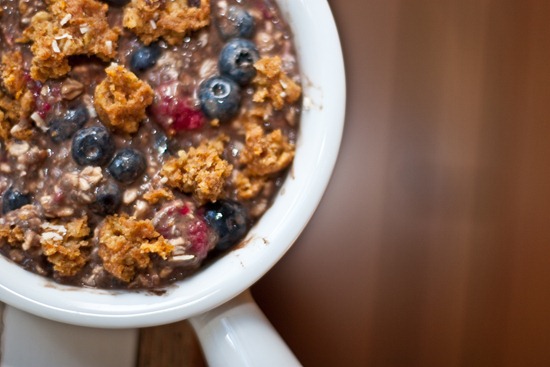 In this mix: 1/3 cup oats, 1.5 tbsp chia seeds, 1.5 tbsp carob powder, 1 cup Almond Milk, 1/4 cup blueberries, 1/8th cup raspberries, 1/3 of a Healthy Carrot Cake Power Scuffin, and pure maple syrup to frizzle over top.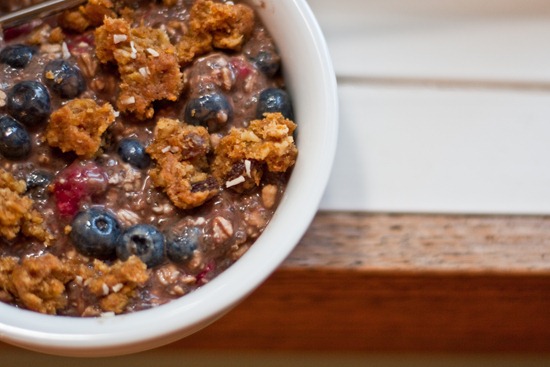 It was good, but I would not put raspberries in it again…much too tart! I think I said the same thing about putting them in the Banana soft serve too. Such a shame because when I bought them on their own they were delicious fresh (I froze a bunch).
It's finally time for the next quote from Eat Pray Love!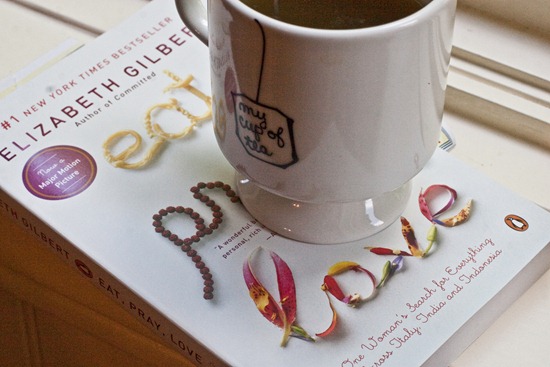 Eat Pray Love Quote 4: On Learning how to dismiss negative thoughts
[Want to see the previous EPL quotes and discussions? Visit my quotes page!]
This quote really resonated with me as it is something I have struggled with for most of my life. It is a long one, but well worth the read.
This quote takes place while Elizabeth is at the Ashram in India. She is struggling with her focus during meditation because she cannot stop thinking about her failed relationship with her ex. She broods constantly about a couple circumstances in her life.
In this quote, she talks about an awakening she had, with help from her friend 'Richard from Texas' (love him!).
Elizabeth says: "There is so much about my fate that I cannot control, but other things do fall under my jurisdiction…I can select what I eat and read and study. I can choose how I'm going to to view unfortunate circumstances in my life- whether I will see them as curses or opportunities (and on the occasions when I can't rise  to the most optimistic viewpoint, because I'm feeling too damn sorry for myself, I can choose to keep trying to change my outlook). I can choose my words and the tone of my voice in which I speak to others.

And most of all, I can choose my thoughts.

This last concept is a radically new idea for me. Richard from Texas brought it to my attention recently when I was complaining about my inability to stop brooding. He said, 'Groceries, you need to learn how to select your thoughts just the same way you select what clothes you're gonna wear everyday. This is a power you can cultivate. If you want to control things in your life so bad, work on the mind. That's the only thing you should be trying to control. Drop everything else but that. Because if you can't learn to master your thinking, you're in deep trouble forever."

On first glance, this seems a nearly impossible task. Control your thoughts? Instead of the other way around? But imagine if you could? This is not about repression or denial. Repression and denial set up elaborate games to pretend that negative thoughts and feeling are not occurring. What Richard is talking about is instead admitting to the existence of negative thoughts, understanding where they come from and why they arrived, and then- with great forgiveness and fortitude – dismissing them. This is a practice that fits hand in glove with any psychological work you do during therapy.

It's a sacrifice to let them go of course. It's a loss of old habits, comforting old grudges and familiar vignettes. Of course, this all takes practice and effort. It's not a teaching that you can hear once and then expect to master it immediately. It's constant vigilance and I want to do it. I need to do it for my strength.

So I've started being vigilant about watching my thoughts all day, and monitoring them. I repeat this vow about 700 times a day: "I will not harbor unhealthy thoughts anymore." [p. 177-179]
I just love this quote!
For years and years, I was such a negative person on the inside. My thoughts were always negative and I too thought that I was powerless and couldn't control them. I also believed that my thoughts equaled truth.
So I believed them.
I saw a therapist periodically throughout university and one of the things my therapist told me was that if I replace negative thoughts with a countering positive thought, eventually I will start to believe the positive thoughts. Over time, those positive thoughts will occur more and more…slowly but surely taking over the negative thoughts.
Through practice, this is exactly what I experienced.
As soon as I decided to start thinking more optimistically, instead of letting my negative thoughts run on autopilot, I became a happier person. Years have passed since I started working on my negative thinking and not only was I able to beat my disordered eating, but I would guess that I have decreased my negative thoughts by about 75%. I still struggle with negative thoughts on a daily basis, but I now know that I can dismiss them most of the time.
I like Richard's approach:
Admit to the existence of negative thoughts,
Understand where they come from and why they arrived,
With great forgiveness and fortitude – dismiss them.
I think the part about forgiveness is so powerful. We must appreciate that we are human and will make mistakes and most of all be forgiving of ourselves!  As Richard said, "If you can't learn to master your thinking, you're in deep trouble forever."
[If you are interested I have written on this topic before touching on psychological research methods to beat negative thinking: How To Beat Negative Thinking: Part 1 and Part 2]
Today's questions: Do you struggle with negative thinking? Have you ever succeeded in over-coming negative thoughts? Do you think you could implement the strategies above to master your own thinking?