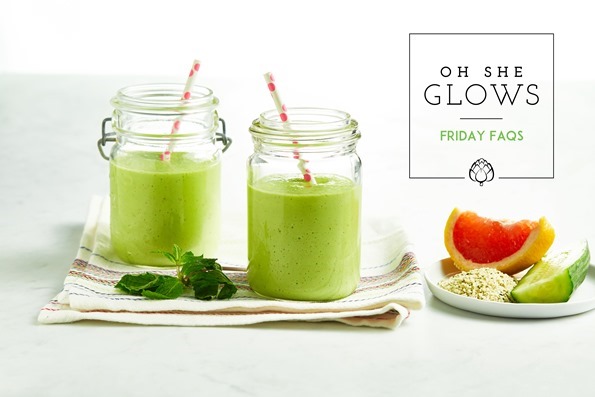 Happy Friday everyone! It's an absolutely beautiful spring day here, and I hope all of you are getting a chance to enjoy some sunshine and warm weather as well. I'm really looking forward to Mother's Day this weekend, and spending as much time outside with the gang as possible. Somehow, it's time again for the next installment of Friday FAQs! (You can check out previous weeks' posts here: Week 1, week 2, week 3.)
Q1: My husband is allergic to sunflower seeds (and nuts). Is there anything I could add to replace them in your Perfect Veggie Burger?
A: Hey Jennifer, I would try toasted pepita seeds (shelled pumpkin seeds). They are so delish! I love eating them as a snack too.
Q2: This is a little off-topic, but I'm looking for some good sauce recipes to combine with other things in delicious vegan bowl recipes. Thanks so much! PS – And congrats on your new baby. My first 2 were 23 months apart, and the best advice I have is to remember that the older one is still a baby too! She looked so much bigger than the new one, I think I expected too much of her…..(but she did turn out great anyway!)
A: Hi Carrie, For veggie bowl sauces, I'd recommend my teriyaki sauce from the Speedy Veggie Noodle Bowl, Lemon-Tahini Dressing, and the nutty almond butter sauce from the Rad Rainbow Raw Pad Thai. Each of the three sauces will transform veggie bowls in exciting, unique ways! Thanks for your congrats and words of wisdom, too. :)
Q3: I was wondering if you would have any ideas or suggestions about a meal plan for a 4-day vegan camping trip. All I've got is a cooler, and fires are prohibited on the grounds. My boyfriend and I are going to a rock festival (not the most vegan-friendly environment) and I'd love some ideas that don't require much refrigeration or reheating. We don't mind eating room temp food for a few days, as long as we can avoid food poisoning and get enough energy to brave the mosh pit, we're golden.
A: Hi Melodie, That's a tough challenge, indeed! Of course, your safety is my first priority and food poisoning is no joke, so a little disclaimer: I'm not a camper by any stretch of the imagination, so my suggestions should be taken with a grain of salt. ;) (Side note: I'd love if some experienced campers chimed in on this one!) Anyway, I suggest bringing some of your favourite fruits and veggies that tend to travel well and do fairly well at room temperatures (to save space in your cooler for other meals where refrigeration is a must), like apples, oranges, bell peppers, and avocados. Dried fruit, either store-bought or homemade, is another great option as it's energy dense. I'd also suggest bringing granola or muesli—again, either store-bought (which likely has a lesser need to be refrigerated) or homemade recipes, like my Ultimate Nutty Granola Clusters (p. 31 of The Oh She Glows Cookbook). For something more savoury, you could also bring crackers (try my Endurance Crackers or Homemade Wheat Thins). Protein bars or energy bites, like my Dark Chocolate Cherry Energy Bites, Classic and Present Glo Bars (pp. 215 and 217 of The Oh She Glows Cookbook), or Feel Good Hearty Granola Bars, will give you a great boost for that mosh pit! hah. Keep those chilled. If you have a really good cooler situation going, you could also consider making a salad that travels well (like my Chickpea Salad), or perhaps a gazpacho that can be eaten cold, but both of those would have to be kept cold at all times. You could also bring single-serve, non-refrigerated plant-based milks available at some grocery stores, and little baggies of pre-portioned vegan overnight oats (chia, oats, dried fruit, cinnamon, a bit of granulated sweetener) and mix them up just before breakfast. It wouldn't be cold necessarily, but it works in a pinch. Or you could simply serve granola with milk! Cans of baked beans always work in a pinch too (just don't forget the can opener). I recommend eating the most perishable items first, and this may be a situation where it's worth stocking up on some store-bought, less perishable options because most foods won't last in a cooler for that long. I hope this helps get the wheels turning, and that you have a fantastic weekend!
Q4: Hi Angela! I have a question hopefully for one of your upcoming Friday FAQs! (loving this series so far BTW!). I'm currently 8 months preggers with my first child, and I'm starting to get into nesting mode! I'm wondering if you could suggest a handful of dinner/lunch recipes for cooking & freezing ahead of time—ones that maintain their taste & texture after de-thawing. Thanks in advance & congrats on cooking up bun #2! :)
A: Congrats on your pregnancy, Amy! I love this question because it's one that I'm going to be thinking about once again this September. Below are some of my favourite recipes that freeze well. I hope this helps you stock your freezer with some tasty options! In addition to these, I'd also recommend taking advantage of spring/summer produce and whipping up big batches of gazpacho! I'm not sure if it's freezer-friendly, but it takes just 5 minutes to make.
Peanut Better Balls (who doesn't want a little sweet treat on hand?)
Classic Glo Bar (The Oh She Glows Cookbook p. 215)
Present Glo Bar (The Oh She Glows Cookbook p. 217)
Chia Seed Pudding (did you know it freezes and thaws beautifully!? I like to freeze individual servings)
Q5: Will you be starting up your pregnancy updates again? I really enjoyed reading them! (This question has been asked by a lot of you!)
A: I just posted my first pregnancy update last night! You can find it here. Or simply click the "baby" section on the main menu at the top of the page.
Comments of the week:
Mac D writes, "I saw on snap that you had uploaded the No-Bake Chocolate Fudge Cookies to the app… I wanted to make them so badly last night so I kept refreshing and refreshing hoping it would load…and finally it did!! Hoorah!!! These are so delicious. SUPER fudgy and chewy. My husband and I had two last night and I'm enjoying another one (or three) at my desk today. Thanks for the awesome recipe! Also, I am LOVING the frequency of newly uploaded recipes to the app."
This put a big smile on my face! :) I'm so glad you love the cookies as much as we do. They don't last long in this house!
Bina writes, "I found your Glowing Spiced Lentil Soup when googling red lentil soup recipe. I have to say, this is the first time I have ever written a recipe review but I could not, not comment on how amazing this soup is. I am a really good healthy cook, although we are not vegetarians, we eat mostly vegetarian dishes and this soup is one of the best soups I have ever had. I made it exactly as written and would not recommend changing a single thing. Upon finding this recipe I decided to navigate your website and found the Chickpea salad which I just finished eating…omg, another winner. I also made that exactly as written and it was perfect. I finally found a recipe website that I can feel good about and I know I will be trying a lot more of your recipes. Thank you."
Bina, I'm so flattered by your kind words! Nothing makes me happier than hearing how much a recipe is enjoyed. It's definitely one of my favourite soups too. Happy cooking!
See you guys next week!