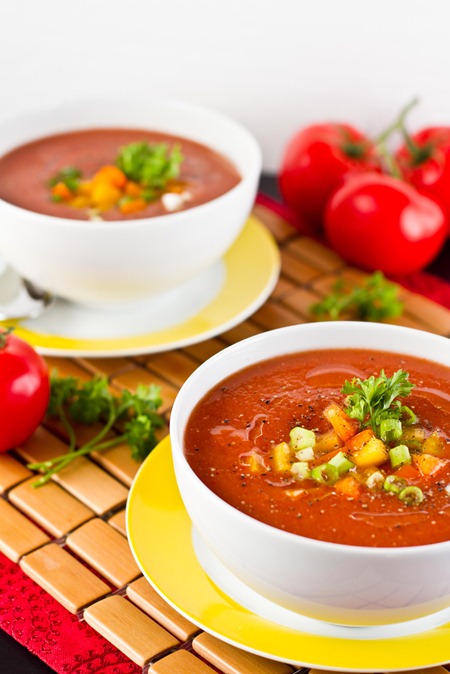 I went 27 years of my life never making Gazpacho and in the past 2 weeks I've made it 3 times. I blame hot yoga and my crazy water cravings. ;)
"Gazpacho is a cold Spanish tomato-based raw vegetable soup, originating in the southern region of Andalusia. Gazpacho is widely consumed throughout Spain, neighboring Portugal (where it is known as gaspacho) and parts of Latin America. Gazpacho is mostly consumed during the summer months, due to its cold temperature and acidic bite." [source]
Gazpacho is not only refreshing and light during the Spring and Summer months, but it is packed with healthy ingredients- a 'salad in a blender' if you will. I just can't get enough of it!
My first attempt…was not something I'm proud of. I learned a very important lesson when making Gazpacho- go EASY on the raw garlic! Lesson #1 learned. I did keep away the vampires though.
I also found out that blending spinach and basil with tomatoes produces a lovely puke green colour…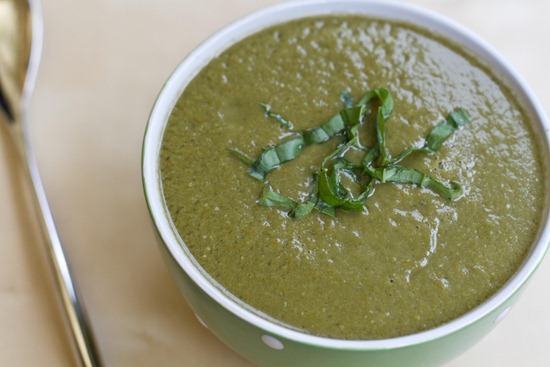 Lesson #2 learned. Avoid puke green.
My second attempt was better and I loved my third attempt, so I'm sharing it with you today. I can't think of a better way to kick off the Victoria Day long weekend than by sitting down to a fresh bowl of chilled Gazpacho. After all, it just may balance out all that beer we will be drinking!
That's my story and I'm sticking to it.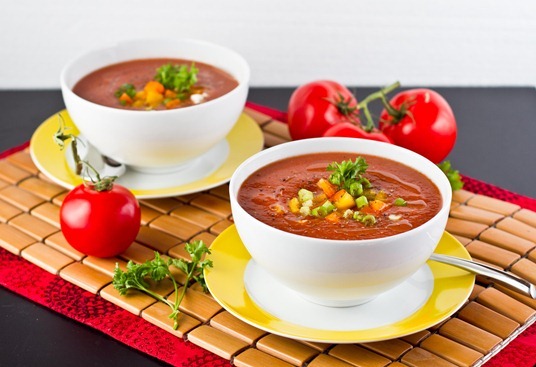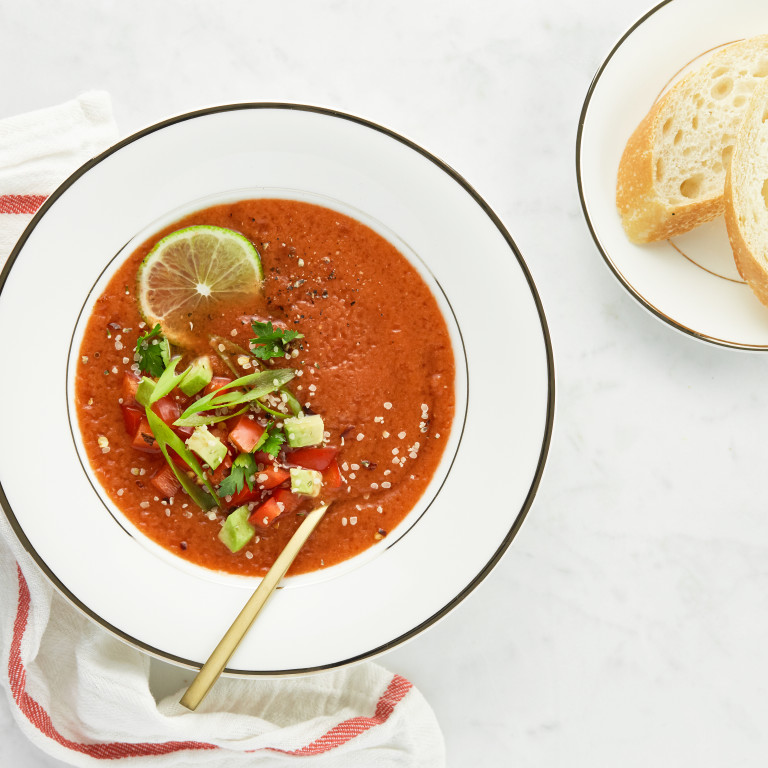 Gazpacho
Vegan, gluten-free, grain-free, no bake/raw, nut-free, refined sugar-free, soy-free

Yield

2 litres (8 cups)
Prep time

Cook time

0 minutes
Chill time

3 to 4 hours, or overnight
Total time

This is the perfect soup to serve on a hot summer day. Bonus points if you're eating outside! A word to the wise, this recipe makes a lot—almost 8 cups. I find it barely fits in my 64-ounce Vitamix. If you are using a smaller blender, I recommend blending the soup in batches before mixing it all together at the end.
Ingredients
2 cups (500 mL) vegetable cocktail or tomato juice

*

1 1/2 pounds (0.6 kg) tomatoes, cored and roughly chopped
1 medium/large (425 g) red pepper, seeded and roughly chopped
1 medium/large English cucumber, peeled and roughly chopped
1/4 cup (30 g) chopped sweet onion
1 medium/large garlic clove
1 tablespoon (15 mL) fresh lime juice, or to taste
2 tablespoons chopped fresh parsley (optional)
Fine sea salt, to taste
1/2 teaspoon red pepper flakes, or to taste
1/2 teaspoon freshly ground black pepper, or to taste
1 1/2–3 tablespoons (22.5 to 45 mL) red wine vinegar, to taste
Chopped bell peppers, avocado, green onion, olive oil, croutons, etc., for serving
Directions
Combine the vegetable cocktail or tomato juice, tomatoes, red pepper, cucumber, onion, garlic, lime juice, and parsley (if using) in a blender and blend until smooth.

Add in the rest of the seasonings (salt, red pepper flakes, pepper, and vinegar) to taste, and blend again.

Pour into a 2-litre/8 cup glass jar and secure lid. Chill for 3 to 4 hours, or overnight.

Before serving, shake the jar to combine. Pour into bowls, and garnish with your desired toppings (such as chopped peppers, avocado, green onion, croutons, olive oil, etc.).

Leftovers will keep in the fridge for up to 3 days.
Tip:
* I like to use Lakewood Organic Super Veggie Cocktail.
Nutrition Information
(click to expand)
Some of you asked if I could show some before and afters using my new 5-in-1 Reflector Kit. This morning it was actually sunny, so I busted out the diffusion disc for this shoot.
One of the best photography tips I ever learned was taught to me by my wedding photographer, Dave Biesse. I was excited that it was sunny for our outdoor engagement shoot and he said bright sunlight is actually the worst condition to shoot in (unless of course you are going for a certain kind of look). The sun creates a very harsh-looking photo if you aren't careful.
Case in point: this produce was shot in direct sunlight. It looks harsh and shadowy.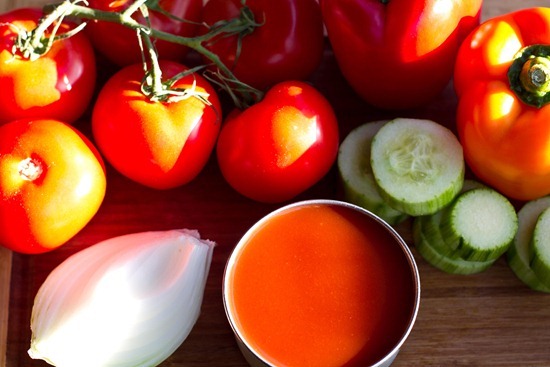 Check out the same shot, using my diffusion disc placed in front of the window. Quite the difference. You can see that the glare is gone.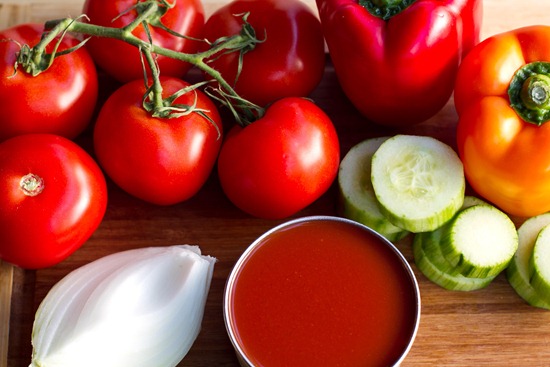 Another direct sunlight shot: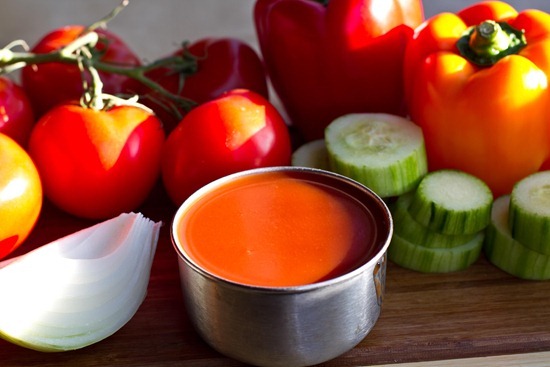 With diffusion disc…much better!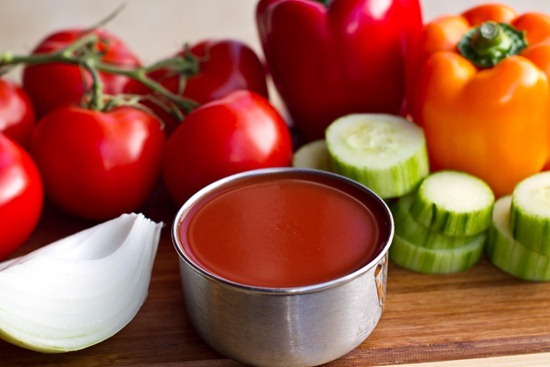 I'm happy to have a diffusion disc now because I used to have to move my table out of the sunlight and it was pretty annoying to keep shuffling everything around. Now I can just place the disc in front of the window and shoot away.
I also thought I would show you the first shot of the Gazpacho that I took: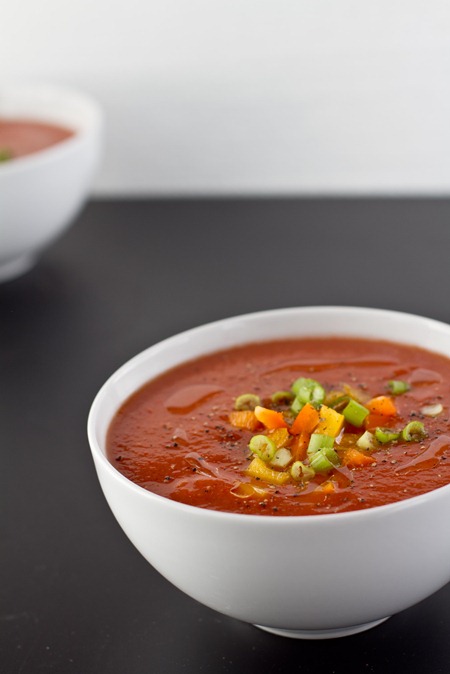 Boring. Bland. Not exciting at all. It really doesn't do this vibrant gazpacho any justice, does it?
I decided to play up the yellow pepper garnish, and I added these yellow rimmed plates (a birthday gift from Morgan!)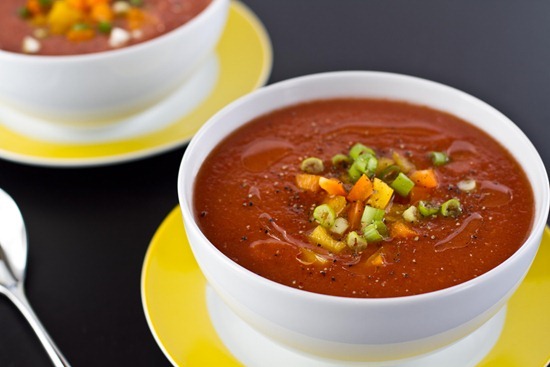 It was an improvement, but the black background still wasn't doing it for me. It was too serious and sombre looking for this playful soup.
I tried this placemat: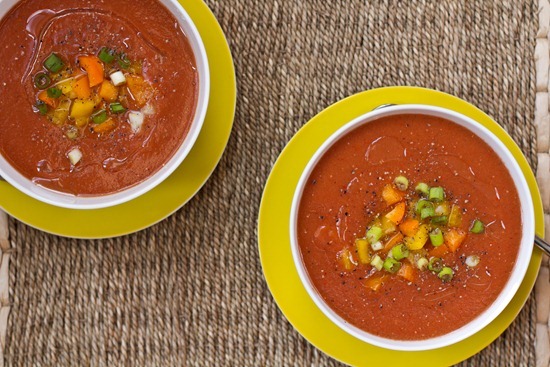 Still not crazy about it!
Then, I decided to add some props (tomatoes and parsley) and a new placemat…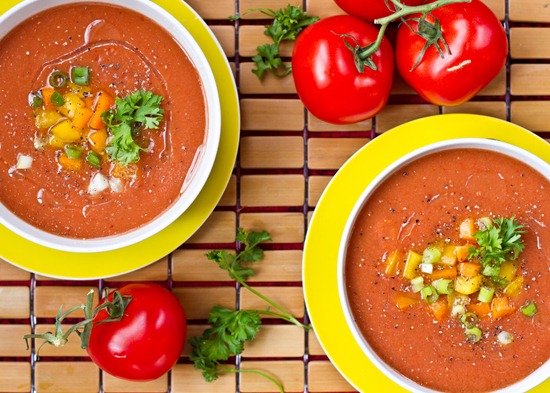 It really started to come together when I did this.
In this photo, I tilted the placemat so that the lines create more movement in the photo. I still don't feel that skilled with food photography, but practice definitely helps! I would love to take a food photography workshop someday.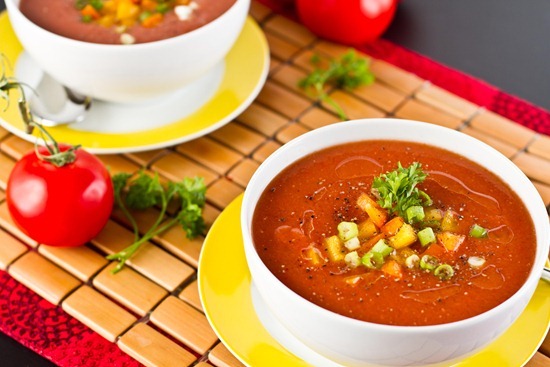 Before:                                                                                 After: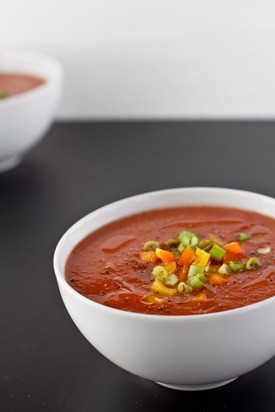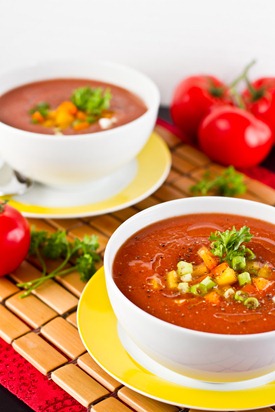 Moral of the story: Play with your food. :)
And go have yourself a great Friday!