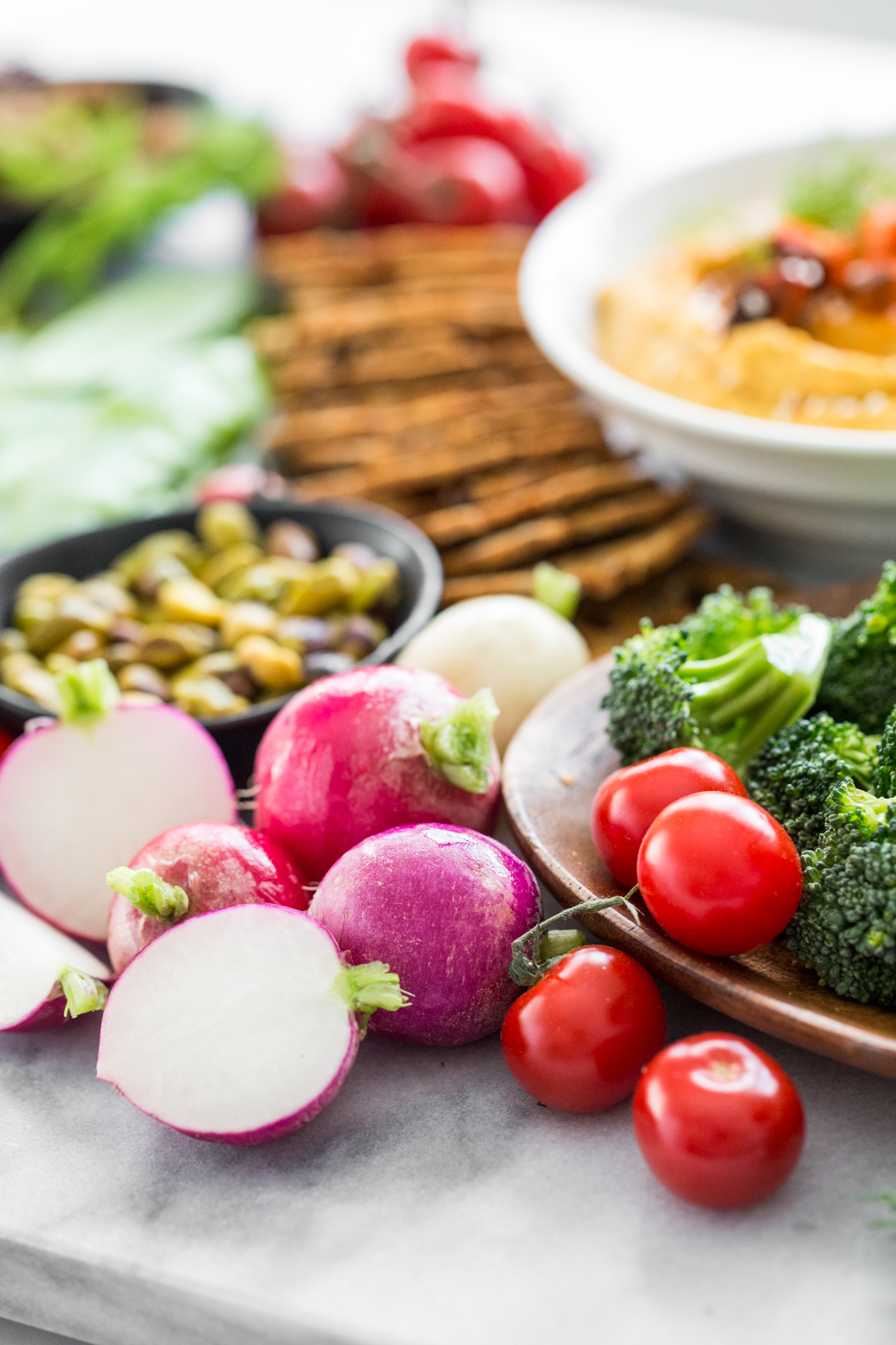 Happy Tuesday! Before we dive into our Ask Angela Q&As, I'd like to share this short Oh She Glows Reader Survey. I'm really curious to hear what you would love to see more (or less) of to help guide the future of the blog. Your feedback and input mean the WORLD to me, and I'd be so grateful if you could take a couple minutes to fill out the survey!
In case you missed it, don't forget to check out last Friday's Mini Cookie Dough Fudge Pops recipe, too. I've deemed these my official "treat yo self" popsicle of the summer!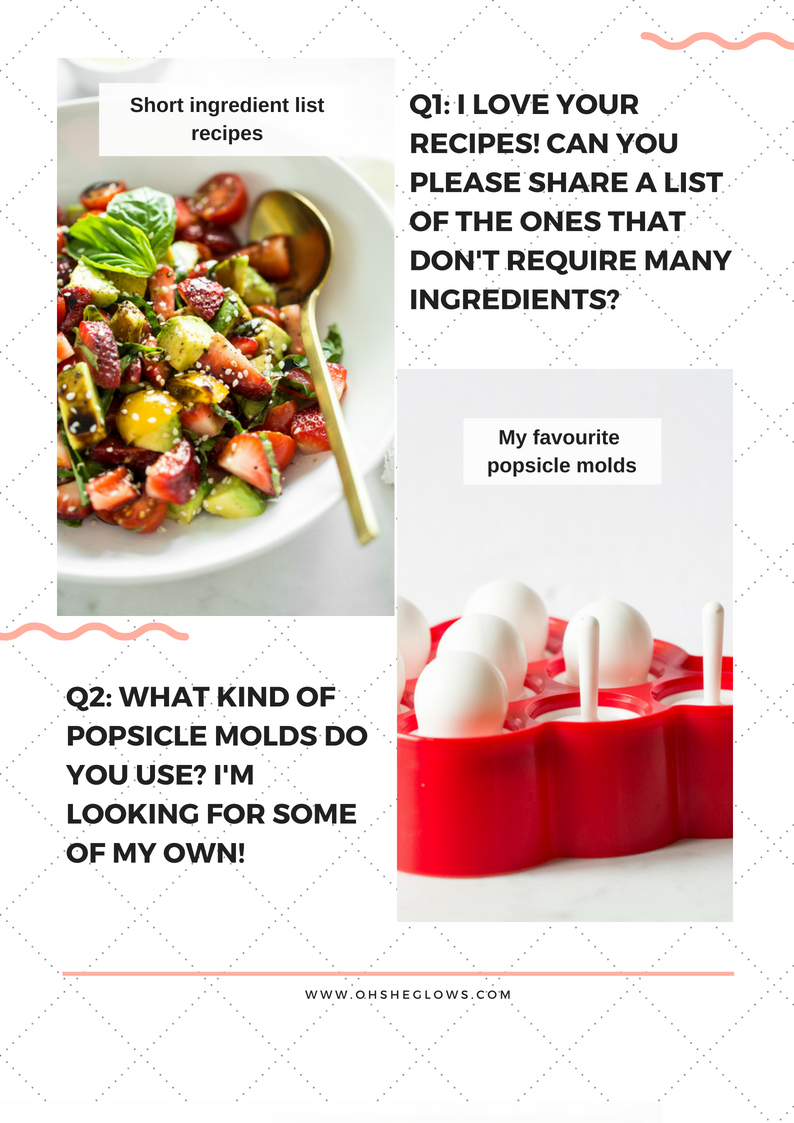 Q1. Hi Angela, I love your blog, app, books, and newsletter. Although I am not vegan, I am gluten- and dairy-free, so I find a lot of your recipes very helpful. I especially love those five-ingredients-or-less recipes. Can you list out some Oh She Glows recipes that have just a few ingredients? Keep up the great work!
Hi Marion, thanks so much for your question! I'm so excited to share this new OSG blog page complete with over 50 short ingredient recipes. I hope you find it helpful—it might be handy to bookmark the page for future reference, too! A big thanks to Nicole and Terra for compiling the recipe list.
Q2. What kind of popsicle molds do you use? I'm on the hunt and not sure which kind to buy!
Hi there, the Zoku Mini Pop Molds are my absolute favourite—the popsicles are SO easy to remove, and I find they're the perfect size for kids. I also have these GoGoGu Popsicle Molds for larger popsicles (although they do require running under hot water to remove from the mold).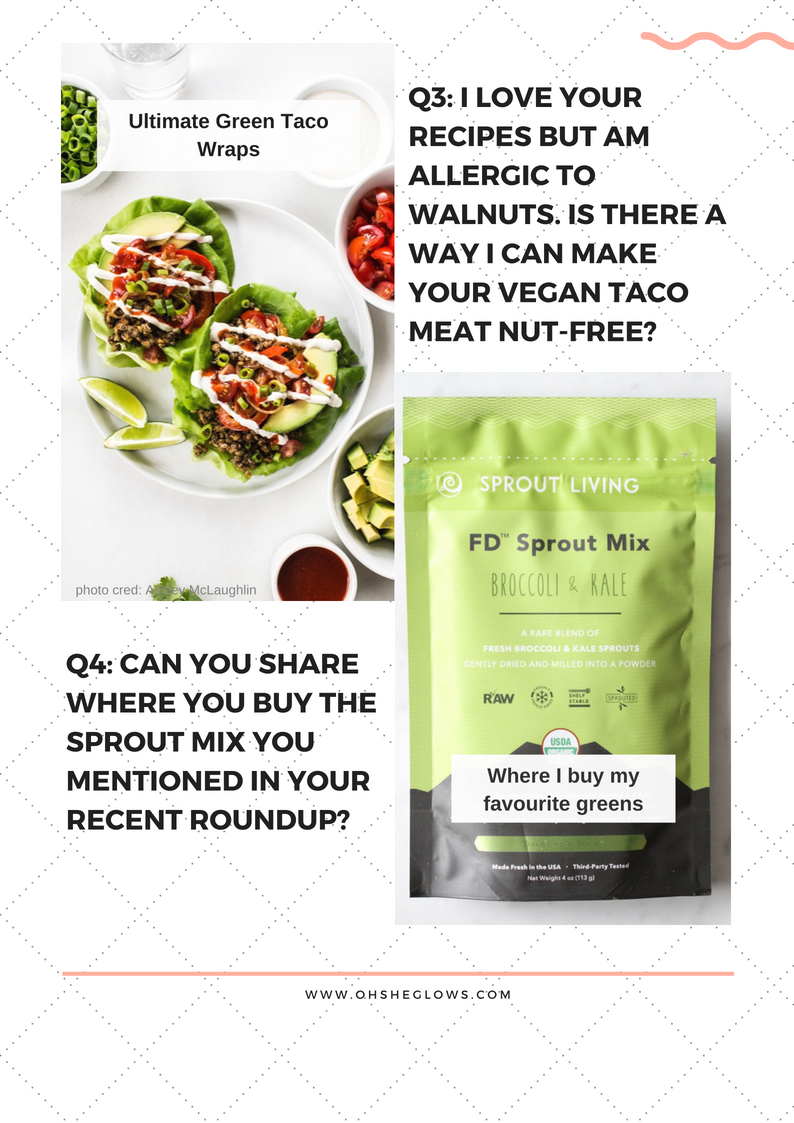 Q3. Hi Angela! My friend gave me your cookbook for my 50th birthday and now I'm a huge fan. I am allergic to walnuts, peanuts, and sesame seeds, and am wondering what nut I can substitute for the walnuts in your Lentil-Walnut Taco Meat? I am thinking pecans or cashews, but I would appreciate your take. Thank you!
Hey Yolanda, thank you! That's so sweet of your friend to gift my cookbook. I often sub in toasted pepita seeds for a nut-free version of this taco meat (I'd recommend using 3/4 to 1 cup in this recipe). There is also a delicious seed-based taco "meat" recipe in my Easy Nut-Free Taco Salad from the app! The taco crumble is a great recipe to store in your fridge for the workweek too.
Q4. Hi Angela, thanks for posting about the nutrition powerhouses you're loving lately. :) Could you post where you buy the microgreens and the Sprout Living Freeze-Dried Sprout Mix?
Hey Gauri, I'm happy to share! I buy microgreens at Fortinos, Metro, Organic Garage, or Whole Foods grocery stores and the sprout mix from Whole Foods. When Whole Foods has their supplement and protein powder sale, I buy a few and freeze them for later use. You can also find the sprout mix online here.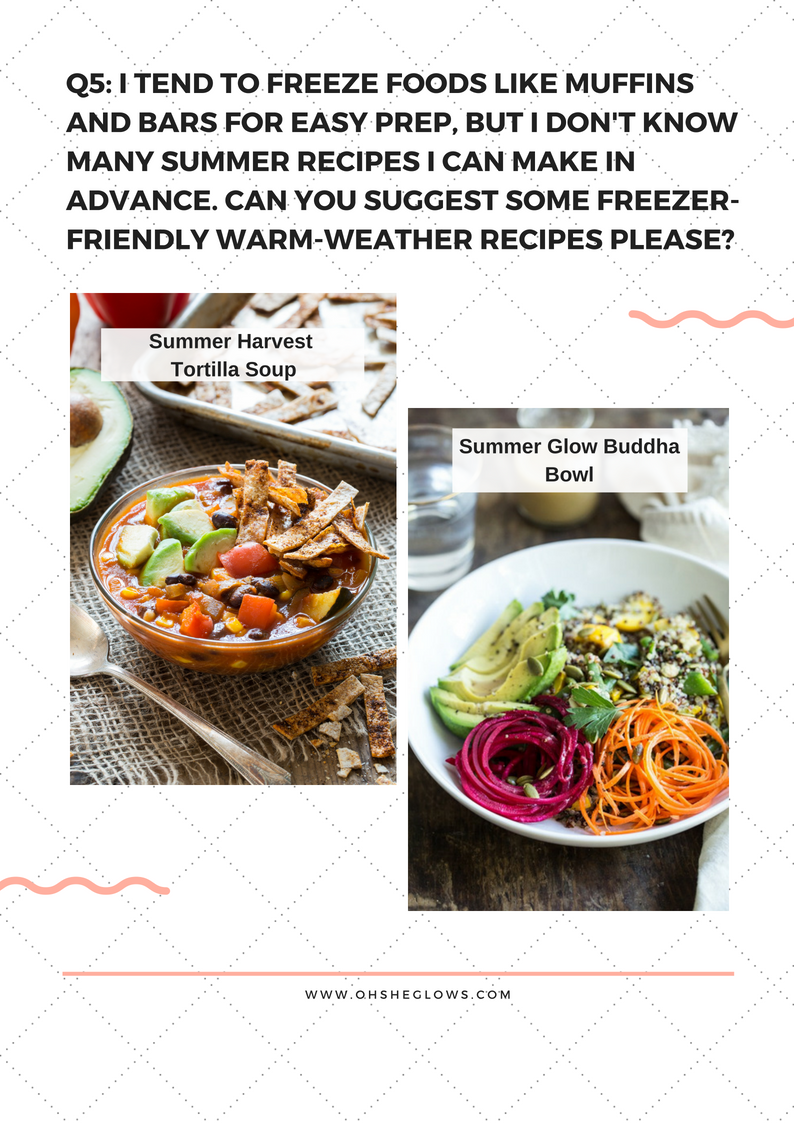 Q5. While I typically freeze soups/stews and snack foods like muffins and bars, I'm wondering if you have any suggestions for summer-friendly meal freezing? A lot of my go-to freezer meals are great for winter, but not what I would like to eat in the heat!
Hey Christina, I love the idea of freezing summer-friendly foods! I never think to do that, but your question inspired me. I rounded up some of my recipes for easy summer freezing below. I hope this helps get your wheels turning!
– Lentil-Walnut Taco Meat, for making my gluten-free taco wraps
– Gazpacho, to take advantage of all the upcoming summer veggies
– Veggie burgers and balls, great to have on hand for barbecues
– Cooked grains and beans, for easy-to-throw-together meals like my Summer Glow Buddha Bowl
– Chia seed pudding, for a quick, customizable breakfast or snack
– Soups, like my Summer Harvest Tortilla Soup from The Oh She Glows Cookbook, p. 135 (just leave off the tortilla strips until serving!) or Metabolism-Revving Spicy Cabbage Soup (Oh She Glows Every Day, p. 139) made in the slow cooker so you don't have to turn the oven on

"Hi Angela, I was recently at a 10-day meditation retreat at Elohee Retreat Center in Georgia where they used many recipes from your Oh She Glows Cookbook. I arrived at the retreat with a full-blown case of bronchitis (yes, I wondered if I should stay home) and left 10 days later healed and feeling better than I have in a long time.
Sure, the meditation was a big factor in my getting better, but I am also convinced that the food was another huge reason. And I wasn't the only person who constantly pestered the kitchen staff for the recipes! Long story short, I've gotten a copy of your book, but I'm also thrilled to find more recipes on your blog!
Thank you for being you, and for sharing yourself with us.
Pam"
Hey Pam, thank you so much for your lovely note! The retreat sounds like it was a healing one. I'm so honoured that the chefs referred to my cookbook for their menu…what a cool way to share OSG recipes. I'm excited for you to dive into more recipes. There are over 600 on the blog alone so you may be a busy bee for the next little while. ;) Happy cooking!