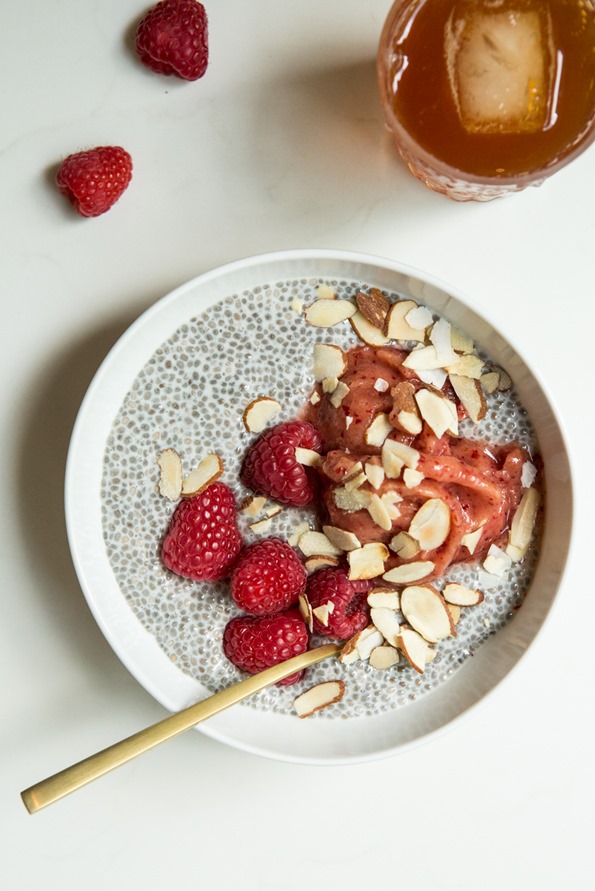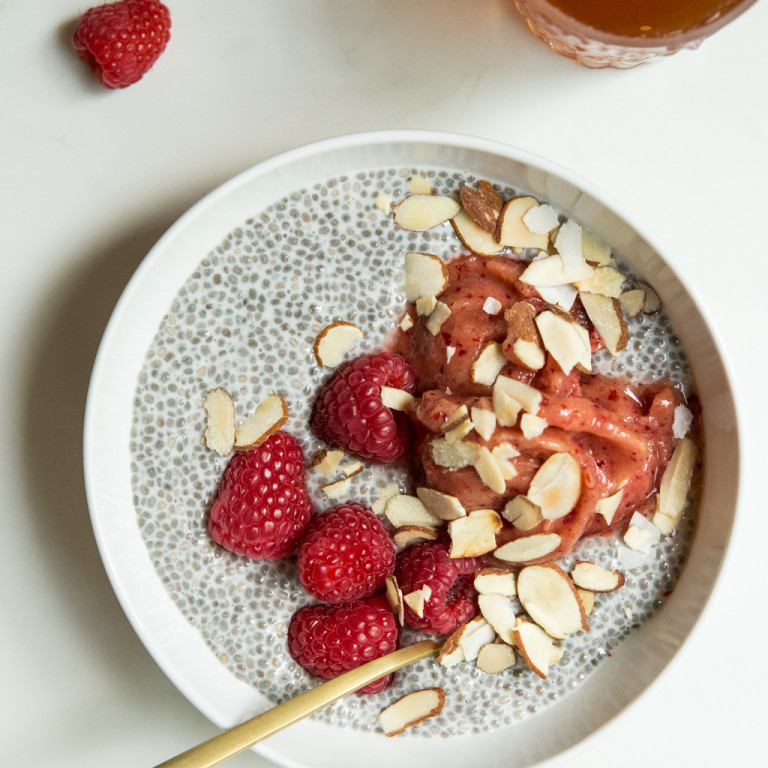 Basic Chia Seed Pudding
Vegan, gluten-free, grain-free, no bake/raw, oil-free, refined sugar-free, soy-free

Yield

3-3.5 cups (4-6 servings)
Soak time

2.5 hours or overnight
Prep time

Cook time

0 minutes
Total time

Thrown together in just a couple minutes! Be sure to make this in advance (I like making it before bed) so it has time to thicken up. The thickness of the chia pudding will vary based on the kind of almond milk you use, so don't worry if it looks a bit thick or thin when you first try it out. If your pudding is too thin you can add more chia seeds and let it sit for 30 minutes more; if it's too thick, try adding a touch more almond milk.
Ingredients
For the chia pudding:
3 cups unsweetened almond milk
1/2 to 3/4 cup chia seeds, as needed
1-3 tablespoons of pure maple syrup, to taste (optional)
Suggested toppings:
Granola
Fresh fruit
Coconut flakes
Pure maple syrup
Cinnamon
Nuts and seeds
Banana Soft Serve
Directions
Whisk the almond milk, chia seeds, and sweetener together in a large bowl. (For a thin and runny chia pudding, use 1/2 cup chia seeds. For a thick chia pudding, use 3/4 cup chia seeds.) Let sit for 5-10 minutes and then whisk again (this just helps prevent clumping).
Cover and chill in the fridge for 3 hours, or overnight. It helps to stir the mixture every so often during this time, but don't worry if you can't.
Stir well before serving. If it's too runny, whisk in more chia seeds and let it sit again until thickened. If it's too thick, thin it with a touch of milk.
Portion into bowl(s) and add your desired toppings. Leftovers will keep in an airtight container in the fridge for 3 to 5 days.
Nutrition Information
(click to expand)