Good morning lovies!
Happy Saturday :D I had a good sleep last night…strange dreams, though!
So the question of the morning is….
Was I able to go a full 7 days without sugar?
Click read more to find out!
YES!!!!
Stay tuned this afternoon for a video on my Crap Free Week review. I will talk about difficulties, benefits, and what I noticed over the course of a week. I will also tell you whether I will be extending my CFW longer.
~~~~~~~~~~~~~~~~~~~~~~~~~~~~~~~~~~~~~~~~~~~~~~~~~~~~~~~~~~~~~~~~~~~~~~~~~~~~~~~~~~~~~~~~~~
What I bought: Week 5
Wow, I can't believe it is already week 5 of What I bought! Times sure flys!
When I emptied out my reciepts, I admit I was a bit scared!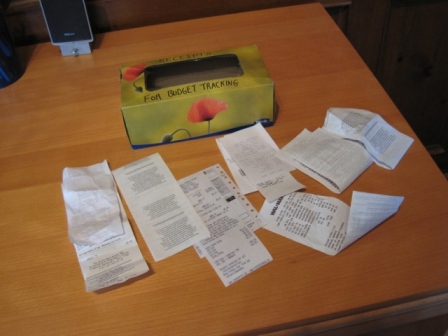 What did I buy last week?
Let me preface this by saying that this week we bought LOTS of bulk. For example, we bought printer paper which was around $25, and we bought some bulk grocery items that were on sale. I also bought some out of the ordinary things for Glo Bakery, which ran about $30.
I will separate it by receipt.
– Groceries: [Bottled water, avocados, organic apples, tomatoes, red peppers, no name w/w bread, organic kale, tofurkey, organic free run eggs] Total: $41.90
– Groceries: [butter, rubber gloves for renos, unsweetened applesauce, etc] Total: $11.34
– Groceries: [3 low fat soy milk, 1% cow milk, 2 boxes Amy's veggie burgers, organic kale, spinach, orange pepper, sweet potatoes, tofurkey, bread, tomatoes, spelt flakes, etc] Total: $74.52
– Post Office: $17.05
– Club Monaco: Tee on sale: $21.47
– Bulk Barn: [1.62 kg of raw chick peas, soup mix] Total: $5.44
– Gas for car: Total: $15.01 (I ran out of gas and couldn't find an Esso to use my gift card! doh!)
– Wal-Mart: [Filing tote, water, garlic puree, 5 pages of printer paper, organic carrots, red potatoes, dads cookies, raisin bran, frozen pineapple, 3 bunches of bananas, garbages bags (2-3 boxes), organic spelt cereal, bulk honey, etc, icing colouring, piping bags in bulk] Total: $130.34
We had two big grocery shops this week, so technically we had our big shop for next week, this week (if that makes any sense). So I expect that our grocery bill for next week will be much cheaper.
Total spent last week: $317. 07
Successes this week: My biggest one was definitely stopping myself from buying a Lululemon jacket. By not purchasing it, I saved myself about $125! I opted for a compromise- a tee at Club Monaco on sale for $19.
I am still making all of my own hummus and I am now making spelt tortillas and almond butter to help shave costs. I am still disappointed that our groceries are quite high, but we did just shop yesterday for next week, so I guess that is why. We also have to buy purified water because our water system in the house is shot, and we are avoiding buying a new water softener for now (they run well over $1,000!!!!). The weekly water purchases add up so much, so I think we are going to have to cave and buy a softener soon.
I also am proud to say that I have not bought a loaf of Ezekiel bread since I started the challenge!!! Considering I was buying 2 loaves per week, that is a huge savings.
~~~~~~~~~~~~~~~~~~~~~~~~~~~~~~~~~~~~~~~~~~~~~~~~~~~~~~~~~~~~~~~~~~~~~~~~~~~~~~~~~~~~~~~~~~
Breakfast this morning was a veggie green monster as I cleaned the office (pics to come later today!):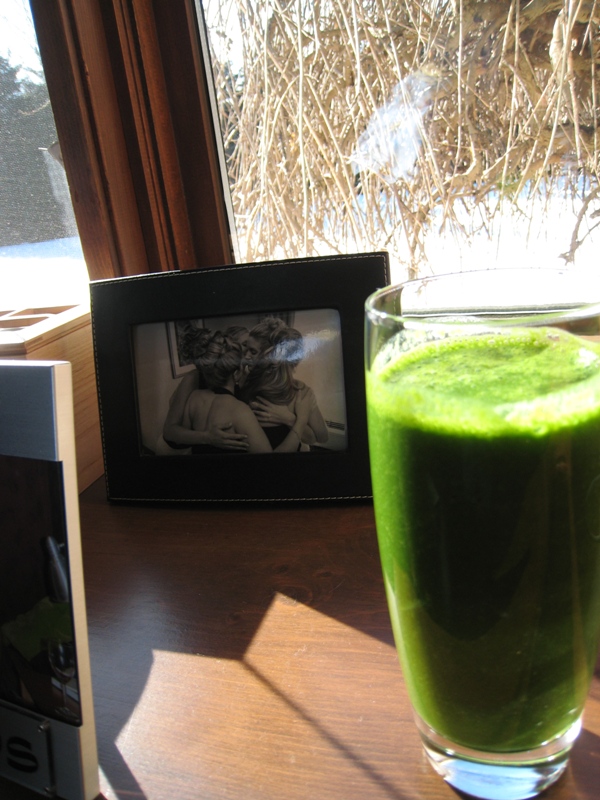 Contents: 3 organic kales leaves (wilted!), 1 cup low fat soy milk, 1 Tbsp flax, 2 ice cubes
Did you know:
"Green smoothies are easy to digest. When blended well, all the valuable nutrients in these fruits and veggies become homogenized, or divided into such small particles that it becomes easy for the body to assimilate these nutrients, the green smoothies literally start to get absorbed in your mouth."
Obtained from: Raw Glow
~~~~~~~~~~~~~~~~~~~~~~~~~~~~~~~~~~~~~~~~~~~~~~~~~~~~~~~~~~~~~~~~~~~~~~~~~~~~~~~~~~~~~~~~~~
Just in case you missed it, I am giving away a copy of Jillian Michael's 30-Day Shred DVD! It's as easy as leaving a comment (To the original post) and telling me how Oh She Glows has impacted your life, or tell me what you like best about Oh She Glows!
See you this afternoon for a video on my Crap Free Week! :D