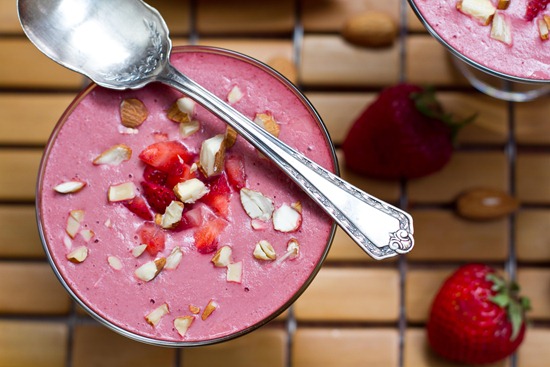 I wait all year long for local strawberries to make their brief appearance and when I finally see them at the market and in the grocery stores I tend to go a bit crazy.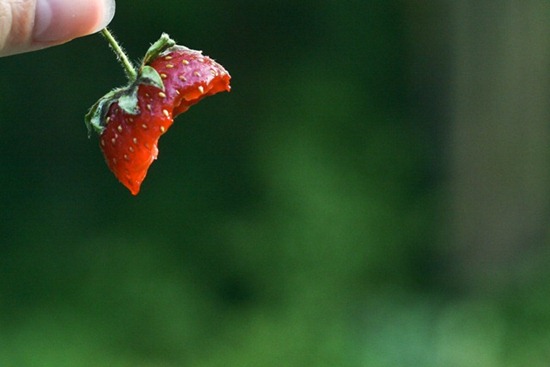 I hoard them.
I freeze them.
I go to Strawberry festivals.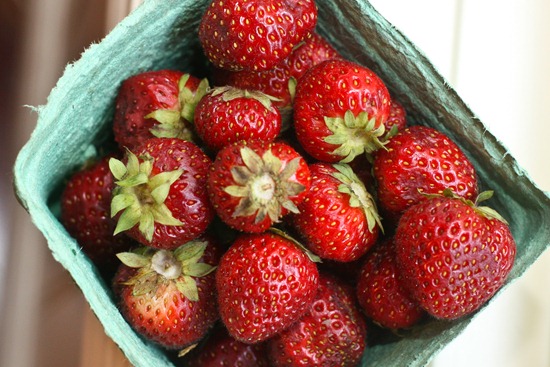 I make Strawberry Banana Soft Serve.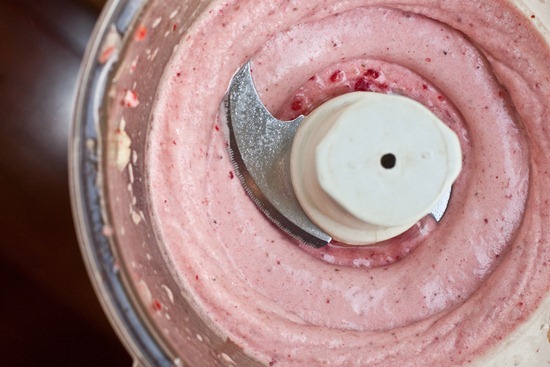 I make Strawberry Shortcake Stacked Pancakes.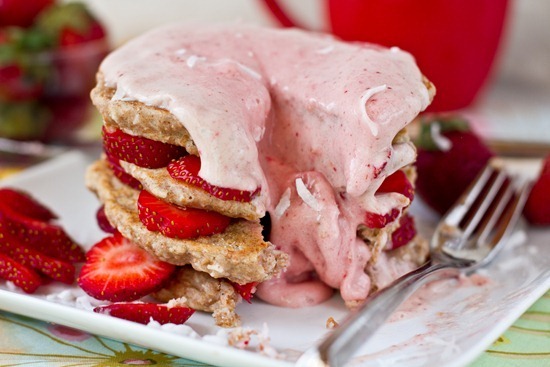 This weekend, we almost turned into a strawberry. First, there was the High Protein Quinoa Almond Berry Salad that we inhaled after the hike. Then there were chocolate covered strawberries (Eric's idea!)- one of our all-time favourite desserts.
Finally, this refreshing Chilled Strawberry Almond Butter Soup came about.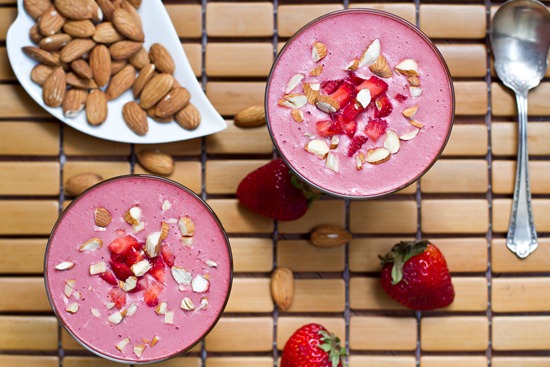 This soup is inspired by a chilled strawberry soup recipe I spotted over at Memories in the Baking. I thought the idea of a chilled strawberry soup was fun. Strawberries are the main ingredient with only a few 'enhancing' ingredients to bring out the strawberry flavour.
It's a lovely dessert for the summertime when you want something light and healthy, yet still sophisticated. I just love the pairing of almonds and strawberries, so I added some almond butter and almond extract to the soup. The almond butter adds creaminess to the subtle tart undertones of the strawberries. A touch of sweetener- and chilling in the fridge- brought it all together!
You can have fun playing around with the recipe too. Strawberry Mint soup, as in this recipe, would also be fantastic. Or if you are a sweet and savoury fan, what about Strawberry Basil soup?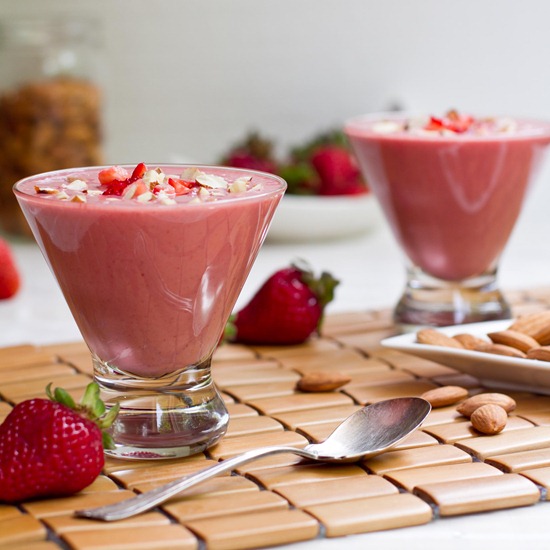 [print_this]
Chilled Strawberry Almond Butter Soup
Inspired by Memories in the Baking.
Yield: 3 cups
Ingredients:
1.5 pounds strawberries (about 3-4 cups)
1/4 cup Almond milk (just enough to bring it together in the blender!)
2 tbsp natural almond butter
1/2 tsp almond extract
2 tbsp agave (or other liquid sweetener), or to taste
Chopped strawberries and almonds, for garnish
Directions:
1. Remove green stems off strawberries and rinse well.
2. In a blender, add 1/4 cup almond milk. Next, add in trimmed strawberries, almond extract, and 2 tbsp almond butter. Starting on lowest speed, blend until it comes together. Turn up the speed gradually and blend until as smooth as your blender will make it.
3. Taste test and add your desired sweetener. I used 2 tbsp of agave. The amount of sweetener you need will depend on how sweet your strawberries are. Blend again to combine. [If your blender does not puree the seeds, you can pour the soup through a fine strainer.]
4. With blender cover on, place blender in the fridge and chill until very cold, a few hours or overnight. Alternatively, you could chill in a container in the freezer to speed things up. Serves 2 or 3 cups. Keeps in the fridge for 1 day.
[/print_this]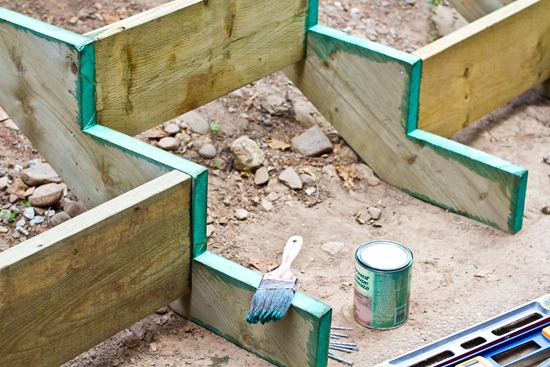 While the soup was chilling in the fridge, we worked up a good sweat working on the deck stairs. The guys weren't able to help Eric this weekend (note: they are avoiding our calls hah), so I told him that I would help.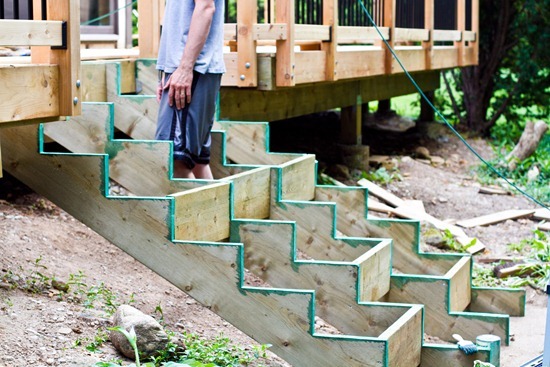 The stairs are really intimidating! There are so many calculations and cuts to make.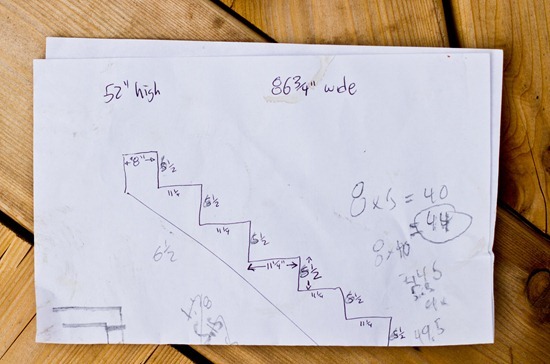 We got close to completing the large staircase! Just a few more boards to secure.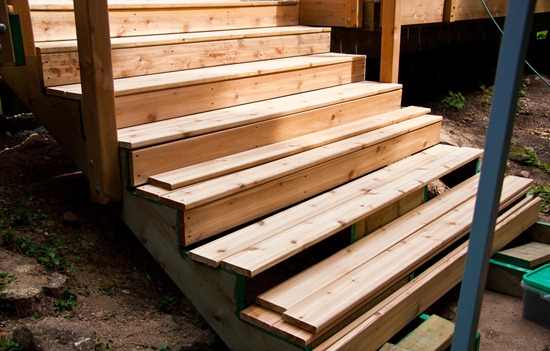 After this one, we still have two smaller ones on each end. I'm REALLY ready for this deck to be complete!
At the end of the day, we had a very simple dinner made up of BBQ'd veggies, leftover pearled barley, pasta sauce, and seasonings.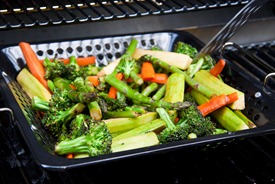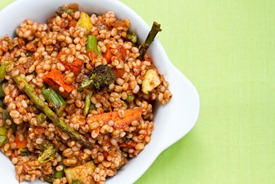 And then we devoured our chilled soup for dessert! It's creamy, smooth, and flavourful and it didn't last long!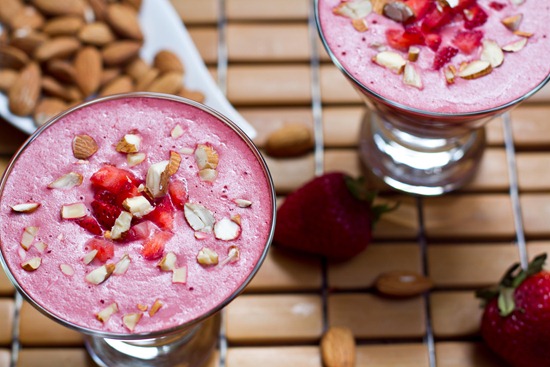 T minus 4 days until this weekend's Strawberry Festival. Not that I'm counting or anything..