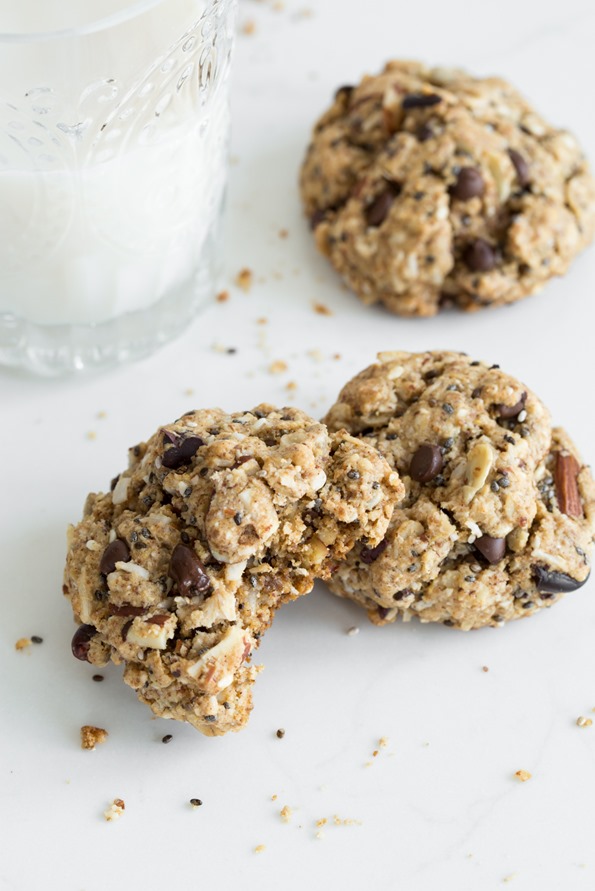 Welcome to my dream cookie. Ram packed with healthy ingredients, chewy, crispy around the edges, thick and hearty, with dark chocolate sprinkled throughout. Not one who is content with a mediocre cookie, I tested these 4 times before they were deemed "in the vault". That's a lot of cookie eating! It's a tough job I tell ya. Although, I secretly think Eric keeps telling me to "work on them" so he can have more cookies to eat. I'm onto you Eric, I'm onto you…
This is a clean-out-your-cupboard or hit-up-the-bulk-bins or everything-but-the-kitchen-sink kinda cookie. I threw it all in and went a bit crazy. From the sliced almonds to the three kinds of seeds to the cacao nibs, this cookie has an incredible chewy, crunchy texture that can't be beat. I expect the mix-ins are versatile, so feel free to play around with the nuts and seeds if you'd like.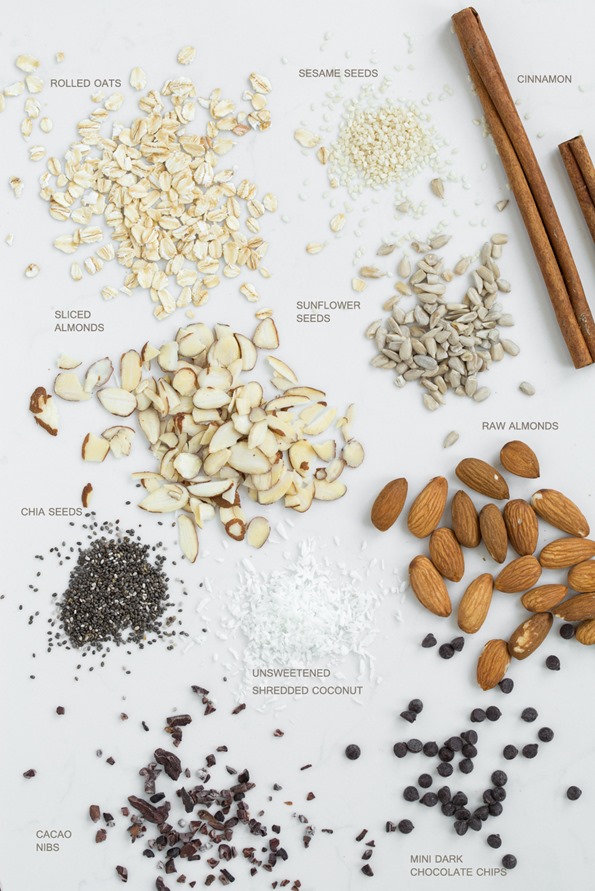 Despite the lengthy dry ingredient list, they are a breeze to throw together. Plus, how hard is it to throw seeds into a bowl? I rest my case.
We are doing this for the cookie!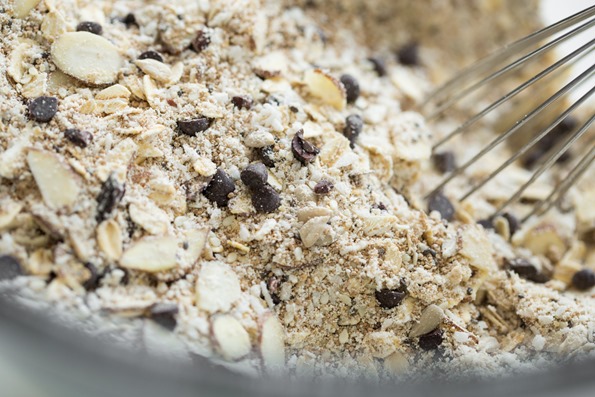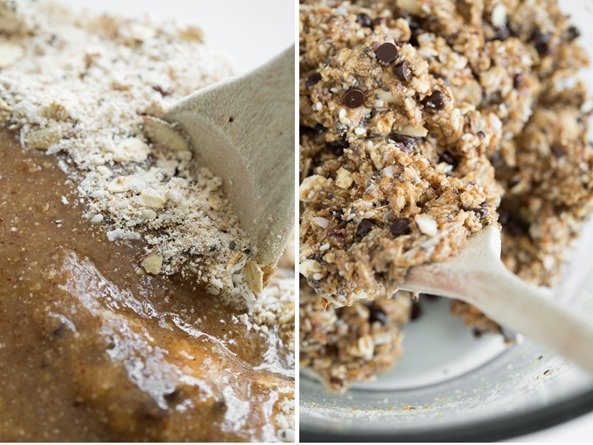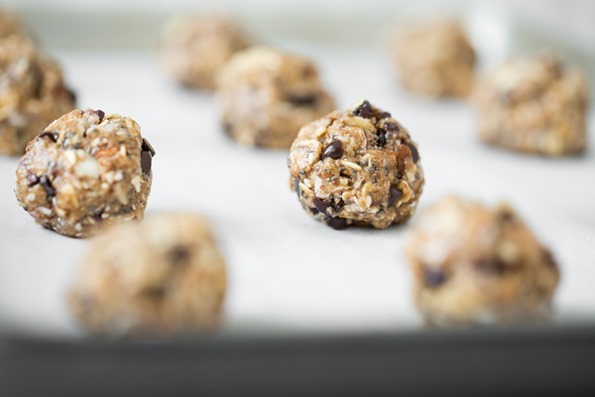 Just a quick housekeeping note: I'm using a new recipe card display (below) that Eric created for the site. However, I just noticed that the recipe is not showing up in my feed. This will hopefully be fixed soon, so not to worry!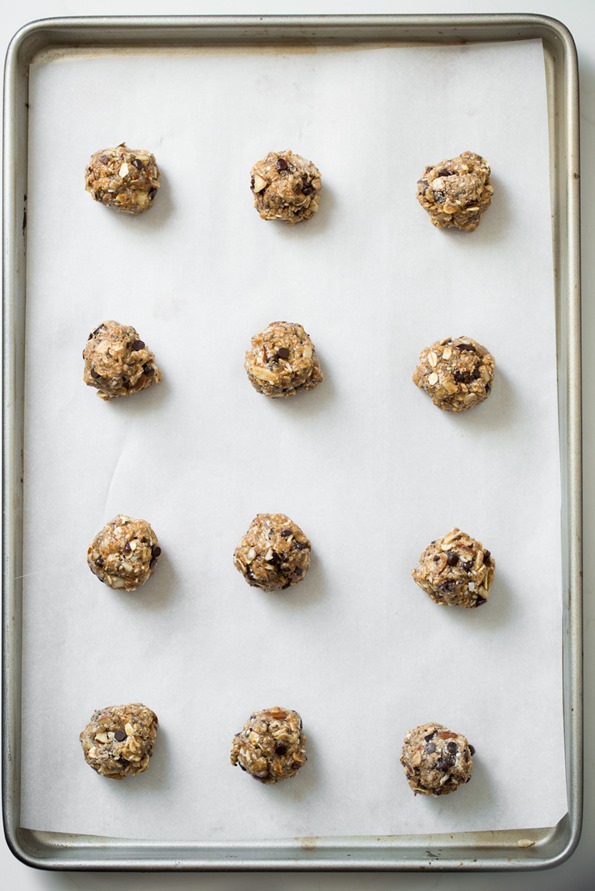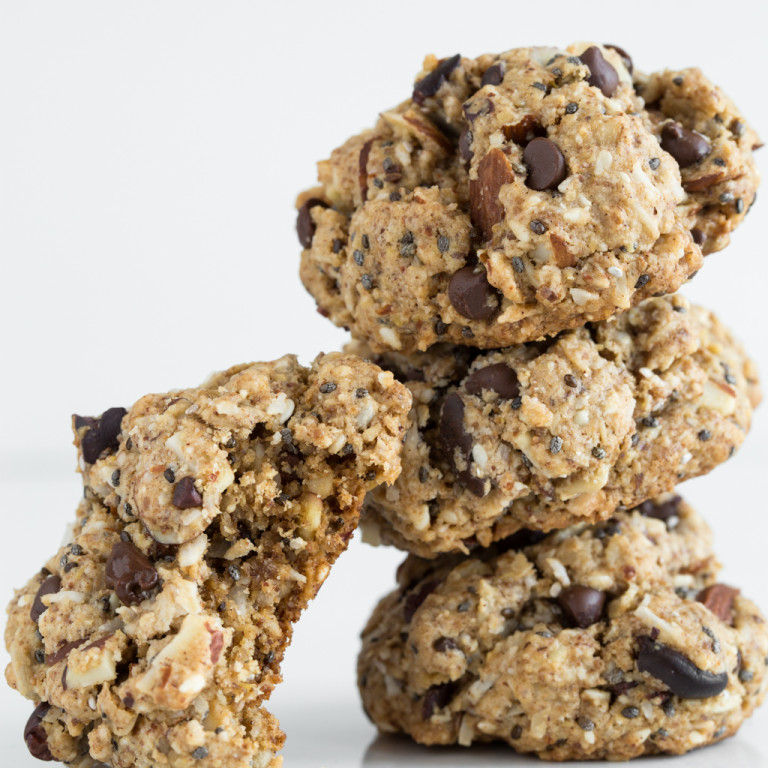 Irresistible Chewy Trail Mix Cookies

Yield

23 small cookies
Prep time

Cook time

Total time

Welcome to my dream cookie. Ram packed with healthy ingredients, chewy, crispy around the edges, thick and bite-sized, with dark chocolate sprinkled throughout. One thing to point out. I used a very "drippy" raw almond butter in this recipe. If you are using a more solid & thick and less liquid-y nut butter, you may want to add another 1/2-1 tablespoon of water into your flax egg to prevent the batter from becoming too dry. I did make a version with a traditional flax egg using 1 tbsp ground flax and 3 tbsp water, but the cookies spread out too much and were quite thin. So by reducing the flax egg to 2 tbsp water, it produced a much thicker cookie. As you can see, small changes in the consistency of the batter will produce greatly different outcomes so keep this in mind when experimenting!
Ingredients
Dry Ingredients
1 cup gluten-free rolled oats, blended into oat flour
1/2 cup almond meal or almond flour
1/2 cup gluten-free rolled oats
1/2 cup thinly sliced almonds
1/4 cup Sucanat or coconut sugar or brown sugar
1/4 cup shredded unsweetened coconut
3 tablespoons mini dark chocolate chips (or finely chopped chocolate)
2 tablespoons raw cacao nibs
2 tablespoons sunflower seeds
2 tablespoons sesame seeds
2 tablespoons chia seeds
3/4 teaspoon cinnamon
1/2 tsp fine grain sea salt
1/2 tsp baking powder
1/2 tsp baking soda
Wet Ingredients
1 tablespoon ground flax + 2 tablespoons water, mixed together
1/4 cup "drippy" raw almond butter (or other all-natural nut butter)
1/4 cup coconut oil
1/4 cup pure maple syrup (or other liquid sweetener)
1 tsp vanilla
Directions
Preheat oven to 350F and line a baking sheet with parchment paper.
Whisk together the ground flax and water in a small mug and set aside so it can gel up.
In a large mixing bowl, whisk together all of the dry ingredients.
In another medium sized bowl, stir together the wet ingredients, including the flax egg until thoroughly combined.
Add the wet mixture on top of the dry mixture and stir well until combined. This will take quite a bit of stirring until all of the dry patches of flour are gone.
Portion small balls of dough (just smaller than golf balls) onto the baking sheet, spacing them a couple inches apart. I ended up baking two trays of cookies because I didn't know how much they were going to spread out.
Bake cookies for 13-15 minutes (I baked for a full 15 minutes), until light golden brown on the bottom. Cool on the baking sheet for 5 minutes before transferring to a cooling rack until completely cool. The cookies will break apart easily until cooled, so be careful.
Wrap up and store leftovers on the counter or in the freezer, if desired.
Tip:
Notes: 1) For a completely gluten-free cookie, be sure to use certified gluten-free rolled oats and to check all other ingredient labels. 2) To make oat flour: Add 1 cup of rolled oats into a high speed blender and process on high until a flour forms. 3) To make almond meal, add a scant 1/2 cup of almonds into a high speed blender and blend on high until a fine meal forms. Break up clumps with your fingers and measure as normal. 4) The raw almond butter I used was very drippy, so be sure to use a drippy, all-natural nut butter if possible.
Nutrition Information
(click to expand)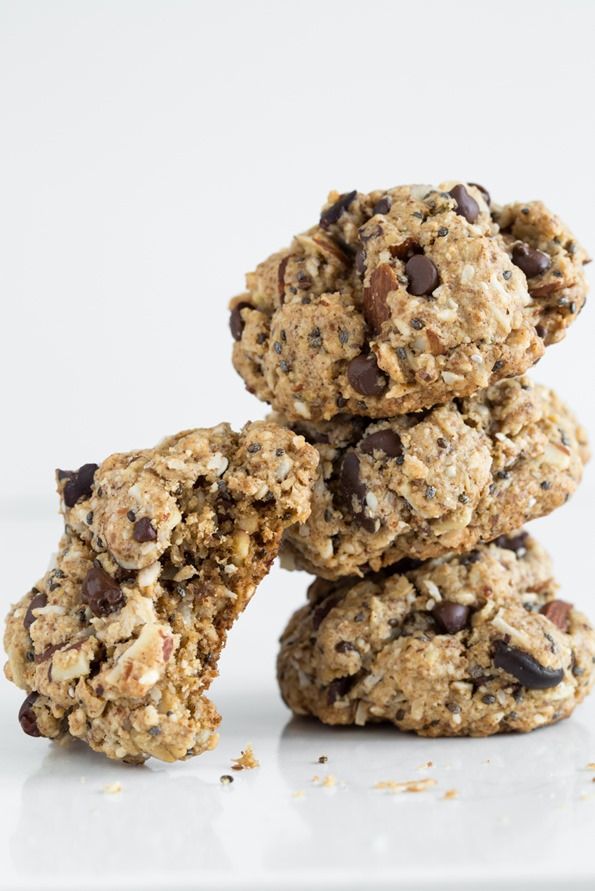 Soooooo, I'm basically looking for another excuse to make these cookies again real soon and I'm wondering if there is a demand for a totally nut-free version of this cookie? If so, let me know in the comments and I will try to come up with a nut-free version. It would be great to have the kiddos bring these to school. I think some schools are peanut-free while others are totally nut-free these days. What about sesame? Is that a no-no too? Fill me in, I'm outta the loop.
Also, you may have noticed that we have a new snazzy looking recipe display up there. That's thanks to Eric's handy programming work. If you notice any problems or encounter any issues with the print or email function, please let us know. We're also hoping to get a recipe rating feature at some point too.