We meet again Swiss Chard, we meet again.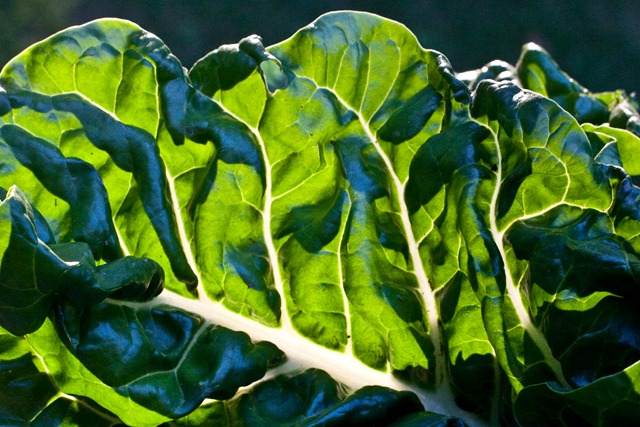 You know, being a lover of all things green, it really pains me that Swiss Chard and I didn't really hit it off.
Sure, I consider myself a happy person most of the time, but this defeat lingers in my mind. It haunts me in my sleep.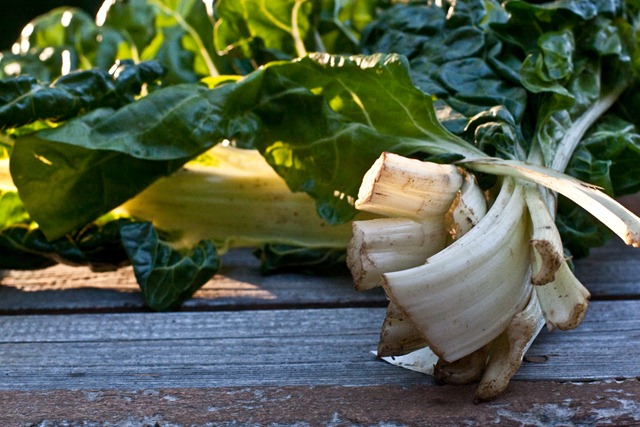 Perhaps, the Swiss Chard's arrival in this week's CSA is a sign. Perhaps, the battle has been fought, but the war is not over.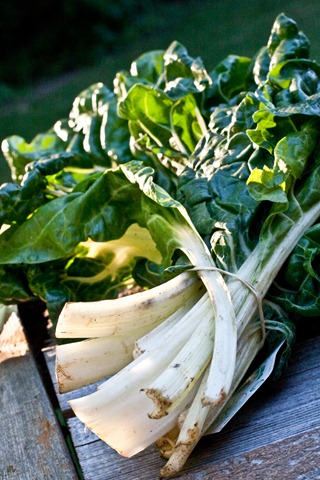 Eric took one look at the Chard last night and he said, 'Well, I guess your lips WILL be touching chard again.' and he broke into a laughter so evil, I get chills just thinking about it. I took a piece of chard and hit him with it.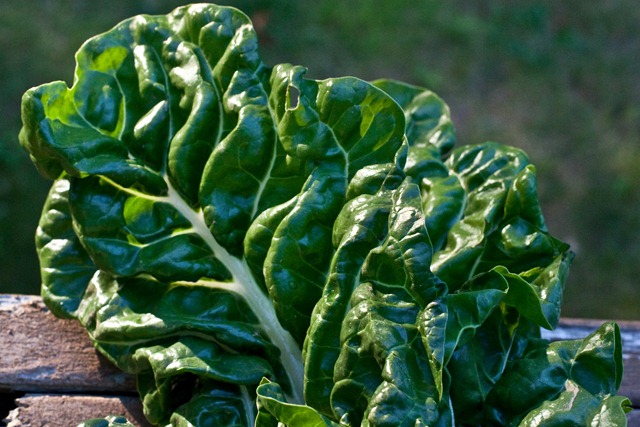 For those of you who don't know me very well, I am a Taurus and I am as stubborn as we are described. I do not accept defeat and I am starting to think that Swiss Chard is a Taurus as well. We are butt heads.
I knew that I couldn't let Swiss Chard out of my life just yet. It's bright green, crinkly, and radiant  leaves call out to me for some unfinished business.
So, I did what any girl looking for a Swiss Chard recipe would do and I headed over to Choosing Raw. If you have not visited this website, you really should. Gena is not only a dear friend of mine, but she is a fabulous writer, super helpful, and she whips up some amazing recipes, including Banana Soft Serve. I rest my case.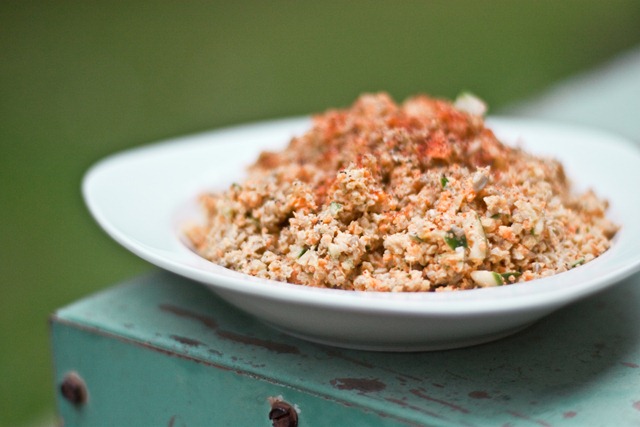 Raw & Vegan Tuna Salad
Adapted from Gena's Raw, Vegan Tuna Salad.
Ingredients:
1 cup sunflower seeds, soaked 2 hours
2 pickles, chopped (I didn't have any)
1/2 cup cucumber, chopped (or celery)
1/2 cup shredded carrot
1/2 tbsp apple cider vinegar, 1/4 tsp onion powder, 1/2 tbsp maple syrup OR 1 tbsp pickle juice
1 tbsp fresh lemon juice
1/2 tsp Herbamare sea salt
Freshly Ground Black pepper, to taste
Paprika, to garnish
Directions: Place all ingredients into food processor except paprika and cucumber. Pulse until just combined (you want to leave it a tiny bit chunky). Remove from processor and stir in chopped cucumber or celery. Sprinkle with Paprika and another small dusting of Herbamare. Serve in a wrap, on a salad, or with crackers. Serves 4-6.
My mother-in-law got me hooked on this Herbamare a couple years ago and it seriously changed my life.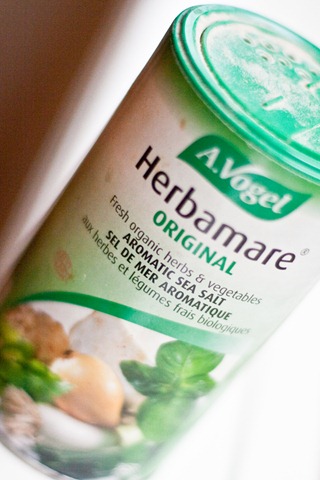 I had to make some modifications to Gena's recipe based on what ingredients I had, so it didn't come out tasting like tuna overly so, but it was still really delicious! Addicting I might say.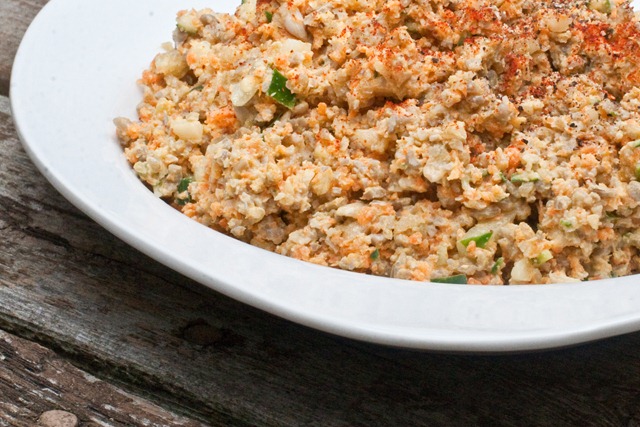 I didn't have pickles or pickle juice, but I tried my best to make a pickle juice by using apple cider vinegar, maple syrup, and onion powder. It gave the salad a bit of a bite. I would still recommend using pickles + pickle juice if you can though. I also didn't have miso.
This raw + vegan tuna salad would be excellent on crackers or on toast. I can't wait to try it out with different things!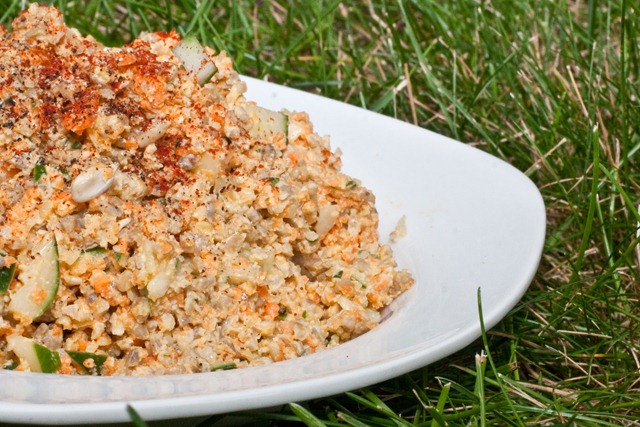 Tonight, I made it into a Swiss Chard wrap.
For help with the wrapping part, I used Gena's instructions on folding a collard wrap. After washing and drying, I de-veined the stem. Or at least that's what I told myself I was doing.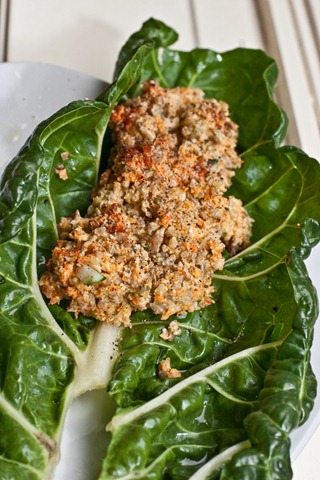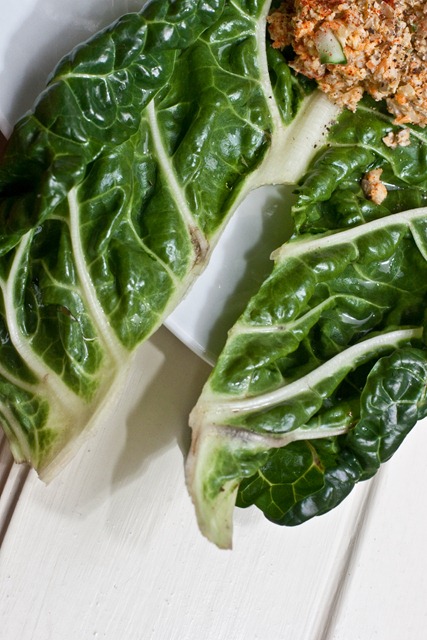 Swiss Chard is a bit hard to wrap because the leaves crack very easily, but I managed even though it was a big mess (read: stubborn).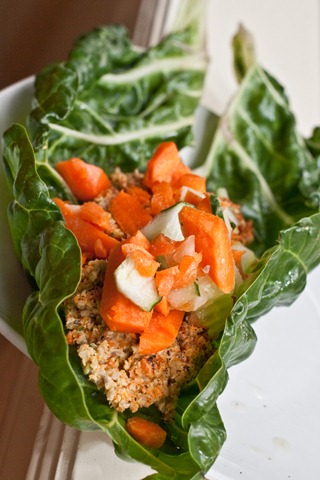 I made two wraps using about 1/4 cup of the tuna salad on each along with chopped veggies.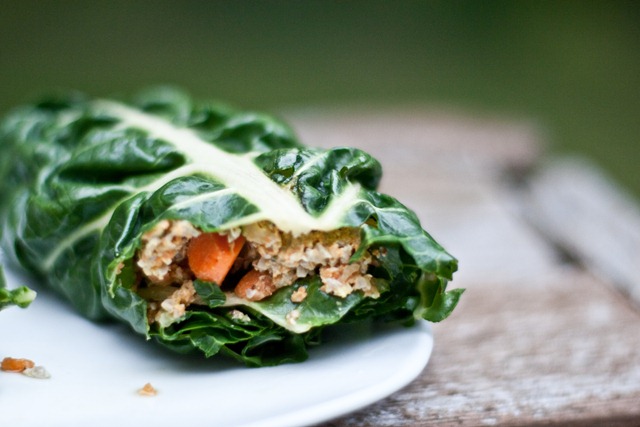 I actually was really surprised because the Swiss Chard didn't taste that bad to me this time. It was actually really mild tasting. Perhaps, I like it better raw when the smell doesn't over power me as much?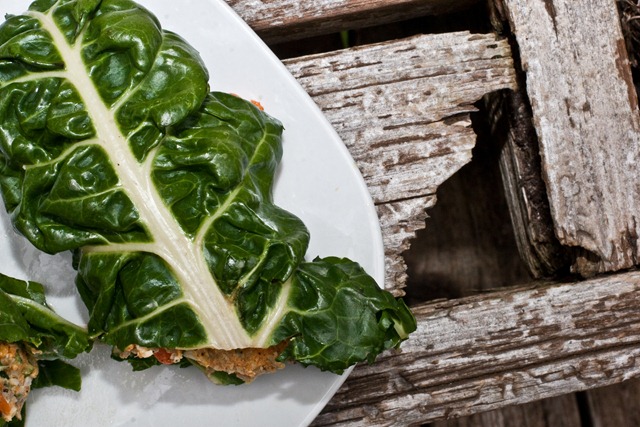 I have experimented on and off with raw food recipes over the past year and I have enjoyed most of them. I find that summer is a great time to experiment with raw food because you don't have to turn on the stove and the meals are often refreshing and energizing. I tend to crave more uncooked meals in the summer, which is why you have seen lots of those on the blog lately.
Some of my favourite raw & no-bake recipes:
Tonight's question- Have you ever experimented with raw food recipes or would you try some out? Did you come across any that you love in particular? Do share! We could all use a little less oven in this heat…or should I say a little less heat in our oven!
Healthy Living Summit charity raffle today until Friday at noon EST!
I am raffling off one HLS ticket for this year's Healthy Living Summit in Chicago Aug 13-15th! All proceeds go to the Canadian Cancer Society. Donating $10 = 1 ticket entry, donating $20 = 3 ticket entries. I haven't had that many entries (maybe 10 so far) so your chances of winning aren't too shabby! Visit my donation page to make your donation: Click here. Thank you and goodluck!
I'm now trying to motivate myself to go on a run after discovering my Shuffle (mp3 player) is broken. It is a sad day. I'm hoping for a miracle.  See you tomorrow morning for a fun Friday surprise.