One, two, three…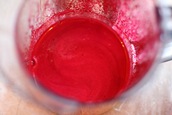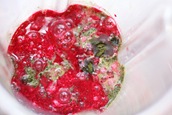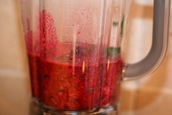 This was a Juice + Green Monster =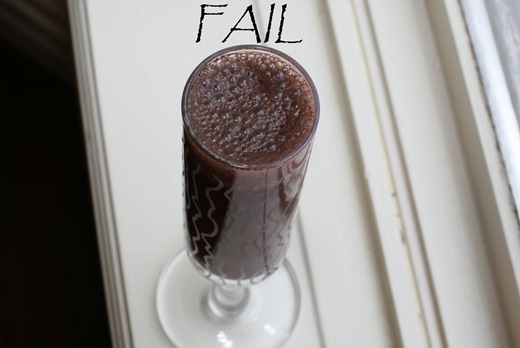 This was my first time combining fresh juice and a green monster. I had tons of spinach to use up, but I also wanted to make a juice. So I combined the two methods. The only problem is, the juice I made wasn't a great combo at all (beets, lemon, ginger), so it made my green monster pretty disgusting!
Apparently I CAN make bad juices…lol. Ok, who was it that jinxed me in the comments the other day! ;)
However, I have high hopes for my next one. The key is to start with a good tasting juice, me thinks!
I had a good 2 mile run + 10 min walk on the treadmill followed by WMM2! Then lots of baking and shipping out orders.
I also had a V.I.M. (Very Important Meeting) today with two lovely ladies from Booty Camp Fitness!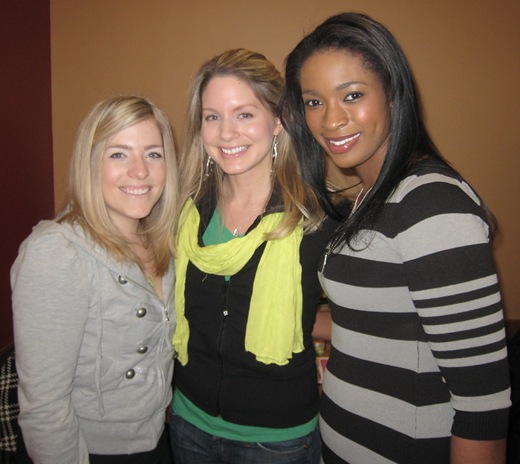 This is Lisa: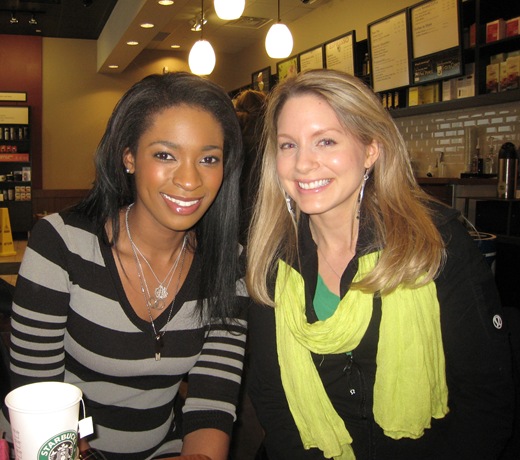 and Jess: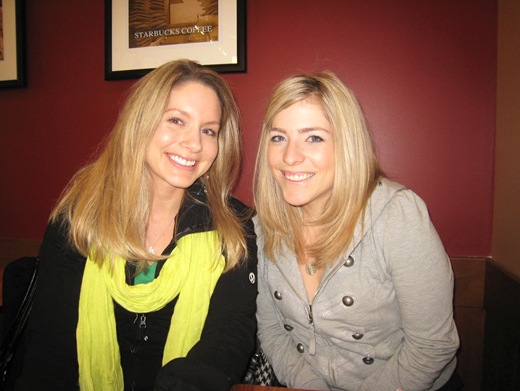 They are both two of the nicest people! So inspiring and down to earth. This meeting has been in the works for months now, so I was so happy to finally meet them in person. We talked about all kinds of fun projects that will be coming up in the near future.
They also gave me their workout DVD to try out: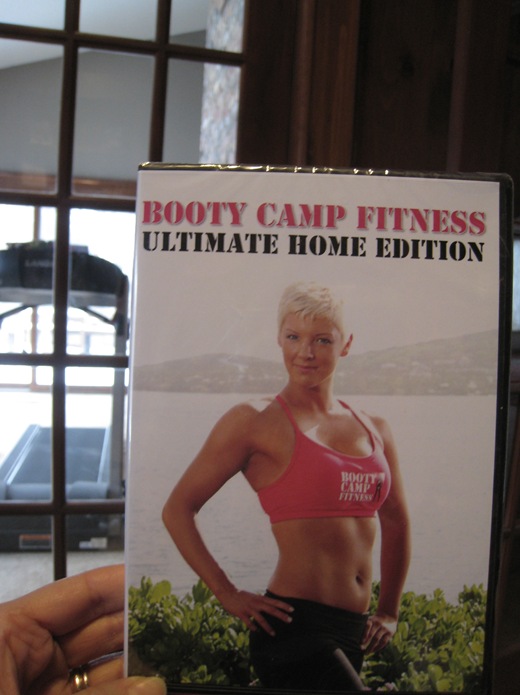 I tell you, this couldn't have come at a better time, given my recent teeth-pulling workouts on the dreadmill. :mrgreen: I can't wait to try it.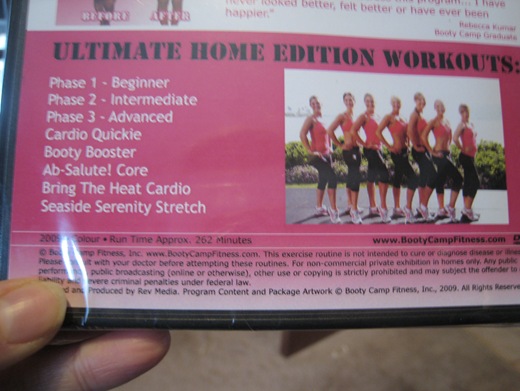 Dinner was also quite exciting tonight…
Firstly, Eric confessed his love for Quinoa. That pretty much made my week right there.
Then I discovered a new love- Pumpkin sauce: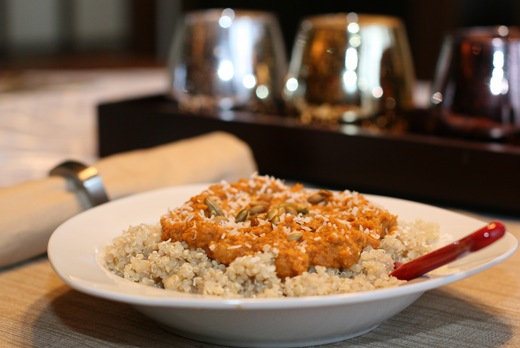 Pumpkin Curry Quinoa
[Sauce recipe adapted from here]
Ingredients:
3 cloves garlic, minced
1/2 onion, diced
2 T olive oil
1/2 cup vegetable broth
1/2 cup almond milk (or soy, cow's etc)
1.5 cups canned pumpkin
S & P
2 heaping teaspoons curry powder
1/3 cup ground walnuts (optional)
coconut + pepita seeds to garnish
Cooked quinoa
Directions for sauce:  In a medium-sized pot or large frying pan, sauté garlic and onion in olive oil 3-5 minutes. Reduce heat to low, and add vegetable broth, milk, pumpkin and curry powder. Stir gently to combine ingredients. Allow to simmer until flavors are well combined, about 8-10 minutes. Add salt, pepper and walnuts or pine nuts, stirring to combine, then remove from heat.
[Source]
At first I wasn't sure about the sauce as I have never had a pumpkin sauce before, but it got better with each bite until I was fully smitten over it.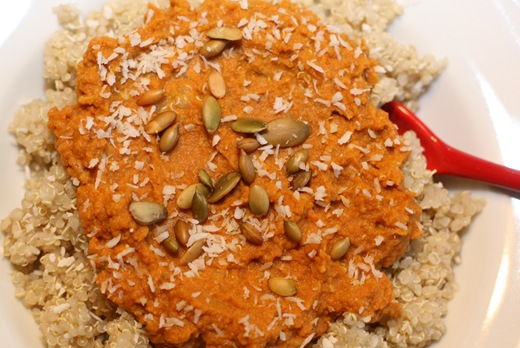 What is with me and spoon pictures lately? I think I thrive off the thrill of balancing the camera simultaneously with the spoon (nerd alert!).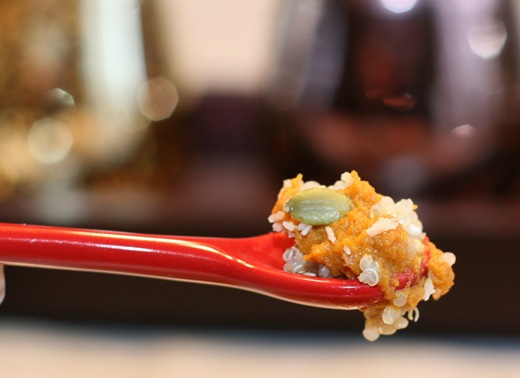 Dessert was even more fabulous.
I made a spin-off of Gena's ever so popular Banana Soft Serve. See this post for the first time I made it in the summer (and a super cute pic of Sketchie). I even made a Green Monster Float with it too. If you haven't made Gena's Banana Soft Serve, you must!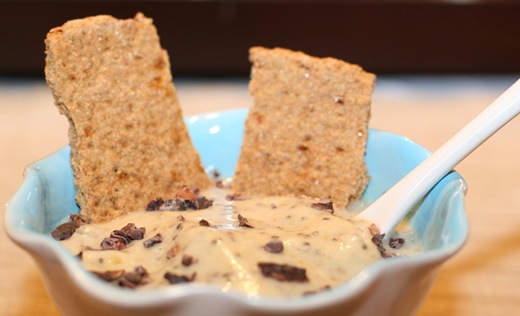 Gena's Banana Soft Serve…with a Twist!
Ingredients:
1 frozen banana
1/3 cup Almond Milk (or your choice of milk)
1 T chia seeds (thickens it)
Cacao nibs as topping
Graham crackers (optional) I used my homemade ones
Directions: BLEND!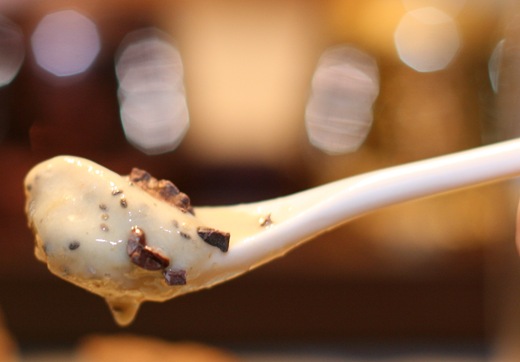 This was quite possibly one of the yummiest desserts I have whipped up in a long time. Oh, me oh my, it was just fantastic. The cacao nibs gave it a great crunch.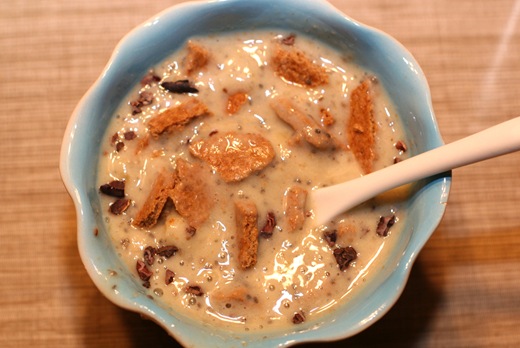 See you tomorrow for my thoughts on the wonderful discussion going on in this post. Oh, I have lots to say!
Nighty night