Today's lunch was bright and cheery- a tropical getaway if you will! :mrgreen: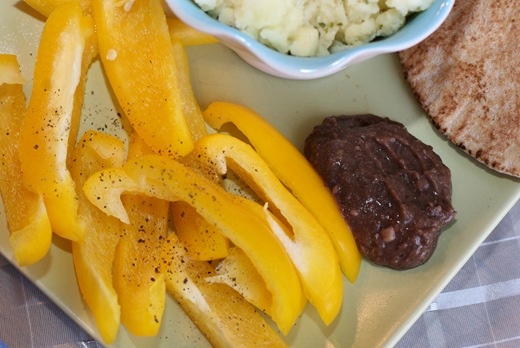 I had a yellow pepper with freshly ground pepper and black bean dip on the side. (Sorry, I just realized how unappetizing that bean dip looks- LOL).
I continued my tater addiction with mashed potatoes! I made these a couple nights ago and they include almond milk, garlic, sea salt, and vegan margarine. I heated them up with a pat of vegan margarine and parsley flakes.
Two words: COMFORT FOOD.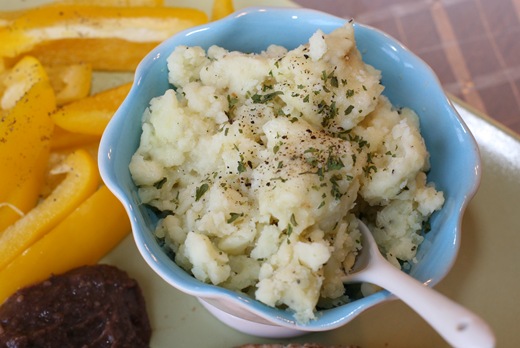 With an Amy's Texas veggie burger, a high protein pita, Fontaine Santa hummus, salsa, and tomato paste. I like Amy's burgers, but I really need to make more of the In A Jiffy Spelt Veggie Burgers. They are much, much tastier (and cheaper).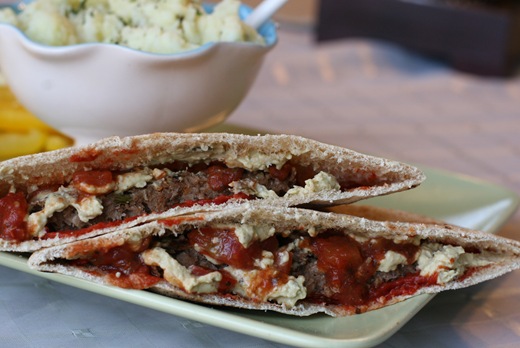 Dessert was a WRINKLY peach! It was now or never so I took one for the team…and ate it wrinkles and all. ;) It did look more 'distinguished' I must admit. :mrgreen: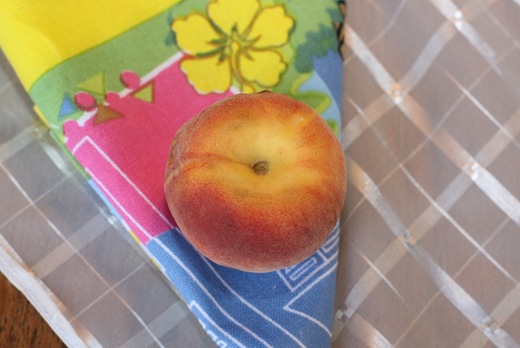 Two exciting things:
1) Michael Pollan + Alicia Silverstone + Food Inc + Whole Foods on Oprah today. Loved it. Anyone else catch it? I thought it was funny how careful Oprah was about everything she said. I must have heard the line, 'This is only my opinion, you must make the choice for yourself.' a million times. I guess she is avoiding another lawsuit…
2) 5:30pm and still light out. Can I hear a woot woot for Spring on its' way??
Do You Feel Pressured To Be Thin At Your Job?
This week I was chatting with a reader who is in school to become a Registered Dietitian. She told me that there is a lot of competition among the RD students at her school. Of course there is competition over grades, but she told me there is also competition over weight and appearance.
Because the focus of the program is so health oriented and it is so competitive to get internships, there is a lot of pressure to appear as that perfect picture of health. You know the saying: practice what you preach.
I instantly thought about my previous jobs and whether I have felt any pressure to maintain a low weight. Most of them were office jobs, so there wasn't much pressure there. However, I worked in retail for many years and had to wear the store's clothing. At times, I remember wanting to look thin in the clothing so I could represent it well to potential buyers. However, I never felt pressure from my boss. It was internal pressure I placed on myself.
With my current job, owning a bakery, I don't really feel much pressure about my weight because baker's tend to have the stereotype of being heavy. However, owning a healthy bakery, I do think it is important to show that a healthy weight can be maintained with balance and moderation. It is not about being thin as it is just overall healthy though.
Then there is my OSG gig. Given my past eating disorder, I had to think very long and carefully about how I wanted to approach my blog. I knew immediately that it might not be healthy for me to be a 3x a day food blogger just due to the sensitivity I have around it all. It works great for many people, but I had to chose the right path for myself. I decided to blog about a variety of topics that I am passionate about, throw some hot topics and recipes in there, and try to have a nice balance for myself. This approach has worked for me because I have not felt overly scrutinized or pressured to live up to some ideal. I just try to be healthy for myself and not think too much about what other people think or expect of me.
Whether I had OSG or not, I would still want to maintain my weight and be a healthy person, so the blog really doesn't change anything. At times I have fallen into the comparison trap, like many of us do, but I just try my best to work with what I have and never expect perfection from myself because it does not exist. [For a great discussion see Part 1 and Part 2 on Social Comparison Trap.]
So that was my long-winded way of leading into today's question…
Do you or have you ever had a job (or school career) where you felt the pressure to be thin? What is it/was it and why do you feel that way? Are there things that you do to reduce the pressure?

 
You have to stay in shape. My grandmother, she started walking five miles a day when she was 60. She's 97 today and we don't know where the hell she is. ~Ellen