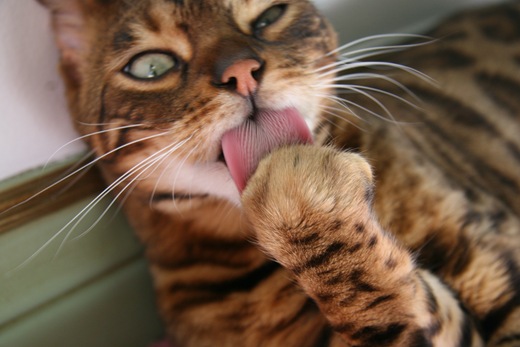 Aren't cats tongues the craziest things?
PS- Eric has been really slacking in his photography lately and is the reason why we haven't had our photography show down yet. Blame HIM! ;)
~~~~~
I'm glad you enjoyed my 'Vlogging' (video blogging) last night.
I have been meaning to do more vlogs for a while now, so with your extra encouragement I just might try to make it a more regular feature again. Vlogging has its' pros and cons. The main pro is that I don't have to type out a post. Lately my back has been sore because I basically hunch myself over the keyboard when I am typing. With blogging 3x a day, responding to emails, and working on Glo Bakery stuff, I spend a lot of time at my desk. So vlogging gives me a nice break and allows me to move my mouth! Which I don't do much working from home. Aside from talking to Sketchie of course. ;) The main con is that videos take a lot of editing at times and require a long time to upload. For example, last night's video took about 1.5 hours to process. Waiting on a video to upload is not fun, especially when I have general 'time lines' that I like to have my posts up by.
But, it's fun. And it allows you to see that I'm a real person behind these words! So I will keep doing it every now and then to mix it up.

I had a lovely green monster this morning. Even despite MORE thunderstorms!!
I used two new ingredients that I have never used in a GM before- GRAPES and Gena's 'banana softserve'!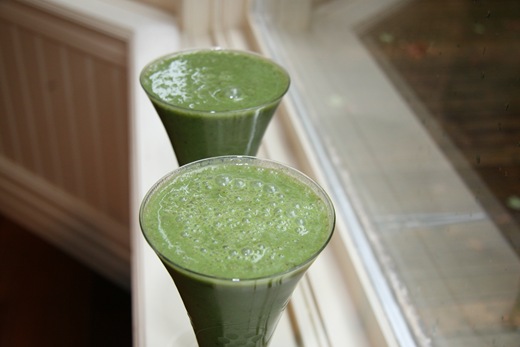 Ingredients:
1/2-3/4 cup cup red organic grapes
1 cup PC low fat soy milk
1 scoop Ruth's Hemp-Maca-E3Live powder (trying to use it up…blech!)
1 T chia seeds
3 cups lightly steamed spinach
1/4 cup banana soft serve (see below)
4 cubes ice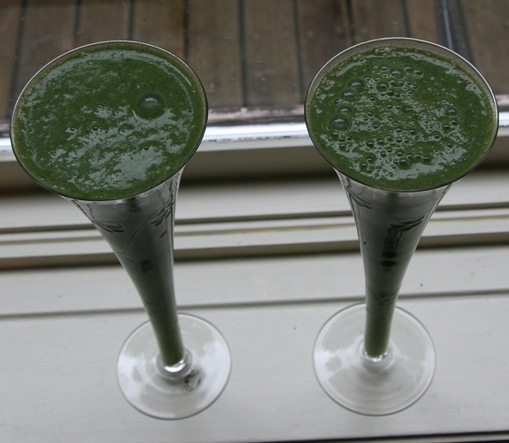 I totally forgot to blog about Gena's banana softserve I made on the weekend!! It was nothing short of pure heavenly bliss. You seriously should try this if you haven't already. All you do is freeze a banana or two (with skin removed! lol) and then pop the frozen bananas in a food processor for a couple minutes. The result is the most amazing creamy softserve you've probably ever tasted! AMAZING! I think I liked it better than any dairy or non dairy ice cream I have ever tried.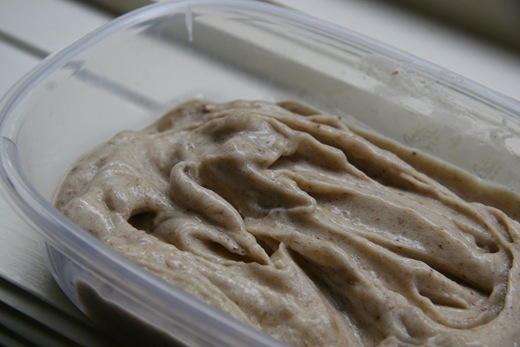 The banana softserve made the green monster REALLY creamy and cold. I loved it.
This green monster was good, but way too sweet! I think the grapes really put it over the top. Next time I would only use 1/4 cup probably.
~~~~~
Last night I was going through some wedding gift cards that we still haven't used (I know- we are SO bad for not using gift cards up quickly!) and I really want to buy a juicer. I have wanted to make funky green juices since I read Kris Carr's Crazy Sexy Cancer.
I know nothing about good brands and haven't done any research but I thought I would do an unofficial poll and ask you juicer-lovers if you recommend any brands! So let me know if you recommend any in particular- OR if you have a 'dud' that you want to warn me about. ;)
Speaking of DUDS…I am highly disappointed in my Kitchen Aid Blender! It has been used for barely 7 months and it is already leaking (among other problems!):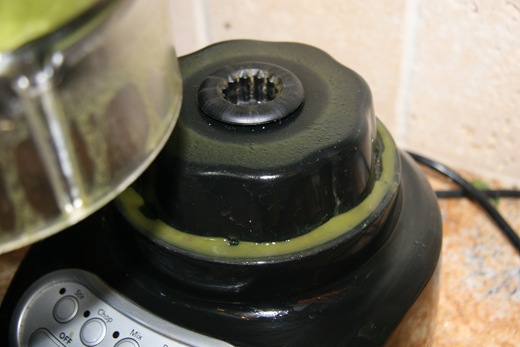 Gross me out.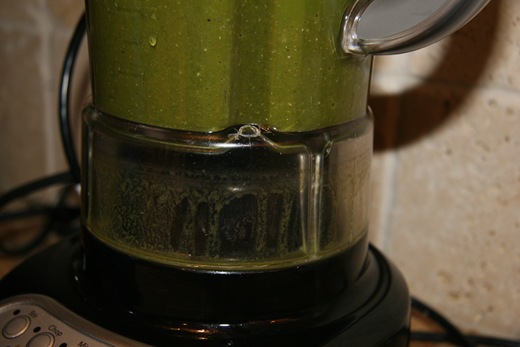 I actually just read some reviews on Amazon and apparently I am not the only one who has had this problem! The lid also doesn't stay on properly so I have to stand there and hold it on.
Hrmph! I am going to call their customer service to see if they can send me a new one. Worth a shot, right?