Holy smokes it's Friday again!
I swear it feels like it was just Friday.
Yesterday's workout was FUN. I love the feeling of renewed enthusiasm after a day off.
I did a 3 mile run:
3 min walking warm-up
Mile 1: 6.0 mph, incline 2%
Mile 2: 6.5 mph, incline 5% (such a hard mile!!!)
Mile 3: 6.0 mph, incline 2%
2 min walking cool-down
Mile 2 was a LONG, hard mile. I stopped half way through to get water. After the run, I did the ab-solute workout (18 mins of abs) and Booty Booster workout from the Booty Camp Fitness DVD.
Since I have been doing strength training my appetite has gone way up! I wonder if that is because my body is expending more energy repairing my muscle tears? Either way I have been one huge Hunger Monster lately.
This morning I woke up COLD. A Green Monster or juice was not going to cut it.
I was really excited to try out this new product: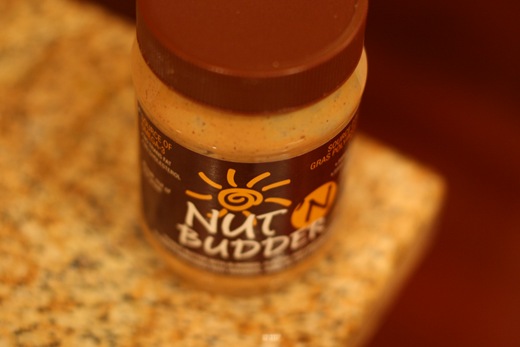 Nut 'n Budder contains peanuts, almonds, flaxseed oil, organic sugar, and flaxseed. It is only available in Canada right now (you don't hear that on blogs too often!). It is seriously addicting, subtly sweet, and very creamy.  I had to hide it in the back of the Lazy Susan! :mrgreen: I could *probably* find it if I really wanted to though…if you catch my drift…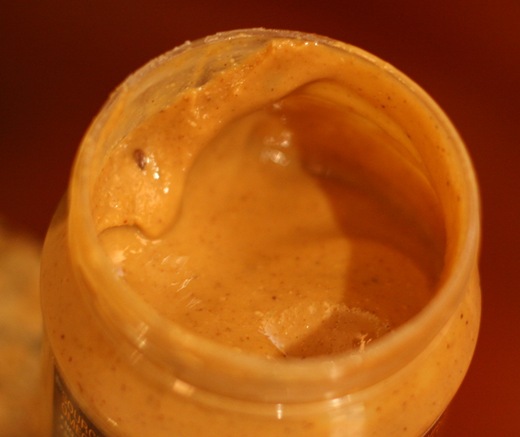 Creamy PB + J Oatmeal Parfait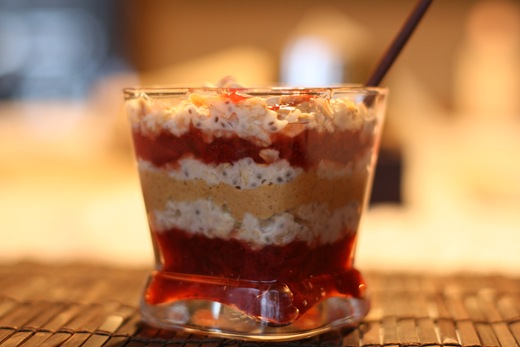 Ingredients:
2/3 cup regular oats
1 T chia seeds (optional)
1/3 cup coconut milk
1/2 cup almond breeze
1/2 cup plus a bit more water
pinch salt
1/2 banana (optional- I didn't have one so I used chia seeds to thicken it up nicely)
Layers/Toppings:
Directions: Mix together oats, chia seeds, coconut milk, salt, banana, almond milk, and water. Bring to a boil and then cook on low, stirring frequently, for about 10 minutes. Take a glass and drop in a layer of jam, then oats, then PB, then oats, then jam, etc. Sprinkle with peanuts and enjoy!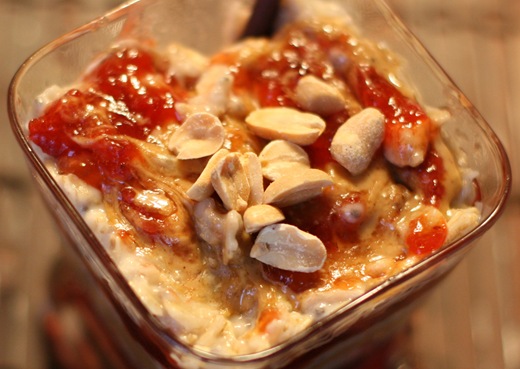 YUM!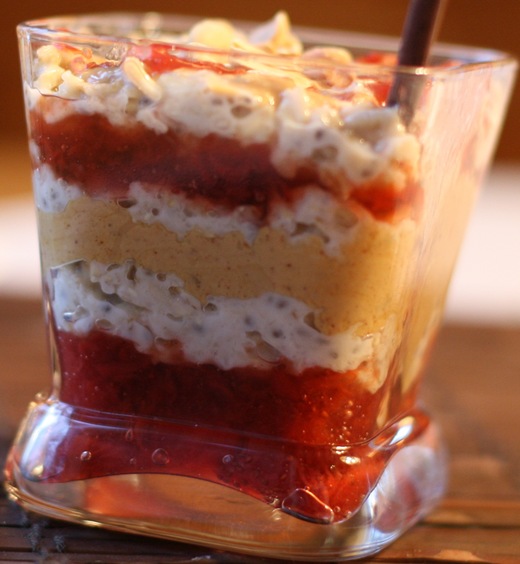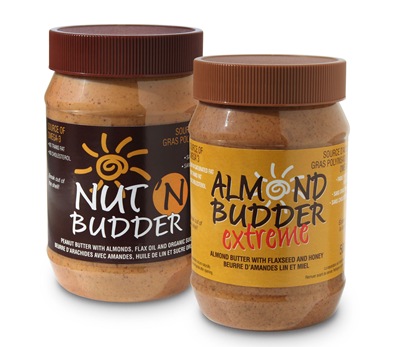 Would you like a chance to win a jar of the Almond Budder Extreme and Nut 'n Budder?
Leave one comment below.
If you want you can tell me your all time favourite FICTON book! (Yes, I am in the market to start fiction reading again and looking for good ideas!!) :mrgreen:
Contest is open to US and CAD residents only please.
I will be selecting TWO winners. Contest open until tonight at 11pm EST.
Have a great Friday!