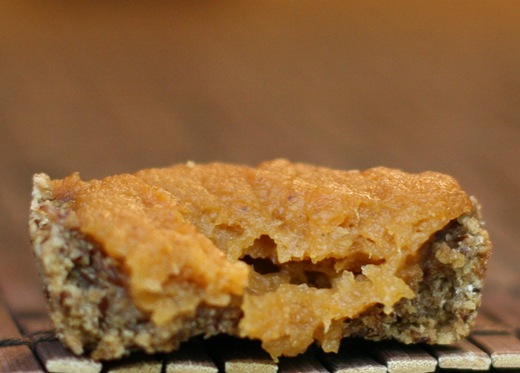 Happy Thanksgiving to all!
Even if it is not Thanksgiving where you live, you can enjoy this deliciously healthy pumpkin treat! These are a spin-off of the hugely popular Peanut Butter and Jam Glo Bites.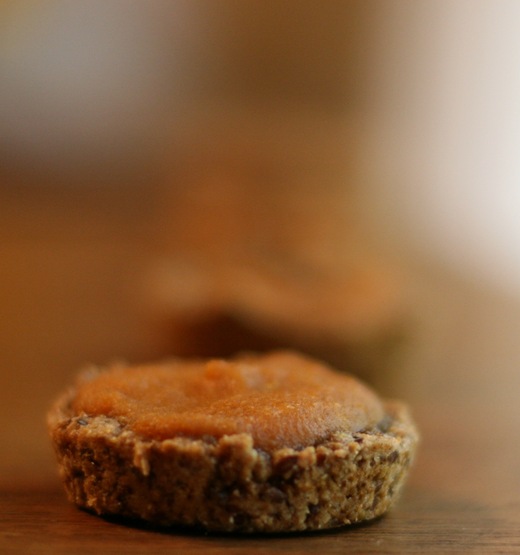 I decided these would be the perfect breakfast for Thanksgiving morning for Eric and I. They are decadent, but not overly sweet and they have a fabulous spelt crust. We both loved them and I enjoyed mine with some delicious spiced tea. No better way to start the Holiday Monday!
Vegan Spiced Pumpkin Pie Glo Bites
Ingredients:
Crust
1/4 cup Earth Balance (vegan margarine)

1/4 cup sucanat (brown sugar probably works)

1 cup spelt flour

1/4 c milled flax

1 t cinnamon

1-2 tablespoon almond milk (if crust is dry- mine was)
Filling:
½ t baking powder

1 t vanilla

1/2 teaspoon cinnamon

pinch nutmeg

¼ cup Whole Wheat Pastry Flour

¼ cup cane sugar (or regular white)

½ cup canned pumpkin

½ cup almond milk

Dark Chocolate chips (optional)
Directions: Mix crust together with a hand blender in a medium sized bowl. Place approx 1 tablespoon of crust in a regular muffin tin. Press down to create a mini crust making sure the crust comes up on the sides a bit. Add approximately 2 teaspoons of filling and top with dark chocolate chips if preferred. Bake at 350F for 15-20 minutes. Makes 8-12 bites depending on how thick you make the crust. Ours made 10.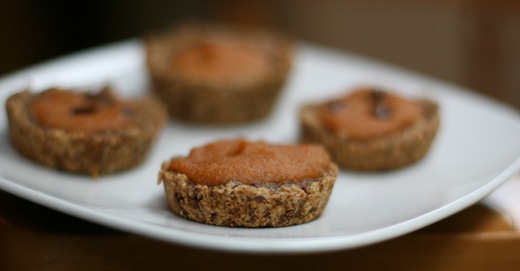 I should have doubled the batch! ;)
Next time I might also try adding a bit of silken tofu to the filling as a thickening agent and a great way to get some more protein in there.
Now it's time to get to work!
Do you eat more pumpkin in the Fall season? What is your favourite way to eat it?
I know I do. I love adding it to my Green Monsters too. My goal is to make a vegan pumpkin pie this Fall.