Top of the morning to you!
First up I have another Project Natural Glow product review. I bought this facial cleanser after a tip from a reader who told me she fell in love with this face wash called Desert Essence Throughly Clean Face Wash.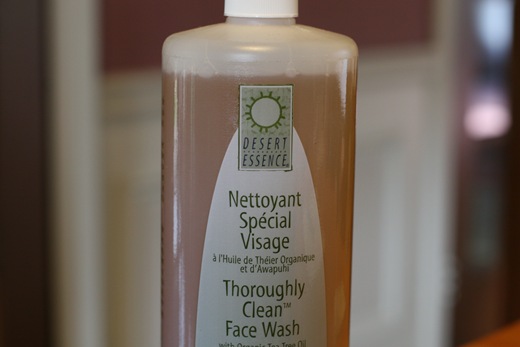 I got this at Loblaws Superstore and they had two sizes. The regular size and this huge economy refill bottle. The refill bottle was much better value so I bought this for $18 CAD. It is huge! I have already been using it 3 weeks and I have barely made a dent in it. It will likely last me a year! It is just under 1 litre (32 fl oz.).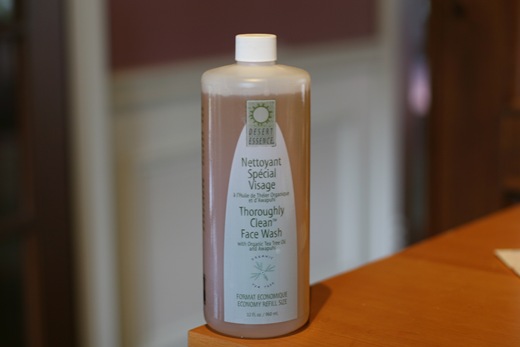 You may remember that the Tea Tree Oil I love is by Desert Essence.
It has a very short ingredient list: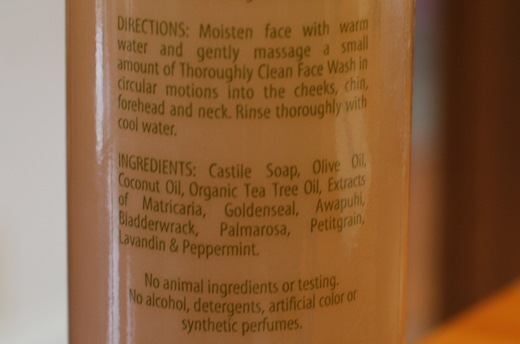 As I mentioned I have been using this for about 3 weeks now. I wanted to be sure that I was confident in my review.
So what did I think?
THE PROS:
Clean smelling
Tingly feel when washing
It had amazing suds
You only have to use a tiny tiny amount to lather it up (great value!)
It left my skin glowing and fresh looking
THE CONS:
The first time I used this I followed it with my Desert Essence tea tree oil which was a big mistake. It burned like crazy!!! I believe that the peppermint in the face wash interacted with the toner somehow, but I'm not sure. It burned and it made my face all red and dry. Lesson learned! I haven't done it since.
I do not suggest following this cleanser with any toner!
This part kind of sucks because now I don't use the tea tree oil toner as much. I try to use it for mid-day touch ups or when I use a different face scrub that won't interact with it.
My rating 4.25/5
All and all I am quite happy with this face wash. I love that it is all natural and that I am getting great value for this huge bottle! It also saves tons of wasteful packaging too.
Have you found any new Project Natural Glow beauty products recently? Share below!
~~~~~
More and more readers are facing their fitness fears…
I received this email from Sarah last night:
"Hi Angela!

I wanted to thank you for your Long Run post earlier today!! It inspired to take my barely-used gym membership, and run on a treadmill for the first time ever!  I can't believe how good I feel after doing the run 1-minute, walk 1-minute, intervals you suggested, and I did 2 miles today.  Thanks again for sharing your tips, and the story from Katrin as well!"
Congrats Sarah! Way to face your fears and rock that run! I think the great thing about running is that you can see progress really quickly and it is really motivating. :)
I know you are all probably tired of my running talk lately, but it has been such a huge part of my life lately and such a source of happiness for me I just had to spread my joy!
~~~~~~
Want to see the new pets we brought home this weekend?
Somehow two of the wedding centerpieces ended up in our hotel room- two Chinese Beta Flighting Fish to be exact!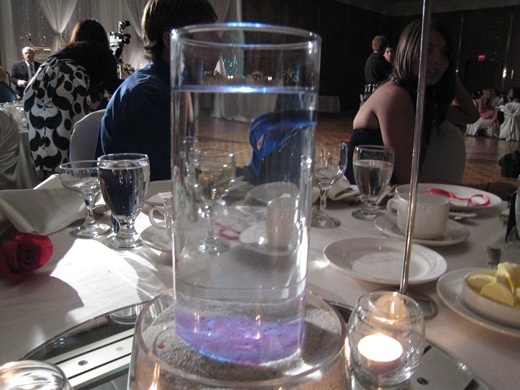 I didn't want to bring them home, but Eric insisted.
Meet Snitzelfritz and Jezebal: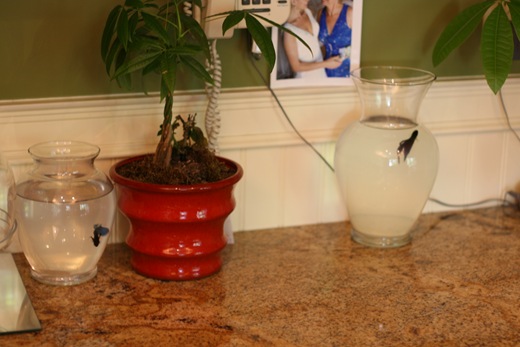 He said if we didn't bring them home, they would have been flushed down the toilet and no one else wanted to take them.
I have to tell you, I am NOT happy about having these fish. It is seriously upsetting me every time I walk into the kitchen and see them. I am very much against captivity of animals in all forms (yes, even fish!!!!) and it actually makes me feel really guilty seeing them in fish bowls. :( I am also really against Zoos. I made the mistake of going to the Toronto zoo a few years ago and it left me in tears because all of the animals looked so unhappy and bored. I think that animals should be in their intended habitat. I know that zoos can do a lot of good for endangered species and rehabilitation, but I do not support wild animals living their entire lives in a zoo.
I don't know what to do but they really look depressed in their tiny bowls. :( Unfortunately we don't have a fish tank (or the money to buy one). Should we give them away? If anyone wants them and can give them a happier home email me. :)
~~~~~
On a brighter note…
Glo Bakery US SHIPPING ANNOUNCEMENT!!
The time is almost here! It looks like I will be opening up US shipping officially on October 1st! Mark your calendars! I will likely open pre-orders the week before. Stay tuned for details! :D
~~~~~
PS- Another Vegan PB + J Glo Bite spotting!
Have a lovely morning!