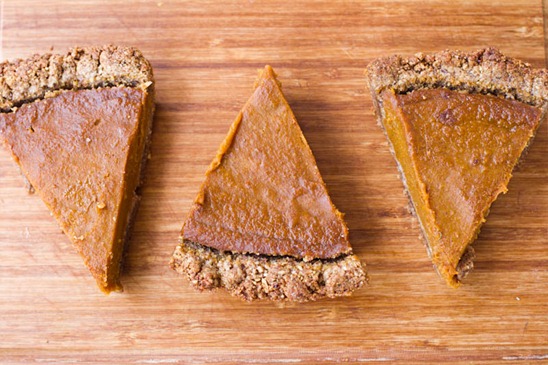 If you're like my family, you probably have some leftover pie after a big holiday meal. Or maybe you don't because Uncle Joe got up at 2am, cleared the place out, and then blamed it on Scruffy! Poor Scruffy.
The next morning, no one really has the nerve to make the first move on the leftover pie. Some might declare, "Oh I simply couldn't imagine eating pie right now!" grasping their stomach in embarrassment. Others nod in agreement, secretly wishing they would leave the room so they could have a slice for breakfast.
After my pumpkin pie testing, I was left with a lot of pie. Eric brought a bunch to work last week (frozen, so it wouldn't turn to mush during his commute), but I was left with almost a full pie calling my name from the fridge. Having a pie in the fridge for no reason is like listening to an annoying, loud ticking clock; it can drive a person crazy after a while! Instead of picking away at it over the course of the week, I thought it would be fun to take the leftover pie and repurpose it into another recipe.
A recipe I could rationally eat for breakfast and not feel like a crazy person…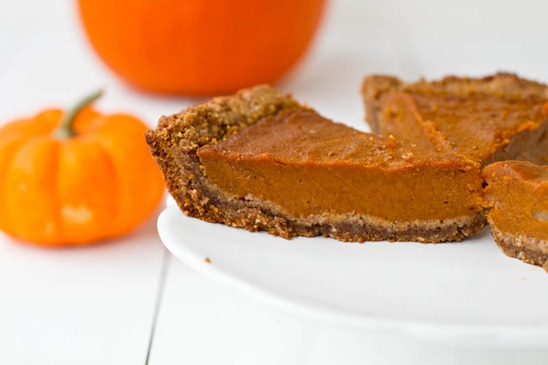 [Click here for this delicious vegan and gluten-free pumpkin pie recipe!]
Pumpkin Pie in a brunch recipe sounds pretty crazy though, doesn't it? I know, I know, but trust me on this one. The recipe didn't turn out super sweet or overpowering for a morning meal. Because I didn't make my pie filling super sweet, it actually works really well in a baked oatmeal recipe. It's fluffy and super creamy thanks to the pumpkin filling interspersed throughout. My favourite part is getting a big hunk of pie and crust in the same gooey bite. It's heaven! And it's why this makes the perfect holiday brunch recipe.
Here's how to turn your leftover pie into a brunch recipe your whole family can enjoy….might I say, it's really easy as pie.
Grab your leftover pie and chop it up to make about two and a half cups. Your family will probably wonder if you've gone crazy, but just ignore them! They will see the light soon.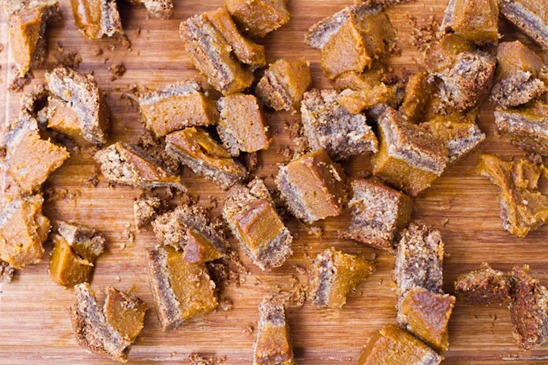 Bite-sized pie is fun…real fun.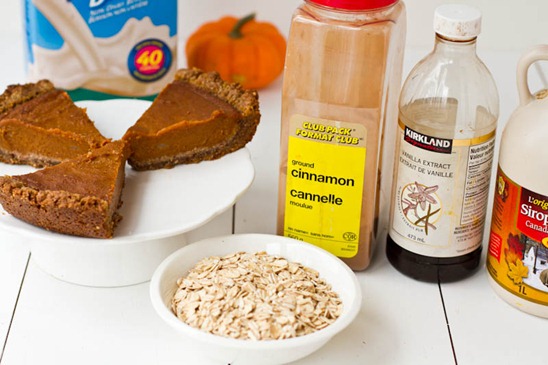 I had a feeling that this would be a killer holiday brunch recipe and a great way to use up pie. Bonus points for you if you use my Vegan Pumpkin Pie with a Sweet and Salty Pecan Crust as that's the version I used. I can hardly contain myself around it. The pecan crust was to die for in this breakfast casserole. Of course, you could use any flavour of pie you want. Apple pie would be really good too!
I mixed up my oatmeal ingredients: rolled oats, almond milk, ground flax, vanilla, spices, maple syrup, and baking powder. Just basic oatmeal stuff!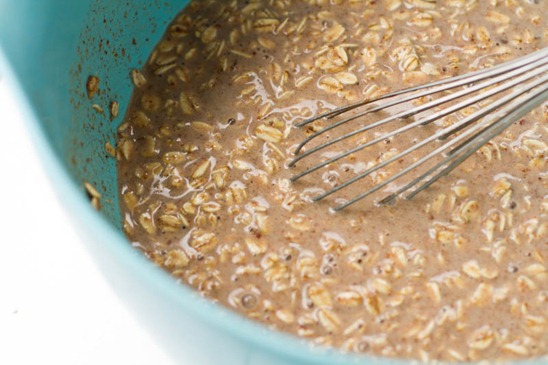 and then I stirred in my chopped pumpkin pie to make it all chunky and wonderful…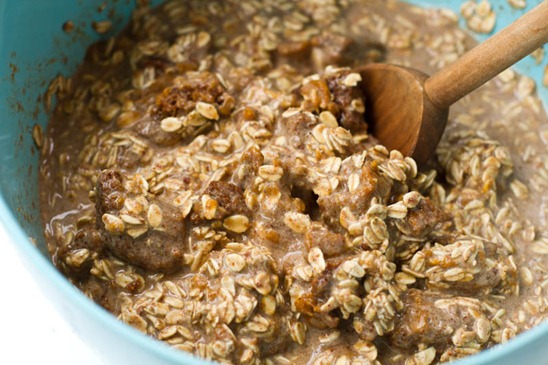 I spread it into a greased casserole dish and then crumbled a bit of pie on top for a "streusel".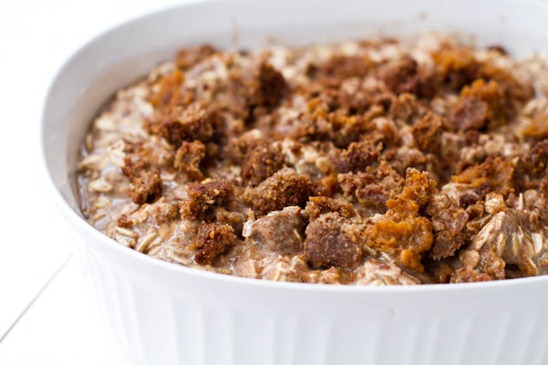 Bake for 30 mins. at 375F.
And just like that, you have a drool-worthy pumpkin pie breakfast casserole to share with the entire family!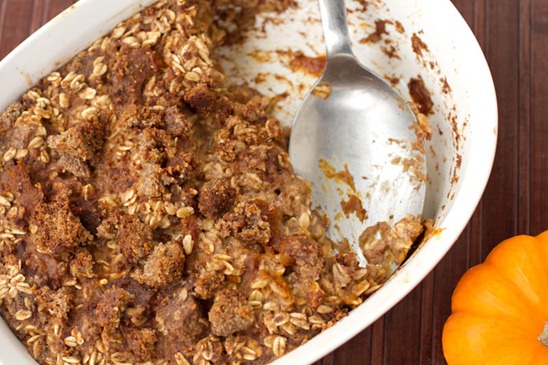 Or hide it from your family. Yes, you might want to hide it.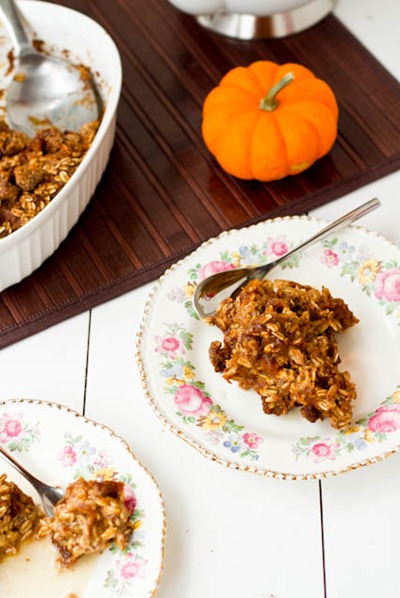 Pumpkin Pie Holiday Breakfast Casserole
This is such a fun holiday breakfast that could become a tradition each year! You'd think it would be crazy sweet, but it's really not. The pumpkin pie is quite spread out so it doesn't overwhelm, but it's present enough to taste like you are eating pumpkin pie in breakfast form. Serve with a drizzle of maple syrup and almond milk or some whipped coconut cream to garnish.
Yield: 6 servings
Ingredients:
2 cups rolled oats
3 tbsp ground flax (or chia seeds)
1.5 tsp ground cinnamon
1/2 tsp nutmeg
1/2 tsp ground ginger
1/2 tsp kosher salt
1/2 tsp baking powder
2 cups almond milk (or other non-dairy milk)
2 tsp pure vanilla extract
1/4 cup maple syrup, or to taste
2.5 cups leftover chopped pumpkin pie (or other flavour) approx 3-4 slices, divided
1. Preheat oven to 375F. Chop 3-4 slices of leftover pie to make 2.5 cups of chopped pie.
2. In a large bowl, mix together the dry ingredients. Now add the wet ingredients and stir well. Adjust sweetener to taste. Fold in 2 cups chopped pie gently. Crumble remaining 1/2 cup of pie on top for a "streusel".
3. Pour into a greased casserole dish and bake at 375F for 30 minutes or so.
4. Serve with a drizzle of maple syrup and almond milk. Add a dollop of whipped coconut cream to garnish if desired.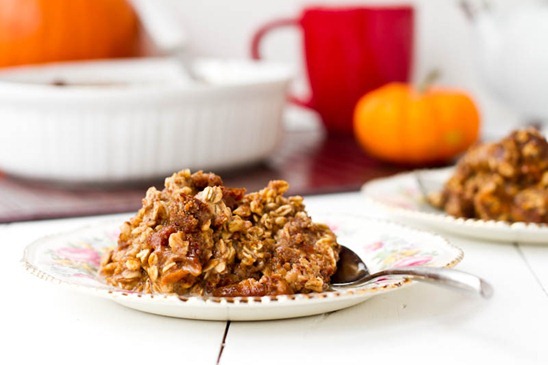 I won't tell you how crazy good this was. Or even how good it was the next morning eaten cold. Or how good this was as a post-run snack.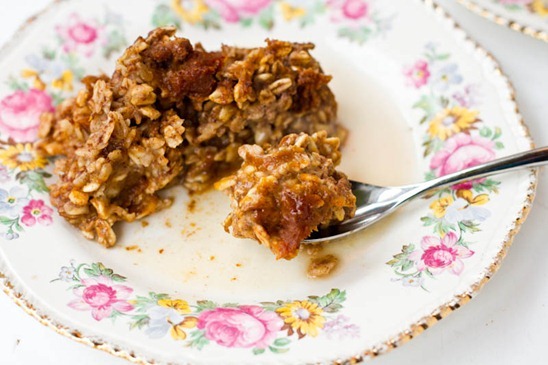 I just had a cool idea for this recipe…it would probably be good if you stirred in some leftover canned pumpkin right into the oats before baking! *dies* why did I not think of this earlier? I have pumpkin to use up too. If you are going to stir in some canned pumpkin I would add about half a cup and then adjust the sweetness as desired since the pumpkin will make it a bit less sweet. Please let me know if you try that out!
By the way, I've created a page just for my vegan Thanksgiving recipes…you can check it out here. Have a happy, safe, and delicious Thanksgiving to my American readers!
Be sure to check back this week…I have some surprises up my sleeve!