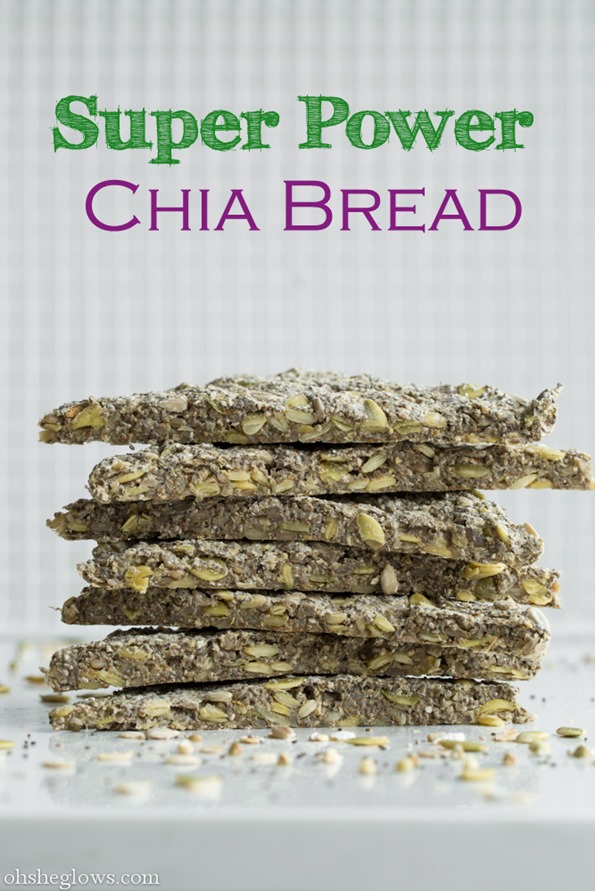 Tomorrow, I'll be flying from Toronto to Vancouver and then from Vancouver to Portland, on my merry way to the Vida Vegan Conference! I seriously can't wait. In my typical fashion, I've been dealing with a lot of anxiety about this trip, but I'm sure I'll be having too much fun to even notice it. I mean, come on – it's Portland – only one of the most vegan friendly cities in the world! I'm looking forward to meeting the wonderful people behind many of the blogs I read each day.
Of course, before all the fun happens the traveling has to take place. If I'm going to be traveling for 9-10 hours, I want to have something exciting to look forward to (and of course I mean healthy, great-tasting food). What is it about being trapped on a plane that makes me so hungry? With just a little preparation, I'll be feasting like a queen. A good book, music, and in-flight TV never hurts either!
This week I racked my brain to think of a new food to bring on the flights. At first, I thought of my Endurance Crackers, but then I decided they were slightly too delicate for travel. I played around with the recipe and this is what I came up with. I'm happy to say this power bread turned out exactly as I hoped. It's bursting with chia seeds (1 tablespoon per slice!) and it also happens to be gluten and nut-free, making it friendly for many travelers. Best of all, it's perfectly sturdy for travel.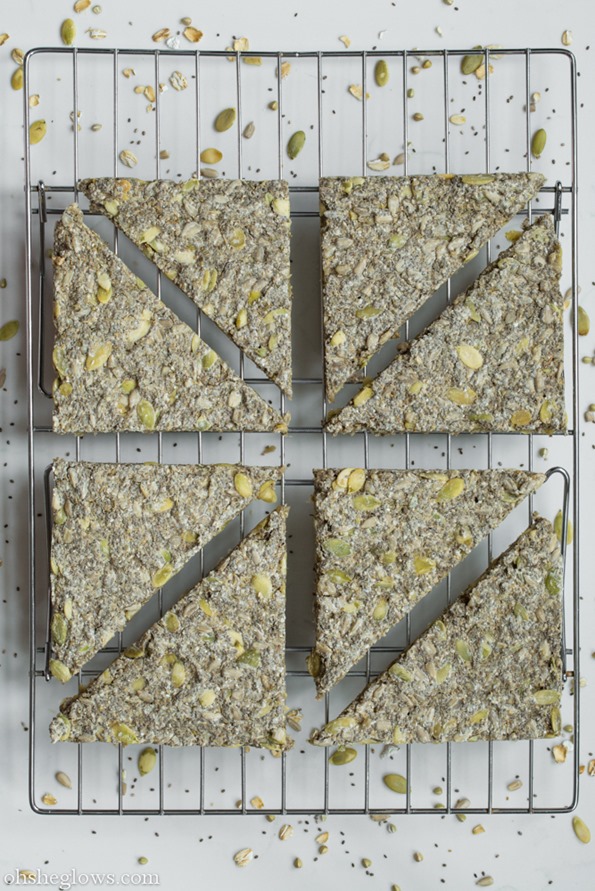 Plus, it's only 5 minutes to prep which is a huge bonus, especially when getting ready for a flight. Just like my Endurance Crackers, you simply dump the ingredients into a bowl and stir in water. After that, I spread it into a 9-inch baking dish and baked it for 25 minutes.
Now this is some quick and easy bread – ready in 30 minutes flat! It disappears just as quickly. Try it with all kinds of toppings. I personally love hummus, avocado, and Herbamare as well as almond butter and strawberry jam.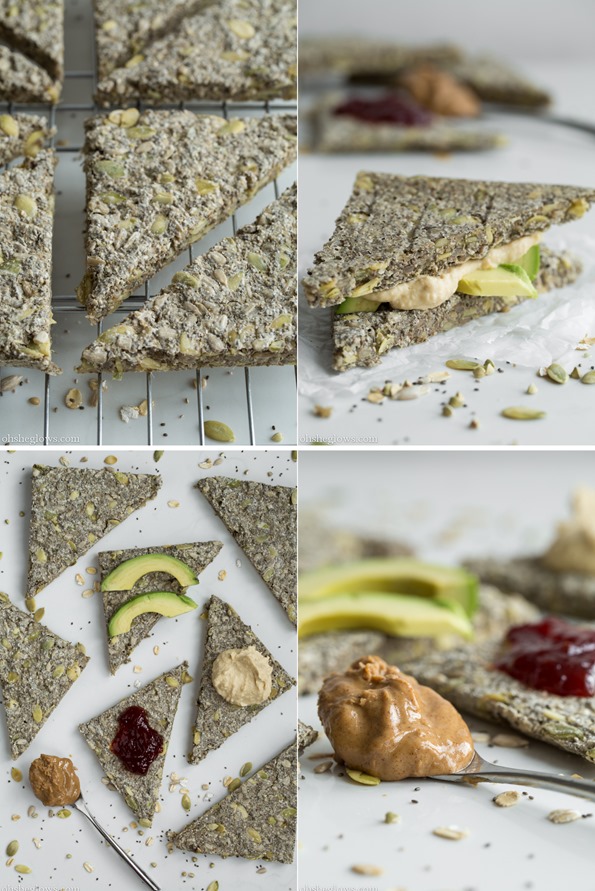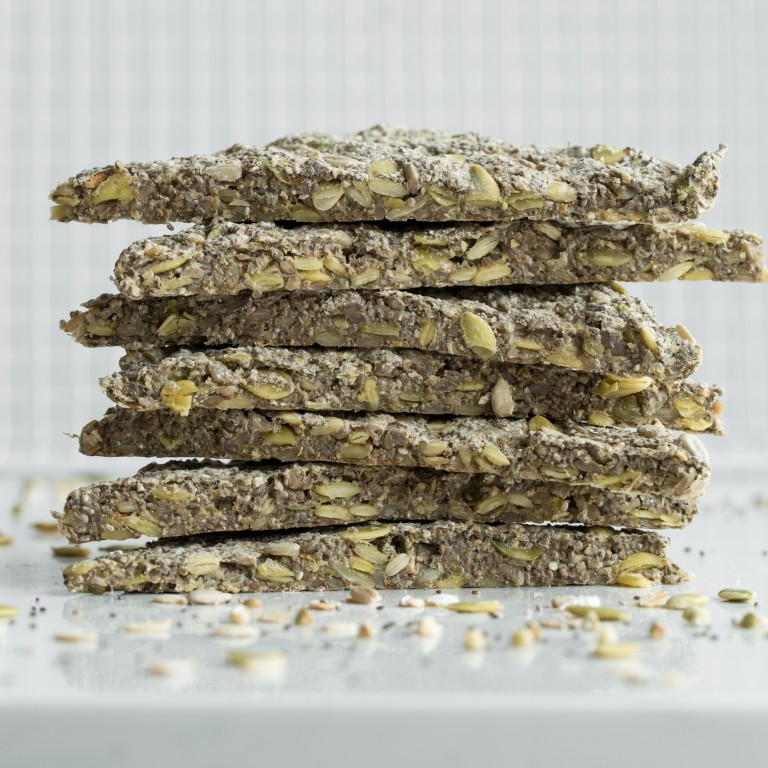 Super Power Chia Bread
Vegan, gluten-free, nut-free, soy-free

Yield

4 slices
Prep time

Cook time

Total time

Thick, hearty, and dense – this isn't your average slice of bread! Packed with 9 grams of protein and over 7 grams of fibre per slice, this bread will keep you going for hours. Inspired by Endurance Crackers.
Ingredients
1/2 cup chia seeds
1/2 cup raw sunflower seeds

*

1/2 cup raw pumpkin seeds
1/2 cup gluten-free rolled oats, ground into a flour
1/4 cup raw buckwheat groats, ground into a flour (or more oat flour)
1 tsp dried oregano
1 tsp sugar
1/2 tsp dried thyme
1/2 tsp fine grain sea salt
1/4 tsp garlic powder
1/4 tsp onion powder
1 cup water
Directions
Preheat oven to 325°F and line a 9-inch square pan with two pieces of parchment paper, one going each way.
Add rolled oats and buckwheat into a high-speed blender. Blend on highest speed until a fine flour forms.
Add all dry ingredients into a large bowl and stir well until combined. Stir in the water and quickly scoop this mixture into your prepared pan. Spread it out with a spatula as evenly as possible. You can use lightly wet hands to smooth it down if necessary. Sprinkle the bread with Herbamare or fine grain sea salt before going into the oven.
Bake at 325°F for about 25 minutes, or until firm to the touch. Let cool in the pan for 5 minutes and then lift it out and transfer it to a cooling rack for another 5-10 minutes. Slice and enjoy!
This bread keeps for 2-3 days max – any longer and it gets gummy in texture. I suggest freezing it for enduring freshness. I like to toast it straight from the freezer!
Tip:
1) I made a batch without sunflower seeds and it still turned out great. I'm sure you can play around with the seeds (or even add nuts!) and reduce them if desired.
2) A reader successfully made a batch using brown rice flour and quinoa flour- I'm sure you can play around with the flours too.
3) I'm not yet sure how long this stays fresh for – my guess is a couple days. However, I expect it should freeze well, but I have yet to try it. I'll update this when I do and be sure to leave your own tips in the comments section!
Nutrition Information
(click to expand)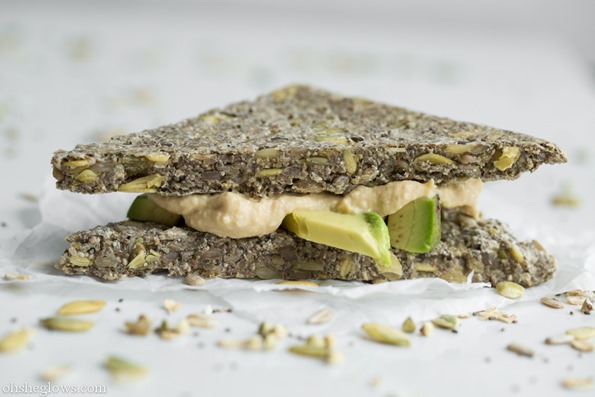 I hope this bread brightens up your own travels or busts you out of a lunch or breakfast rut. I'd love your feedback on this recipe if you try it out or make other variations.
If you'd like to check out what I'm up to at the conference, you will most likely find me on Instagram documenting my journey. If you are attending the conference, I hope to meet you soon! Please come say hello!
What are your favourite foods to pack on a flight?