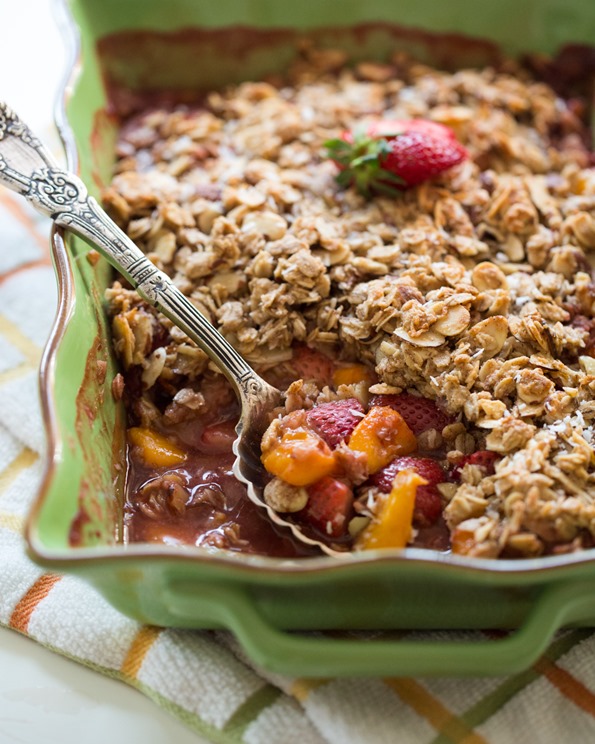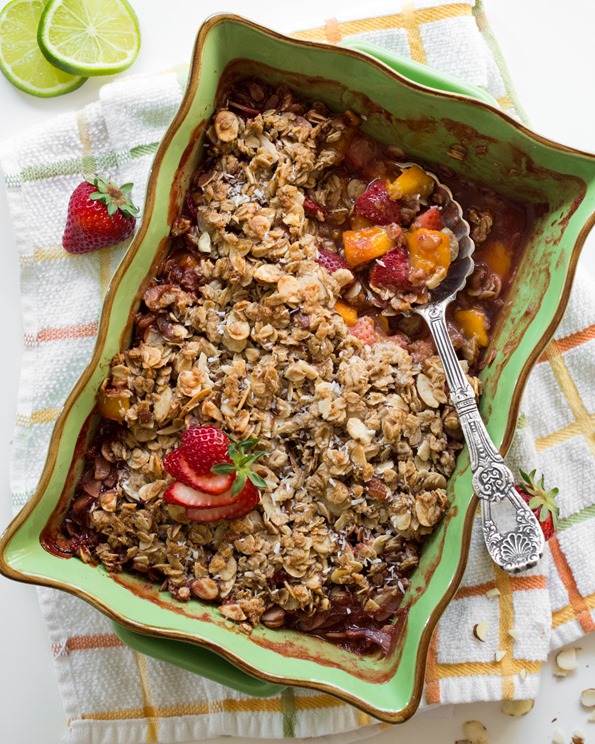 Dear Mom,
If we lived close by, I would make you this strawberry mango crisp for Mother's Day brunch. It's pretty, bubbly, and sweet, with many different layers. Just like you. There's a nutty layer too – wink, wink. (Two teenage girls in the house can do that to a person!) When I think back to my teenage years, I feel guilty about how much I took our relationship for granted. I'm irritated by my former self who thought it was so 'uncool' to be seen with my mom at the mall. If I could get those years back, I would've proudly walked by your side and invited you more places with me. In my mind, parents were often obstacles to having more fun. I thought you were too cautious and worried about my safety and I couldn't fully understand why you cared so much. Like that night I was really sick due to some poor choices and you sat beside my bed all night long, not sleeping a single wink, just to make sure that I would be ok. And then you grounded me like you should have. You knew that I wasn't invincible like I thought I was.
After the teen years, I started to appreciate our relationship more with each passing year until one day it dawned on me that you are one of my best friends. You are one of the first people I share good news with or when I have a problem that needs sorting out. You have this magnetic smile that always makes me feel lucky to witness. I don't have to worry that you'll be bitter about my successes or secretly happy about my setbacks. Your love and support is as genuine as it gets.
This Mother's Day has a new meaning in my life. I now understand why you were so afraid of losing me and why some days it was incredibly hard to let me go. The mother-daughter bond is a complicated one with many ups and downs, but it's one that I can't wait to navigate with my own daughter.
With love to you and all the mamas,
Angela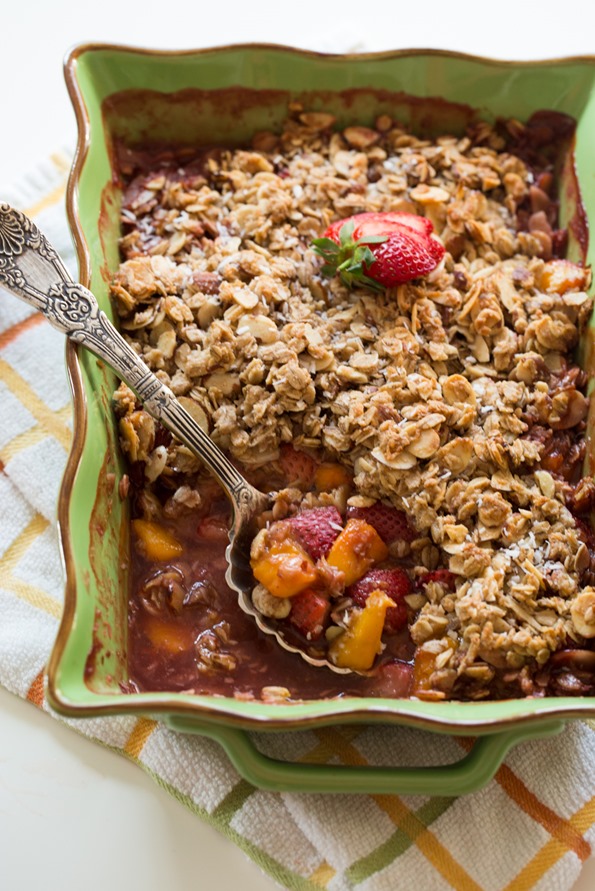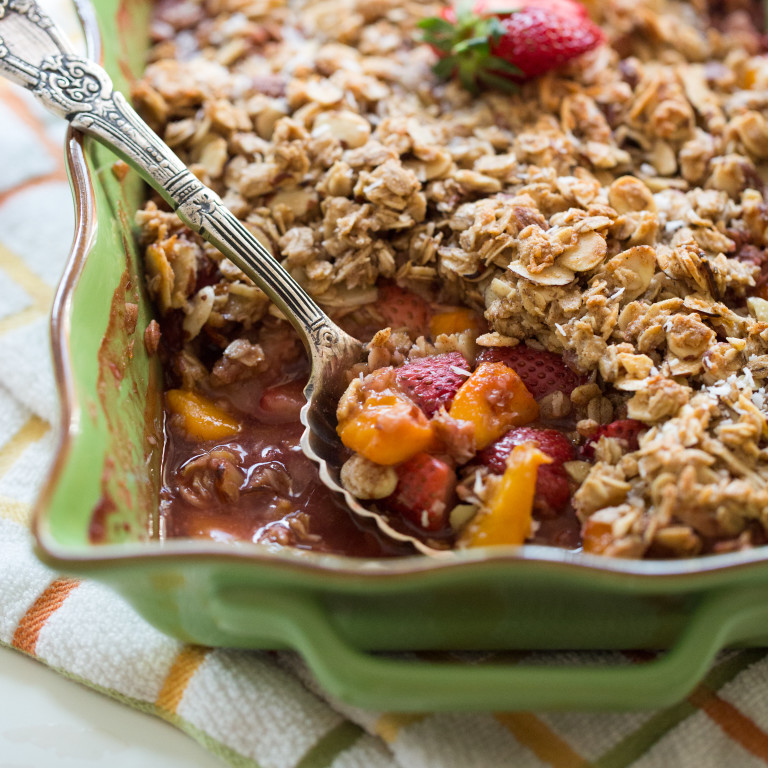 Springtime Strawberry Lime Mango Crisp (Vegan + GF)
Vegan, gluten-free, refined sugar-free, soy-free

Yield

6-8 servings
Prep time

Cook time

Total time

Fresh strawberries, buttery mango and tangy lime create a naturally sweet, gooey crisp with a crunchy almond-oat-coconut topping. I love making this crisp in the springtime when mangos and strawberries are at their peak. And when I say "crisp", I really like a crisp topping (which is what you'll find here). Serve it as a healthy weekend breakfast or alongside a brunch. I especially love it after it's chilled in the fridge overnight – the syrup thickens and the leftovers are irresistible the next morning. To turn it into dessert, add a scoop of ice cream. This recipe is adapted from the Apple Crisp in The Oh She Glows Cookbook.
Ingredients
FOR THE FILLING:
2 pounds fresh strawberries, hulled and chopped (about 5.5 cups)
2 cups chopped fresh mango (about 3 mangoes)
1 tablespoon arrowroot powder
3 tablespoons coconut sugar (or granulated sugar of choice)
1.5 tablespoons lime zest
1 tablespoon fresh lime juice
FOR THE TOPPING:
1 cup rolled oats, use certified gluten-free if necessary
1 cup thinly sliced almonds
1/3 cup almond meal or almond flour
1/4 cup unsweetened shredded coconut
1 teaspoon cinnamon
1/4 teaspoon fine grain sea salt
1/4 cup pure maple syrup
1/4 cup virgin coconut oil, melted
Directions
Preheat oven to 375F. Lightly grease an 8-cup (2 litre) casserole dish.
For the filling: Place the chopped strawberries and mango in a medium bowl and sprinkle the arrowroot powder on top. Toss until the fruit is coated.
Stir in the sugar and zest. Drizzle on the lime juice and lightly toss to combine. Pour the fruit mixture into the prepared dish and spread out evenly.
For the topping: In a medium bowl, stir together the oats, almonds, almond meal/flour, shredded coconut, cinnamon, salt. Pour on the maple syrup and melted coconut oil and stir until combined.
Sprinkle the topping all over the fruit mixture in an even layer.
Cover the dish with foil and poke a couple holes in the foil. Bake for 20 minutes, until the fruit is tender. Remove the foil and bake for another 15 to 20 minutes until the topping is golden and the filling is bubbling up around the sides.
Serve with a scoop of non-dairy vanilla ice cream, coconut whipped cream, or simply on its own. Store in the fridge for 3-4 days.
Nutrition Information
(click to expand)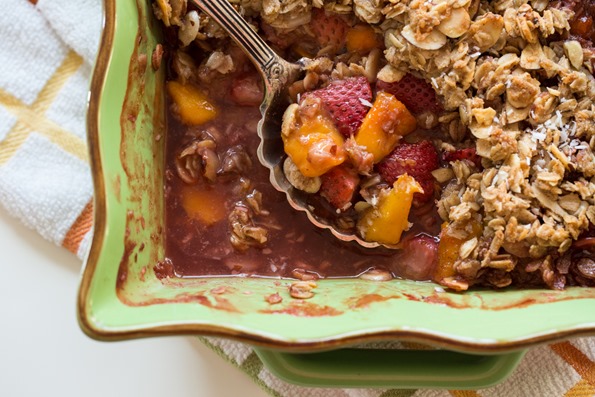 A couple quick updates:
– New Baby section on the blog
– I'm told that my Steven & Chris cooking segment is finally airing today. Fingers crossed!
Have a lovely weekend.