These are the bars you make for someone you're madly in love with.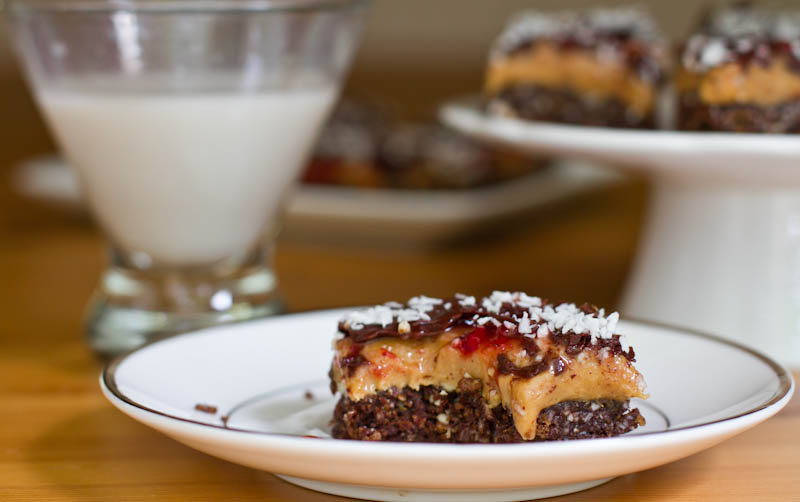 Or maybe just have a crush on.
These are the bars you make when you have a broken heart.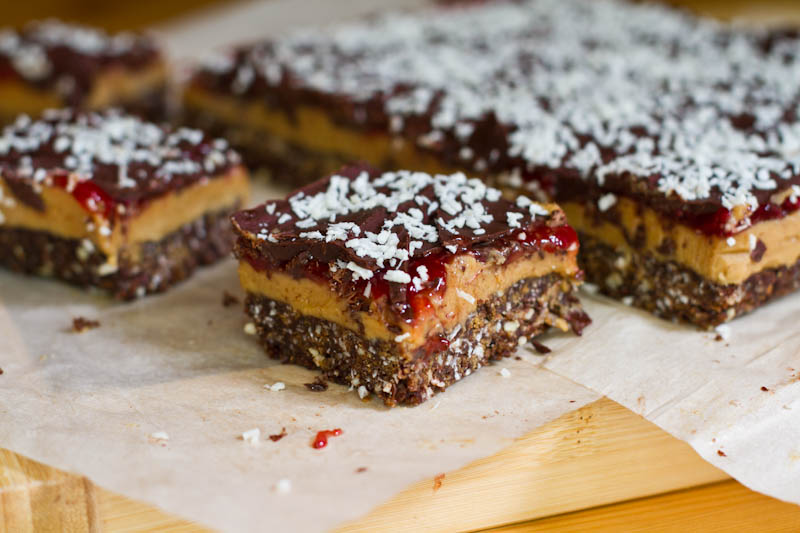 Or better yet, to celebrate being single.
These are the bars you make when you want to say I'm sorry for being a jerk face.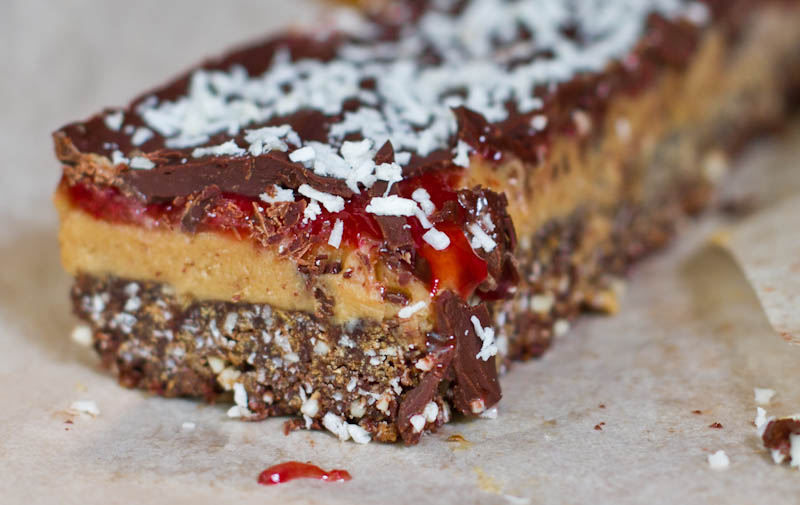 Or maybe Happy Belated Birthday.
These are the bars you make when you're celebrating 3 years of marriage and your husband has been dropping some serious hints about those amazing Nanaimo bars you made back in 2010.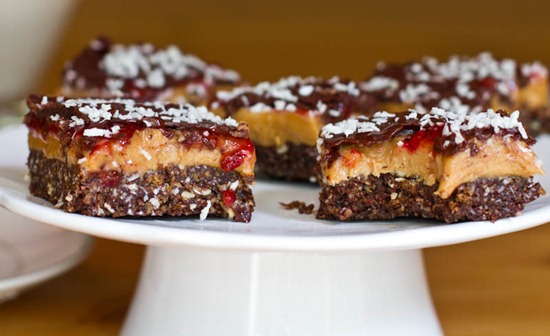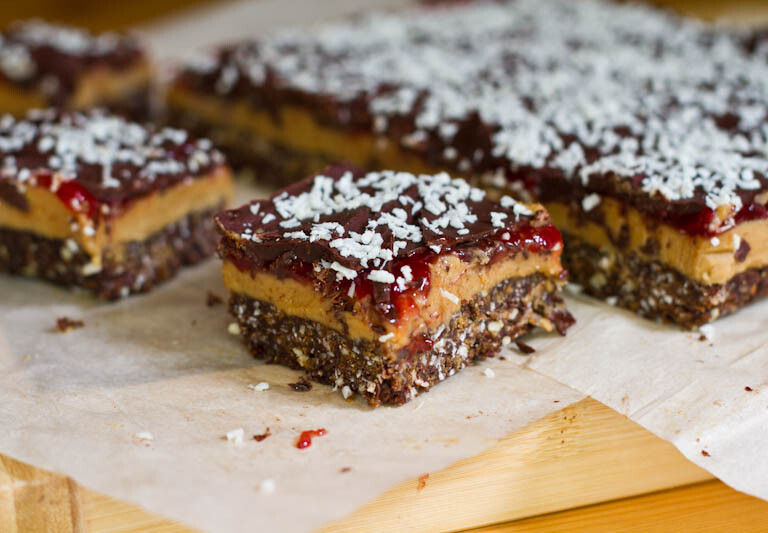 Peanut Butter and Jam Nanaimo bars

Yield

16 squares
Prep time

Cook time

0 minutes
Chill time

2 hours
Total time

Also known as: I Love You bars. Forgive Me bars. Bite Me bars. Anniversary Bars. Ange's New Favourite Dessert Bars. Or the always popular, Me Time Bars. There's always a good reason to make these scrumptious bites of peanut butter, chocolate, and jam! Be sure to keep them in the fridge as they will soften at room temperature. Use gluten-free graham crackers and they will be gluten-free to boot. Adapted from my other 3 flavours of Nanaimo bars and inspired by Guilty Kitchen.
Ingredients
For the bottom layer
1/4 cup sugar
5 tbsp unsweetened cocoa powder, sifted
1/2 cup vegan butter (or regular butter)
1 flax egg (1 tbsp ground flax + 3 tbsp warm water, mixed)
1 and 1/4 cup peanut butter graham crackers or store bought, processed into crumb
1/4 cup almonds, processed into crumb
1 cup unsweetened coconut
For the middle layer
1/4 cup non-dairy butter (I use Earth Balance)
2/3 cup powdered sugar (icing sugar)
2 tsp pure vanilla extract
1 cup smooth all-natural peanut butter (if firm, you may need to increase butter)
1/4 tsp kosher salt
1/3 cup strawberry jam
For the top layer
4 oz non-dairy dark chocolate chips (about 1/2 cup maybe?)
1 tsp coconut oil (or butter)
Shredded coconut, to garnish (optional)
Directions
Line an 8 inch square pan with parchment paper and grease with butter on all sides.
Bottom layer: In a small bowl mix the flax egg together (1 tbsp ground flax + 3 tbsp warm water). Set aside. In a saucepan, whisk together the butter, sugar, and sifted cocoa powder. Heat on medium to low and stir frequently until smooth. Now add in the gelled up flax egg and stir well. Now remove from heat and stir in the coconut, processed almonds, and graham wafer crumbs. Stir well and then mix with your hands. Press this mixture into your prepared pan, ensuring that you press it down very firmly. I used a pastry roller to smooth it out, but this is not necessary. Place in freezer to set.
Middle layer: In a medium bowl with an electric mixer, beat together all the middle layer ingredients except the jam until smooth. Spread middle layer over top the bottom layer with a wet spoon as evenly as possible. Now gently spread on the jam over top. Place in freezer to set.
Top Layer: Melt your chocolate and oil in a double boiler or in the microwave. Stir well until smooth. Remove the pan from freezer and spread the chocolate quickly over the top. Sprinkle coconut on top. Place back in the freezer for about 1 hour until set. Once set you can transfer it to the fridge to keep until ready or you can place it on the counter for about 10 minutes before cutting it into squares.
Tip:
The middle layer gets very soft at room temperature. Please keep in the fridge until serving.
Nutrition Information
(click to expand)
Did I mention these are no bake?
As if you needed another reason to make them.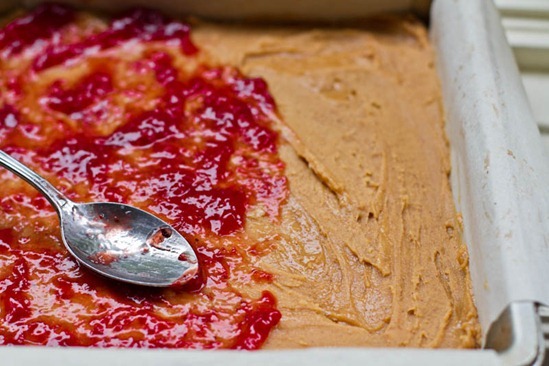 The graham coconut base is a cross between a coconut macaroon and a graham crust, with a chewy, moist, and chocolaty flavour that is impossible to resist. The middle layer is basically a peanut butter ball in bar form topped with strawberry jam and a rich chocolate coating sprinkled with coconut.
Hot damn.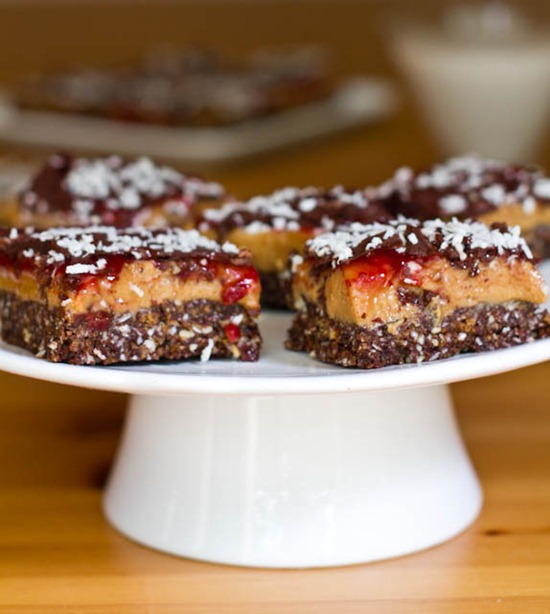 If these bars aren't the answer, I don't know what the question is.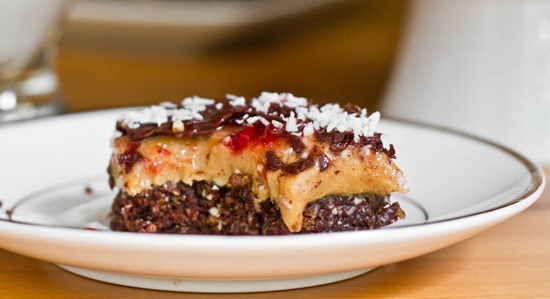 Happy 3rd Anniversary, to my one and only chocolate monster!

For photos and a video of our wedding day, check out this post (as well as some love butter muffins!).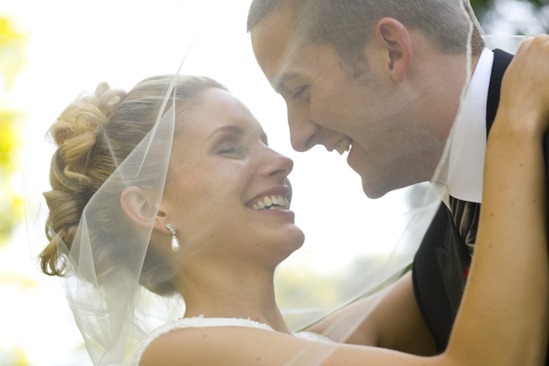 Now, where can I hide these so I don't eat them all before tonight?
Don't say "at my house"…your sticky fingers can't be trusted either!