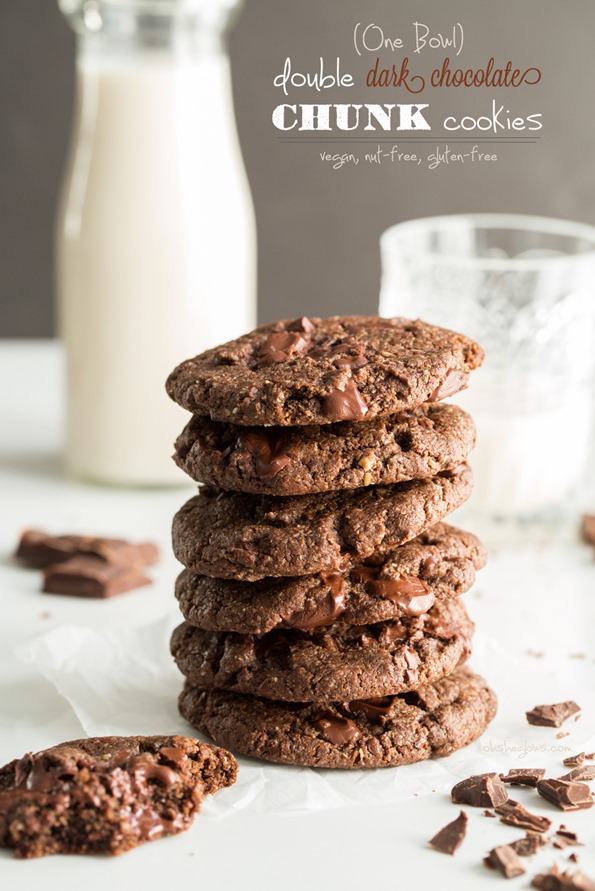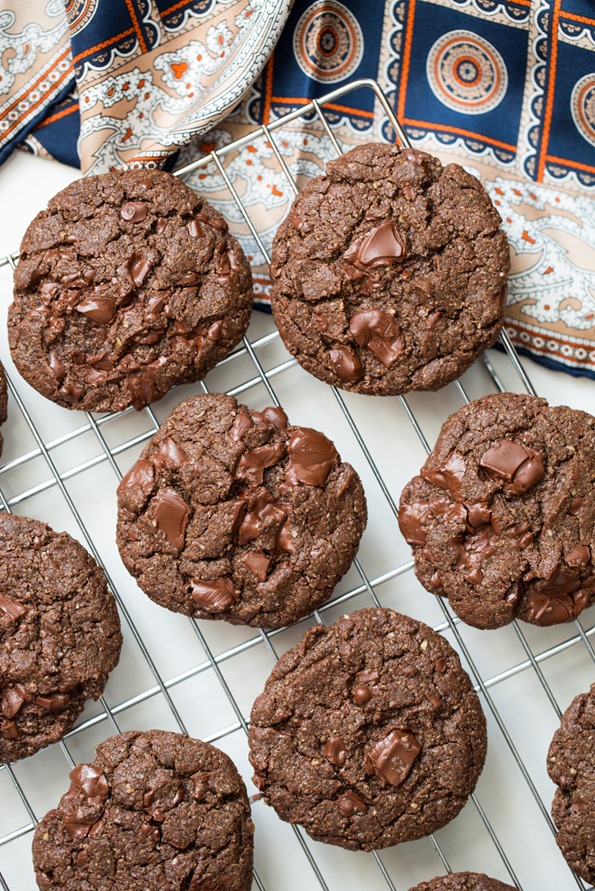 When a girlfriend spoils you with your favourite chocolate bars, you make double chocolate cookies. It's just what you do. No questions asked.
The other day I realized that I don't have many nut-free cookie recipes on the blog. Sure, my most popular Vegan Chocolate Chip Cookies are nut-free, but there really isn't much else that I could think of. In the name of comfort food and all things right on this blog, I decided to create the perfect crispy-on-the-edge-chewy-in-the-middle gooey double chocolate chunk cookie – free of nuts!
Heck yes.
Behold. That cookie.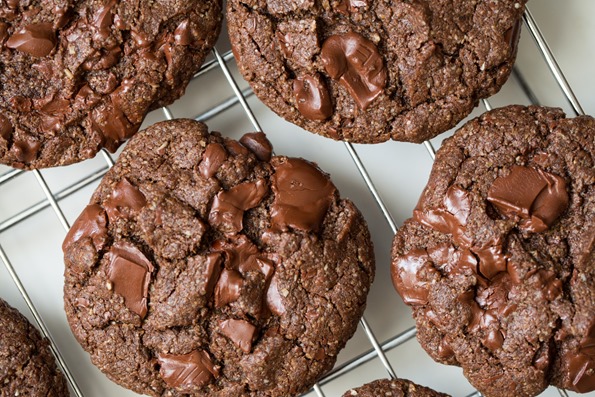 Some fun facts about these cookies…
~ virgin coconut oil replaces the need for butter
~ they are made with whole grain oat flour (and are gluten-free when using GF oats)
~ as I mentioned, these are nut-free!
~ recipe contains small amount of ground flax for some extra nutrition and a (cheap!) egg replacer
~ rich, gooey, crispy around the edges
~ satisfies the most intense chocolate craving
~ husband approved!
~ it's a one bowl recipe. I even made the flax egg in the same bowl to save dishes.
I'm not messing around here. No sir-ee.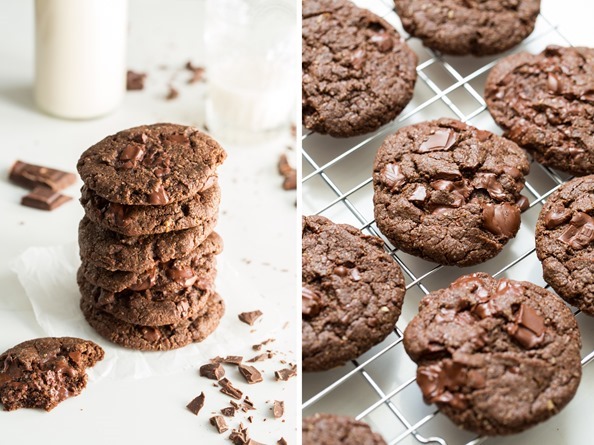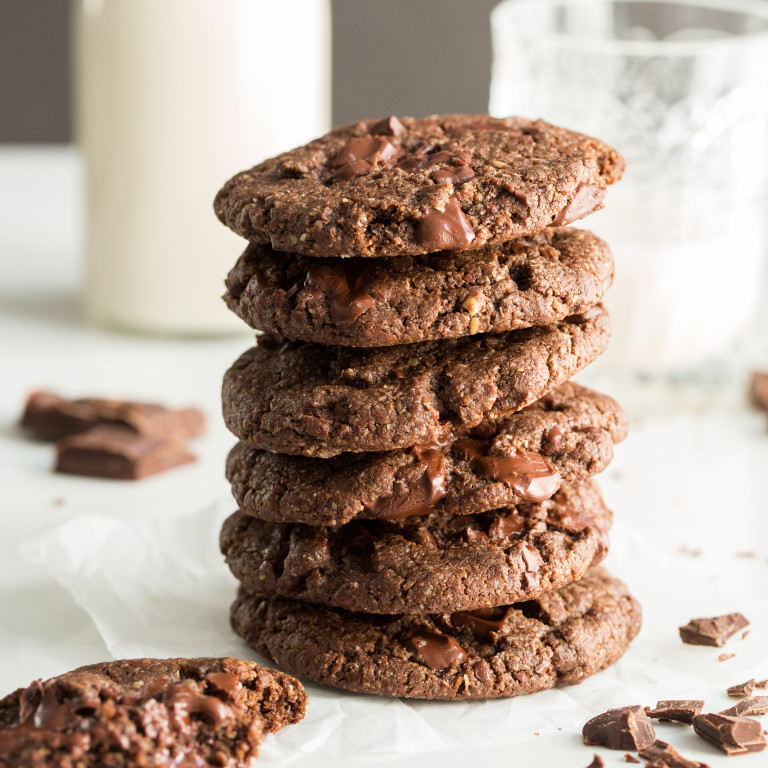 One Bowl Double Chocolate Chunk Cookies
Vegan, gluten-free, nut-free

Yield

1 dozen large cookies
Prep time

Cook time

Total time

Ingredients
Wet ingredients:
1 tablespoon ground flax mixed with 3 tablespoons water
1/4 cup virgin coconut oil (do not melt)
1/4 cup sunflower seed butter (see note)
1/3 cup unpacked brown sugar
1/3 cup natural cane sugar
1 teaspoon vanilla extract
Dry Ingredients:
1/2 teaspoon baking soda
1/2 teaspoon baking powder
1/2 teaspoon fine grain sea salt
3 tablespoons cocoa powder
1.5 cups gluten-free rolled oats, processed into flour (or 1.5 cups oat flour)
1-2 teaspoons non-dairy milk (only if needed to moisten batter)
100 grams finely chopped dark chocolate (1 chocolate bar)
Directions
Preheat oven to 350°F and line a large baking sheet with parchment paper. In a large mixing bowl, mix together the flax and water and set aside for a few minutes so it can thicken up. Whisk the flax egg again once thickened.
Add the rest of the wet ingredients into the bowl with the flax egg (coconut oil, sunflower seed butter, brown sugar, cane sugar, and vanilla). With a hand-held electric mixer, beat the ingredients until combined and smooth.
Now, beat in the dry ingredients, one by one, as you go down the ingredient list (baking soda, baking powder, salt, cocoa powder, oat flour). If your dough is a bit dry, add a teaspoon (or two) of non-dairy milk and beat the mixture again. The dough should be moist enough to form balls without cracking, but not super sticky.
Finely chop the chocolate (it should be the size of peas). Beat the chocolate into the batter or simply stir by hand.
Shape balls of dough (about the size of a golf ball or 2 heaping tablespoons) and place on the baking sheet 2-3 inches apart. Gently press down on each ball with your hand to form a disc (it should be 1/2-inch thick or so).
Bake for about 12-13 minutes (I baked for 13 mins) until the cookies are spread out nicely.
Cool cookies on the baking sheet for 7 minutes or so and then transfer to a cooling rack for another 10-15 minutes.
Tip:
Instead of sunflower seed butter, you can try peanut or almond butter (this means they will no longer be nut-free, of course)
To bring out the chocolate flavour even more, try sprinkling the cookies with a tiny amount of flaked sea salt before going into the oven.
To make this recipe soy-free, use a soy-free chocolate such as Enjoy Life brand.
Nutrition Information
(click to expand)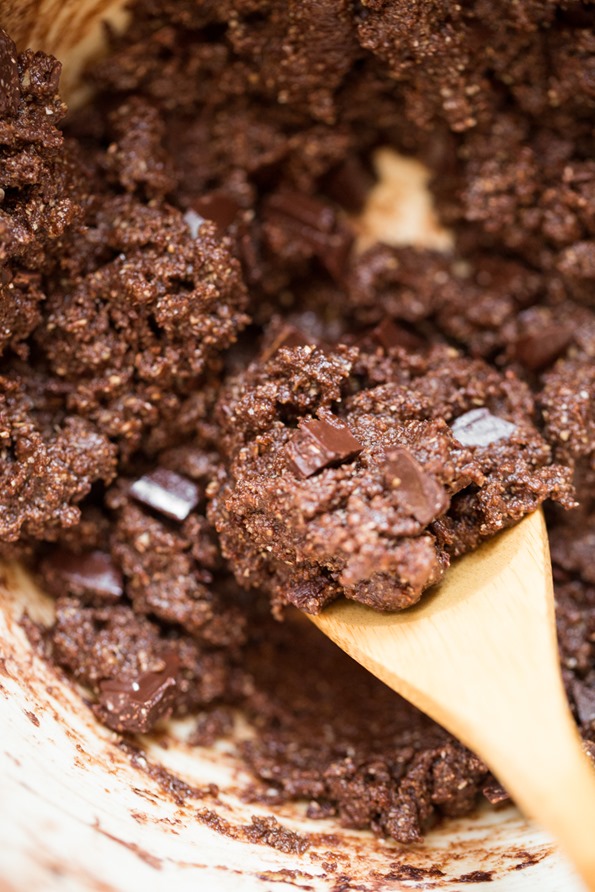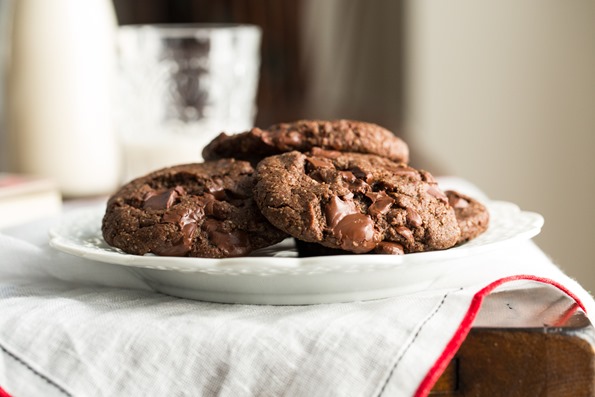 The Oh She Glows Cookbook Virtual Blog Tour
I'm excited to let you know that The Oh She Glows Cookbook Virtual Blog Tour kicked off yesterday! A big thanks to all the wonderful bloggers who are participating, making recipes, and sharing the book with others. I'll be linking to blogger reviews as they come in, so keep your eyes peeled. You can also find all the reviews on my Book page (the list will be updated frequently). Be sure to check out their posts for some cookbook recipes and sneak peak photos of the book!
Here are the reviews that have come in so far:
Kristina @ Spa Bettie (review + recipe)

Lisa @ Vegan Culinary Crusade (review + recipe)

Megan @ Detoxinista (review + recipe)

McKel @ Nutrition Stripped (review)

Jordan @ The Blonde Vegan (review, recipe, interview)
Social Media
Many of you have been sharing social media pictures of the OSG cookbook in local bookstores, as it arrives in the mail, and recipes you've already made (keep in mind most retailers haven't shipped yet, but Indigo is shipping early! Most books will ship on March 4th). So much fun. Please keep sharing your photos on twitter, Facebook, Instagram, and Pinterest using the hashtag #osgcookbook and also tag @ohsheglows #ohsheglows so others can see what you're making too. Thanks again for all your excitement and support!!
Last but not least, I've been asked for a Sketchie update. Thanks for your comments, personal stories, and thoughts about Sketchie in my last post, by the way. The surgery went well and he has been at the vet's clinic under their supervision for a couple nights. Miss him greatly!! It's amazing how many times during the day I go to do things "for Sketchie" only to realize he's not home! I'm picking him up this afternoon though. Fingers crossed he is in good spirits and doesn't hate me!