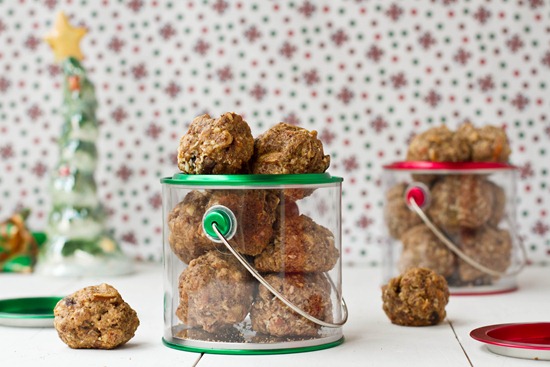 Some of you might remember that my Grandpa was diagnosed with Multiple Myeloma right around this time last year. He had a rocky start to 2011, but his strength carried him through some very tough times and he enjoyed a happy and stable summer and fall season.
He has unfortunately encountered another set back with his health over the past week. He battled a blood infection which landed him back in the hospital. He overcame it with antibiotics, only to find himself with yet another mysterious blood infection, fighting for his life, as of yesterday. It's been a shock to our family as the doctor said he was in remission just before this all happened.
All this has made me realize that every day we wake up in good health is a day to celebrate. Forget about being down on yourself for the number on the scale, the guilt over yesterday's indulgences, and whether you think you look "perfect" in your holiday dress.
If you wake up healthy, it's already a great day.
and my Grandpa would argue, even if you wake up unhealthy it can still be a great day.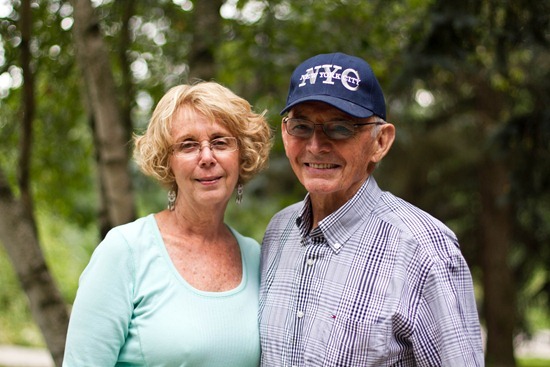 This past summer, Grandpa was the best I had seen him since his diagnosis last December. He was vibrant, active, and loving life. Despite his cancer, he carried on life as usual working up at the cottage, visiting with family, and doing renos all summer long.
He's taught me so much in my life, most importantly, with the right attitude and faith, anything is possible. He is a true role model in my life.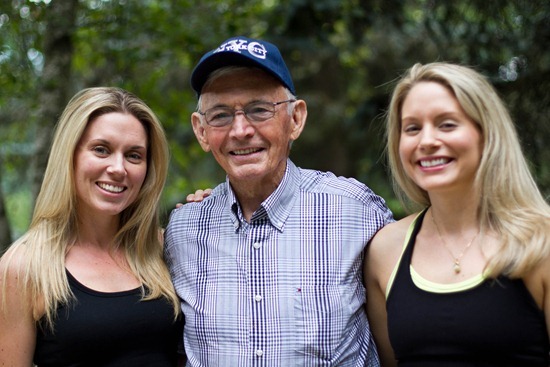 Did I mention he already beat cancer once in his life? He's one tough cookie!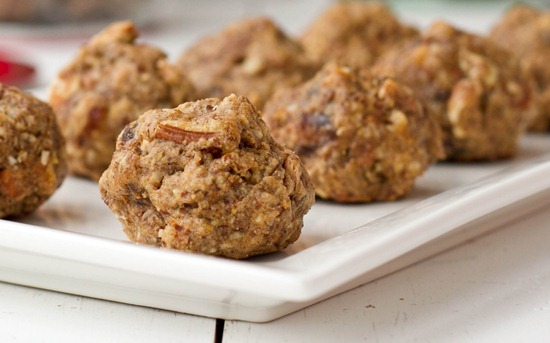 I actually made these cookies before I found out the news, but in a way, they oddly remind me of my Grandpa. They are both tough cookies.
And of course, I mean that in the best way possible. :)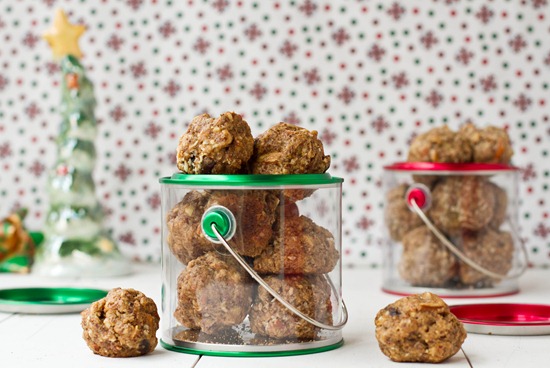 [print_this]
Nutcracker Cookies
I wanted to come up with my own vegan Christmas cookie this year. After a lot of brainstorming, I envisioned a hearty, nutty cookie with a crisp, toffee-like exterior and a chewy, doughy middle. After several trials, that's just what they are. Don't let their homely appearance fool you either, these are one of our favourite cookies to come out of the oven. Toasting the nuts beforehand results in an incredibly flavourful cookie, so don't skip it. The most important tip I can give you is not to undercook them. You'll want a golden brown bottom, almost toffee-like in appearance, for the middle to be cooked enough. You'll see what I mean below.
Yield: 14 cookies
Ingredients:
1 cup mixed raw nuts (I used 1/4 cup almonds, 1/2 cup chopped pecans, 1/4 cup walnuts)
1/4 cup Earth Balance*, melted
1/2 cup packed organic brown sugar (105 grams)
1 tbsp almond milk or other non-dairy milk
1/2 tsp vanilla extract
scant 1/2 tsp kosher salt
1 tsp cinnamon
1/4 tsp baking powder
1/3 cup packed pitted dates (60 g), chopped
1/2 cup whole wheat pastry flour*
1/4 cup ground flax
1. Preheat oven to 325F. Chop nuts and toast in the oven for 12 minutes, watching closely after 10.
2. Meanwhile, melt the Earth Balance in a bowl in microwave. Now whisk in the brown sugar, vanilla, and milk until smooth.
3. Whisk in the salt, cinnamon, and baking powder. Chop the pitted dates.
4. Remove nuts from oven and stir into the dough mixture. Stir in the chopped dates.
5. Stir in the flour and then the ground flax. The mixture will be very sticky, but it shouldn't be so sticky that you can't handle it. If it is too sticky (and this might be the case if using a different flour), add a tablespoon of flour at a time, but I wouldn't add more than a couple.
6. Shape into balls (just smaller then golf balls), with lightly wet fingers if necessary. Compact dough together tightly. Place on a baking sheet lined with parchment. No need to space them out as they don't spread.
7. Bake for 18 mins at 325F, checking the bottoms after 15-16 mins. To get mine cooked in the middle, I had to slightly brown the bottoms (see below). Cool for 5 mins on the sheet and then transfer to cooling rack. The middle will firm up a bit more as they cool.
*Notes: Coconut oil works as a sub for EB, but the flavour won't be as buttery. I made a trial with brown rice flour (using 1/2 cup + 2 tbsp flour) and it held together fine, but it was gritty. For a gluten-free version, I suggest using certified GF oat flour. Other flours probably work too!
[/print_this]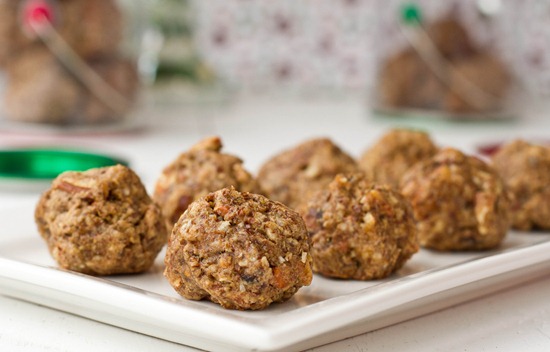 The cookies come together very easy! Just toast the nuts, mix the batter, chop the dates, add flour and flax, and mix it all together.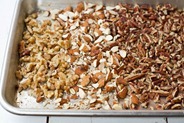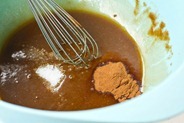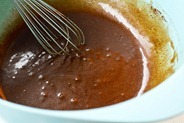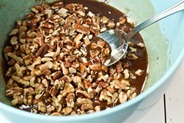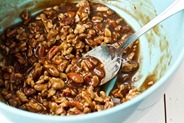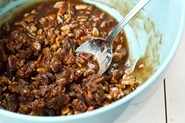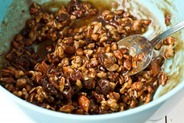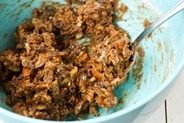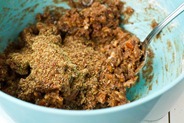 Your dough should look like this…sticky!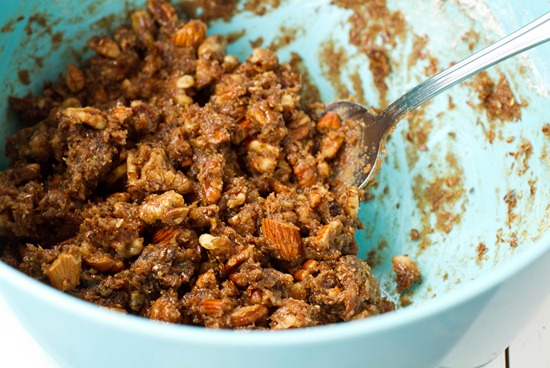 The dough is really sticky to handle, so if you need to lightly dab your fingers in a bowl of water, feel free. When shaping the cookies, make them just smaller than golf balls and really squeeze the dough to compact it together.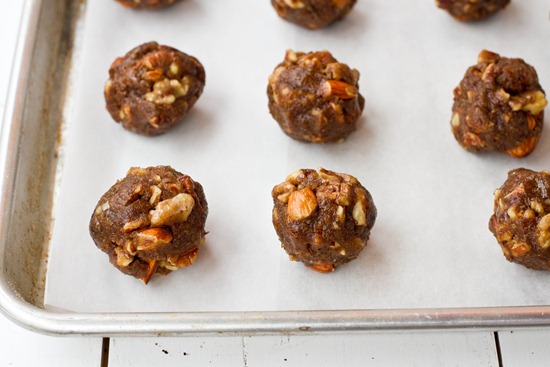 I had to make quite a few trials of these cookies to figure out what the perfect temperature and baking time was. In my oven, 325F and 18 mins of baking time resulted in the perfect cookie. Depending on your baking sheet, oven, and altitude, this time may vary. To get the cookies cooked in the middle, I had to cook them until they were golden brown on the bottom.
This golden bottom, resulted in the perfect middle: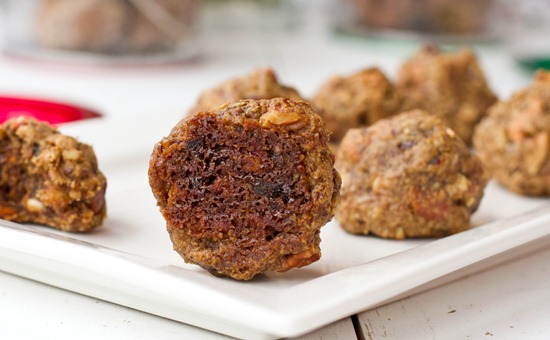 Perfectly cooked middle (after cooling):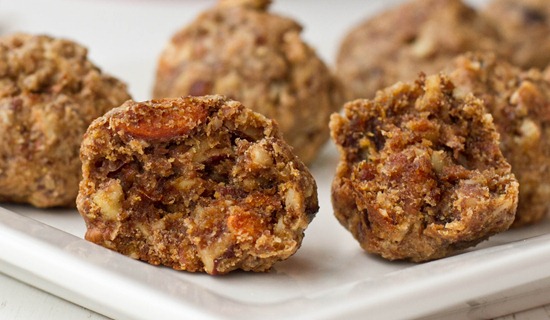 If you don't bake them long enough, you will have an undercooked middle, as shown below: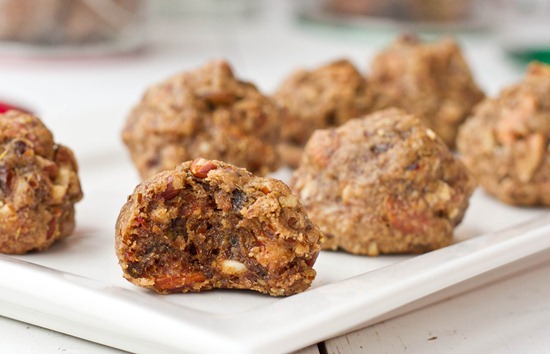 You don't want that!
After cooling, they have this amazing toffee-like, chewy, and dough interior with a crispy and crunchy shell! We're pretty much obsessed with them. For my first original Christmas cookie, I was really pleased with the outcome. Eric insisted I keep all the "failed" trials for him to eat! I'm also freezing a bunch and will give them to family members on the weekend.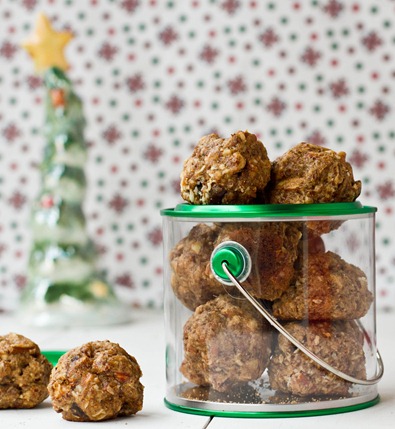 Make these cookies for someone you love, maybe even crazy Uncle Ted.
Most of all, never forget your sense of humor during the holiday season.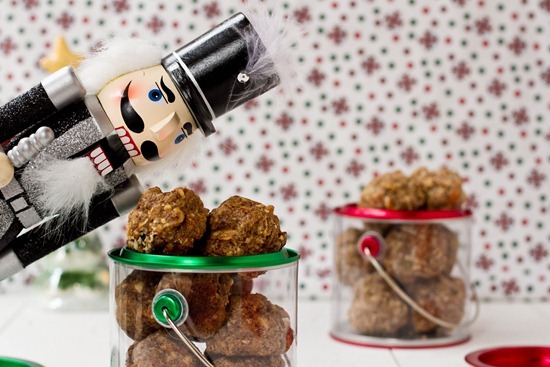 My Grandpa still has his.
and I'm sure he would agree with me that Nutcrackers are really creepy.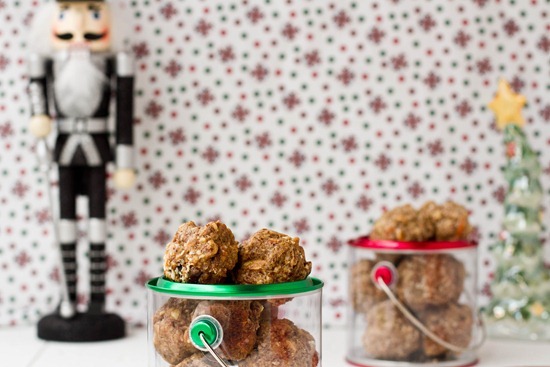 Seriously, creepy.