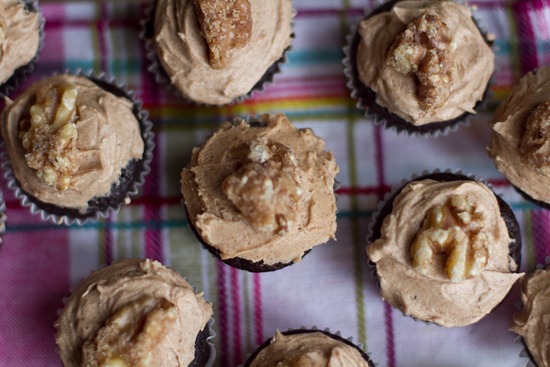 Happy Friday!
Thanks for your inspiring comments on my Road to Health post yesterday. A great way to start off Friday. :) I really want to get back into writing my regular series as much as I can. Life has been a bit crazy for the past while, but I'm going to try to fit more of those types of posts into regular rotation because I really enjoy talking about these things as well as hearing your own thoughts.
Tomorrow my family is getting together for Steve's birthday celebration and I offered to whip up some delicious vegan cupcakes. It has been a while since I have made cupcakes and I have just been itching to try a new flavour perfect for the Fall season.
I originally wanted to make pumpkin cupcakes and then Eric told me that Steve hates pumpkin. I think I almost spit out my Green Monster in horror. After deciding that perhaps I shouldn't disown my brother in law on his birthday, I decided to expand my Fall flavour horizons, just for him!
Of course, vanilla and chocolate cupcakes are always a safe bet, but sometimes a gal just needs a little spice in her life.
Sometimes, a gal also needs miniature, bite-sized desserts, reminiscent of the Easy Bake Oven creations of yesteryear.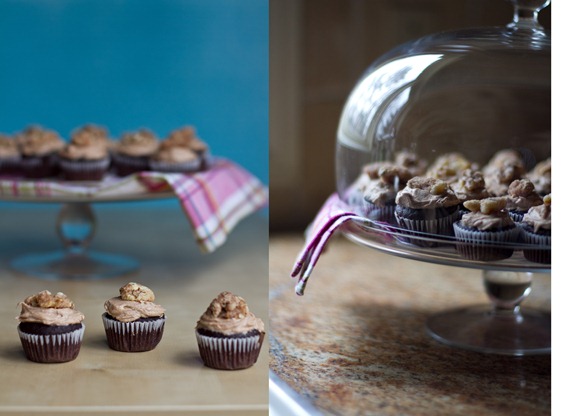 Mini Cinnamon Chocolate Cupcakes w/ Spiced Buttercream and Candied Maple Walnuts
These super cute mini cupcakes look like regular chocolate cupcakes, but they are actually hiding a subtle cinnamon flavour. Chocolate and cinnamon blend together wonderfully in these Fall inspired cupcakes. The spiced buttercream and candied walnuts really make everything come together- it's like a bite-sized Fall party in your mouth! These cupcakes would also make a wonderful Valentine's Day treat.
Cupcake batter adapted from Eat, Drink, & Be Vegan.
Ingredients:
2 cups + 1 tbsp all-purpose flour
1/2 cup regular cocoa powder
1 tsp baking powder
1.5 tsp baking soda
1/2 tsp sea salt
1 & 1/8th cup sugar
2.5 tsp cinnamon
1/2 tsp nutmeg
1 & 3/4 cup water
1/8th cup balsamic vinegar
2 tsp pure vanilla extract
1/4 cup canola oil
Candied Walnuts (see below)
Directions: Preheat oven to 275F and prepare the candied walnuts. See below for directions. Once the walnuts are prepared, set aside, and begin making the cupcake batter. Preheat oven to 350F and line a cupcake pan (or grease). In a large bowl mix the dry ingredients (flour, cocoa powder, sugar, baking powder, baking soda, salt, cinnamon, nutmeg). In a smaller bowl, mix together the wet ingredients (water, vinegar, oil, and vanilla). Add wet to dry and mix with a blender until smooth. Do not overmix. I used a mini cupcake pan, so I scooped about 1/2-1 tbsp of cupcake batter into each. If using a regular cupcake pan, fill each cupcake tin about 1/2-2/3 of the way up (maybe 3 tbsp of batter approx?). If using a mini cupcake pan, bake for about 14 minutes at 350F. If using a regular tin, bake for about 20 minutes until the cupcake springs back slowly when pressed. Be sure not to overbake these as it is very easy. While baking, prepare your spiced butter cream (see recipe here). Once the cupcakes are done baking remove and cool for about 20 minutes or so before frosting. Spread on about 1/2-1 tbsp of frosting and then place a candied walnut on top. Makes about 40 mini cupcakes (I'm not sure how many regular sized cupcakes- maybe 16?).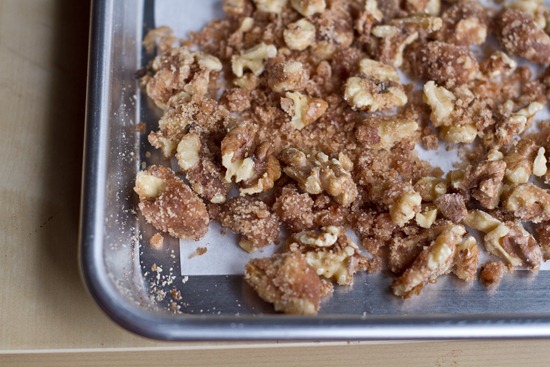 Easy Candied Walnuts
Ingredients:
1/4 cup pure maple syrup
1/3 cup sugar
1/4 tsp sea salt
1/4 tsp cinnamon
1 cup walnuts, toasted
Directions: Preheat oven to 275F. Add 1 cup of walnuts on a baking sheet and toast for 8 minutes being careful not to burn. Remove from oven and place in a large bowl. In a medium sized pot, add all ingredients (except walnuts!) and heat over medium stirring well to blend. Bring to a boil and reduce heat to low-medium to simmer. Be careful not to burn. Keep stirring the mixture for about 10 minutes until it gets thick. Once it has thickened up nicely remove immediately from stove top and pour into bowl with walnuts. Stir quickly being sure to coat all the walnuts. This is a very quick process and it is essential that you not leave the syrup mixture sitting for any amount of time (you will see why below!)
Candied walnut ingredients…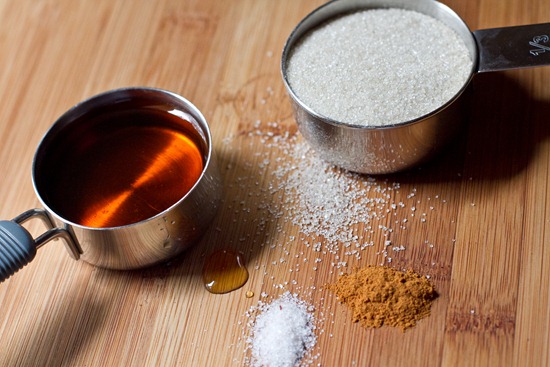 Along with 1 cup toasted walnuts…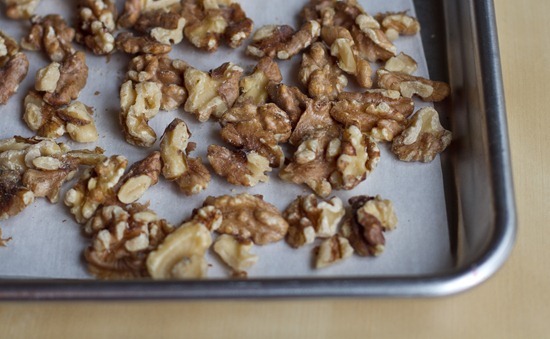 After toasting shove a few in your mouth. Mmmmm. So good and addicting! Place in a bowl and hide the bowl from yourself or you will eat them all. I swear I am like a squirrel when around nuts…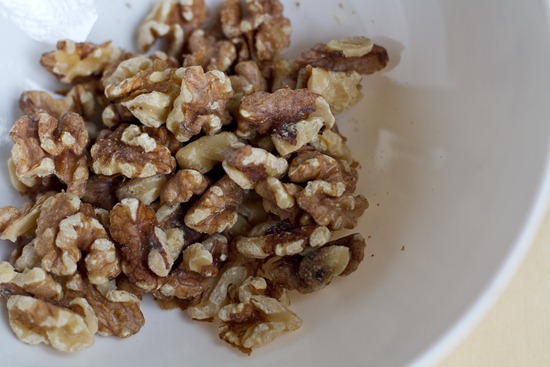 Take your candied syrup and quickly pour onto walnuts. Stir quickly, coating all walnuts.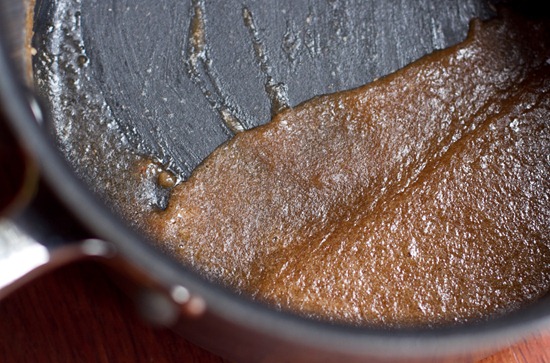 Do not stop to take pictures of your syrup or it will harden and it will be impossible to fully coat all the walnuts. Hence, below…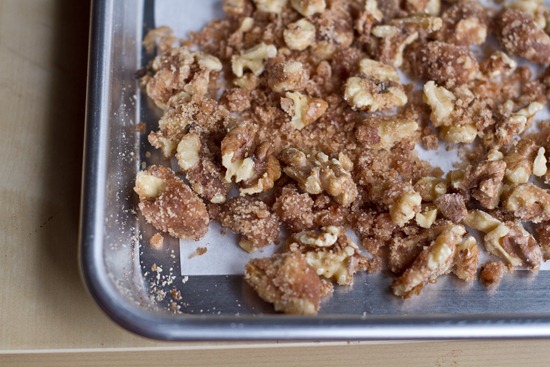 Note to self: Sometimes it is best not to snap a picture during time-sensitive issues in the kitchen!! (They still tasted great though).
Lay the walnuts on a lined baking sheet and set aside. Hide from mouth.
Bake your cupcakes!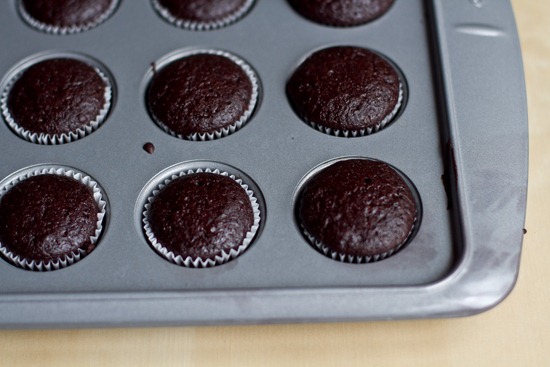 I love mini cupcakes because you get to eat more. ;)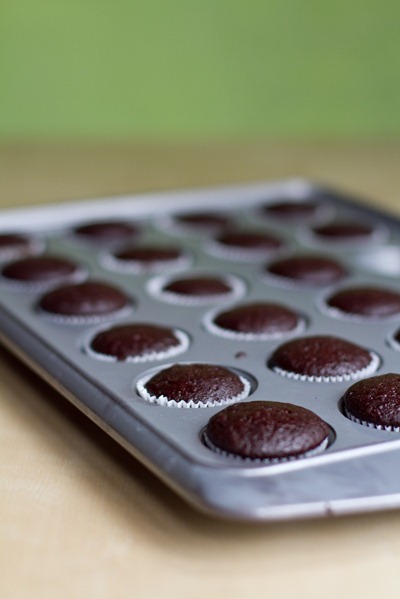 I made about 40 mini cupcakes I believe.
Now spread about 1 tbsp of the buttercream and top with a candied walnut!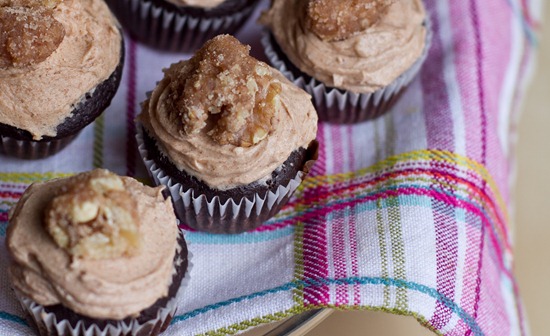 Easy as that!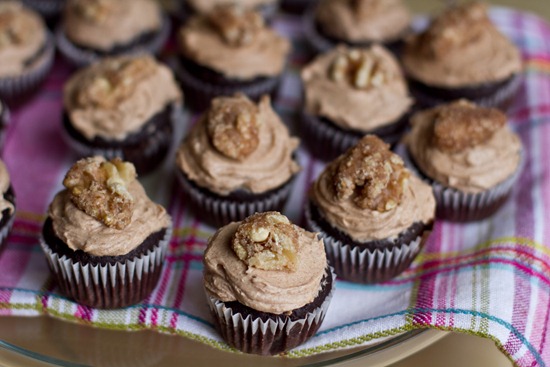 A delicious Fall-inspired birthday cupcake and a great way to change up the regular chocolate or vanilla cake.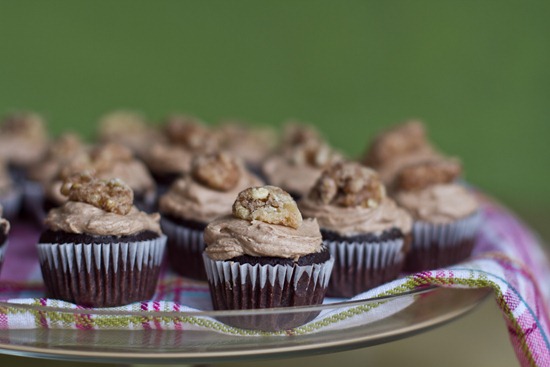 Of course, Eric and I both had to taste test for some quality control. We both LOVED these cupcakes. The perfect combination of Fall flavours without being overpowering. The candied walnuts were key and gave the cupcake a wonderful crunch.
All wrapped up and ready for the party!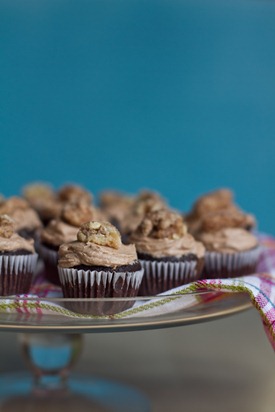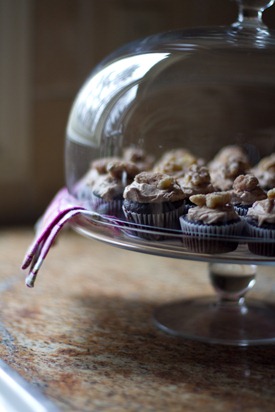 I bet they won't last long…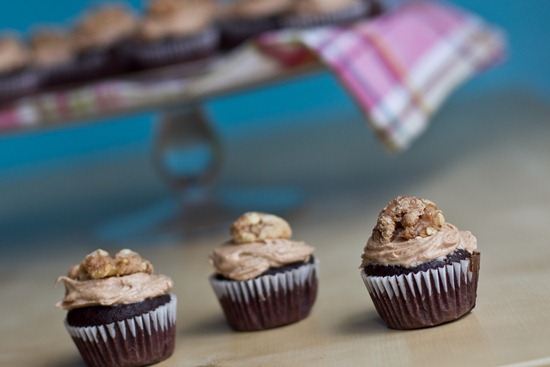 Are you a cupcake lover? What flavours do you like? Have you ever had any interesting flavours that blew you away?