At the end of her talk, Iylana left us with this quote:
"Don't forget…success is the best revenge."
The more I think about the quote the more I feel conflicted about it. For me, "happiness is the best revenge" fits better because I know from experience that success doesn't necessarily equal personal satisfaction. I've been successful and miserable at the same time and I didn't feel like I was proving anything to anyone. Success has to be personally – not outwardly -  defined. I used to think that success was about the degree on the wall, the size of the paycheck, and the job title, but now my mindset has flipped 180. It doesn't matter what other people think you have or don't have…you have to feel it on a personal level above all else. Whatever it is that you find your passion in, don't ever let yourself feel like it's not good enough.
Here is a comment from Sarah in my first post that I really enjoyed:
Sarah said, "I've always gotten through tough times using a very similar quote straight from the mouth of Mom: "the best revenge is a good life." It's very freeing to think that we don't need to feel, think, or act negatively to get ahead."
The best revenge is a good life.
Man, I love this quote. Thank you for sharing Sarah (and Sarah's mom)!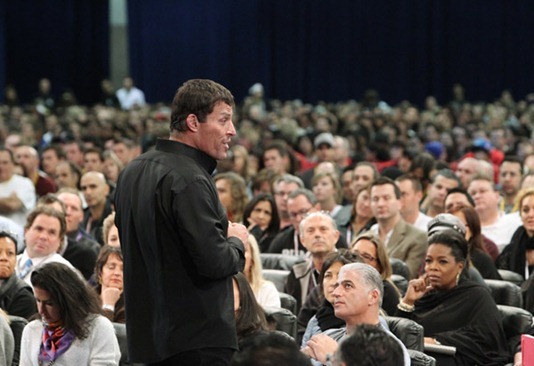 Up next is motivational speaker, life coach, TV host, and author Tony Robbins. You may have heard of him? :) To be honest, I didn't know much about him until I saw his interview on the OWN network several weeks ago. I was really blown away by his story and how much he has overcome in his life.
Tony also knows how to make an entrance. The music was pumping and everyone was on their feet. He loves to get the audience clapping and having a good time. He's just about one of the most high-energy people I have ever laid eyes on. It's really contagious.
Tony's speech was all about how we can get over our fears to live a better life. He says that many of us are scared, angry, and holding onto patterns and stories that hold us back from living the life we are meant to live.
Here are some lessons from his speech:
"Success without fulfillment is the ultimate failure."
I completely agree that success without fulfillment is pointless. However, it's often necessary for many of us to go through periods of time when we don't feel fulfilled in order to grow and figure out where we should be. A lack of fulfillment has a definite purpose in our lives, so it's important not to get down on ourselves if we feel lost. There can be a lot of pressure to always have our life and career figured out, but it's totally normal not to. Moments of discomfort will propel you to figure out what it is that will make you happy. Sometimes it just takes longer than we expect.
"We are all deathly afraid that we're not enough."
I've struggled with low self-esteem since I was very young so I can relate to this a lot. I'm only now starting to realize that I'm already enough. You are all enough just as you are. We don't need to DO something to prove that we are enough…we just are. When this clicked for me, I started to ease up on myself and appreciate the beauty in my life regardless of what I did or what I had. No matter who you are or how much you think you've failed, the recognition that you are already enough is freeing on many levels. Try it.
"We need to take risks to succeed and grow"
This is often hard for me to remember, but I do agree with it so much. The things I am most proud of in my life are the times when I stepped away from my fear and tried something that pushed me outside of my comfort zone. Tony says, instead of taking risks, we often make up a story as to why we can't do something. How many times do you tell yourself you can't do x, y, and z because of this or that? Start changing those thought patterns and replace them with I CAN TRY.
"It's healthy to say 'this is not good enough'!"
Many people fear complaining about their situation if they are unhappy. Tony reminds us that it can be very healthy to say '"this is not good enough for me" and "I deserve better". In fact, it can be the most freeing thing you ever admit.
"You need a breakthrough when you decide it's no more"
How to make a breakthrough:
1) Change your STATE. Emotion is created by motion in the body. Hold your head up high, smile at other people, walk with confidence! Don't sulk, hunch over, frown. The fastest way to change your state is to change your body.
2) Create a strategy that's effective
3) Change the story you have been telling yourself (change your story…change your life!)
On a successful relationships:
"Do what you did in the beginning and there won't be an end!"
You didn't measure and take score in the beginning of your relationship, so don't do it now either.
"Stressed is the adult word for scared shitless."
;)
and last but certainly not least…
How to change your state in seconds…celebrate like a kid for no reason!
Tony says society teaches adults that we should only celebrate when there is a reason (e.g., New Year's Eve). Well, what would happen if you just celebrated for no other reason than your life?
Your life is a reason to celebrate. Tony cranked up the music and all 8,500 of us started jumping up in the air and screaming like we were at a rock concert. It was hilarious…and you know what? I was amazed by the surge in energy I felt afterwards.
Make no mistake, this audience is now alive. Thanks Tony….I got my voice back a couple days later.