I think I caught the bread making bug. And I like it.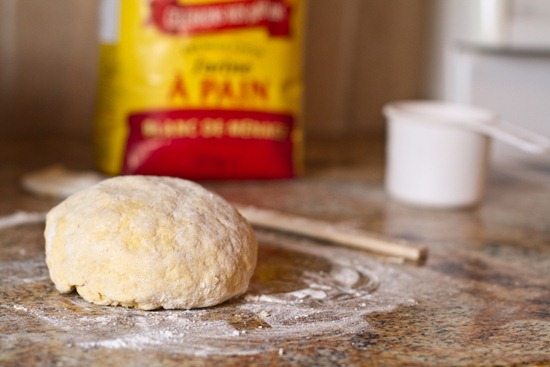 For years, I was scared of baking bread. I had a horrifying experience trying to make 100% whole grain spelt bread that came out flat as a pancake. I didn't think I would ever recover from that and I assumed that I just wasn't bread baker material. This week I realized that while there are some rules that you need to follow, it really isn't that hard at all! Most of the work is 'hands off' while you are letting the dough rise and you can do other things, such as weird photoshoots in the woods or watching NCIS with your cat.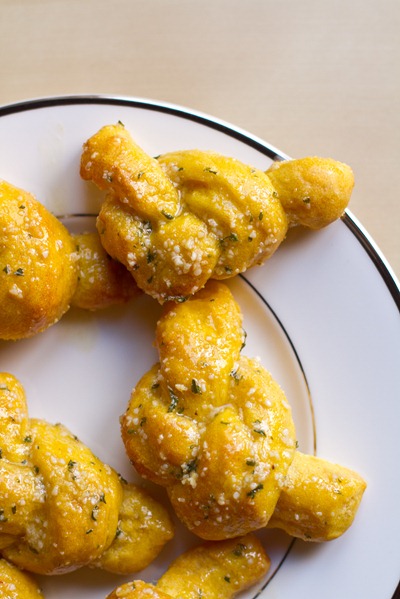 My next conquest was a Garlic Knot. I was a bit scared about making bread into knots, but it turned out to be so easy I almost laughed when I made them.
Repeat after me: I will put my bread making fears aside and give bread baking another chance.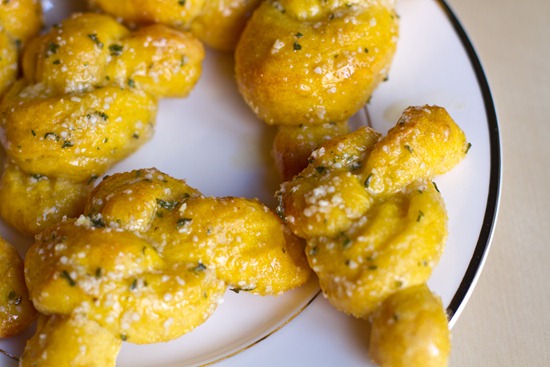 Itty Bitty Herbed Garlic Pumpkin Knots with Vegan Parmesan Cheese
Adapted from Neverhomemaker.
Ingredients:
1/2 cup very warm water
2 tsp instant dry yeast
1 tablespoon maple syrup
1/4 cup canned pumpkin
1 tablespoons olive oil
3/4 teaspoon kosher salt
1 tsp dried herbs (I used mixed basil, oregano, thyme, parsley)
1 & 3/4 cups unbleached bread flour
Herbed garlic spread w/ Parmesan cheese:
Directions: In a large bowl, mix together your dry ingredients (flour, salt, yeast, dried herbs). In a smaller bowl, mix together the wet ingredients (syrup, pumpkin, olive oil). Once those are mixed quickly add in your very warm water and mix well. Pour into the dry ingredients and stir well. When the mixture becomes too dry to stir, place the dough onto a floured surface and knead it for 2-3 minutes until it comes together into a ball. You will need to add quite a bit of flour since the dough is quite sticky from the pumpkin. When the dough is no longer tacky to touch (but not dried out), place it into an oiled bowl with olive oil and gently cover the dough in oil. Cover the bowl with plastic wrap or a damp towel and let it rise for 2 hours.
After 1 and a half hours, grab your pizza stone if you have one, and preheat it in the oven at 450F. If you don't have a pizza stone, grab a baking sheet and line it with a non-stick mat or parchment. If you are using a pizza stone, grab a Peel and sprinkle on cornmeal. After 2 hours, take your dough, punch out the air, and lay it on a floured surface. Gently press it out so that it forms a small rectangle and then take a pizza roller and cut strips approx. 1/2-3/4" width by 6-8 inches in length. You can make them any size you want though! I had to play around with it for a bit to see what I liked. Grab a strip and make it into a knot. You can tuck the ends back into the centre or leave them hanging (I left them hanging).
Place the knots onto the Peel OR onto the baking sheet. Once you have all your knots made, place into the oven at 450F for about 11-12 minutes until slightly golden on the top. Spread on the herbed garlic spread with a pastry brush or add all ingredients into a bowl and toss. Serve immediately. I didn't have to tell you that right? Makes approx. 14 small knots. You can also double this recipe and freeze half of the dough for later.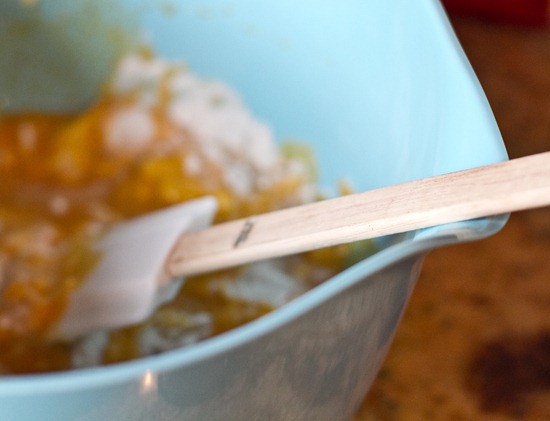 A word about the pumpkin– I didn't notice the taste in the knots. Next time I might leave it out or you can also try adding some spices like cinnamon, nutmeg, etc to try and bring out the flavour a bit more.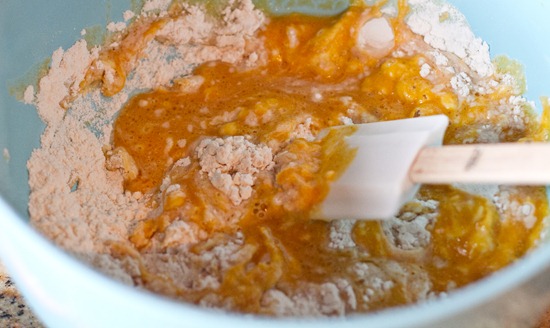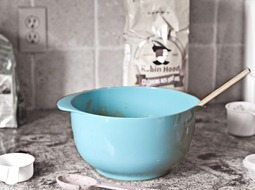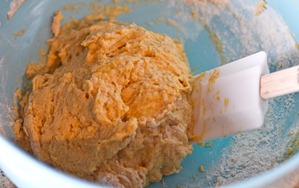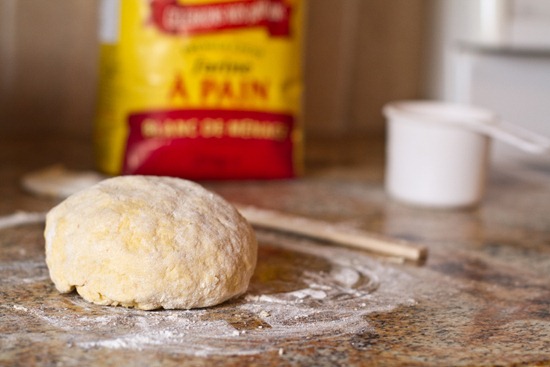 My favourite part!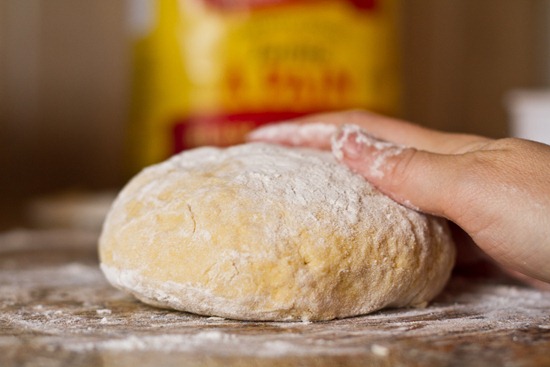 Now let the yeast do the work and let it rise for 2 hours. Or five if you are like me (I got busy & distracted!).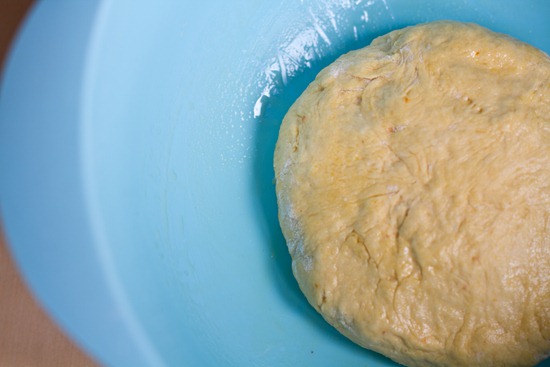 Flatten the dough into a small rectangle and then cut into strips. Take a strip and simply tie into a knot. You are done! You can play around with how big you like them. I made some larger ones too, but I didn't find they looked as cute as the itty bitty ones.
Bake at 450F for 11-12 minutes (that was on a pizza stone so I am not sure if the time will vary on a baking sheet). Note: Don't spread on the garlic mixture until after it comes out of the oven.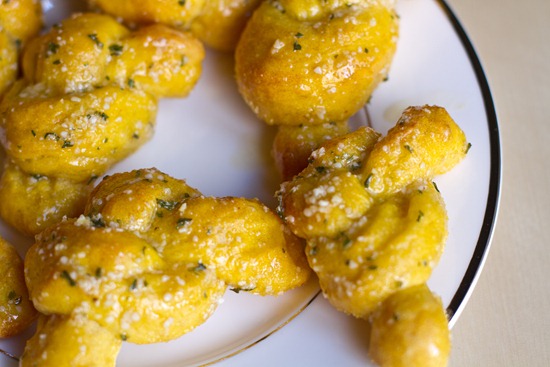 The Herbed Garlic spread is out of this world. I highly suggest making it. The vegan parmesan cheese, Earth Balance, minced garlic, and herbs really made the knots come alive.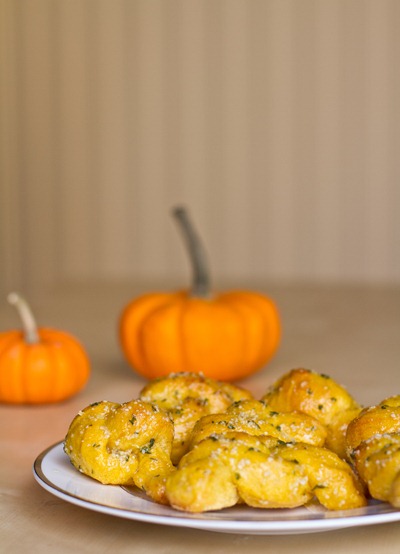 This was one of the first things I have made in a while where Eric did not mention anything about chocolate! Success.
What is your favourite kind of bread? Store bought and homemade…
I love multigrain bread with TONS of seeds on it, so that is certainly on my list to bake. I also would love to make a pumpernickel bread and make a homemade vegan spinach dip inside it. Mmmmm.